Abstract
The consumer era - from past to future, business was all about making sales through marketing via various methods and at the end, the customers must be flattened and satisfied with a whole heart and then buy the product you offer. The year be 1930s or 2030, customers matter, and they are the king of any sort of business no matter what it is!
Here, in this paper, I'm going to give a deep analysis on how customers explore the technological side to advance through direct selling business? Here is an overview of what this paper all about,
A brief history about direct selling business
Technologies that drives advancement in direct selling business
The industrial transformation through these technologies
The future aspects to take care of and the upcoming trends in 2023
The data acquired for this paper is from various sources and are taken into consideration for evaluation. The sources are provided in the resources section and let's see the technological version of direct selling business.
Introduction
Technology and its phase do have the mightiest connection, capable enough to reinforce the semantics of direct selling business. With the advancement of technology, a new world will get open before the marketing business. Opportunities are endless and in many of the similar research papers, it is clearly mentioned that technology hasn't been a constant visitor in the direct selling business. Before getting to that point lets understand what direct selling business is all about.
Direct selling business, one of the best business model developed to adopt a marketing platform where business can build on and flourish through. Reaching the consumers or customers directly with a marketing plan and showcases the product to the public, refer more people into the business with a set of commissions and bonuses, building up a strong network etc. can be considered as the best way to define this business model. Thus, the business model is known by various names like Multi-level marketing, MLM, network marketing, direct selling/sales marketing, affiliate marketing, referral marketing, etc. What adds color to this business model is the positive attitude of consumers towards direct selling amidst the myriad other gig work opportunities.
Here, in this article, we'll see how the influence of technology altered the phase of direct selling with future aspects. To connect the past, present, and future you have to have good knowledge about the past. Let's begin from there - The beginning of a new beginning!
Running back to past - Recalling the history of direct selling!
The real marketing strategy began back in the 19th century and is considered one of the best ever-followed marketing models in history.
1855 - Rev.J.R.Graves developed Southwestern Company (Presently, known as Southwestern Advantage) as a new business model
Men began to visit door-to-door for sales in the Southwestern company, and a revolution has begun at this moment which remarked in the history
1883 - Vorwerk, a diversified cooperative group makes direct distribution of products
1886 - Avon Products, Inc. founded as a perfume-based company
1930 - Party plan as a direct way of making product sales has been used as a business strategy
From the 1890s to 1950s, the popularity of MLM as a business model increased its prominence and many new direct selling companies began to roll out or launch as various marketing business models.
At the beginning of 20th century - Women joined into this type of business model and became a part of the team and sold products.
However, in the direct selling business, no dedicated monthly salaries are offered, a distributor earns money based on the sales achieved for a particular period of time or else based on the referrals or rank - the criteria is fixed as per the rules of direct sales company/organization.
Later on, this particular model is accepted as one of the most successful business strategies and became one of the main sources of revenue income. It's 2023, and the technology has advanced enough to foresee the future of the industry.
The new era - How the present MLM industry looks like?
At present, MLM industry changed it's manual side and upgraded to the technical side with advanced direct sales organization tools. But the transformation hasn't raised as per the expectations, let's see what exactly is happening around the industry.
Yes, with the engagement of more distributors in the network, it became very difficult to handle various sectors of business and the difficulty reflected in the basic factors like,
Managing the distributors
Calculating their compensations based on the criteria's
Updating the genealogy tree-like structure often leads to definite alterations
Extensive use of papers and creating a mess (junk)
The chances of improving the missing parts based on customer feedback are difficult
Payments have to be done directly or via banks - a time-consuming process
Managing the potential leads is difficult
Inventory or product management is going to be difficult
One needs to do the math everytime a sale is completed and at the end of the day, a business owner has to keep and create a pile of records and revenue reports as well as charts
Sponsor, ranks, the uplines & the downlines, who is under who, who is working hard and who isn't active etc. processing such parameters is not possible
Similarly, there are many drawbacks which have to be rectified and finding a way is always difficult.
The opportunities in the field of the internet began to bang in during the late '90s (1990 to 1999). From basic Office suite packages (Word, Excel etc.) to advanced direct selling software side - the evolution took a look a long run.
There is no clear evidence or mentioning about the dawn of internet in direct selling business and it took the help of different business owners to understand this evolution from time-to-time. Considering several case studies of giants in the industry, I've come up with the perfect illustration of the technology in the marketing horizon.
Technology - The monopoly to scale up, from difficulty to good times!
Scaling up in the marketing business isn't simple and to explain the advanced side of technology, we must know the beginning period to the end.
The evolution of technology in direct selling began after the emergence of the internet and things brightened. The MLM facts and figures shows this change. Let's see the evolution first and then a detailed understanding of the numbers.
I dug deep into the history of one of the most successful direct selling company and they really had a wonderful marketing plan. Avon, the cosmetic company began after a terrible book selling loss and David H. McConnell had a plan to make good book sales. He offered perfume as a free gift for buying a new book. Though the sales were going terrible, the perfume got good popularity. So he switched his business and established Avon as a perfume selling company. The marketing has been a revolution and they have recruited many for door-to-door sales as mentioned at the beginning of this paper.
As technology got advanced, Avon products appeared in the commercials and television advertisements are a good way of marketing. Hence the previous assumption was a false alarm! The dawn of technology wasn't just from the internet era, in fact, you may call television as one of the earliest technology of marketing.
When WWW (World Wide Web) was invented in 1989, however, it was between 1994-96, the popularity literally began to stand high. The numbers tell the story - a rise of users from 16 million to 70 million.
Then email marketing, which replaced posters or faxes, and it was one of the best ways to contact people across the globe. A new way to connect and convey the message to people from the nearest to any part of this world. Advertise new products, new offers, personalized email conversations, business promotions, etc.
Having an identity is the ideal way of keeping a business open up to the world of customers. And having a website for the brand building began to show up during this period of time i.e., at the end of the 1990s.
Data analytics got its relevance during this period of time due to its need and information is vital to understand certain aspects,
What kind of products and brands do people prefer to use?
How often are they using the products?
Whether customer satisfaction is gaining or not?
If a new product is launched in the market, what're the chances of accepting your product?
The current trends in network marketing and what to explore further?
The technology growth and how far is it reliable?
With the data so acquired overtimes, a perfect analysis can be made and further improvements can be carried out using it.
The brand visibility factor
As mentioned before, having a website is an identity that highlights what your business is all about. Your MLM website design is one of the most critical factors contributing to customer trust and brand identity. Customers will be eager to go through your website and learn what you offer, product list, etc. Getting direct traffic on your website isn't practically possible and a new field of digital visibility is opened up to you.
And this process is termed as "Search Engine Optimization" or simply SEO, a service offered after the launch of websites and as per records, the real process began in 1997. This method is well used in direct selling business using various keywords. SEO lets a website to appear in a search engine based on keywords.
Let this be explained using a simple example, you're all set to join a direct selling company, and what you need is to search on google like "best direct selling company to join for beginners", "famous MLM companies with high compensations" etc. The so-quoted set of words are keywords and you get the search results for the above keywords, just like the below screenshot.
In the modern world, digital marketing is a promising channel to acquire customers in the direct selling business. It can be used to attract new customers with loyalty programs and reward programs. Let's have a quick look at those facts and see its relevance.
Social media influence over business
Other than SEO, the next promising side will be the social media influence. Several business interviews, case studies have highlighted the influence of social media and it need to engage with a regular set of customers.
Digitizing let the business grow deeper and wider, brand awareness is the key to every successful business journey. Almost half the population of people in our mother earth have an internet connection, and 75% of these users are active in social media platforms. And the scope of digital marketing this raised to its peak.
By introducing and implementing various strategies on social media, the platform lets direct selling organizations showcase their product and marketing plans/packages in front of these social media users. When you meet your old friends, make new ones, the final most thing that one ask for -
"Are you on facebook?"
"I'll WhatsApp or Snapchat you for more details"
"Get me your profile ID and I'll follow or tweet you"
Similar sort of questions and comments do possess from us and yes, its common around these days. The future of business can be predicted easily with statistics and figures, let's see how users are engaged with the digital world and the growth in the direct selling business.
Facts & figures
Let's see the reports that highlight these facts and figures,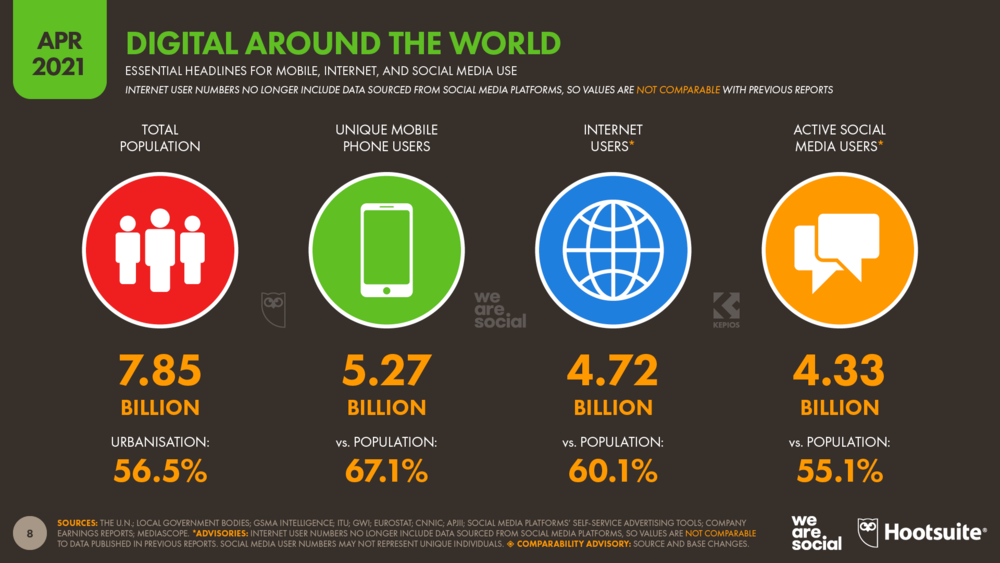 About 4.72 billion people among the total population of 7.85 billion are using the internet. 55% of them are active social media users. From mobile phones to higher tech gadgets, the users are constantly engaged using such various gadgets or widgets. Web traffic is an important source of customer acquisition.
Direct selling methods need both productivity as well as user references for maximizing every side of business aspects. Call it - "sales through direct marketing strategies".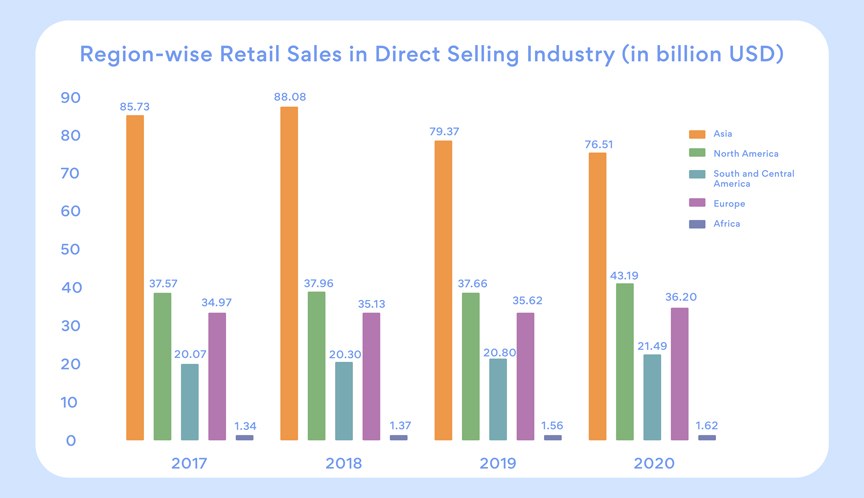 The above numbers look promising and we can witness this growth from the above graph itself. The above data conveys the statistics of the retail sales in various regions from 2016-2019. From the above data, one thing is clear, direct selling contributes a major part in the economic growth and Asian countries get a good response from this sort of business.
Year after year, the progress can be seen clearly and check out the worldwide revenue from the below graphical representation.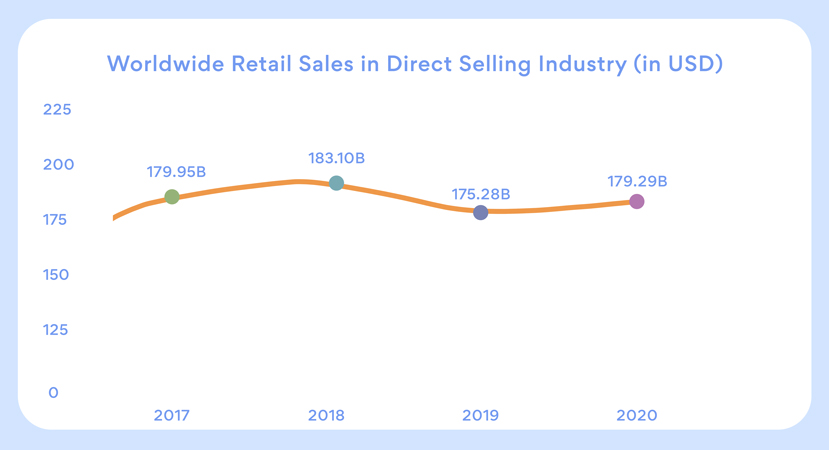 As the time progress, the revenue value progresses on and on. The above graphical representation gives you the revenue from 2016-2019. With 180.47 billion US dollars, this business model seems to be perfect!
Direct selling software - Everything at one space!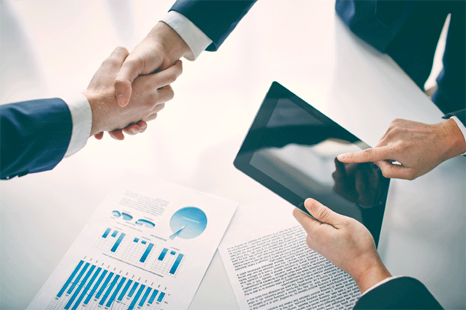 So, the facts tell the story and what if a single system can let you enjoy everything in one place? Is that possible and the answer is yes, technology has developed well-enough to provide a perfect solution - a direct selling software.
With the help of a direct selling or MLM Software you can easily manage, control and organize the business smoothly. From basic versions to advanced packages are currently available in the industry. It does hold great value and standardizes the business through a perfect stream of success and business development.
In the early part of this paper, I've mentioned about the importance of having users or customers in business and especially, in this type of marketing business the vital part is to create popularity by means of high reference factor. People join in a direct selling business with a small amount of fee and then he or she becomes the "distributor".
This distributor refers to more people and earns commissions or bonuses. That's how a distributor becomes a sponsor, and the new member's sponsor more and more. The rank or designations of business level up once they achieve the target.
For such level upgrades, the compensation also varies, if so how far is it possible to calculate the bonus structure? Isn't it going to be too difficult to proceed? Setting criteria's to the transaction side as we discussed is going to be difficult.
Let's see the scope of using direct selling software and then check the technical side of one of the best service provider of the industry.
You can easily manage business completely without any sort of complexities
Managing these calculations by meeting every criterion can be carried out easily
Social media promotions/referrals can be easily managed
Lead generation can be managed (both offline and online lead capture campaigns) with proper follow up
Member management, rank calculations,
Revenue, income and other financial status of the business
Best performers in the business can be easily analyzed
Compensation plans can be altered as per new requirements or instant changes
User activities can be tracked or monitored via this package
Users cannot perform manipulations and fraud activities
These are just a few basic features available in the package and to kick-start a direct selling business in small scale, this basic version will be well enough. It's crystal clear that for a medium or enterprise-level business, you need an advanced version with advanced business management solutions.
What to read next:
Top 500 Direct Sales Companies for 2023
Top 100 Earners in Network Marketing for 2023
Top 5 Successful Personalities in Direct Selling
Top 100 Solid MLM Companies for 2023
There are many software providers in the marketing world or developers available to cater the business in its simplest form.
To showcase the advanced features, consider the big heads of the industry - direct selling software provider like Epixel and check out their advanced technical features list.
The technical side - features advanced & beyond!
Fully-customizable: Complete system is customizable in nature to meet every business requirements from compensation plans to new features.
Cloud support: A perfect cloud architecture with storage, back-up, private, public and other similar services.
Dedicated compensation Engine: High-performance engine to calculate compensation cycle to rank advancement criteria.
Instant/Periodic rank calculation: Calculate ranks instantly, periodically, under special conditions, automatically or manually as per the requirements.
Dedicated payout engine: Providing the best payout system that pays users periodically as per the required time period without any errors or delays.
Masquerading - Switch user feature: Now admin can switch to any user account without any passwords and switch back again as admin.
Digital currency/Cryptocurrency support: Providing you with an advanced system where any digital currency can be used for payment, exchange, trading, etc.
Multi-lingual support: Switch to various languages and get rid of the language barriers, popular languages are available for best user experience and maximizing the business opportunities.
Compensation plan simulator: A dedicated compensation calculator to calculate the compensation of the network marketing plan based on the percentage of commission and other criteria. Calculations can be easily carried using this special tool. Admin gets special privilege to alter any conditions that cause business loss easily by identifying the cause.
Try our free MLM calculator and explore how it can transform your business challenges into profitable solutions.
Genealogy re-position/Sponsor reposition: Changing the user position from one space to the other is simple with features available in MLM Genealogy Software. Compensations and other sorts of conditions will alter automatically without breaking the business structure. Both sponsor or user positions can be easily altered.
Multi-wallet system: Multiple digital wallets are available to store digital currency in a separate set of wallets and can make transaction secure.
Blockchain support/consulting: Blockchain is the best possible technology to enhance the business and make a valid transaction. Blockchaining the complete system has many benefits and blockchain in direct selling is a well-equipped system.
Holding tank: Sponsor or admin gets special privilege to position his downline as per his priority and genealogy tree can be set on its basis.
Business intelligence tool: Complete analysis of direct sales business data will be available with the help of this tool on daily, weekly, monthly or periodic basis.
Support talk/ticket: An important tool for user-admin queries and admin or support team finds a solution based on this support system or else support talk.
Business training: It's always necessary to get trained and with such proper training sessions, one can easily manage direct selling business using the package.
These are the Top 5 Direct Selling Training Tools for creating an efficient network.
Open source script: What if you've all the rights to change the package as per the requirements after implementing package? With the help of a developer, the so-provided script license will be provided to the client or customer and can be altered.
Replicated websites: Every user in the business network will be provided with a unique website with multiple templates, developed by advanced website replication software, which they can use to control their business network to product showcasing. Every business insights will be available here with a separate user profile.
Business e-commerce ready: E-commerce is the present and future and having a multi-vendor ready e-commerce system with efficient features and tools is perfect. Direct selling or affiliate programs are common in e-commerce business and many special features are available within this system itself.
API support: The system is flexible enough to integrate any third-party API's and about 500+ API integrations can be easily equipped.
Dynamic compression: The commissions/bonus of inactive or unblocked user gets compressed and the successive upline user gets qualified to earn the set commissions/bonuses. The active user gets the compensations by skipping the inactive user spot.
Hosting, server & database support: Complete server-based services are provided like hosting, any database system, etc. without the need for external support.
Rank vesting: Admin has the special privilege to upgrade/downgrade without meeting any conditions.
CMS basic: Special feature to manage the content structure of your profile with drag & drop process. Manage home page with customization as per user requirements.
Sub-accounts- >Multiple accounts for a User: User can have multiple accounts and switch between them. And the user can manage all the accounts from the profile itself.
Multiple admin roles: Admin can assign designations and functionalities to users to manage various sectors of a business network like root admin, business admin, business staff, privileged users, and keep separate credentials. For example, admin can set a user as a KYC verification agent, the other one as a processing specialist and other similar roles.
Admin account access using pem file: USB stick for login as admin - advanced security feature to minimize the chances of breaching.
Bulk Mail forwarding: Let the email marketing channel expose to worldwide business engagement with such special functionality like bulk emailing.
CRM management: Manage customer relationship easily with this feature and make the connections with regular follow-up's. Also, increase prospecting with CRM. An integrated platform with an array of features that helps to organize and manage your customer relationships efficiently is offered through an MLM CRM software.
These advanced features promise out to be the best, and Epixel as a service or software provider, they have come up as the best team.
Future & what to expect in the next few years?
The present opportunities pay forward for the future and there are few technologies that are going to revolutionize the direct selling industry. Even Though there are signs about the rise of technology, breakthrough by means of various experiments and case studies, advanced versions are gaining attention.
Some of the expected technologies to boost up the business will be,
Enterprise Blockchain Technology: Blockchain technology developed back in 2009 by Satoshi Nakamoto (identity is still unknown) has been a revolution since its inception. Blockchain in direct selling industry during the initial period of time was just a concept or an application with a "yet to implement" tag.
But, at present, it's more reality and blockchain as technology is established. After deep research and study, big guns like AWS, we.trade etc. are using enterprise blockchain with a view of extended usability. When a start-up began to grow up to reach a status of medium or enterprise (large-scale) then, the users or consumer number also begin to rise up. Managing and controlling them will be a nightmare without a computer program.
An enterprise-level blockchain system is perfect by any means like,
Manage millions of users
Transparent network
Highly stable technology
Intruders cannot hack into the system
Transactions can be completed with high security
No third party integrations necessary,
Smart contracts (an agreement written in codes and stored as a file, every conditions or criterion can be added here as protocols and once these conditions are met then, the process will be executed) can be used where the criteria part comes in
A private or permissioned blockchain can be developed to keep every business confidential data to keep as "untouchable" status i.e., the outside world cannot look into your compensation plans or other similar sorts of business activities unless you want it to be public
Quick and immutable in nature
Regular updates of nodes (computers who validate a transaction and approve the transaction with a "completed" tag by making sure no mismatching or fake or manipulations has been made) about the transactions etc.
With such high-end features and applicability (FYI, it's really happening around the digital world) enterprise blockchain is going to make business far more easy and premium.
Multi-vendor E-commerce system: E-commerce is trending and hot since e-commerce website appeared before consumers. A whole new way of shopping, no need to travel around to buy or pick the one, have an arena of products to choose from and no matter where you're from, anywhere in the globe - it reaches on your doorstep. A simple knock or a mobile call is enough to receive the product.
Direct selling market depends on e-commerce, as the business is all about products and user reference, e-commerce is the best way to display it in front of the whole world. With a wide range of products, high demand can be made through such websites.
A multi-vendor e-commerce system is a market space with a large number of vendors and with "pooling" or any other sort of functionalities, these products can get good public reviews and thereby its perfect for both marketing as well as sales. Through latest and attractive affiliate programs, direct sales business will get enough and enough fuel to run through a successful path.
In future, similar sorts of efforts and new ideas can be witnessed and multi-vendor online space is a perfect platform to establish your trademark. More opportunities are yet to explore in this field and expect the best out of it.
Advanced Chatbots & Voice Bots: "Ok Google" "Hey, Siri" - you're familiar with these two terms and obviously, you're using these functionalities too. It's a voice bot, and you just don't need to type all the necessary things anymore.
Just spell it, and voice assistance will appear before you. Yes, it's already available in the business world and if so, why did I mention voice bot as the future? It's because of its applicability and technical abilities to explore more.
At present, there are certain limitations like language issues, voice training has to do in every local slangs, language and much more. It's perfect and is not yet the perfect replacement of traditional chat help or customer call/email support.
Things have to grow up more and voice bots can be used in direct selling in various scenarios like - MLM training, Compensation plan consulting, user-user modules, quick-search option in the software package, e-commerce store, and much more. Chatbots have already found its space and language barriers always knock on the door.
With certain improvements in the technical side, the ability to outperform the present situations will lead to the best.
Secure measures & updates to hinder outside threats: "Security" is a must and it brings in the "trust" element among consumer and clients. As I mentioned before, its always good to have a software package and "security" is an important factor that decides which one to choose.
A software package must be highly secure and act as a reliable source because it's not just about managing members anymore, it's more than that! As the users engage more and more into the system there happens a lot and lots of transactions too. In simple words, a world or gamut of money flow is happening around in this package. So, from the business profiles to payment gateways are working through online channels.
Everything is exposed to the public in the online world, and preventive measures are at most required here. At present, software is always at risk with new malware, phishing, hacking, cracking, and much more threats. So, from software-end, MLM system must implement successful cybersecurity plans and be capable of preventing these attacks by means of protective shields.
Layers of security are built over these packages to build something that cannot break the shatters through easily, certain methods imposed by the leading providers of direct selling software (Epixel) are,
Encrypted data
2-factor authentication (2FA)
Email verification for every change (for approval)
Granular user access control
Know Your Customer (KYC)
Anti CSRF Token - CSRF
XSS clean
Latest versions of dependent libraries
Malicious file bypassing
Google ReCaptcha
Auto-logout
Audit logs
Prevents DDoS attacks
These factors lay a perfect foundation and that's not it, similar sort of efforts bring the trust and provide the best.
Artificial Intelligence: Though chatbots and voice bots are a part of AI, in this part we shall focus more on data. Data is the fuel to burn AI system and formulating these data ensures and provides a perfect platform to commercialize the business with intelligent insights.
In the future, the demand for such data will be high and yes, consumer privacy is a great concern of direct selling industry as the business does revolve around people network. AI can resolve this part (cross-fingers) with new algorithm updates by studying the data flow of individuals, their interests, hobbies, the selling aspects, marketing techniques, and much more. This information is vital and as people mostly engaged in the internet world, AI bots are open up to access this data. This data will be open up for them once you set it to get access for the outside world like accepting the privacy terms, letting the permissions, and much more.
Machines will be able to learn from human and new frameworks will be developed on the basis of consumers needs and interests. With AI engine any of the current flaws or limitations can be studied and huddle it over with new technologies. Get it done and these things can be expected to become reality in the future. Especially, in marketing business it lets the consumer-client relationship to grow further and simple. With such valuable data, a consumer can easily realize what they are going to deal with, the trust factor can be decided, false promises or promotions can be spotted and cut-off from wishlist and more things are spread around the business world.
In short something useful and helpful technological upgrades are to be witnessed. Say, thanks to technology and I'm afraid that you must be aware of these facts too. Realize the fact that every technology might have its a negative influence and we must understand it and then, point out to fix it. It's a fact!
Business development insights/tools: Its the customer experience or satisfaction that keeps the business to grow further. If a customer finds a tool or a feature really helpful then, the customer feels it perfect. A business intelligence tool let the customer realize the facts about how far they have come up in the sales, business growth, revenue cycle, business member activities, and much more.
Every feature mentioned in the technical section of this write-up contributes to aid the business tool to find an intelligent solution. The facts and figures let the admin or user retrieve data and analyze based on previous business data. The financial and other restrictions of direct selling business will be exposed to concerned business team and necessary steps can be used to resolve it. It will be very much effective to use and in future finest tools will replace the existing system to experience an advanced one.
This lets a business admin/user to steer up with the best decision that can grow your business in further dimensions. A wise decision can make a difference. A perfect BI solution can be made using a package and these advanced versions are available at present set of the package itself.
Technology must be always supportive and reliable. And this security aspect must be made sure and as time progresses, more security measures will be available with a never-break in coding part.
There are many such technological advancements in progress and we shall expect it to launch soon in the direct selling industry too. Let's wait and see!
What to read next:
Top 500 Direct Sales Companies for 2023
Top 100 Earners in Network Marketing for 2023
Top 5 Successful Personalities in Direct Selling
Top 100 Solid MLM Companies for 2023
Conclusion: The final chapter
In this technical paper, we've covered up most of the technological aspect clearly connecting the past, present, and future. The future looks bright with the above-mentioned technologies and yes, these digital technologies will transform the direct selling business in a whole 'new extend'.
As I conclude this technical research note, the advance side will be very much clear to you and awareness about the industry as well as the technological side. I personally recommend three important things you must do become successful and thereby establish your marketing territory. And the three things to consider are,
Understand the present situation of your business and update yourself about what's happening around the direct selling market or industry
Choose the help of an advanced technical package or direct selling software from the best providers in the industry
Upgrade yourself in times that require a change or stay ahead of what future is going to be, be flexible, have courage and adapt the best!
Hope I delivered what I meant to deliver. Become a part of direct selling industry and stay focused!
References
"Vorwerk (company) - Wikipedia." https://en.wikipedia.org/wiki/Vorwerk_(company).
"Epixel MLM Software." https://www.epixelmlmsoftware.com/
"History of software - Wikipedia." https://en.wikipedia.org/wiki/History_of_software.
"Southwestern Advantage - Wikipedia." https://en.wikipedia.org/wiki/Southwestern_Advantage.
"The History of Avon Products | LEAFtv." https://www.leaf.tv/articles/the-history-of-avon-products/.
"The Evolution of Digital Marketing: 30 Years in the Past & Future." https://digitalmarketinginstitute.com/blog/05-10-16-the-evolution-of-digital-marketing-30-years-in-the-past-and-future.
"The Evolution Of Marketing - History ...." https://historycooperative.org/the-evolution-of-marketing-from-trade-to-tech/.
"Retail sales global direct selling industry 2012-2017, by region - Statista." https://www.statista.com/statistics/293134/retail-sales-of-the-global-direct-selling-industry-by-region/.
"U.S. Direct Selling 2007-2014 Data - Direct Selling Association." https://www.dsa.org/docs/default-source/research/researchfactsheet2007-2014.pdf?sfvrsn=9e7ecea5_0.
"A Brief History of Search Engine Optimization - SEO 101." https://www.searchenginejournal.com/seo-101/seo-history/.
"Global social media research summary ...." https://www.smartinsights.com/social-media-marketing/social-media-strategy/new-global-social-media-research/.
"What to expect from AI in 2019- Business News - Business Today." https://www.businesstoday.in/technology/news/what-to-expect-from-ai-in-2019/story/301345.html.
"Artificial intelligence: What changed in 2018 and ... - Information Age." https://www.information-age.com/artificial-intelligence-2018-2019-123470427/.