Revision history of Epixel MLM Software
Our MLM software undergoes periodic revisions. We regularly update the software with the latest trends, features, and security fixes. Our research and development wing along with quality control team continuously test and improvise the MLM software platform to meet real-world challenges.
MLM Software V-23 – Maximize teamwork with advanced tools for collaboration and team building
Release Date: February 2023
Summary:
Distributor disengagement and organizational silos are tampering the growth of MLM companies. The new version of Epixel MLM software is designed to eliminate organizational silos and accelerate distributor engagement through experience-driven team building and collaboration tools.
Version highlights:
Optimized communication channels on a voice, video, and screen-sharing-enabled platform
Multi-language support for distributors to share content in their preferred language
Online collaboration tools like online chat, presentation and file sharing tools for remote teams
Automated training modules with flexible learning options
Customizable mentorship programs and sponsor-led training sessions
AI chatbots to assist distributors throughout their selling process
Create personalized training and tasks based on individual distributor skills
Exciting leaderboards to instill competitiveness among distributors
New features:
Task scheduler and event calendars
Online discussion rooms
State-of-the-art team dashboard
AI chatbots with one-click support access
Team performance tracker with real-time data monitoring
Organizational leaderboards
Activity feeds
View our features in detail
MLM Software V-22 - New age sales tools for distributors to sell smarter
Release Date: October 2022
Summary:
The sales platform is loaded with improved and advanced tools to help distributors in their customer acquisition journey. The platform auto-detects a drop in the distributor performance levels and prescribes courses and techniques to upskill their talents.
Version highlights:
Blended learning modules with automation and gamification
Centralized content repository for distributors to access any information anytime
Personalized platform for distributors to interact with their customers
Identify knowledge gaps and train distributors to overcome their deficiencies
Current market analysis and customer trends analysis
Integrated team building activities and creative brainstorming sessions
New features:
Gamified training sessions
One-click activity comparison report
Automated and personalized sales campaigns
Multi-touch drip campaigns
Personalized customer interactions
AI-powered content management system
Market analytics
Performance insights on dashboard
View our features in detail
MLM Software V-21 – Prospecting got stronger with an improved sales prospecting module
Release Date: June 2022
Summary:
The updated sales prospecting module presents a hyper-personalized experience for prospects, simplifying the overall sales process. Social prospecting module integrated with smarter outreach tools makes omnichannel prospecting efficient and easier.
Version highlights:
Omnichannel social prospecting for improved sales productivity
Nurture campaigns to enhance prospect relationship
Monitor prospecting activities of individual distributors
Analyze prospect behavior and prioritize quality prospects
Schedule and deliver personalized email campaigns and newsletters
Profile insights of website and social media visitors
Unified view of prospect activity on a state-of-the-art dashboard
New features:
Predictive lead scoring
Prospect activity tracker
Personalized ad campaigns
New promotional tools
Visitor analytics
Follow-up reminder
Comprehensive activity dashboard
View our features in detail
MLM Software V-20 – The fully-functional commission engine with real-time payout visibility
Release Date: March 2022
Summary:
Manage your commission and bonus payouts, anywhere anytime, on a single online platform. The new automation modules automates the complete processing of payouts with real-time insights on overall commission payments.
Version highlights:
Seamless payment integrations for an industry-compliant and smooth payout process
Automation of both individual and group payouts
Generate user-role specific reports—downlines, uplines, consecutive downlines, sponsors, etc
Highly scalable architecture to accommodate growing distributor base
Customizable platform for modifying commission structures
New features:
Improved commission set-up process
Payout scheduler
Compensation builder
Commission analytics
A/B plan testing
Commission tracker
Commission audit logs
Commission simulator
View our features in detail
MLM Software V-19 – Highly competent social selling platform for omnichannel engagement
Release Date: December 2021
Summary:
Integrate all your social channels into one comprehensive platform. Schedule and launch campaigns and measure the impact with advanced social media analytics. Run omnichannel stores and increase sales conversions right from an all-in-one platform.
Version highlights:
Create, curate and deliver personalized content across to your target audience
Automated content screening and analysis with an AI-powered platform
Track distributor activities on various social media platforms
Real-time display of audience feedback
Respond in-stream to social mentions
Manage and track your social selling performance
New features:
Social media campaign tracker
Content manager
Lead tracker
One click review and approve process
Customizable performance reports
Automated content screening platform
Customer research and trend analysis
View our features in detail
MLM Software V-18 – New and advanced ecommerce module for easier store management
Release Date: September 2021
Summary:
The extended ecommerce module comes with high-end features that promise effortless store management. The integrated estore has been upgraded for higher scalability to accommodate an expanding customer base.
Version highlights:
Targeted and personalized ad campaigns
Advanced e-store builder with high-end customization options
Omnichannel selling
Internationalization features to take your estore beyond borders
Shopping cart analytics to reduce cart abandonment and customer drop-offs
Curated customer history to manage your business on the move
Scalable inventory management platform
New features:
Drag-and-drop store builder
Realistic and responsive themes
Flexible buy buttons
Easier checkout process
Smarter shopping cart
Multi-faceted product view
Stock updates and alerts
Coupon generation
New shipping integrations
View our features in detail
MLM Software V-17 – Independent lead generation system with advanced prospecting module
Release Date: June 2021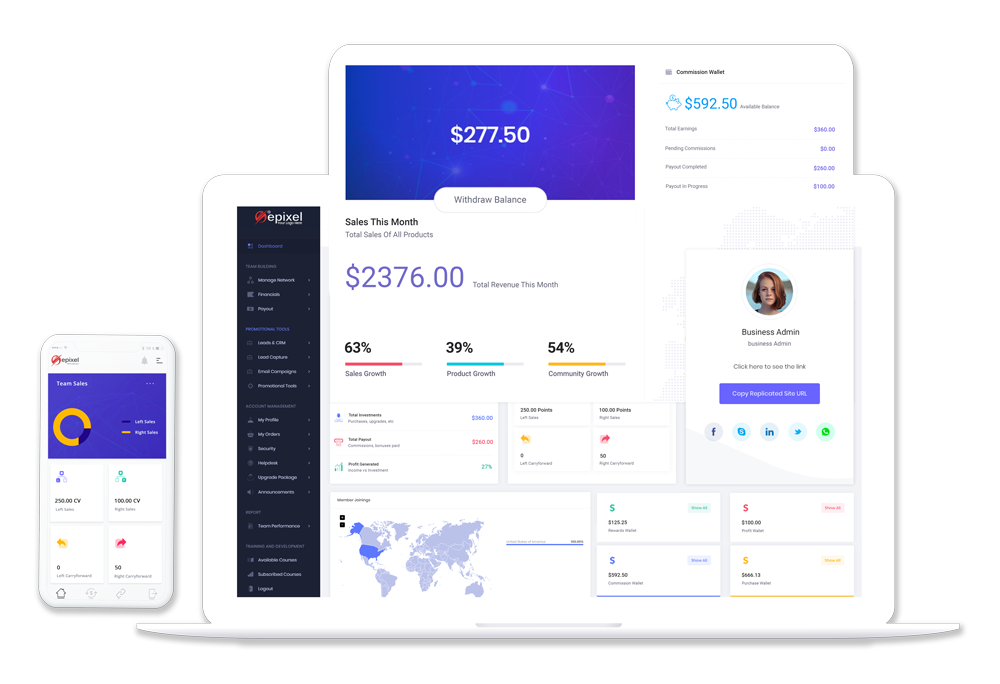 Summary:
The upgraded lead generation system is built exclusively for generating high quality leads. Improved lead management tools help create personalized nurture campaigns and boosts conversion rates.
Version highlights:
Data-driven automated lead generation campaigns
Social prospecting module with omnichannel capabilities
Lead analytics with high precision analysis
Track engagement for social media posts and campaigns
Nurture campaign modules for prospects who show high engagement
Lead performance forecast
New features:
Lead campaign manager
Engagement tracker
Lead scoring and segmentation
Intelligent lead funnel
Responsive page builder
Metrics optimization
A/B testing module
View our features in detail
MLM Software V-16 – New and improved customer-centric modules for an enhanced customer experience
Release Date: March 2021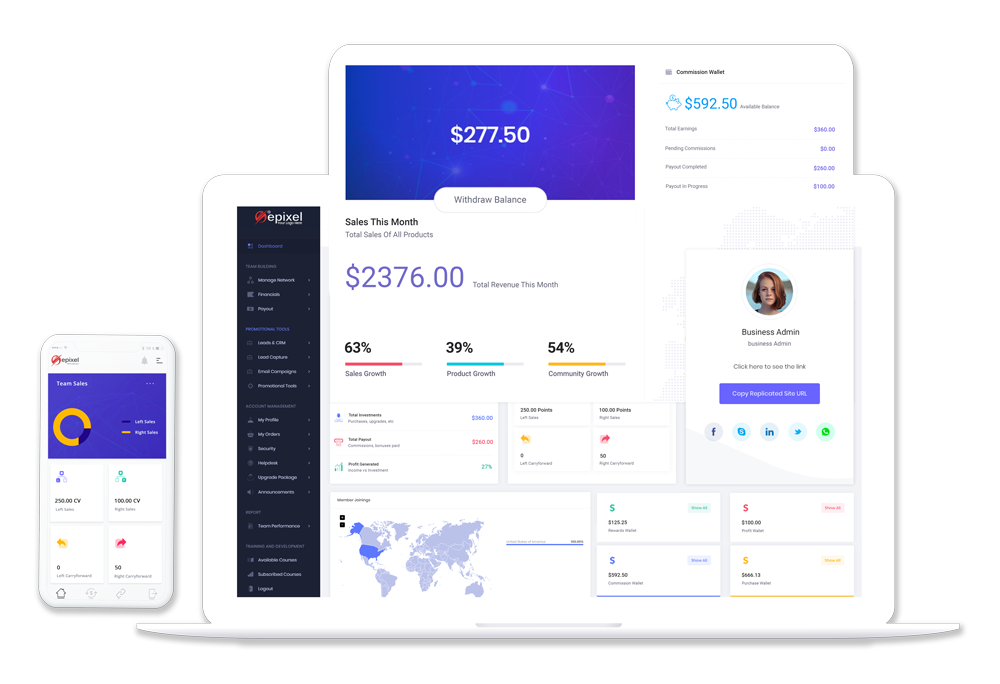 Summary:
A customer-focussed architecture with separate modules to fortify customer acquisition, engagement and retention. Seamless data-led customer interactions module delivers a smooth customer experience.
Version highlights:
New rewards and loyalty platform integrated with gamification modules for improved customer engagement
Improved rewards and loyalty analytics dashboard
Advanced customer support module to ensure 24/7 customer support
Integrated live chat functionality
Customer analytics presents comprehensive view of customer data and behavioral analytics
Dedicated mobile loyalty app for easier and real-time rewards redemption for customers on-the-go
Customer data segmentation
Advanced security and compliance system
New features:
Rewards page with new redemption widgets
Chatbots and click-to-call buttons
Automated remarketing campaigns
Coupon generation
Customer KPI dashboard
Real-time reward redemption
Geofencing
In app communications and push notifications
Customer data and payment security
CCPA and GDPR compliant
View our features in detail
MLM Software V-15 - MLM and Direct Sales Solutions for everyone
Release Date: December 2020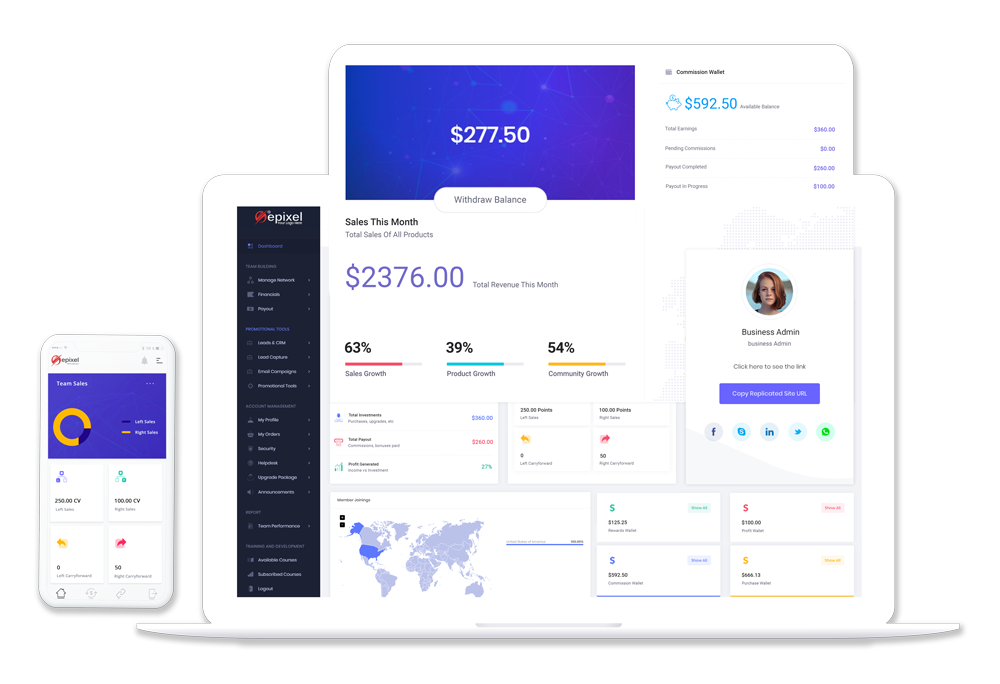 Summary:
Three different quick launch turnkey-solutions for startup, medium scale, and enterprise business needs with different pricing. Affordable and standard pricing for all business streams. Customization feasibility is high which makes it easier to handle complex business strategies and compensation plans.
Version highlights:
Three standard editions launched - Essential, Advanced, and Enterprise
Improved the performance of commission calculation and rank advancement rules by implementing a new algorithm
Implemented Sentry for issue logs
New features:
Training program is now a part of Epixel MLM Software
On-demand business analytics for business forecasting and proactive decision making
Advanced reports on commissions, missing commissions, and rank advancement. These details tell your distributor how they received a particular commission, a specific rank, or why they missed their commissions or rank advancement
Advanced support ticket module — no more third-party support ticket system
Store and inventory management — multi-store for distributors
Neumorphism Mobile App — loaded with advanced back-office features for distributor mobile app with an ultra-modern design approach for a mobile business experience. Separate apps launched for E-commerce and back-office. Customers can now enjoy a light-weight E-commerce shopping experience
View our features in detail
MLM Software V-14 - High availability and decoupled architecture
Release Date: February 2020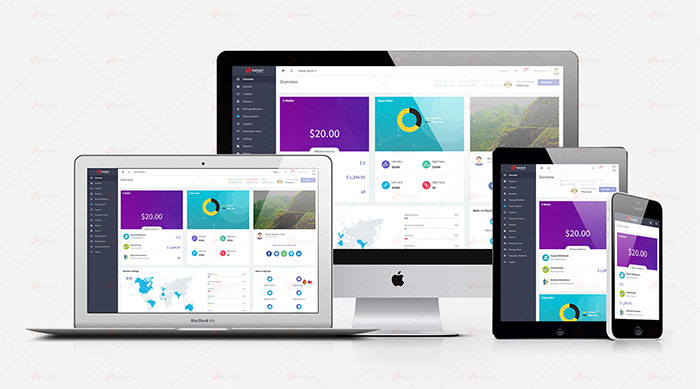 Summary:
All the services are made independent and decoupled. Services like back-office, commission engine, managed database, chaining and indexing engine, and mobile app services can be run in a single server or can be detached and run on different servers as the business and traffic grow.
Version highlights:
A more advanced multi-threaded commission calculation engine
Improved parallel-processing of commission engine which ensures faster commission calculation even when you have a million distributors
Implemented pay-rank and lifetime rank rules in the platform. The updated platform automates the rank advancement process based on the implemented criteria
Supports PostgreSQL version 12.x
Nagios monitoring
REST API engine
New features:
ShipStation implementation and support with various shipping providers
Implemented Avalara Taxation software, for globally compliant tax policies
Global Payroll Gateway integration for secured and automated payments and payouts
NMI payment gateway integration
PayQuicker integration
Voxship Shipping integration
MLM Software V-13 - Grow globally
Release Date: December 2019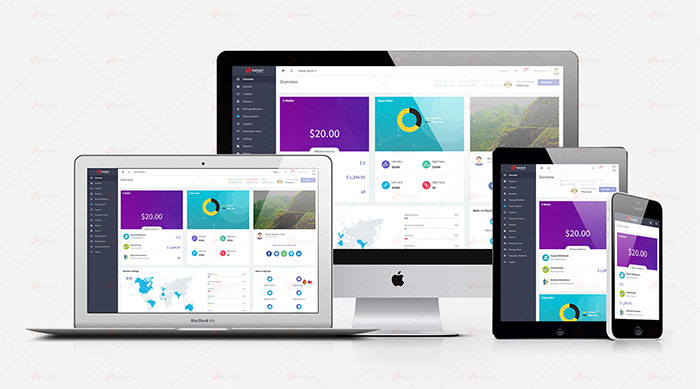 Summary:
Advanced globalization tools that ensure country-specific legal compliances for your business to safely grow beyond borders.
New features:
Country-specific compensation rules
Multilingual and multi-currency — supports multiple languages and currencies
Country-specific product pricing and product catalogs
Country- and region-specific tax compliance
Country-based shipping method integration and shipping price calculation
Country-specific store
MLM Software V-12 - Single platform to handle all direct sales demands
Release Date: August 2019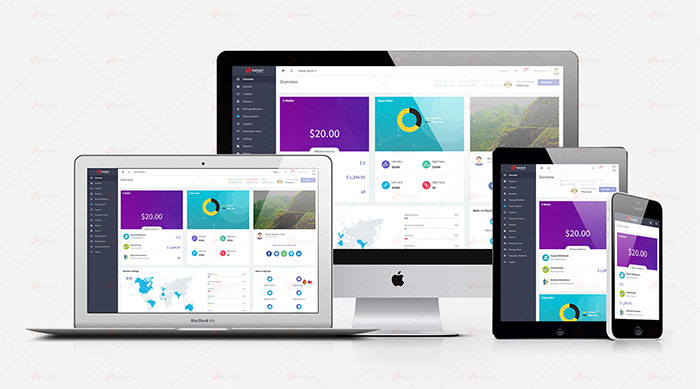 Summary:
More focussed on meeting the challenges in the direct sales business. A single platform to handle multilevel commissions and other direct sales needs.
New features:
Advanced E-commerce and Shopping cart
Implemented Node.js and Elasticsearch for better and faster product search
Countrywide store and product listing
MLM Software V-11 - Business Intelligence
Release Date: May 2019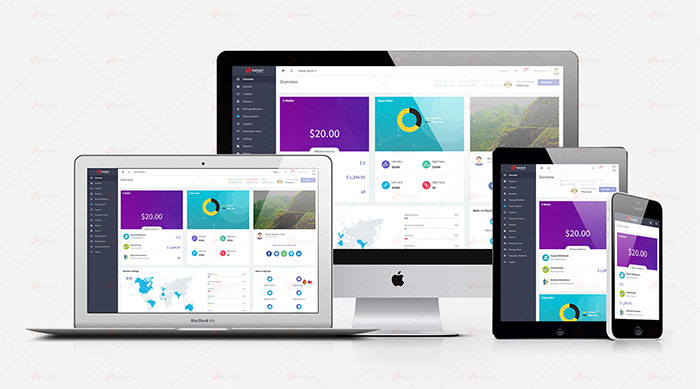 Summary:
Loaded with Business Intelligence for advanced proactive decision making. The BI-assisted tools are tailor-made to meet various custom business strategies.
New features:
Advanced BI tools
Actionable insights
Plan simulator and advanced compensation calculator
Implemented bonus compression for business sustainability
Commission and bonus forecasting tools (on-demand)
Compact rank overview widget for a detailed view of current rank progress and future rank goals
Organizational events and News widget on the dashboard
Out-of-the-box support for 10 languages (English, Spanish, German, Chinese, Japanese, Korean, Italian, Swedish, and Arabic)
Enhanced security middleware implementation
Android and iOS native apps for E-commerce and MLM distributor back-office
MLM Software V-10 - Django & Python - Breakthrough technologies employed to meet expanding enterprise needs
Release Date: November 2018
Summary:
A major technology shift from PHP to Python, Drupal to Django to meet ever-increasing enterprise needs, with intelligent analytics. Improved computation power and performance.
New features:
This new version of MLM back-office includes advanced features (See all the features of MLM Software Platform)
Sponsor change and genealogy modifications
New payment gateways for Bitcoin and Ethereum with low transaction charges
KYC module
Secure and dedicated payout system to process payout for millions of users simultaneously. Mass payout system can be hosted in a different server with private access to improve security and performance
Multi-factor (Two-Factor) authentication
Dedicated compensation calculation module
Advanced rank/career rules processing engine
Multilingual is no more an add-on. Included with the platform
Multi-currency is no more an add-on. Included with the platform
Enhanced security for changing payment gateway merchant details. Implemented email OTP verification
Platform improvements:
New technology shift - Drupal to Django
Multi-technology architecture
All dependency plugins are upgraded to the latest version with bug fixes and performance improvements
The application supports horizontal and vertical scalability. The new version supports single, multiple, and cloud-based architecture
Dedicated high-performance engine for error-free compensation calculations
Dedicated rank and career advancement engine for real-time rank rules processing
MLM Software V-9.0 - Improved Performance and Protection Updates
Release Date: October 2018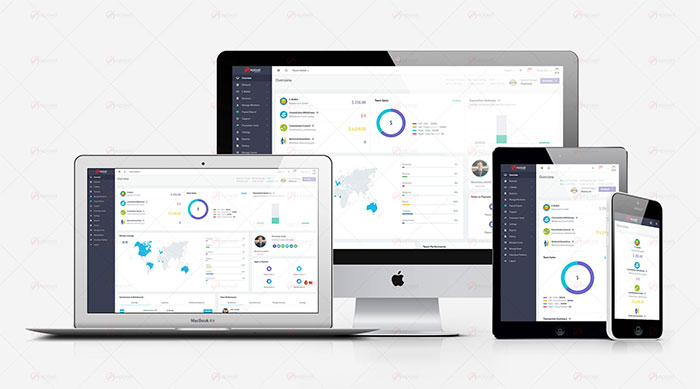 Summary:
Updated system with new additions for improved customer experience.
New features:
Latest compensation and rank processing engine
Dedicated KYC modules
Additional layer of security and intruder alert on any system attack
GDPR compliant
Compatible with Apache mod_secure
Updated security modules
Composer-based dependency manager
Improved concurrency and performance parameters
Improved protection for remote code execution vulnerability
Advanced protection against Denial of Service (DDoS) attacks
Improved protection against CSRF vulnerabilities
CDN, external caching engine, and NoSQL support
MLM Software V-8.0 - Advanced security fixes
Release Date: May 2018
Summary:
New version of Epixel MLM Software with advanced security fixes on a stable platform.
New features:
Advanced CMS-based platform development
Multiple payment gateways and easy cryptocurrency support
Improved admin settings for easy management of all modules
Updated security modules
Extended auto-ship functionalities
Cryptocurrency exchange for all available cryptocurrencies
Introduced ICO — an innovative method to raise funds using blockchain technology
ICO Campaign/Token sales marketing
New service added — cryptocurrency and ERC-20 token development
Design improvements
Latest security upgrades and patches
New admin and user control settings
Supports in-house payment methods
MLM Software V-7.0 - Cryptocurrency and Token Integrations
Release Date: January 2017
Summary:
Released new version of Epixel MLM Software with advanced features. Enhanced usability features and inbuilt E-commerce.
New features:
Advanced CMS-based development with page builder
Brand new and responsive dashboard design
Advanced E-commerce shopping cart integration with multi-currency and multiple payment gateway support
BTC and ETH payment gateway integration
CRC-20 token development and enables the sales through MLM system
Advanced admin settings
More advanced promotional tools
Easy cryptocurrency implementation
Advanced compensation plan settings for admin
Improved protection against Denial of Service (DDoS) attacks
Improved protection against Cross-site scripting vulnerabilities
MLM Software V-6.0 - New theme, new looks
Release Date: November 2016
Summary:
Newly released version of Epixel MLM Software has advanced features and design.
New features:
Bootstrap 3-based theme
Dashboard theme changing options for the users
Advanced E-commerce shopping cart integration with multi-currency and multiple payment gateway support
Admin settings to manage different modules on a single platform
Advanced promotional tools
Replicated websites
Advanced compensation plan settings for admin
Easy multilingual management
MLM Software V-5.0 - Advanced features
Release Date: April 2015
Summary:
MLM Software platform release with advanced features and development of various compensation plans and modules.
New features:
Inbuilt CMS support
Updated and responsive dashboard design
Easy module integration
Easy-to-update design
User-friendly E-commerce shopping cart
Payment Gateways: The MLM software that we offer supports all major payment gateways across the globe like PayPal, Authorize.net, credit card, debit card, Skrill, Stripe, etc.
Auto-scheduled backup options
Promotional tools
Replicated websites
Live chat module integration
Forum integration
MLM Software V-4.0 - New plans, New features, and Internationalization
Release Date: June 2014
Summary:
New platform offers a broad range of features for developing applications and software. Introduced new plans like X-Up, Gift, etc.
New features:
Improved and responsive dashboard design
Easy module integration
Multilingual support
Multi-currency support
Advanced security features
Backup options
Support ticket
SMS gateway
MLM Software V-3.0 - Multi-platform support
Release Date: January 2013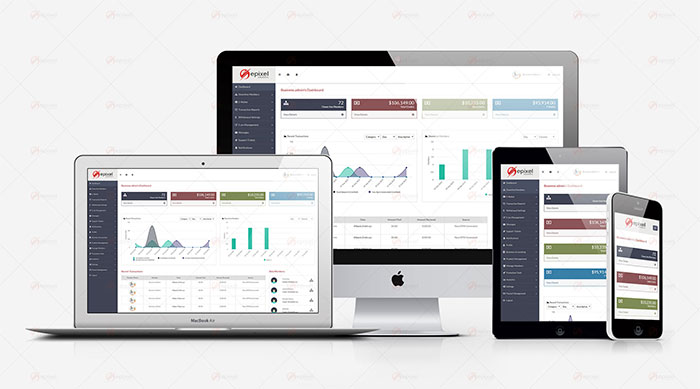 Summary:
Responsive Epixel MLM Software release with advanced features and new dashboard design compatible for all smartphones and tablets.
New features:
Implementation of support ticket module
Advanced eWallet implementation with fund transfer option and eWallet withdrawal limit setting
20 payment gateway implementation
Introduced messaging option for users like inbox, sent mail, draft, compose etc
Advanced admin settings to manage compensation plan settings, withdrawal settings, and site settings
Responsive MLM software version implementation with cross-platform support for smartphones, tablets, laptops etc
Advanced genealogy tree for Matrix, Unilevel, and Binary Plan
MLM Software V-2.0 - new features
Release Date: September 2011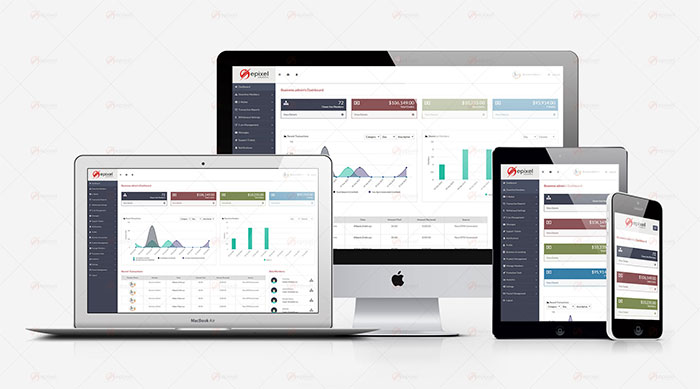 Summary:
Epixel MLM Software version 2.0 released with advanced features on compensation plans like Binary, Matrix, and Unilevel.
New features:
Implemented Epin
Implemented eWallet
Integrated 5 new payment gateways
Secured fund transfer option for user
Admin settings to manage commissions
Admin approval to withdraw funds
Advanced genealogy tree for Matrix, Unilevel and Binary Plan
IE support
MLM Software V-1.0 - The complete MLM software solution
Release Date: August 2010
Summary:
Initial release of Epixel MLM Software, with compensation plans like Binary, Matrix, and Unilevel.
Features:
Released with basic features for MLM business
Integrated payment gateways like PayPal, Bank Transfer, etc
IE and all modern browser support
Genealogy tree for Matrix, Unilevel and Binary Plan