Tracing back to your roots is an exciting and interesting practice. Knowing your line of descent gives you the connection with your family and your social and cultural identity.
Likewise, in network marketing, Genealogy is a vibrant concept that has garnered much attention. Many MLM companies visualize this concept with the lineage of distributors in an MLM genealogy tree.
What is genealogy in network marketing?
Genealogy in network marketing outlines the relationship between distributors in the organization. In greater detail, network marketing tree visually displays the hierarchy and details of a distributor such as a sponsor, their immediate downlines, referral downlines, etc. It also marks up their sales, bonuses, and commissions, packages bought, etc.
The increased attention to the concept is gained by the fact that it reflects the real-life family tree concept but inside an MLM organization. When genealogy in real life is about tracing the ancestry; in MLM it is all about distributors, their organizational activities and relationships that impact the growth of the organization.
Mainstream MLM organizations realize this concept of a genealogy tree with an MLM genealogy software and for some, the concept comes integrated within the MLM software itself.
Genealogy tree in MLM details the process of how distributors are connected to the organization's income opportunity i.e. the sales they make themselves and the percentage of sales generated by their downlines.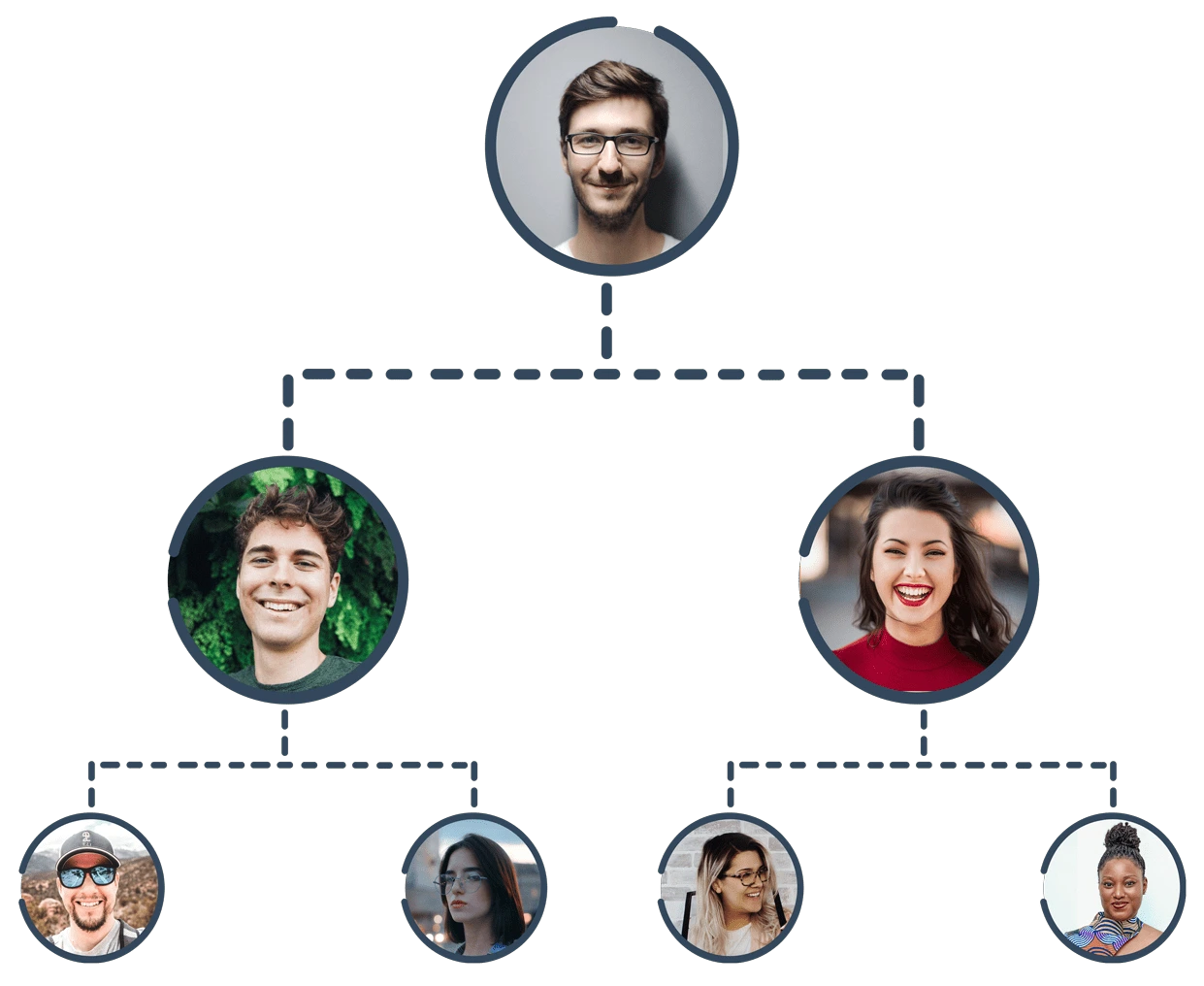 What is a genealogy tree in network marketing?
Genealogy tree is the comprehensive visual representation of the organizations' structure with business admin at the top and the leaders and distributors placed below the admin in a hierarchical order in a MLM tree structure.
Benefits of MLM genealogy tree in your network marketing business
Wondering how just a visual representation of an organization's structure turned so many heads?
This visual tool can measure the length and breadth of your organization. Looking into an MLM genealogy tree is as good as getting the snapshot of your network marketing business at a glance.
Distributors can view the complete organizational volume and the individual contributions they make. Gaining a complete picture of the organization also helps distributors place their downlines in favorable places in the genealogy tree to improve their earning and growth opportunities.
What details are included in an MLM genealogy tree?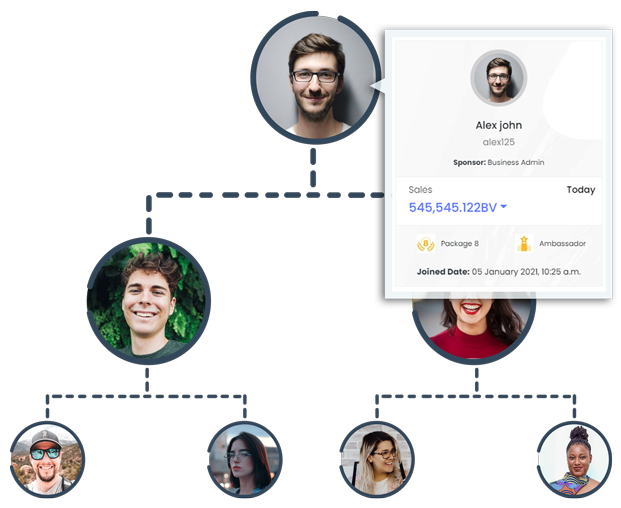 The MLM tree pulls out all the details of a distributor in a clean and organized view, giving admin and other distributors a detailed track record of individual distributors.
Basic distributor profile—Name and other personal details
Sponsor
Immediate and referral downlines
Total sales
Commission and bonus payouts
Rank achievements
Package details
Add new members from the tree itself
MLM genealogy software also provides users with multiple tree views. Most genealogy software comes with two tree views to help distributors get an overview of their teams.
Team genealogy visualizes the downlines and their corresponding details of a specific distributor.
Referral genealogy displays the details of referrals referred to the MLM system by a particular distributor.
Different types of MLM genealogy trees and how they grow
Network marketing genealogy trees are build depending on the MLM compensation plan a company chooses to operate. Details displayed also get modified in accordance with the chosen plan. New downlines are placed just below their sponsors or according to the MLM plan specifics.
1. Binary genealogy tree
In a binary MLM genealogy tree, each distributor can only add two downline distributors under them, known as 'legs'. The binary levels can be unlimited but with the restriction of two downlines per distributor.
Structured on a binary MLM plan, binary genealogy commissions are mainly based on weaker leg sales i.e. the leg with the lowest sales volume. This leg is also called the 'pay leg' and the other leg is called the 'reference leg'.
The most cited advantage of the binary MLM plan is that the leaders/sponsors are motivated to encourage and engage their distributor teams in optimizing their earning opportunities.
2. Matrix genealogy tree
The matrix genealogy structure establishes itself on a matrix MLM plan with a fixed width and depth. However, the width and depth are determined by the MLM organizations and are dependent on their goals and product opportunities.
The depth and width of matrix MLM structure can be of any width and depth, 3*4, 4*7, 5*3, etc. In a 5*3 matrix, each distributor can expand their frontlines up to 5 in width in each level only up to 3 levels.
Bonuses in a matrix genealogy are calculated based on levels or matrix completions, providing distributors with multiple earning opportunities.
Matrix MLM plan helps organizations broaden their teams and business exponentially.
3. Unilevel genealogy tree
The unilevel MLM genealogy structure built on a unilevel MLM plan is simple to understand and compensate. In a unilevel genealogy, distributors can add as many downlines as they want, in a single frontline level. Each of these downline distributors can also have unlimited downlines in their respective frontline.
Unilevel commissions are paid based on criteria set by the MLM companies, based mainly on the sales volume of distributors or the number of frontline levels. Rank hierarchy is also a dependent factor for determining commission percentages.
All in all, a unilevel MLM genealogy is widely adopted by network marketing companies for the immense growth potential it offers.
4. Breakaway genealogy tree
An MLM genealogy structured on a breakaway plan lets distributors 'breakaway' from their downline team to form a new team of downlines. The process of breaking away is determined by the sales volume, rank, or other criteria determined by the MLM companies. This is otherwise called a 'stairstep breakaway' genealogy.
Compensations in a breakaway plan are based mainly on the individual as well as group sales efforts.
The breakaway genealogy helps boost the productivity of distributors towards achieving a specific rank which in turn improves their earning opportunities.
5. Hybrid genealogy tree
Just as the name suggests, a hybrid MLM genealogy mixes up two unique genealogy structures into one hybrid structure. Explaining it better, we can add the structure of a binary plan and the compensation structure of a matrix plan to make a new MLM genealogy.
The most common hybrid genealogy structures are unilevel breakaway, binary breakaway, matrix board, binary board, etc.
MLM organizations create hybrid genealogy structures to align their business idea with organizational goals.
The diversity in various MLM genealogy trees can be organized and optimized only with competent genealogy software. It gives users a complete view of how the business is performing and delivers insights to optimize their strategies and goals.