'Stanley Parties' in the 1930s to Tupperware parties in 1940s to "Ding dongs" of 'Avon calling' in the 1950s until today America has had a positive approach to the direct selling industry. America has seen a revolution in the direct selling marketing model. With the turn of the centuries, the continent witnessed several marketing strategies starting with on-road selling to door-to-door sales to home parties and the onset of the most innovative business model, multilevel marketing. This resulted in the massive transformation of existing direct selling companies and the evolution of new ones in the market contributing considerably to the American economy.
Why have Americans shown a growing affinity towards direct selling? How did the U.S. evolve as the largest direct selling market in the world? What positives of direct selling drew Americans closer to the industry? The net effect of direct selling influence on the American market and society is a topic worth studying. Ipsos in partnership with DSA researched on the topic and the network marketing facts and insights they came up with are pretty exciting for the industry. This demographic study throws light on the general attitude of Americans towards entrepreneurship and flexible job opportunities.
Direct Selling and Gig Work - The Popular Choice
Ipsos ran a survey online with 2006 adults aged 18 and above. They were asked to express their general views on direct selling and other 'gig' work opportunities such as ride-sharing services. 79% of the respondents marked direct selling as an attractive option with 81% for gig work. People's change in attitude surfaces from the tiring workplace politics and tight job schedules. The trend is growing in the U.S. with people seeking flexible income-earning opportunities mainly to create a work-life balance and to fend off the stress associated with a 9-5 job. How hard to work, when to work, and the freedom to choose what type of work for how long influences people to favor flexible work opportunities. While millennials take this as a passive income-earning opportunity, GenZers' take on direct selling is the freedom that comes with flexible entrepreneurial opportunities.
Favorability towards,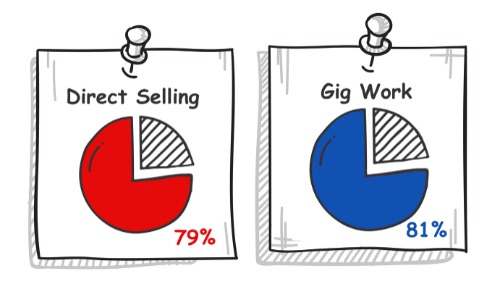 77% of Americans notably expressed their interest in entrepreneurial opportunities with 91% GenZers and 88% millennials. This indicates that younger generations are more interested in supplemental income-earning opportunities. Ipsos points out that "while U.S. unemployment rate is near a 50-year low, average wages have been stagnant over the past 50 years, and household debt has increased, it is fueling a desire for ways to earn supplemental income and increase financial security". It comes as a blessing in disguise for direct selling companies as the industry is busy launching welcome campaigns for millennials and GenZers both as employees and consumers. The market is targeted at running research for a perfect demographic score this year.
Direct Selling Demographics in the U.S.
Ipsos study gives clear-cut evidence of direct selling having a broad and more diverse appeal in the U.S. irrespective of age, gender, and ethnicity. Right from age-old 'Stanley Parties' women have been an undeniable part of the direct selling model. Their contribution is immense. Men mostly find it as a tidy side income opportunity together with their full-time jobs.
The U.S. witnessed a change in shopping behaviors in 2020. A recent SCORE survey suggests that shoppers are more focused on buying "products that reflect their personal values" and that creates an impact in the local community. This comes at a time when the "Black Lives Matter" movement is gaining momentum. Ipsos in the study noted that positive perceptions towards direct selling remain steady at 80% for the past 10 years. The strong appeal towards direct selling is mainly based on two factors -- an initiative to support small businesses and the personal face-to-face service direct sellers provide.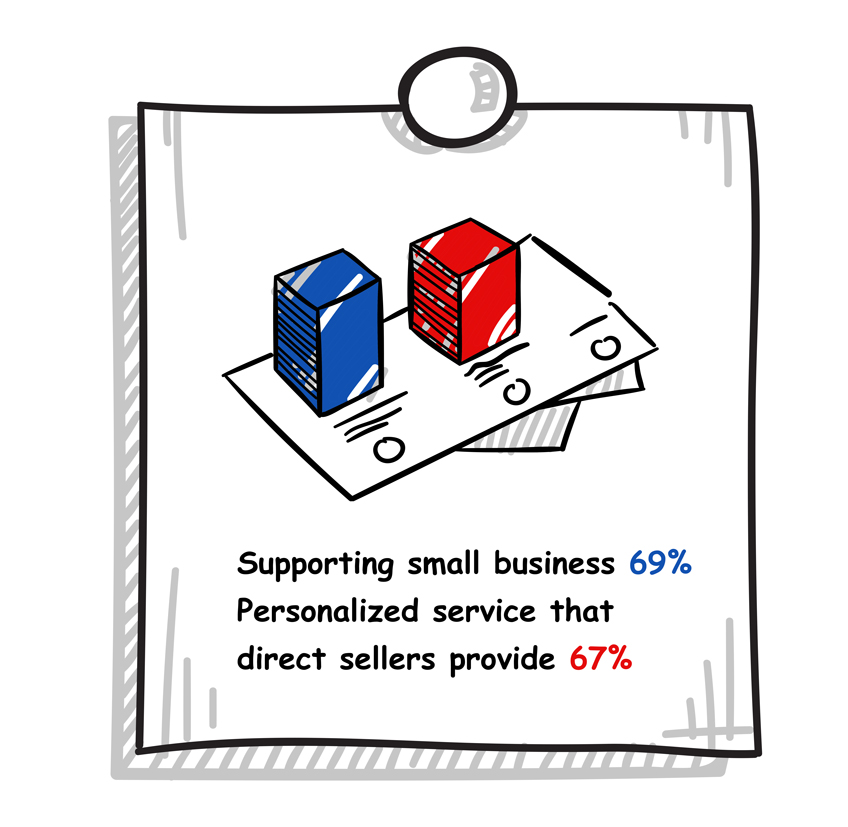 The Initial Cost and Risk of Start-ups in Comparison
However, the most significant and interesting part of the study is the comparative data that covers the startup cost and risk of direct selling and other business opportunities. The study concluded that direct selling requires lower start-up costs compared to other opportunities.
Direct Selling
Realtor
Gig Work
(Driving)
Gig Work
(Home Rental)
Franchise
(Restaurant)

Training
Materials
Membership fees
State costs

Auto loan or lease
Maintenance
Insurance
Gas

Home or apartment ownership
Maintenance
Insurance

Franchise licensing
Location purchase or rent
City licensing

$82.50*
$500-$1K**
$20K-$40K+
$300,000+++
$100K-$1M†
DSA members offer 90% buyback††
No refund on investment
No refund on depreciation
No refund on maintenance
No refund on investment
* Average required start-up costs from DSA 2018 Evolving Marketplace Study
** Realtyna
+ Statista
++ Census/Realtor.com
† Franchising.com
†† DSA Code of Ethics
Contribution of Social Media in Direct Selling
With half of the world's population on social media, it has gained great significance in product marketing. The study uncovers social media as one of the effective options available for direct selling. It reveals that 89% uses social media out of which 46% welcome direct selling opportunities on social media. Direct selling companies should discover fresh approaches to influencer and social media marketing and should abstain from spamming practices to increase customer acquisition through social media.
Overcoming the Direct Selling Mindset
The barriers in the direct selling mindset are that 44% don't like to sell, 32% say that they don't know how to sell and 28% absolutely have no clue on where to start. Given the positive and possible outcomes of direct selling, these values are fit for change.
Ipsos conducted a messaging test as a part of their study to identify the most appealing messages to potential direct sellers.
Four messages with the best reach identified.

"We were pleased to have Ipsos focus their market and opinion research expertise on the important areas of entrepreneurship and consumer perceptions, particularly as it relates to the direct selling channel," Joseph N. Mariano, president and CEO, U.S. Direct Selling Association (DSA). "These insights help us better understand the increasing desire for entrepreneur opportunities in our rapidly evolving labor market and the unique benefits that direct selling provides to all involved."
The study was mainly aimed at helping consumers understand the positives in the career opportunities provided by direct selling.
What Direct Selling organizations should infer from the study?
The tremendous positive approach in the middle of the darkest episodes in history itself is clear evidence of the influence of the industry in the American mindset. Now all that is left for the direct selling organizations to do is to evolve the trend of a customer-centric approach positively impacting the lives of consumers. The impact this would have will be the long-term sustainability of the brand. DSN's Customer-Centric Recognition program encourages direct selling companies to give due weightage to customers and their interests. This initiative by the DSN could be considered as a positive wave of change that would impact and counter the flaws of the direct selling industry itself at large. Here it's worth highlighting what the COO of Shopify said, "Multichannel is not a strategy. The strategy is to sell where your customers are."
Ipsos is a leading multinational market research firm that specializes in running surveys and polls to analyze and synthesize data thus derived into meaningful insights for the brands to retrospect. They assess the potential of world markets and the evolving trends for the benefit of various industries, consumers, and economies.
As the economic landscape is shifting its way to recovery, now or never is the right time to redesign your strategies to increase customer acquisition and retention.
Senior Industry Research Analyst and Strategist