Yes, It's 2019 and everyone is into the e-commerce world to make purchases. Say, you like to purchase a branded cloth and you prefer to buy online as there are discounts and cash back offers available. Well, there are many options to choose from and by considering the review and other factors you'll finalize your product.
Wonder how these platforms are developed? How a marketplace begins its journey, and reaches the online audience?
Sam, one of my friends mentioned something important to me, and his words remarked me with an idea to help out people by providing a useful article about top 6 platforms to develop such an e-commerce store.
"Each and every day I'm getting to know about new e-commerce brands and believe it or not they're attractive by offering me price cuts, quick shipping, and multiple payment methods. I love to compare this stuff, and even as a business opportunity. That's how I began to surf through the internet and find a way to develop my own shopping site and compile business world with my products."
This article is for you guys who are looking for an e-commerce platform to develop your own online store and sell products in a unique way.
Yup, finding the best platform is kind of a difficult road to take and requires a lot of time to short-list them.
Here I'm providing you a list of top 6 popular marketplaces to explore with all the necessary details and facts to know about it.
Let's have a deep insight into these platforms.
Here I'm going to consider the below five platforms to analyze.
Shopify
BigCommerce
Wix
Squarespace
Magento
WooCommerce
1. Shopify
Shopify is an E-commerce marketplace development platform
Plenty of features available for users as per the requirements
Many supporting elements are attached to set-up the system from logo-maker to hosting end
Best available e-commerce building tool
Shopify is considered as the most popular online store platforms among this group, and about 2 lakh people are visiting their official website in a month. This traffic shows the popularity and the figure seems to be terrific.
Official website address: https://www.shopify.com/
As per Wikipedia, Shopify is a Canadian-based e-commerce company and is a subscription-type model with various plans to choose from. We'll see the package plans on the concluding side of Shopify note.
What do they offer?
There are numerous features available in their packages, and it's perfect to kick-start a business model.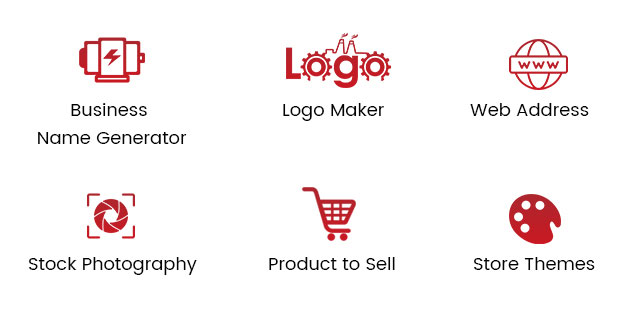 Business name and logos can be easily created using a dedicated tool (mentioned below). It's easy to use and you just have to follow a few steps to create a logo from the available choices.
These two services are available from the main menu itself.
Business name generator and Hatchful – Business name generator helps you generate a brand name for your business by just entering the query (a name related to your business). In a matter of seconds, a list of names that contains your business name will be generated (related names).
Whereas once you click on logo maker you'll be redirected to another landing page and that's Hatchful. Here you can make a logo by following these aspects,
Just click on 'Build logo'
Then choose a template from the list (which category of business) and then the styles.
Choose where you want this logo to be used (Social media, website, etc.)
Choose and edit the generated logos
That's it you have successfully created your official logo without any need of a designer. However, you can download this logo only once you sign up with Shopify.
Yet another thing is that you can't make a custom logo as per your wish as the generated design looks the same every time.
Well, there are 200+ logo styles available to choose from the so-generated list.
Choose domains from Shopify Online presence services and it's not free.
Burst, yet another service and here you can choose the stock photos for your e-commerce store.
Finally, Oblero, where you can add products to your e-store and it does have many specialties.
It's a product marketplace to choose the products to sell
No extra effort needed for packing and shipment as it is done by the Oblero team only
These products are added up alongside your products list
The so-added products are from various suppliers across the globe
No cost is charged for adding these products
It's a form of "dropshipping"
The profit side is available to the vendor after the charges levied by Oblero team, taxes & other kinds of stuff.
Handy, the theme chooser, Shopify offers various themes which include both free and paid ones. You can't see many options to choose in the free category, and yes, the themes are 'handy' enough to pick.
The most important thing you must understand is that it's not exactly the software that needs to be installed in a computer and it's a subscription-based package run in a web environment. Hosting and other stuff are included under this platform itself.
It's Mobile-friendly and one can easily manage using Shopify mobile app!
The packages to choose from the list look like the below chart

It does support the POS option to sell directly without any extra tools. It's perfect for small and medium scale companies and for enterprise business there is another platform known as "Shopify Plus".
Shopify Plus is an advanced version of Shopify with more features and abilities. Here is the website link of Shopify Plus: https://www.shopify.com/plus
How to sign up?
It's simple to sign up and what you require is an email address, password to choose, and then enter the name of the store.
That's it! You're set to go and the dashboard will be appearing in front of you once the account is verified.
Instructions are provided alongside with the dashboard. An easy and reliable e-commerce builder and it always kept the popularity of the platform higher.
2. BigCommerce
E-commerce platform for all types of business scales (small to enterprise)
A list of product management features are available with the package
The cloud-based system especially for e-commerce building
Client growth is stable and over 28% growth has been seen year over year
Yet another online builder with the traffic of about 4 lakh people per month which is double the visitors when compared to Shopify. So, is it more popular than the big head? Just like other platforms, BigCommerce provides multi-channel selling and multiple features.
Official website: https://www.bigcommerce.com/
What do they offer?
BigCommerce offers many standard features to develop and customize a multi-store universe. The most highlighting features and tools include the following.
Enterprise & Essentials – "Enterprise", the package for enterprise grades and "essentials" considered to be the building components to kick-start a small business world.
They are offering a 15-days trial for BigCommerce essentials and it comes with built-in tools.
Stencil & Theme collection – There are many themes offered by BigCommerce and it's a mix of free and paid items. Just like Shopify, there aren't many themes available to have on your e-commerce store (7 free themes) and preferably you can choose paid themes with customized tools.
Stencil is the theme engine of BigCommerce and here the customization is done to provide a user-friendly storefront.
'Cornerstone' is their popular theme or the framework for creating websites in a customized manner.
Here is a link to Cornerstone: https://cornerstone-light-demo.mybigcommerce.com/
In short, you can pull out a good theme as per your wish for with responsive side ON.
Yes, you've to do some effort here to mold a perfect one as per your desire.
Sell everywhere – You can sell your products not just in your store but on other popular e-commerce platforms like eBay, Amazon, Instagram, etc. In simple words, these products can be sold in person, on other marketplaces, and social media platforms. They have mentioned this part crystal clear on their website.
BigCommerce for WordPress: It's one of the plugins of BigCommerce integrated especially for WordPress websites.
There are many other tools available in the packages suitable for many use-cases like B2B solutions, wholesale, and international showcase.
If you're a developer, you can check out their tools & resources available in their package and it gets redirected towards their BigCommerce GitHub account.
Well, it's Mobile-friendly!
It's good to have such an online store builder, isn't it?
Let's take a look at their packages

It's fair and budget-friendly!
How to sign up?
Signing up to BigCommerce is easy, and it takes no big effort.
Enter your email address, the store name, and other basic details.
That's it your online store is ready to use and you can customize the dashboard and other stuff from this point.
3. Wix
The transformation from a website builder profile to handy e-commerce builder is their key achievement
A reliable e-commerce competitor who provides easy online store building with low-budget limits
Supports all media's embedding with drag and drop and other similar features
In a world of big heads in the e-commerce industry, Wix plays a different role by understanding the fact that the platform isn't just for an online building unit and it's wide. Wix traffic looks impressive with numbers higher than 35 Lakh visitors and this is an overall range and not just to create a web store.
Basically, you may consider Wix as a basic e-commerce platform with a basic feature list.
Official website: https://www.wix.com/
Wix e-commerce store: https://www.wix.com/ecommerce/website
It's not that difficult to start your own storefront. Let's see how things work in Wix.
What do they offer?
Wix offers website building strategies easily and at present, you can simply build an e-commerce space as a separate service.
A stunning storefront can be built in just a few steps.
Let's see how things work in the Wix platform
Create a website using Wix with drag and drop feature
Pick a premium plan to get advanced features for e-commerce
The basic version is free to enjoy more storage & bandwidth, register domain, remove Wix ads etc.
Connect the domain to the website so-created
Purchase a mailbox
Subscriptions and other plans
Initially, build a website with a template from the list of 60 designs available in the store. Then you can customize the online store and design it.
Easily add product pages to the concerned website and everything is customized as per the needs. Vendors or business admin can easily add new items to the pack with drag and drop option. Basic features like categorize the products can be done with this package.
Inventory tracking: Inventory side must be manageable and tracking can be systematically done with 'WixStores'.
Wix App Market: Wix App Market is like a Play Store where you can download add-on and it's not just about e-commerce-based add-ons. The market comes with many options other than the online store base.
Just choose one among them and add to the connected site.
Simple dashboard: A neatly designed dashboard is available to use and from here you can just attach your domain after customization and other stuff.
Google visibility is also provided to set-up your website for SEO purposes.
Email marketing campaigns & logo designing: You can design a new logo easily from a dashboard option. There is an option available to click for "create a new logo" and you will be redirected to a new window.
There you can provide some inputs and answer some questions. A set of logos will appear before you, and you have an option to edit these logos too.
Note: I felt the logo maker provided by Wix is far better than the others on the list. Other than this feature, there isn't anything new or dedicated features as e-commerce tools.
It's Mobile-friendly!
The pricing plans look like the below,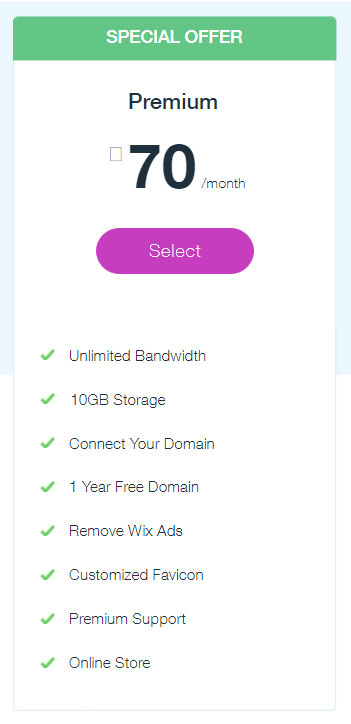 How to sign up?
To sign up on Wix, just follow the usual steps.
Sign up using email, or with Google or Facebook account.
A tiny eco-system is developed not just for e-commerce but for other online business purposes too.
4. Squarespace
A website builder just like wix.com
The quality of result evolved after setting up the website is brilliant and many have upgraded to paid versions after completing 14-days trial period.
E-commerce providers come with all the necessary tools to build a fully-functioning online store
Squarespace is more like a website builder (like Wix) and one of the finest in the industry too. Well, they are providing e-commerce website services and that particular service is getting enough attention. Out of 11 lakh customers, about 19,000 visitors are interested in their e-commerce services.
They provide all the necessary tools to build an e-commerce solution.
Official website: https://www.squarespace.com/
Squarespace ecommerce service: https://www.squarespace.com/ecommerce-website
What do they offer?
Squarespace offers a powerful list of features, and they have categorized into four areas like,
Website building
Domain registration
Online store building
Marketing tools
They all are linked to each other and enhances the package strength.
The most interesting fact is that many popular figures or personalities from various industries have developed their website using their platform. Celebrities, designers, business owners, etc. feels perfect to use Squarespace as their foundation of the platform.
The John wick stardom Keanu Reeves uses the platform to build his motorcycle brand KRGT – 1 and the website looks stunningly awesome.
Coming back to the point – 'the features', a drag & drop builder with a slightly modified version is the primary tool for customizing the store. According to websitebuilderexpert opinion, the drag & drop feature is more section-based i.e., one cannot just drag a section anywhere in the webpage where it doesn't fit.
The themes or templates available in the platform are more attractive than any others and you just have to choose your template to proceed further and then customize as per your needs.
Basically, there are many options available from logo designs to advanced tools. A Custom CSS option is also available with it if one knows to code. However, to enjoy all these tools, a good business plan is needed and upgrading from a basic version is simple.
In short, optimizing the website by giving value to customer easiness in managing the potential customer base is available in this package.
Domain attachment like any other online store providers is available in this platform too.
Inventory management and abandoned checkout recovery tools are also available with the package.
Even an e-commerce analytics tool is available to analyze the business for answering the missing questions of customers.
Again this platform is also Mobile-friendly!
Overall, SquareSpace is a powerful competitor for Shopify-like big guns, and the price plans of the online store builder looks like,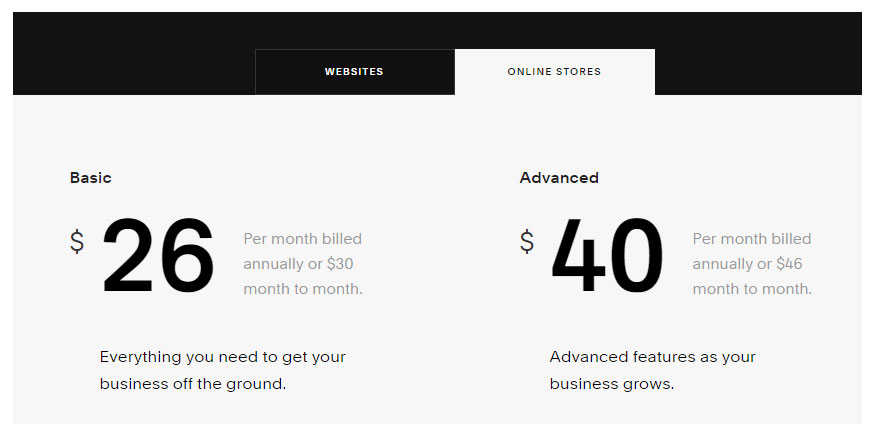 How to sign up?
Signing up is easy and simple, like the other providers in this list.
Your name, email address, and input the desired password.
Or else sign up using Google, Facebook or Twitter account.
That's it your account is created, just proceed further to customize the website and other stuff.
5. Magento
Magento is a part of Adobe Experience Cloud for better customer experience management
Dedicated services for e-commerce business and promises quick ROI than ever
The team doesn't provide any in-house designs
We're bringing you back you to dedicated e-commerce builder platforms from the website builders providers spot.
Magento is yet another subscription-based online store building platform with good popularity in this group. The website visitors are more than 4 lakh like the BigCommerce platform and seem to have gone passed 6 lakh back in August 2018.
Magento was the primary option before Shopify gained its prominence which however didn't affect the dignity or popularity.
Official website: https://magento.com/
What do they offer?
Scalability is the major factor that brings their name up among the group. Being a part of Adobe Experience Cloud, the platform is perfect for all types of e-commerce business solutions.
Adobe Experience Cloud is more a customer experiment management model to bring best to manage customer experience from all points of the business environment. From analytics to customer engagement marketing is carried by Magento with the support of this cloud platform.
Well, here in the list of features the missing part will be in-house designs or templates.
Magento marketplace: Here you can purchase themes and as far as we checked, there are 14 themes available for users to choose from. 13 among them are paid versions and the rest one will be free and an absolute one. It looks like a basic theme and Magento is not much advanced in terms of design part and they would rather focus on advanced features to make commerce through the internet rather easier.
Extensions are yet another part to buy in the marketplace, and about 4,675 add-ons are available to add in the cart.
A larger community is available to assist through the time and this Magento forum is very helpful in troubleshooting or any new other concerns in their online store.
It's an open-source platform that means it's free of cost to own the store and hosting & similar kind of elements aren't free of cost.
The coding-end: Unlike other players in the list, Magento doesn't grip well in terms of the non-technical end. In simple words, if you know how to code you can pull out one of the best e-commerce stores with ease but if not you can't just build a good one.
There are many case studies available on their website and it counts promising.
Order management and business intelligence are the next two smart features available with the platform.
Express packages: An e-commerce store for small business that includes basic training, data migration, and extensions.
Mid-market & enterprise: Here the solution for advanced business market is provided with Global partner ecosystem (community) and enterprise solutions.
After registering an account, you'll be able to manage the online store using an admin panel. A not much-complicated dashboard will be available for you to use and here you can manage all the necessary functionalities of business like sales, customers, promotions, CMS, reports, catalogs, etc.
You can find Magento in the world of adobe too: https://www.adobe.com/commerce/magento.html
Yes, it is mobile-friendly.
The price chart is not available on their website, and as mentioned earlier, it's free of cost to get a community-based package.
Hosting charges and enterprise edition are chargeable.
How to sign up?
Register to the community by providing basic details and agreeing their t & c.
Email address, name, description, your role, and the credential inputs are the basic data needed to create an account in Magento.
6. WooCommerce
WooCommerce is a plugin for WordPress e-commerce stores
It's open source and anyone can install the plugin to manage an online store with many in-built features
Customize the already-built WordPress website with WooCommerce plugin
Among the list, WooCommerce is considered as the highest customer-visited website and the traffic is a sturdy flow of about 6 lakhs. WooCommerce is known for its capability to transform a simple WordPress website into a fully-compatible online store.
It has many features and offers the customer an excellent experience to set-up something unique. It is build-over a platform that is not just popular but 1/4th of the websites available in the web-universe are built using this platform.
Official website: https://woocommerce.com/
What do they offer?
Initially, after you install the plugin you may not find the advanced features, and this can be done by means of extensions.
You can use this plugin to perform every aspect of storefront without any complexities.
As WooCommerce is a plugin, there ain't any theme part as it runs with the same theme of your WordPress website. It might fit into the contest with the same theme or may not fit – say it's more a 50-50 situation.
Storefront: You can download themes from the storefront if you need a fresh look for your website. As we mentioned earlier, it's going to be difficult if you already have a website with a theme, here you have to migrate first and then, change the theme.
Storefront is more than theme selection, here you can find certain many other extensions like,
Homepage content section
Footer bar
Powerback for style selection of the website view
Hamburger, a toggle to change the navigation menu (from default view to off-screen sidebar menu)
Product sharing, social media integrations
Parallax hero, an attention-grabbing component for online store
Mega menus & product hero, customer menu addition to main product highlighting
Blog customizer, controls and customize the blog view
Reviews and price table additions
There are so many extensions available in the storefront to install as per your needs and requirements.
Note: These extensions are not free but paid.
Order management, product management, store optimization, and every aspect is managed using powerful extensions.
So, basically, you must understand one thing, just get a plugin to add and that's not it. You have to configure everything using these extensions.
The extensions seem to pick various streams and functionalities. And this includes, Payments, enhancements, marketing, shipping, and much more with many options are available in the form of extensions.
The pricing part, it really depends on the extension you choose to add and hosting charges are applicable.
How to sign up?
Signing up is again the easiest part.
You can either sign up using your existing WordPress website or else create a new account to proceed further.
Basic details are to be provided to create a WordPress website and later on add WooCommerce extension.
The list is not yet completed, and we would love to expand our list to provide the best guidance in choosing an e-commerce platform builder.
Well, apart from this list there are many other upcoming brands too who provides something unique.
Epixel e-commerce multi-vendor software providers are yet another player in the league and perfect alternative platform providers.
Let's see how things work with the team Epixel and how Epixel is considered as the best alternative option from the above teams in the big league.
Epixel is providing an exclusive service for developing a multi-vendor platform
Provides a white-labeled system where customers can get their e-commerce platform developed
Customers just need to quote the features, functionalities, and technologies (if you have your own choice) and the back-end team will develop the system of your need
The most important factor that keeps epixel standout among the above list is that the package itself isn't a SaaS model, in fact, the package is white-labeled where customers can customize the package on their own. The complete system is customizable as per the requirements, and there are certain additional functionalities available like
Direct selling modules
Point Of Sale (POS) etc.
Official website: https://www.epixelmlmsoftware.com/ecommerce-shopping-cart-software
What do they offer?
Epixel offers an e-commerce platform integrated with innovative features that is suitable for all e-commerce business types from start-ups to enterprise-level. As mentioned earlier, direct selling modules help the e-store owners to have a dedicated marketing system. The commission-based business system is an additional way of marketing and a residual income to distributors.
If you're not familiar with the direct selling you can refer the following article: MLM business guideline
Theme stack: A promising arena of designs to pick for customers store as well as special design support from the designer's end.
Store & product management: Special services are offered to the customers with 25+ features to choose from, and other features include digital marketing, payment modules, performance functionalities, security aspects, supporting tools, etc.
The system is mobile-friendly, and mobile app support is provided.
Hosting and all other charges are added to the package, and additional charges are levied for new feature additions.
How to sign up?
Contact the team for prices as Epixel has not disclosed the price packages.
https://www.epixelmlmsoftware.com/contact-us
Such new additions can bring more fortune to the e-commerce industry and thereby lay the foundation of an entirely new system or even new customer experience.
We hope the above list is perfect for you to analyze, and choose the perfect one.