HOW EPIXEL UNILEVEL MLM SOFTWARE WORKS?
A simple MLM plan with a traditionally accepted concept to broaden one's network with direct control over the distributors. Expectations are all high in this plan and diminish the chances of chasing your tail anymore. Get ducks in a row and earn wisdom.
About Epixel Unilevel MLM Software
Many of the users think that this is a one level plan due to the title but it's not, in fact, this plan involves two to ten levels in depth. One can add "unlimited members" in the first level and increase the width. The distributors can easily earn amazing results as the unilevel plans are attractive and easy for the companies. The user can earn returns as recruiting a large group of members to the downline is easy and the growing downline allows distributors to earn amazing profits.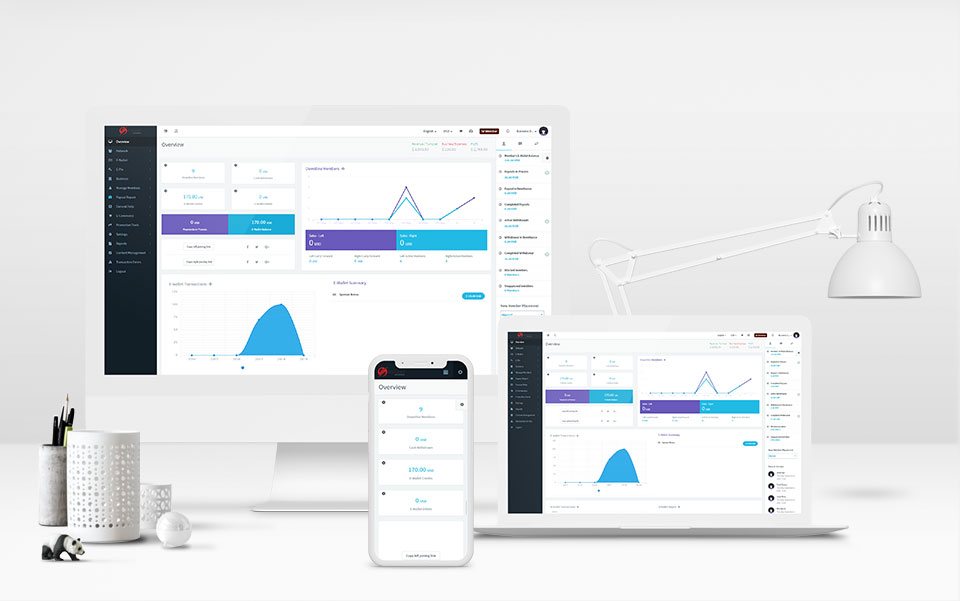 How does Unilevel MLM Software works?
The Unilevel MLM plan supports people in sponsoring till the Nth level. The first level members can add members to the downline and earn an unlimited bonus. This particular MLM plan helps to make use of one's network for a high earning possibility and thereby becoming beneficial.
There won't be a spill over process like the matrix plan as the width offered is enormous. The plan comes with a crystal clear concept and one can build a huge network and with the help of each member's contribution the network is just like an infinite loop.
Advantages of Epixel Unilevel MLM Software
A distributor can have unlimited sub-distributors. Each sub-distributors can have unlimited distributors under them. Like this MLM Unilevel plan is a limitless plan in Multi Level Marketing. It is very easy to understand and easy to operate. The compensation calculations are less complex and distributors have the opportunity of getting unlimited earning. The MLM software has key role in managing Unilevel MLM plan. An efficient and accurate software solution is helpful to manage the Unilevel MLM business effortlessly. The accuracy and computation power of a software is big factor when the business grows. With the help of a full featured Unilevel MLM software, the business team can grow their business to enterprise level. The transparency and real time result will build the customer trust and brings higher customer satisfaction.
Unilevel Compensation Plan Commissions
There are special compensation features in which the plan usually includes roll-ups, x-up or infinity bonus. The perfect unilevel plan MLM software allows the higher level distributor earn amazing returns.
Sponsor bonus
Just like other MLM compensation plans bonuses, is mostly used in Unilevel MLM Software to motivate distributors to promote business to members.
Level Commissions
Most common compensations used in Unilevel MLM Software
A type of Commission gained from the sales achieved by the down level distributors. Unilevel Plan has unlimited direct downlines in the first level, and each downline members can have unlimited downlines under them. This Unilevel Plan makes unlimited commissions from sales by the members till Nth level.
Unilevel MLM plan companies have different strategies to make their distributors happy by giving tremendous opportunities to earn unlimited income. This Unilevel Plan will help long term stability of MLM business and also helps the wider reach of company reputation.
Fast Start Bonus
Some Unilevel Compensation plan companies introduce "Fast Start Bonuses" as the starter benefits to newly joined distributors. The Fast start Bonuses will be given to the distributors when they have achieved the target within a particular period.
Some companies will organize sales campaigns to boost the sales and the distributors will get the achievement bonuses when they meet the sales target in those particular campaigns.
The Fast Start bonus calculation criteria may vary from company-to-company. The accuracy, speed, and reliability of Unilevel MLM Program will help the business team to identify, and grant Fast Start bonuses to the eligible distributors. Epixel Unilevel MLM software is flexible to handle any rules to calculate the Fast Start Bonuses.
"Rank advancement bonuses" are also a common compensation in most of the Unilevel MLM Program. This bonus is paid to existing members when they turn eligible to the higher level or rank. This achievement will be a one-time bonus. Some Unilevel Marketing Plan companies have rank maintenance criteria. So the rank may get downgraded if a distributor does not meet the level hierarchy standards.
Based on the performance of the distributor, the business may introduce some additional allowances to them. These bonuses include House Rent Allowances, Higher Education Allowances, Car Maintenance Allowances, Child Education Allowances, Leave Travel Allowances, etc. Epixel Unilevel MLM Program is featured to accommodate all these allowances, where the business team can turn it on-or-off whenever needed.
Leadership Bonus Pool
The top ranked people of Unilevel MLM Compensation plans are eligible for additional benefits. To maintain the high leadership morale, most of the MLM companies will provide the leadership pool bonuses to the top-level leaders. The leadership pool will be a certain percentage of the yearly or quarterly sales. The portion of the leadership pool is distributed to the top-level leaders based on their performance.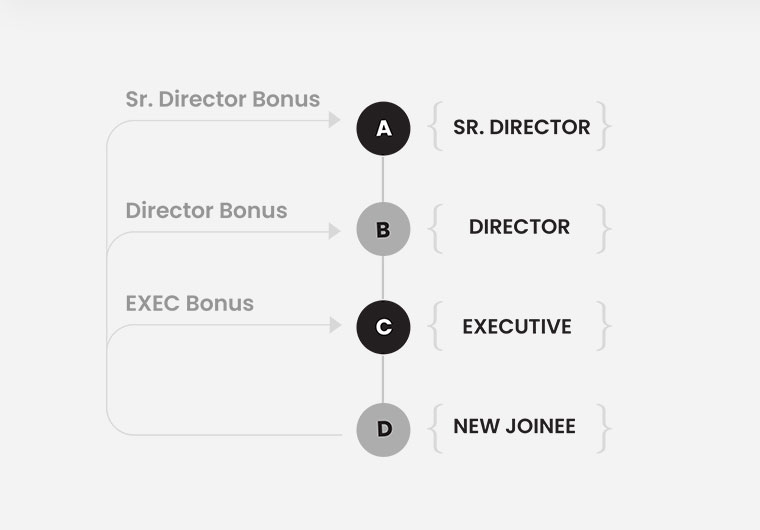 Coded Bonus
Coded Bonus is a motivational bonus in the MLM companies. This the additional or add-on bonuses where the distributors will earn the bonuses based on the coded relation between the distributors. The codes relationship is identified based on different rules. These rules are different from one company-to-another. Epixel has given an opportunity to enable or disable the coded bonuses from the Unilevel back-office software.
Epixel MLM Back-office software features
As a leading provider of MLM Software we are offering almost all the standard features of efficient multilevel marketing system. The list of enterprise features which will assist you to manage the business effortlessly
Clean & Classic Dashboard
E-Wallet
Genealogy Tree
Multiple Currency Support
Multilingual Support
Full Responsive
Network and Team Explorer
Change Sponsor & Repositioning
Payment Gateway Integration
Multiple Network View
Down-line and Up-line listing
Sponsored Members Listing
SMS Integrations
Rank Advancement
Custom Rules for Ranking
Income and Expenses Report
Multiple Withdrawal Options
Multiple Payout Options
Theme Switcher
Configurable Enrolment Fees
Multiple Compensations
Business Wallet
Business Turnover and Expenses
Track Activities
Configurable Compensations
Customizable Business Plan
Unlimited Members
Support Ticketing
Lead Capturing
Multiple Payment Options
Internal Messaging
Transaction Failure and Recovery
E-wallet Transfers
Live Chat Module
Manage User Types
CMS
Integrated REST API
Bitcoin Integration
Multiple Wallets
Automatic Payout
Unilevel Plan
MLM Demo
Introducing Unilevel MLM Software Demo here. Explore Live MLM Unilevel Plan for more features.
Epixel
Unilevel MLM Software
To understand the uniqueness and working flow of the compensation plan, it's best to check out your free unilevel MLM Software Demo. Here, you will find an arena of features with a user-friendly Business Software. Our application is compactable for operating systems like Windows, macOS, Linux and Cloud. Have a quick look at it, and you'll know!
Rated 4.9/5 based on 53 customer reviews
Unilevel MLM Calculator
Have a proper idea about MLM plan calculator? Here you can calculate your business growth with the advanced Unilevel plan calculator. It helps accelerate the business, forecasting the income according to the number of recruits you enroll.
Unilevel MLM Calculator