MLM or Multi-level Marketing industry has been recognized as a booming industry from the earlier days itself. People believe the industry as an opportunity as a source of income. However, many questions remain unanswered about the industry and this article gives those answers using facts and figures.
Team Epixel - a leading Network Marketing software solutions company - collected all the network marketing statistics and facts available all over the internet and curated it with qualitative and quantitative techniques to make this valuable information easily understandable.
Let's see what happens around the industry and we shall dig deep with proper data and insights.
The steady growth rate throughout the past years in direct selling suggests that the industry is well accepted as a global business model. The shift of paradigm in terms of revenue income across the world varies year after year. Let's see some interesting stats that helped us to give you the powerful notion of the industry being the best,
In 2018, the direct selling industry has made sales of about $192.9 billion.
The direct selling industry has made global sales of about $189 billion in 2017.
China becomes the global leader in retail sales with annual sales of $35.73 billion.
A total of $35.35 billion in revenue has been made in the U.S market from retail sales in 2019.
Korea stands to third among the retail sales list with $18.04 billion.
Germany and Japan hold 4th and 5th positions in the list with 17.52 billion and 15.60 billion respectively.
The sales change in these countries in constant 2018 is China-2%, U.S-1.3%, Korea-2.4%, Germany & Japan-0.2% (in the order of retails sales value list).
Takeaway points/insights
1.7% revenue growth from 2017 & 2018 indicates the influence of direct selling in the global market and the opportunities. With innovative marketing methods, distributors and organizations can utilize the opportunity to establish their brand and direct selling.
China becomes the leading market for direct selling, for the first time in history the country with the highest population agrees with the business model and the stats gives you this insight just as daylight. As per data, the U.S market didn't let down the expectation, Korea turns out to show steady growth.
Let's see more interesting stats about the industry.
For that, first, we must understand your knowledge about the industry. Here is a simple question for you about direct selling, and your choice of solution will help us to analyze the basic knowledge about the industry.
What is the purpose of enrolling in a direct selling business model?
You need to learn the true scope of industry and understand the genuine opportunities you were missing till the day. We will help you by providing insights about the industry with edible facts & figures
Good, you've good basic understanding about the industry, now you shall explore more about the industry with more data & insights.
Before proceeding further, you must understand the five important segments involved in the industry! If you're a part of a direct selling company or a distributor or a customer who overlooks the industry or even an entrepreneur who looks forward to launching their product in the industry, the below stats are going to be the best source of data you might be looking for.
We provide you with proper section-wise insights that give you a precise marketing pattern that will help you to give proper ideas about what you are looking through until now. The predictions which we have come up in the below sections were concluded based on data and collectively, we provide you what the future trends might be.
We recommend you to go through each section for the best results.
Company stats & insights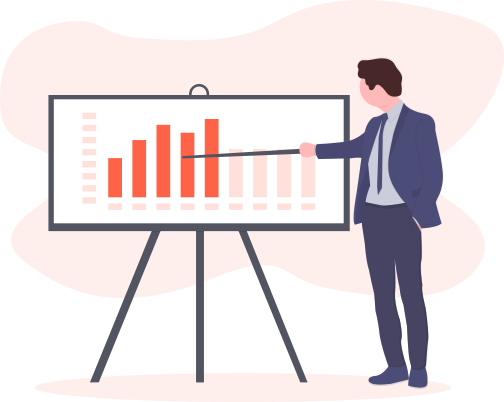 Southwestern publishing house is considered as the oldest direct selling company launched way back in 1855.
Mr. David McConnell recruited Mrs. P.F.E Albee as his first woman sales representative, first in history.
They renamed later into Southwestern advantage and the revenue they generated in 2018 is around $0.209 billion.
Alliance In Motion Global, a direct selling company founded in 2016 has made $0.238 billion in 2018 annual sales income.
1 out 5 homes in the USA owns an Amway product.
Amway makes an annual revenue of about 8.8 billion USD and holds the #1 position in the top direct selling company list.
In 2018, Amway has made 2.3% growth in terms of annual revenue compared to that of 2017 revenue.
Amway has employed 3,000,000 distributors with average revenue of $2,800 per distributor.
Avon makes the second position among the top MLM companies list with a revenue of 5.57 billion USD in 2018.
A decline rate of 2.62% in 2018 has been witnessed in Avon's annual sales compared to the previous year's revenue (5.72 billion USD).
Back in 1999, Avon appointed Andrea Jung as their first female CEO.
Around 5,000,000 distributors work for Avon with average revenue of $2,080 per distributor.
More than 6,400 salespeople work for Avon product selling alone in the US regions.
Somewhere in the world, a new home-based business kick starts every 10 seconds.
8,493 new home-based businesses start every day in the USA.
Some more interesting stats about direct selling companies.
3,500 salespeople work for Mary Kay in the USA.
63.5% of direct selling companies use person to person selling methods and find it beneficial.
27.9% of direct selling companies prefer party plans, 7.5% prefer direct orders as their business models.
Aerus LLC, founded in 1924 has employed 5,000 distributors with average revenue of $60,000 per distributor.
Primerica, founded in 1977 has employed 100,000 distributors with an average of $22,000 per distributor.
Takeaway points/insights
Amway's influence over millions of customers gained them the top position among the top MLM companies with big revenue numbers. The revenue stats, distributor numbers & their average commission rate, an Amway product in one home out five, everything suggests the reasons for Amway being top in the list and its success.
No matter how long an MLM company has been running, it's their marketing methods that produce growth in their business, for example, Southwestern company has been around for the past 164 years but they still managed to generate $0.209 billion in revenue sales which is less than 0.029 billion USD of Alliance In Motion Global founded in 2016.
Similarly, a good ratio is needed to maintain between the distributor number and distributor retention rate.
In 2010, there were 324,000 active members out of 2,000,000 distributors in Herbalife.
What does it mean to you? If you're an entrepreneur or an expert in this field then such kind of stats will help you in finding a motivation factor - "Retention rate".
As per the data, Herbalife has managed to retain 16% members and it shows the trust, as well as the distributors are making a good deal of sales.
Higher retention favors the company and startups, usually, startups will have this rate high. If a long-running MLM company does have a good retention rate then it's a good sign for new distributors as well as a motivation for new startups.
About DSA
DSA, Direct Selling Association got a global presence in 1978 where 9 national DSA form the world federation. DSA is a trade association for direct selling with approximately 130 direct selling companies.
They serve to promote, protect, and control the industry and thereby helping the direct selling companies in an ethical way. More companies join the association intending to become leaders in the industry.
Top 5 MLM Company Brands Stats Based On Web Search Trends
Even though Amway leads the top 100 MLM companies list in terms of sales revenue for the year 2019-2020, it is not the same in terms of popularity. Avon stays ahead in the trending status. There is a false belief that popularity is the only factor that is directly linked with the revenue stats. But from the data, it is clear that popularity isn't the factor that makes people buy products.
The below insights are generated from 2015 to the present day (2015 - present) of companies Amway, Herbalife, Avon, Vorwerk, and Infinitus based on worldwide search popularity.
Avon stays top in terms of web search trends among the top 5 MLM companies with an average point of 81, Herbalife is second with 22 points, Amway with 19 points, Vorwerk with 5 points, and finally Infinitus with <1 point.
The MLM company to hit the maximum points with peak popularity is Avon. It reached 100 points in November 2015.
However, Avon's search interest began to decline after reaching its maximum. At present, the value has gone down to 69.
Avon steals the trending deal out of every competitor's trend volume.
In the USA, Avon stays well ahead in terms of popularity with 85, Herbalife with 28, Amway with 22, Natura, and Vorwerk less than 1%.
Companies used for analysis - Amway, Herbalife, Avon, Vorwerk, Infinitus
The new trend - Couples as distributors
When we considered the top 100 earners in the direct selling industry, we have found an interesting fact - Couples earn a high volume of money. Men and women, together as a couple have the ability to acquire leads of both genders. When the talent unites with flexible timings, good understanding, and other aspects, companies hire or employ couples as their distributors. Eventually, they will make the company profitable and distributors from companies like Nu Skin, Amway, Herbalife, etc. agree to this point with ample earners as couples.
Out of top 100 lifetime earners, 44% of them are men, 13% women, 41% are couples, and 2% are mixed-gender partnerships
Among the list, 29.3% of couples in the list belong to Nu Skin.
Amway comes second in the list with 17.1%, Herbalife with 12.2%, Jeuneese with 9.8%, Forever Living with 7.3%.
Startups and entrepreneurs can make use of this opportunity to promote business by grabbing more stress on couples as distributors. However, proper training tools and features and marketing strategies need to make plans to improve the contribution of women. Even though 74% of people involved in direct selling belong to women, there is something missing from their side. We'll study deep about it in our future research and come up with a proper cause & solution paperwork.
Direct selling companies who have DSA membership follows the DSA code of ethics and offer 90% buyback on starter-kit distributors purchase
Direct selling in Canada shows a 1.5% growth for the past 5 years (2015-2020)
The trust created by direct selling companies is increasing day-by-day with the assurance of buyback policy. This attracts more distributors to try their skills and make a living out of this domain. The growth in Canada suggests that direct selling is favorable for new opportunities.
Would You Like To See How A Startup Increases Sales Using A Direct Selling Strategy?
Graze | Snack manufacturers & their experiment in network marketing!
Case studies in network marketing prove to be an excellent way to improve your knowledge and skills in this area of expertise. Here, we're providing you with one of the direct selling companies who integrated innovative ways to improve the business using this particular business model. Graze is a UK-headquartered food manufacturing/selling company who implemented a graceful marketing model.
About Graze and the famous graze boxes!
Launched into the world of yummy and healthy food manufacturing in 2009, the success rate of the "graze box" went up in no time. From the available resources and references, we have found out a count of about 80,000 boxes have been sold over a period of 6 months. Basically, they sell a box of nutritious snacks with various combinations with a view of making people love healthy food.
Their motive and business model was perfect and offered stable growth. Graze boxes were sold using both offline and online strategies, they kept pushing the limits using different marketing channels.
In the official website, they are offering the first box in a half-price, and people can avail this offer through,
Email marketing
Direct/network marketing
Referral marketing
Social media marketing
Yes, email marketing still exists in 2018, and it's a broadway to reach people around the world with just a click! They do find this method very useful.
Referral marketing goes side-by-side linked with network marketing/direct marketing. Social media is yet another tool to perform sales and reach.
Graze as a network marketing model!
The working or marketing style varies from one another in direct selling and normal sales. Graze as a network marketing model is entirely different from what they offer on their website. As mentioned earlier, the first box is half price and for that, the customer has to fill up the details and then subscribe to the graze box.
The subscription can be made for two weeks interval, a month or more and is subjected to alter. After the half-price boxes, the next boxes don't come with any cut-offs.
However, when it comes to the network marketing model, the first box so referred is free of cost, isn't that interesting? The next one with a half-price and again a free-bee! The strategy is only provided in network marketing and not for a direct customer who enters the website and makes a regular order. Become a distributor, buy your pack, and refer more to get more.
A proper plan is necessary and that's why they have something unique in nature. The plan that attracts every health enthusiast with a graze box!
Proper use of every marketing channel, consistently engaging with the customers is the key! Even when one gets off from the graze subscription they come up with new offers to retain them.
A simple strategy with the best marketing scheme proposes an attractive option for worldwide customers. This case study tells how network marketing can be properly utilized with a unique idea and marketing plan. Be unique with a new plan that can revolutionize and make an impact in the world market!
They made a success story by their own effort, do you have similar innovative plans to make your marketing ideas work out well?
Now, if you check out the below stats and consider the above innovative idea, one important thing that lays a foundation will be the years of experience and out-of-the-box thinking. The company may have founded way back in the mid-'80s or after 2016 but if they have a good team with experience and talent then growth and brand recognition will be reflected easily in the sales revenue. To sustain long for the present and future, a direct selling or MLM company must consider this fact as too many home-based business kicks start every year.
Distributor stats & insights
Distributors or salespeople in the industry have a major role to play and they choose this role either as a career or as a secondary income source. The success of a direct selling company relies on the distributors and it's a plain fact that they contribute a great part of it.
The industry proves worth enough, the numbers in terms of distributors as well as the revenue suggests it strongly. People also find the industry a good choice after the retirement period. Education is not a barrier in marketing but customer acquisition with a proper set of presentation ability is a must-need skill to acquire. The best thing about being a distributor for an MLM company is that they can work remotely with their own schedule.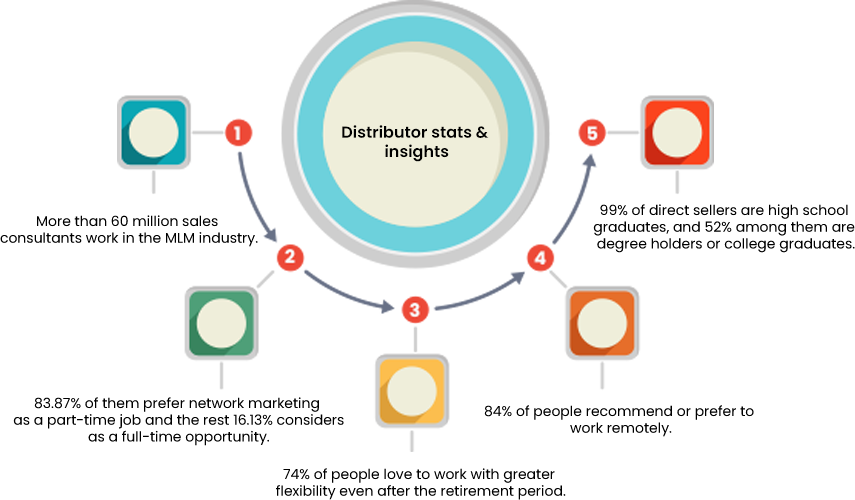 More than 60 million sales consultants work in the MLM industry.
83.87% of them prefer network marketing as a part-time job and the rest 16.13% consider it a full-time opportunity.
74% of people love to work with greater flexibility even after the retirement period.
84% of people recommend or prefer to work remotely.
99% of direct sellers are high school graduates, and 52% among them are degree holders or college graduates
Backing stats
58% of direct sellers make household income greater than $50,000.
According to Inc.com, the median income of a distributor is about $2,400 per year.
A bonus check received by a distributor is more than $500 in a month.
A distributor who works on a full-time profile earns $55,000 per year.
Takeaway points/insights
People can earn a good income if they have a strong desire and the necessary skills combined together in equal values. MLM is a good opportunity to earn money by means of product sales as well as by means of recruiting new people into the network. Distributors can earn commissions for such instances and they can refer their friends & family if the product is worth enough to sell. Working remotely keeps the distributor attractive rate increased every time.
Direct sellers in the industry are well-educated and half of them even hold a degree. This provides valuable insight that education has its positive signs on any career no matter what the job is. Good analytical and marketing skills are gained from the schooling itself.
Distributors can earn a high volume of money if they are actively participating in the business. If you're a leader of a direct selling business then motivate your team and let them be active in their sales. Referral marketing is an effective method to follow for every distributor as well as the companies can integrate into marketing as a passive channel. If the primary focus of their income is direct selling then as per data, the probability to earn more income is high.
63% of participants join network marketing to make money by selling products to customers.
25% achieves the desired profit they planned for while joining the business.
Out of them, 53% of people made more than 5,000 U.S dollars.
39% of the people stopped being a part of the network marketing business and the reason behind the decision is to stop pitching directly to family and friends.
In 2017, record-breaking statistics have been witnessed in the industry with 116.7 million distributors.
Takeaway points/insights
The ultimate aim of stepping into network marketing is finding an income source using proper product selling and 1⁄4th of them have fulfilled the goal. A little over half among the distributors who achieved the desired goals could earn more than what they spend or the deserved status of income.
Distributors still have concerns about dealing with the product selling to their dearest ones, this shows a lack of trust in what they sell. What does it refer to? They are just upfront distributors but have not a customer of the product which they sell. The basic fact about being a distributor is that they must be a customer of the product which they sell and then become a distributor to gain more trust & value.
Full-time distributors earn an annual increment of $300
According to the surveys, 25% of participants made money through network marketing
About 10% of distributors earn over $100 a week through their marketing efforts and skills
By the end of 2019, the numbers of distributor network raised to a whopping 119.9 million around the world
The more engaged the distributors are, the more they earn. The numbers also suggest motivation among people who choose direct selling as a profession.
Let's see some more interesting facts about the distributors and some motivational facts.
118.4 million people worked as individual representatives in 2018, a growth rate of 1.6% when compared to 2017 stats.
Around 10.5 million people work full-time, 42.9 million people work part-time, and 64.9 million people joined recently.
Direct selling representatives spend an average time of 30 hours per week.
59% feel motivated to become a direct seller and 61% stay because of the flexible nature of the industry.
48% joined as a direct seller with a goal for long-term supplemental income and 54% continued as a direct seller.
35% of people find the industry as a short-term income and get motivated to become a direct seller whereas 29% of people stay long in this position.
41% get motivated to become a direct seller by finding income potential and thereafter 50% continue in the industry.
Products stats & insights
The most important ingredient in the industry that connects every group is the product. After all, the meaning and the goal of this business model is to sell products and if the product selling is not the goal then you have to take a close on it as it falls under illegal pyramid schemes.
Among the products, there exist many categories and direct selling is the best available business model to reach them to the end-users, i.e the consumers and then the customer-distributor conversion that helps product selling companies to make products distributorship revenue. A part of the revenue is shared with the distributors as commissions and bonuses depend on the marketing plan & criteria to achieve it, set by the companies.
The growth rate in sales revenue for each and every category displays one important agenda -popularity of the product". Companies can use the stats and customer suggestions to pull out the magnet and thereby acquire more customers. Just like the food processing companies use the awareness of human beings' cravings and tailor the tastes of their food products to ignite the addiction or their taste interests.

In 2018-19, wellness products shared 33.2% of sales contribution globally.
Cosmetics & personal care products contribute 31.2% in annual sales.
12.8% of global sales share comes from household goods & durables.
Based on the 2017-18 industry overview, products included in the wellness category stay top in terms of sales with 35.6%.
Cosmetics & personal care products contribute 25% in annual sales (2018)
22.6% sales contribution comes from the service & related product categories.
In 2017, products classified under wellness alone made 24% sales in Australia.
Takeaway points/insights
Comparing the stats from 2017-2019, people's favorites' started to shift from one product category to another year after year. Consumers' choices can be easily resonated from the frequencies of the stats.
A 2.4% decline rate in the wellness category and an increase of 6.2% in cosmetics & personal care products produces an insight that people care about their interests and it changes in time. The decline rate does not prompt any negative impact as the ratio of change is still reasonable.
However, what about the decline in service & related product category? It's 9.8% and a serious issue to consider for direct selling companies. Australia is good to go with the wellness category like the rest of the world with good comfort.
64% of individuals find product discounts as a motivational factor to become a direct seller as well as to continue as a direct seller.
53% of people get motivated to become a direct seller via product advocates and 61% of people get motivated to continue as a direct seller.
Download MLM product analysis report for precise future hypotheses.
Consumer stats & insights
Consumers are those end-users who ultimately use the products and remark their opinion at least in mind. If they are happy with the products then they will be using it until something new comes up that satisfies their needs by means of new offers from other competitors, finding more satisfying customers for other brands, or anything that triggers the interests.
This particular point has been constant trouble for direct selling companies and those who attained customer retention have survived for long. Product consistency needs to maintain throughout their existence and customer fulfillment is a major battle to compact around.
Different age groups have different levels of criteria that make them pick a product from different available brands. The success of a business is once all such age groups together choose your brand. If the senior citizens still argue over your product in the later period of their life in supermarkets or similar brick and mortar stores then you can define a product as the best and evergreen product with never-ending trust.
Sales need to focus on the younger generation too as they are the future and having their trust in a product means a lot. More efforts have to be put forward for younger, older generations to collectively call business as a complete world-class choice! Similar sorts of actions have to be done on the gender side too, a balance has to be kept among them which lacks at present. A study can be made to find the cause and how to overrule it as a perfect solution which remains stable for the future.
36.6 million customers have bought products/services from the network marketing model.
A contribution of about 26% comes from the 35-44 age group and 24% from the 45-54 age group. (Same for 2017 & 18)
A contribution of about 26% comes from the 35-44 age group and 24% from the 45-54 age group. (Same for 2017 & 18)
17% of sales contribution comes from the age group between 55-64. ('17)
22% of sales contribution comes from the age group above 55 ('18)
8% of sales contribution comes from the age group between 18-24.
About 75% of the customer/direct sellers are women and 25% are men. ('17)
74% of the new customers are women & 26% from men. ('18)
In India, about 5.1 million people are involved in the direct selling business which is nearly double that of the past 7 years, says global CEO, Qnet.
In 2016, 31% of consumers find direct selling highly favorable in the USA.
Takeaway points/insights
From the data, there is no argument that direct selling has always been the favorite kid in terms of product marketing around the world. There is no wonder why the products are still circulated or distributed around the world without much hesitation.
Apart from the age and gender concern, the next part to consider is region or locality which the customers are from. Not every region is adaptable to every type of product category. Under favorable circumstances, products in India have found some triggering points in terms of marketing and set course to attract more direct selling options.
Twice the business value shows that India is now a wise land to bring more customers thus contributes to the industry. The USA, call it the capital of the MLM industry has been a favorable home for product selling and the future looks bright too.
80% of US customers feel direct selling as a positive notion for the past 10 years
40% of people in the USA are happy to receive contact from direct sellers through social media for betters earning opportunities
Consumers support 69% of small businesses and 67% of personalized service provided by direct sellers
Customers in the USA are satisfied with the industry and the trust denotes a positive notion for new companies to launch their products and services. The marketing model also proves that people like personalized marketing more than a general perspective marketing model.
Now, download a customer analysis report to learn more and understand who to target and how-to!
Entrepreneur stats & insights
The final entity or the important step in this ladder is the 'entrepreneurs'. The entrepreneurs have to look into the system deeply from industrial history to the consumers' reaction over the products. This particular group has to study a lot and at the end of the day, they go for industrial expert opinions and consulting.
Is that necessary? Yes, it is but to an extent this article can help you to look around the whole system without many dilemmas. The reason behind it is that the article is written purely based on facts and statistics, and have omitted any data that doesn't have an accurate basement to stand for.
As an entrepreneur, you can use the data above to find and sketch a pattern that lets you dominate the business, no worries! We can help you with that part and make you clear with more facts. However, there are more things you have learned before we help you come up with a solution.
Direct selling has been and will always be the best platform to do business for your products and take in as a business model for marketing them to consumers. Let's see some interesting stats that might help you to analyze if the industry is suitable for you or not.
51 lakh people found entrepreneurship opportunities in the direct selling industry.
68% of Americans don't prefer online shopping and hence an opportunity for direct sellers.
Top 10 lifetime earners, company, annual income
| Rank | Name | Organization | Country | Annual Income (est.) | Lifetime Income (est.) |
| --- | --- | --- | --- | --- | --- |
| 1 | Igor Alberts & Andreea Cimbala | DagCoin - Success Factory | Netherlands & Italy | $25,200,000 | $72,000,000 |
| 2 | Jenna Zwagil | MyDailyChoice | USA | $12,720,000 | $5,850,000 |
| 3 | Trin & Jirawan Vichaidith | Nu Skin | NA | $11,280,000 | $15,000,000 |
| 4 | Rolf Kipp | Forever Living | Germany | $10,800,000 | $100,000,000 |
| 5 | Ivan & Monika Tapia | iMarketslive | USA | $10,320,000 | $3,000,000 |
| 6 | Kim Hui | Jeunesse | China | $10,200,000 | $51,000,000 |
| 7 | David Imonitie | iMarketslive | USA | $7,800,000 | $23,000,000 |
| 8 | Yager Group (Dexter Yager) | Amway | USA | $7,200,000 | $460,000,000 |
| 9 | Jason Brown & Matthew Rosa | iMarketslive | USA | $7,200,000 | $1,000,000 |
| 10 | Kristen & Travis Butler | MyDailyChoice | USA | $6,444,000 | $1,000,000 |
Takeaway points/insights
The insights driven from the above data is simple, there are opportunities in the industry. If 51 lakh people found them then everyone can see them too but with proper planning.
In the era of e-commerce, there are still people who chose door-door sellers if they find them worthy. The earners understood the model and kept it as the main source of their lifetime income.
About 77% of people in the USA are interested in flexible and entrepreneurial earning opportunities
79% of people find direct selling as a favorable option for entrepreneurial opportunities
The living style of Americans find suitable match in business or earning life through network marketing. 'Be your own boss' culture brings easiness and steadiness in young entrepreneurs. The grade of entrepreneurship life has improved by time and the contribution of the industry is huge with 79% of interest.
Final thoughts
Now, we have come to the final edges of this piece of content, to process the final thoughts, our data scientists and research team have come down to three questions. The three questions are based on the below motivational stats:
39% find connecting to other people (networking) as a motivational factor to become a direct seller and 47% continue as a direct seller.
25% of individuals think direct selling as a recognition for their accomplishments by joining as a direct seller and 36% continue as a direct seller.
19% of people become a direct seller with a career-driven approach and 29% get motivated to continue in this role.
The three questions to raise are the following
Why establishing a connection with others or simply, network marketing is not considered as a motivational factor? Why network marketing doesn't focus on this factor to motivate the team to influence more into the industry?
Why do people never consider direct selling as a career-driven opportunity?
Why is the industry not considered as a recognition for their accomplishments?
These are valuable questions that have to be answered by direct selling companies or independent entrepreneurs. Even though the direct selling business has its other synonyms as a network marketing business, why is networking lack as a motivational factor. It has got its name from creating a network and selling the products, but only less than half the people around the industry understand it in its best definition into the act.
Similarly, people never love to choose it as a career over other fields, they might choose it as a full-time job in the latter part of life but not in the first place, neither it is believed as a factor for accomplishments.
These three drives to one thing - make people realize it as an opportunity in its true colors but not with fake promises and offers. A simple man can fall for offers and lose trust!
Direct selling companies & entrepreneurs must focus on it to gain trust and it leads to more success but never forget one thing, never steal the trust for making short-term success.
The story told in this article backs with proper stats, and the insights-driven from them is not absolute content, everything is connected based on the data. As a technology-based company, Epixel has prepared this brilliant art of words to give valuable insights about the industry and had a lot of sweat to present the best data resource before our readers for reference in their studies.
In 2019, about $3,360 billion is spent on technology worldwide.
570 new websites are created every minute around the globe.
These two stats are well enough to propose one important message - technology is growing and is popular among various industries.
These insights will help MLM companies, distributors, researchers, and other major groups who try to analyze the MLM business from past to present. We've used various sources for data collection and came up with this information.
While considering choosing a technology provider make sure, you have in-depth data scientists like we do who can prepare the best system that suits your business, who can hold business relations based on real facts & stats instead of predictions. We can help you with such regular reports based on your business data through our dashboards, which are coded to forecast your business for the present and the possible future.