Replicated Website
Replicated websites system features!
A website does play an important role in terms of an organization who step into the marketing world and for the marketing members of the concerned network. Usually, custom replicated websites can be defined as the websites authorized for new members once they are sponsored and entitled with a package in the network. And these self-replicated websites are developed or created using a self-replicated website software.
Epixel MLM Software provides you with such fabulous features that boost up your internet business with a free site for every member with a customizable option. Let's see what replicated website is all about.
How to create MLM website?
Creating an MLM website or a replicated website is now easy with inbuilt features that comes from an MLM Software/affiliate software end. Let's understand the structure with the simple explanatory process.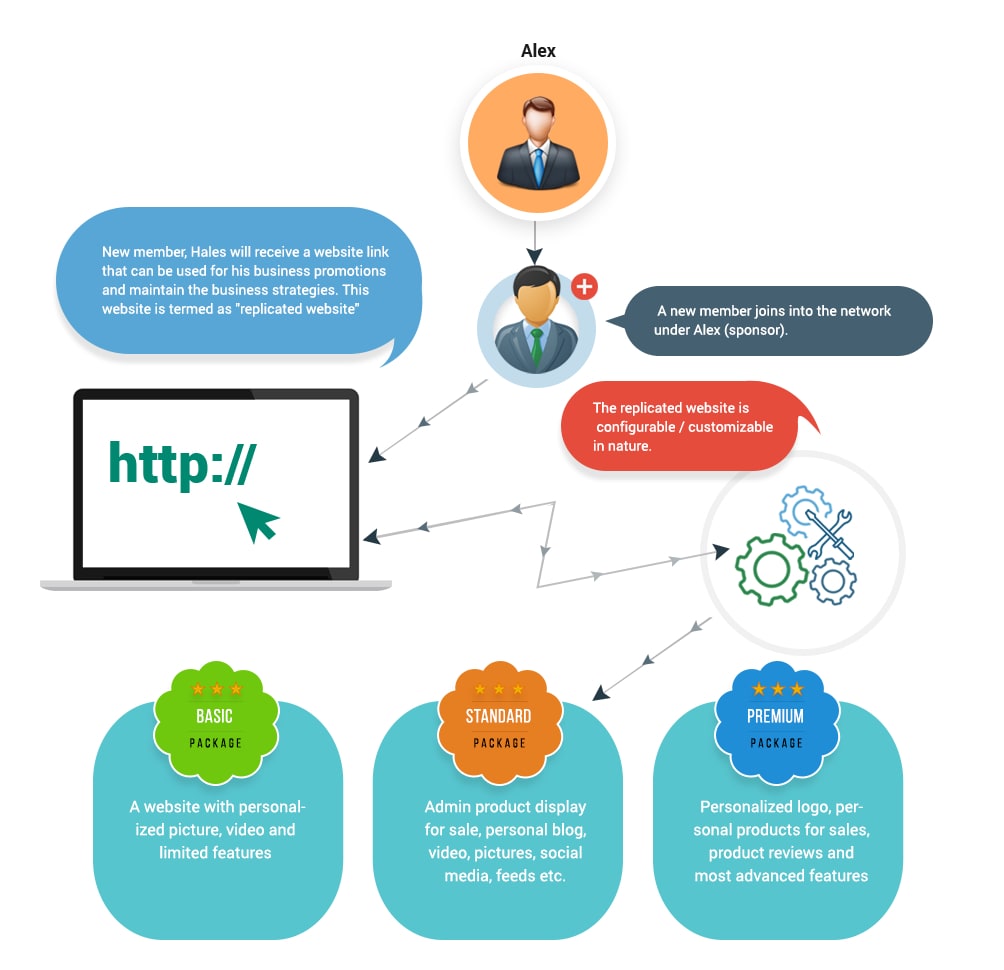 After enrolling in, you get a personalized replica site that let you display all the details of you. However, this varies with advanced package option. Well, the features of such MLM replicated website includes personalized blogs, picture, video, product display for selling from other users to own product range, user review panel, social media integration etc.
These features aren't common with every package and it does vary in accordance with the package which you choose from. With more advanced features the utility or usability factor improves. The UI/UX designs pre-loaded with templates are available to choose at the beginning itself. By means of these factors, you can potentially create an attractive website using website replication software with a multi-purpose utility like,
Personalized website
E-commerce website
Business website
Affiliate website etc.
Epixel affiliate software provides you the replicated website creation that suits all the above customized MLM website and that's why you call it as the best affiliate software. Epixel also provides MLM and affiliate management plugin that can be incorporated into any open-source platform.
Benefits of a replicated website
Having a self-replicated website adds up a creative punch to your business and there are certain benefits for having a replicated website,
Easily customizable
A wide range of design template to choose
User-friendly interface
SEO-friendly URL id with the domain name
Wide database for product display
Special review & commenting section
Additional or personalized content placing etc.
And now the URL domain part, usually, when a new member joins in the network they will receive a self-replicated website and the 'name' can be suggested from your side. The URL will look like, "yourname.domainname.com" or else "www.domainname.com/username", you can choose one among them and use it for say, as a product display website, lead capture page etc.
And all these stuff are included in the website replication script developed by Epixel replicated website builder software.
For the best experience check out our replicating website software demo.
Contact us for more detailed information or consulting.