Clara, being a homemaker, always had thought about supporting her family by earning an extra income while she keeps all her routine works together. Being the mother of a two-year-old, it was difficult for her to be in a full-time job and fulfill her responsibilities as a mom at the same time.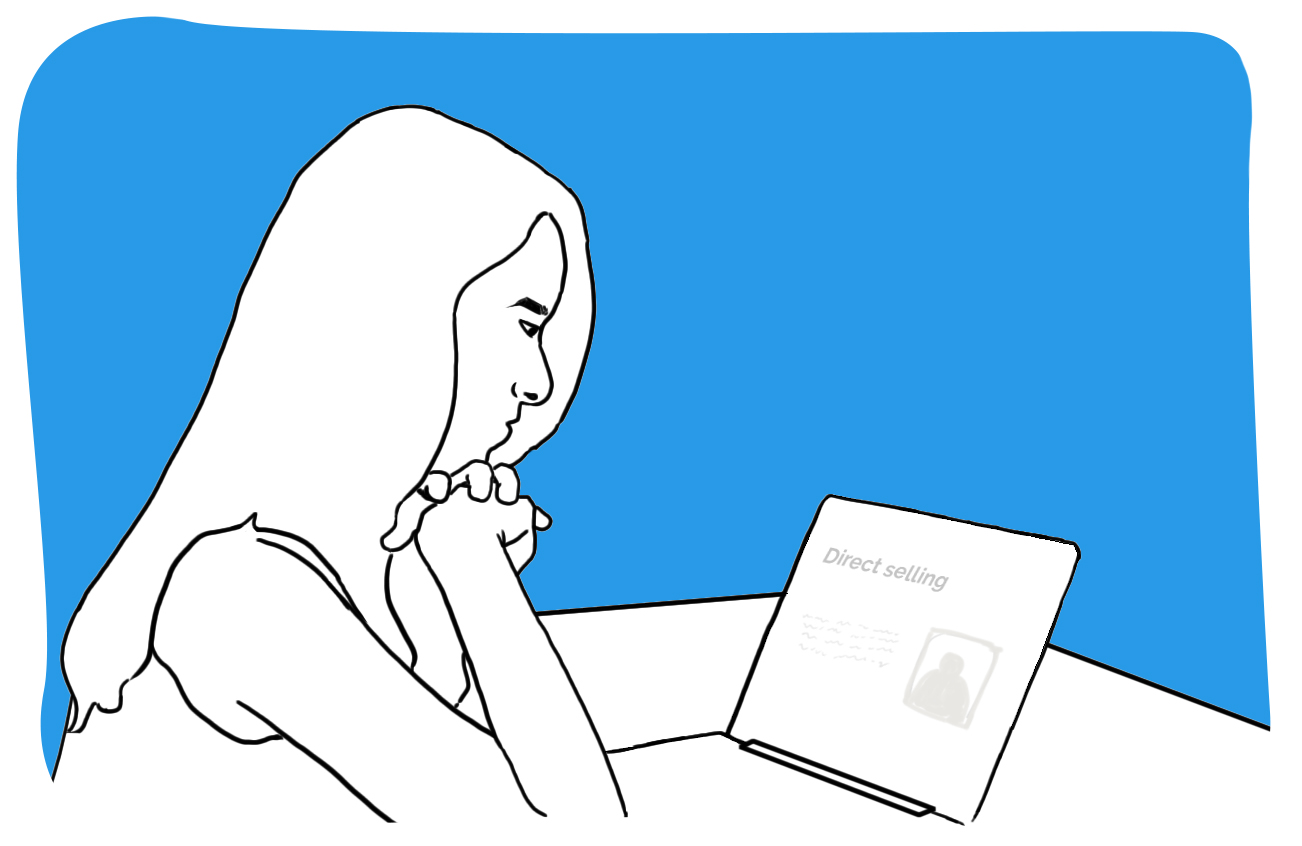 As the COVID-19 pandemic spread over the world, so did the worries about job security among the employees working in major industries. Clara was surfing on the internet one day, she came across an article that featured a young woman entrepreneur's success story, who used direct selling to reach out her fitness products to thousands of people successfully. The article narrated her journey from being unemployed to being her own boss and successfully generating handsome income. The article connected with her instantly, and she further searched about direct selling and its various possibilities. On searching, she found out that 74.4% of people involved in direct selling are women, which reinforced her decision to venture into direct selling.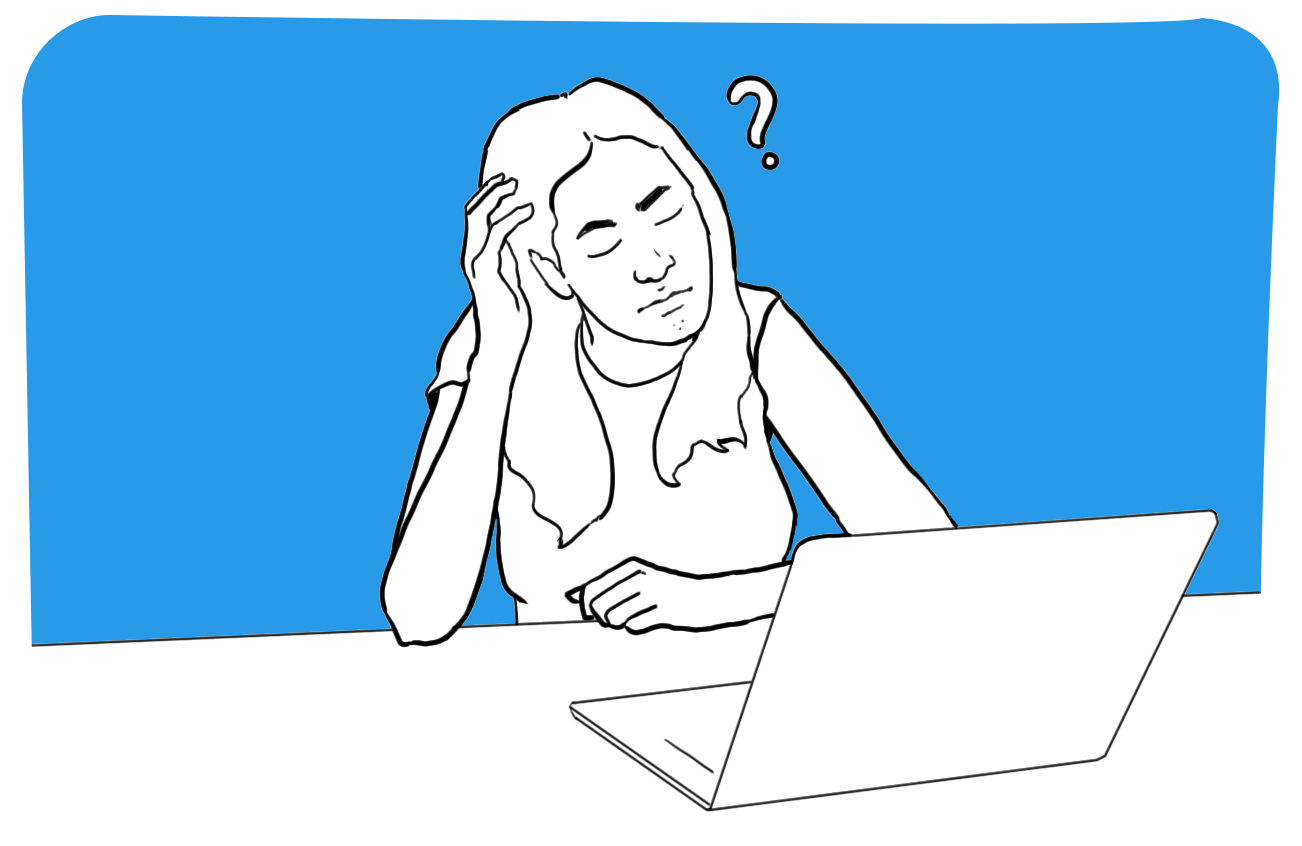 A few days later, in a casual talk, Clara's husband, Michael, who works in the accounts department of a pharmaceutical company, told her about how the pandemic has increased their sales and how increasingly people are being concerned about their immunity and health. Hearing this, Clara, who was already in search of a product to kickstart her direct selling business, now knew what it should be. From there, her journey to successful home income began.
So, if you were Clara, who is to set out a direct selling business to accomplish both professional and financial freedom, what probable data and statistics would you be looking into? Well, we are here with some useful insights to help Clara out with her journey in building a successful network. Come, let's dive in!
First and foremost, it is important to recognize how well the business is established around the globe and the gross revenue generated each year to put your foot down better in your line of work. Let's see which all countries top the industry worldwide and how much money they pull in each year.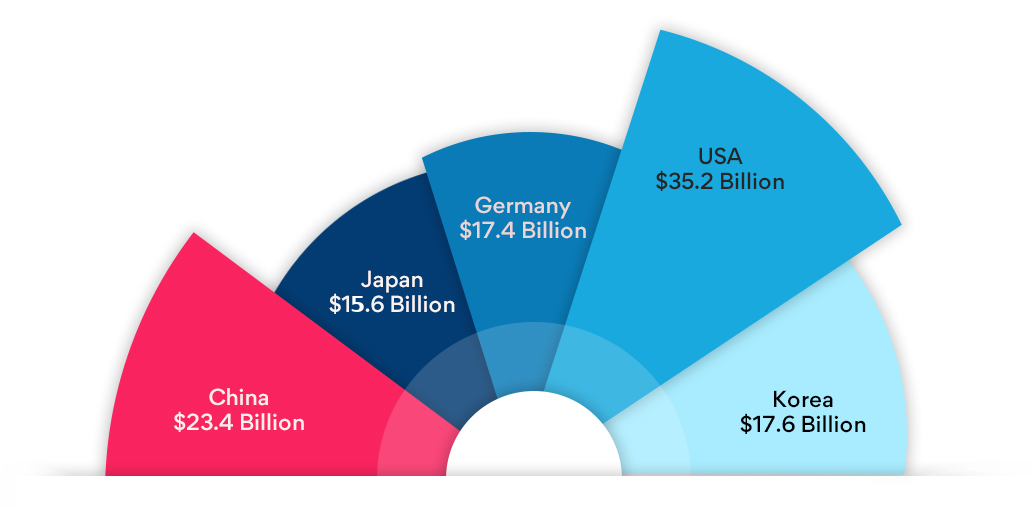 Top 5 countries based on direct selling revenue (2019-2020)
In 2020, the direct selling industry made $179.3 billion in retail sales.
Total global direct sales grew 2.3% year-over-year.
47 out of the 70 global markets reported positive retail sales growth.
The largest ten markets accounted for 78.4% of global sales of the network marketing industry.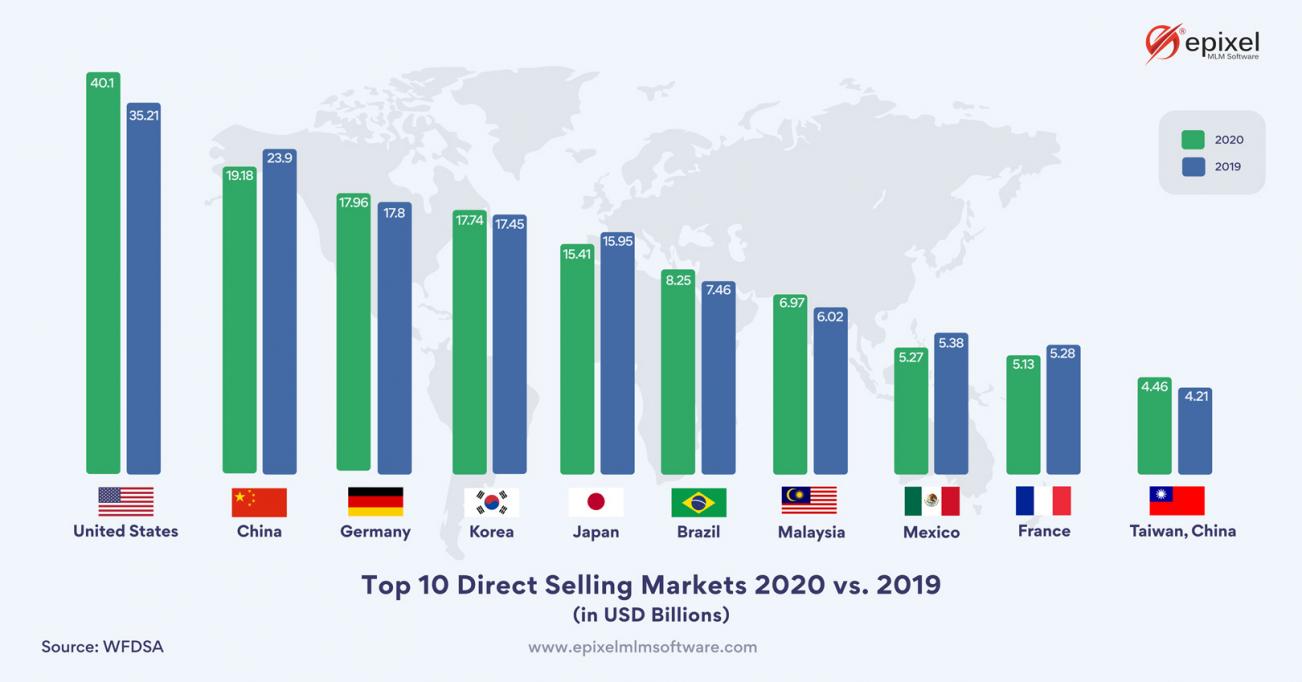 Top 10 direct selling countries of 2020
USA contributed 22.4% of the global sales, followed by china (11%).
USA becomes the global leader in retail sales with annual sales of $40.1 billion.
Compared with a decade ago, there is an increase of 40% in the retail sales of USA in 2020.
China stands second with total retail sales of $19.1 billion.
Germany takes the third position with $17.9 billion retails sales.
Korea and Japan hold 4th and 5th positions with $17.7 billion and $15.4 billion respectively.
They are followed by Brazil(8.2B), Malaysia(6.9B), Mexico(5.2B), France(5.1B), and Taiwan(4.4B)
USA (13.9%), Germany (0.9%) and Korea (1.6%) achieved positive sales growth in constant 2020.
China and Japan showed negative sales growth in 2020, -20% and -3.4%
Argentina marked the highest year-over-year percentage growth of 90.3% in 2020.
Asia/Pacific region shares 43% of the global sales, followed by Americas(36%), Europe(20%), Africa/Middle East (1%).
Americas reported the highest growth rate among the regions (10.6%) with 64.7 billion USD in retail sales.
Europe was up 1.6% in retail sales to make 36.2 billion USD in 2020.
Th emerging markets of the Africa/Middle East reported 1.9 billion USD to show a 4% growth in retail sales.
Retail sales in Asia/Pacific dropped by 3.6% to make 76.5 billion USD, contributed by the hard loss in China(-20% ).
It's quite obvious from the above statistics that direct selling is a booming business and helps people earn a substantial amount of income. Now that Clara knows the industry she has chosen has the potential to make such amounts of money, any thoughts on what should be the next thing to scrutinize?
One thing that needs immediate attention is which companies are already established in this field, and how well they sell the products. This is significant because you get an idea about how much each company that endows a particular product earns and also, to see whether a company that sells a product similar to yours is performing well or not. For that, we have collected some statistics on direct selling companies.
Clara has started her journey to top the list with her masterful network of distributors. When have you planned to start yours?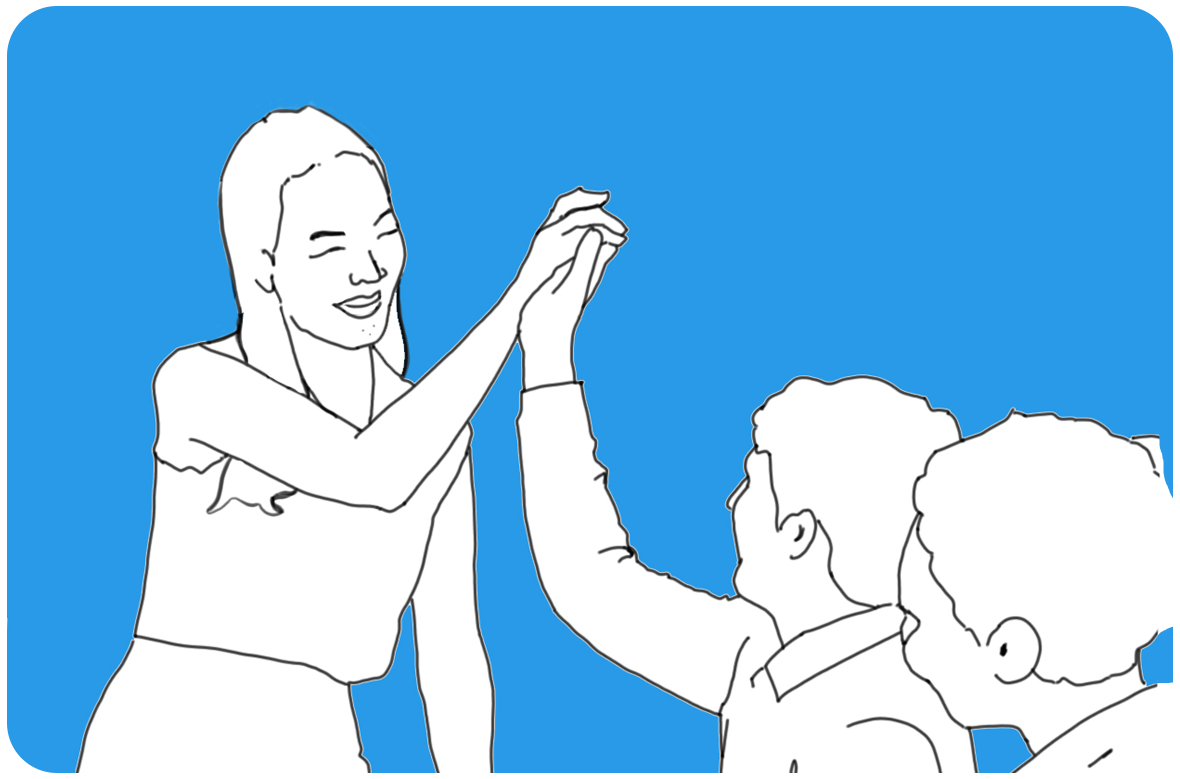 Like Steve Jobs once quoted, 'Innovation is the ability to see change as an opportunity - not a threat'. Amidst the COVID-19 pandemic all over the world, it is hard to differentiate an opportunity from threats, as every bit of the world borders on every single situation with fear these days. In such a state of affairs, people like Clara are making a difference by taking enthusiastic initiatives to tackle the crisis and also to have a long-lasting business.
The COVID-19 pandemic has had a severe impact on every business. Majority still have not been able to recover it by even 50% of the pre-covid times. In such a context, if we evaluate the direct selling industry, things are pretty different. Direct selling is one of those industries that could turn the crisis into opportunity. Not only that, it has been successfully able to provide an alternative income to many who lost their jobs during this destructive pandemic.
However,like any other trade, things have changed in order to adapt to the new norms. Let's look into a few possible changes the direct selling industry has to incorporate in order to suit the 'NEW NORMAL'.
The New Normal in the Direct Selling Industry
1. Face-to-face meetings v/s Online meetings
Not to mention, face-to-face meeting is vital to establish a strong relationship with your distributors as well as customers. It has always served as the easiest way to effectively communicate with them, and to build a bond of trust. But due to the restrictions imposed on such gatherings due to the outspread of pandemic, it has become difficult to form a fruitful connection with the client.
Thanks to the advanced online meeting facilities available in today's tech world, it has been able to simulate a real experience with extra ordinary audio and video qualities. With its help, direct sellers are successfully hosting online parties and knowledge transfer meetings, to keep the community together strongly. Since this method has been able to gratify customers, it is one of the reason why direct selling is able to withstand the covid-19 crisis.
2. Offline sales vs Online sales
Most of the direct products were sold offline, since it was comparatively easy to demonstrate the product and also to have a one-on-one conversation with the customer. Since it has become difficult to carry out the same selling process now, more and more direct sellers are moving to the online platforms to set up their virtual stores. Not only the selling process is simplified, but also the sellers are able to get more insights about the customer behaviour and their preferences to a greater extent. Online sales also helps in expanding the customer base without any geographical boundaries, which offers a great opportunity for business expansion as well.
3. Word-of-mouth vs Digital marketing
Right from the time direct selling flourished, most of the marketing part was done offline through word-of-mouth. It had an upperhand in productive sales establishment, since the review about a particular product came from a known person or a peer group. Most of such talks happened during social gatherings and similar occasions. But in a situation like what we have now, marketing that happens in such a fashion has drastically reduced. Instead, sellers are now more focused on branding their company online by putting their time and effort into employing the latest trends in marketing and sales into their business. Online campaigns, co-branding, point of purchase (POP) marketing, programmatic advertising, etc. are some of the strategies commonly deployed.
4. Physical back-office vs Online back-office
The successful implementation of work from home scheme has made companies rethink the need for an expensive office space, since most of the companies could get their work done in WFH method with a great reduction in running costs. To enforce this without any flaws, companies are moving to virtual back-office platforms, which integrates all essential features needed to run a company as if it was running offline. The betterment in technology has also made this approach seamless.
The world is moving to a new normal. People who found it extremely difficult to cope up with the changes in the beginning, now handle it with ease. Nobody knows when exactly would this crisis end and till then, the best thing we can do is to adapt and overcome. So it is important to be informed about these possibilities to get your business through this hard time. We have done our best to incorporate the most useful information into this write up. The turn is now yours. Stop waiting for the right time. The best time is NOW!!.
References
dsa.org
wfdsa.org
ipsos.com
businessforhome.org
directsellingnews.com
*DSA 2020 Consumer Attitudes and Entrepreneurship Study conducted by Ipsos.