Join the 100+ companies using the Epixel platform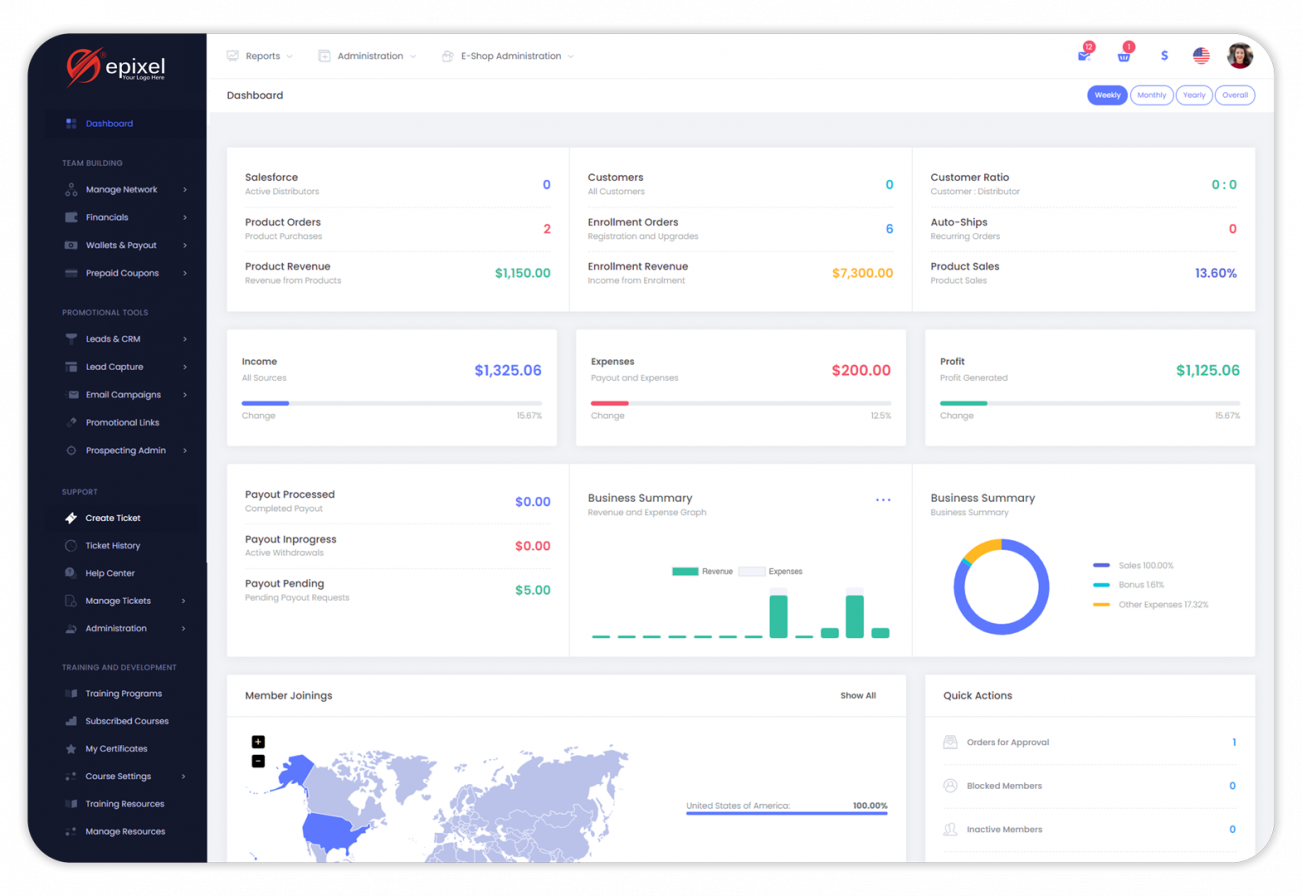 Leverage the potential of your Board plan with a completely customizable MLM platform
Board MLM software is a software application based on Board MLM plan that empowers growing MLM companies generate more leads, manage their customer and distributor base, and expand their MLM business to new territories.
Hassle-free board MLM software simplifies the business process with futuristic technologies like Python, Node.js, etc. The advanced commission engine built using Google Golang ensures quick and real-time commission processing.
Epixel MLM Software – All-in-One MLM Growth Platform with an Intelligent Sales Funnel.
Schedule Free Demo
* no credit card required
Highly customizable & stable board MLM system for guaranteed business growth
Get smart in your board MLM business with intelligent decision making and build best strategies using demand forecasting
Real-time business intelligence
Get real-time analysis about your board MLM business from our dashboard. Access real-time data to learn the behavioral patterns of your distributors and motivate the team based on sales and commission analytics.
Balanced scorecard
A performance management tool to analyze the company's performance using different metrics. Compare the performance to check how far the company activities satisfy its strategic visions.
Contextual data analysis
Instead of basic distributor data records that contain their names and achievements, you get to access their behavioral analysis based on their activities and customer engagements.
KPI analyzer
Analyze different key performance indicators and check whether the company goals are met or not. Based on the scorecard report of different KPI cards, build strategies to improve low performing metrics easily.
Internationalization tools
Let your board MLM compensation business spread across the globe with native rules and configurations based on geo-location. With our system, you can configure country-specific languages, compensation rules, enrollment packages, product categories, etc.
Intelligent promotional tools
Find more prospects and spread reputation across the globe with intelligent promotional tools. Our system also includes conventional promotional tools like lead capture pages, promotional banners, social media integrations, referral link promotions for easier business conversions.
Business gap analysis
System-generated insights to determine the board MLM business gap analysis for future improvements. Measure the performance to observe and evaluate each metrics to analyze the business gap.
Error-free compensation calculations
Our multi-threaded compensation engine is capable of making error-free business calculations. Make complex calculations look easier by following every criterion and process different compensations.
View All Features
How does
board MLM compensation plan work

?

Distributors who qualify certain criteria set by the MLM companies get a new position in the next board on the genealogy tree. Multiple boards exist in a genealogy tree and distributors get multiple positions they achieve the criteria on the new boards.
Integrate all your apps & data in one place
Like to add a new
rank rule
?
Special
compensation schemes
?
Integrate
new features or payment modules
in your business?
Epixel Board MLM Software
is customizable as per customer requirements.
Tailor-made back-office features for user roles
User management helps board MLM companies to assign different tasks or control business by allocating multiple user roles. The tailor-made back-office features let these staff control and manage their duties in an effective way.
Business Administrator Tools
Manage board MLM business operations, set different rank rules, compensation criteria, commission cappings, etc. using business administrator tools.
Business Administrator Tools
Manage board MLM business operations, set different rank rules, compensation criteria, commission cappings, etc. using business administrator tools.
Distributors Tools
Manage sales and build strong business networks to enhance quick growth opportunities using dedicated distributor tools.
Business & Financial Staff Tools
Make error-free financial calculations to efficiently handle your board MLM business using our business and financial staff tools. Our automated finance-based system helps companies make mark-to-market valuations, approving and scheduling payouts, and other benefits.
Back Office Support Staff Tools
Provide high-end support for your team by implementing advanced back-office support staff tools. These tools help users as well as the admin to raise support tickets, track the support status, and resolve it upon fulfillment.
Try MLM Deliverables
Manage Board Network Using Genealogy & Network Tools
View the upline and downline members of the board MLM business using network and genealogy tree. The structure is expandable to unlimited member limits according to the company requirements.
Board MLM genealogy tree
View the entire members of the network using our simplified genealogy tree. To make a quick distributor analysis, a contextual distributor card for each distributor is available on the genealogy tree.
Network explorer
An alternative upline and downline member viewer for a genealogy tree with a conventional file explorer-like view.
Downline sales tracking
Track the downline sales, analyze their activeness, achieved goals, and much more using downline sales tracking tools available in our system.
Compensations & bonuses
Enhance the activeness of your distributors by motivating the team with attractive compensations. It helps board MLM leaders to find more prospects and build a strong network. You can always configure the compensation rules on our system based on the company requirements.
Board completion bonus:
A bonus received when the distributor completes one board or cycle and promotes on the next board
Reentry bonus:
A bonus received by the sponsor when the direct downlines complete a board and get a reentry position on the same board
Sponsor Bonus:
A bonus received for adding a new member to the board plan tree
Level commissions:
A commission received for filling new members to each level of the tree
Does your MLM software support such valuable customizations? Are you looking for a premium package that supports and meets all your requirements?
Switch to Epixel MLM Software, and enjoy premium services. We provide complete migration services which include the following and much more.
Member commissions and rewards
Migrate Now
Spilling Preferences
Business admin can set spilling preferences to make a stable and active MLM business team. Epixel board MLM software supports all the types of spilling preferences as well as a customized spilling configuration to meet the company goals.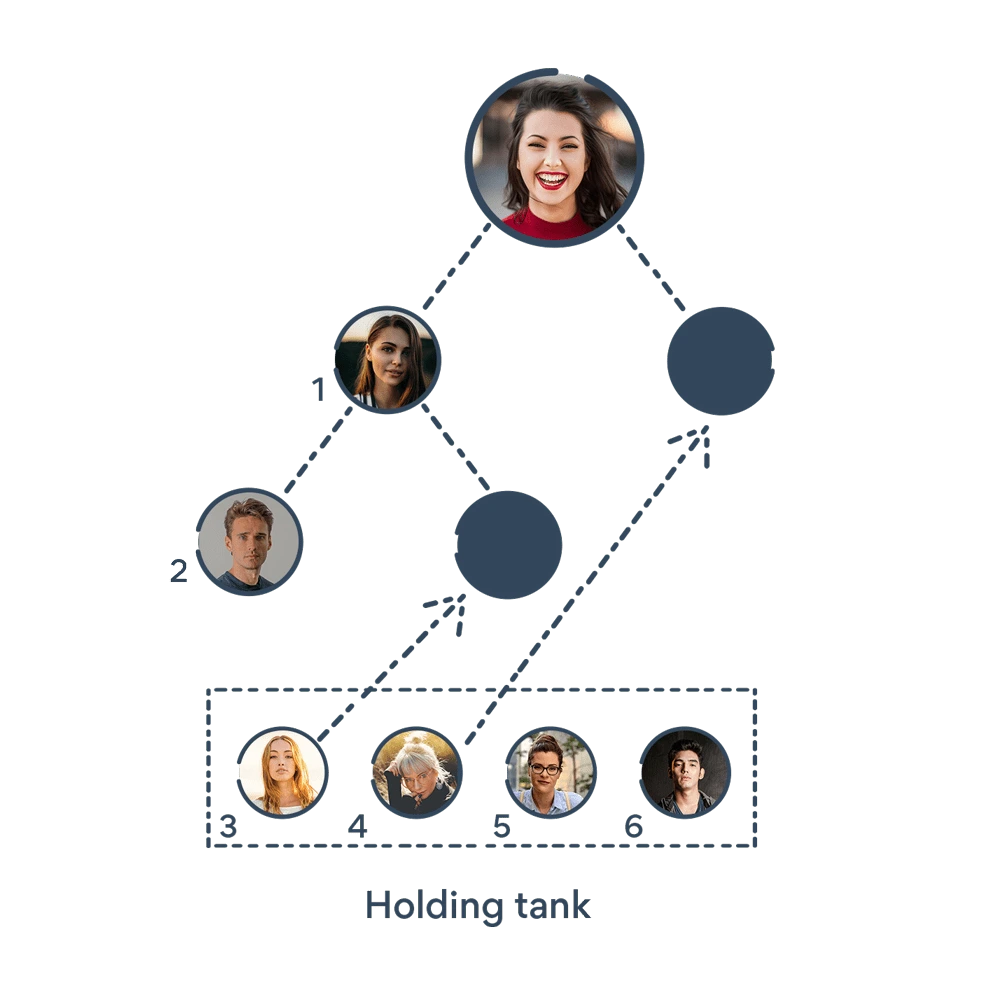 Holding tank
Holding tank
Business admin and distributors get the privilege to add new members based on the priority order. Hold new members in a queue and add them one after the other checking the skills as well as leadership qualities.
Auto-balanced
Auto-balanced
Business admin can set auto-balanced spilling preferences and the system will do the genealogy member placement. Auto-filling follows left to right and top to bottom spilling to balance the tree.
Turn-key solutions for top MLM industries
We provide exclusive solutions for the top MLM industries. The preset features available in these dashboards will guide you properly based on your product type or industry.
Investment Plans
Forex Trading
E-commerce and Online Shopping
Smart Contracts and Token Sales
E-learning and Educational
Cosmetics and Personal Care
Deals and Digital Ads Services
Financial and Insurance Plans
Epixel Board MLM Software Reviews
We value our clients' feedback, it plays a significant role in improving our system.
4.6/5 121 Google reviews