Join the 100+ companies using the Epixel platform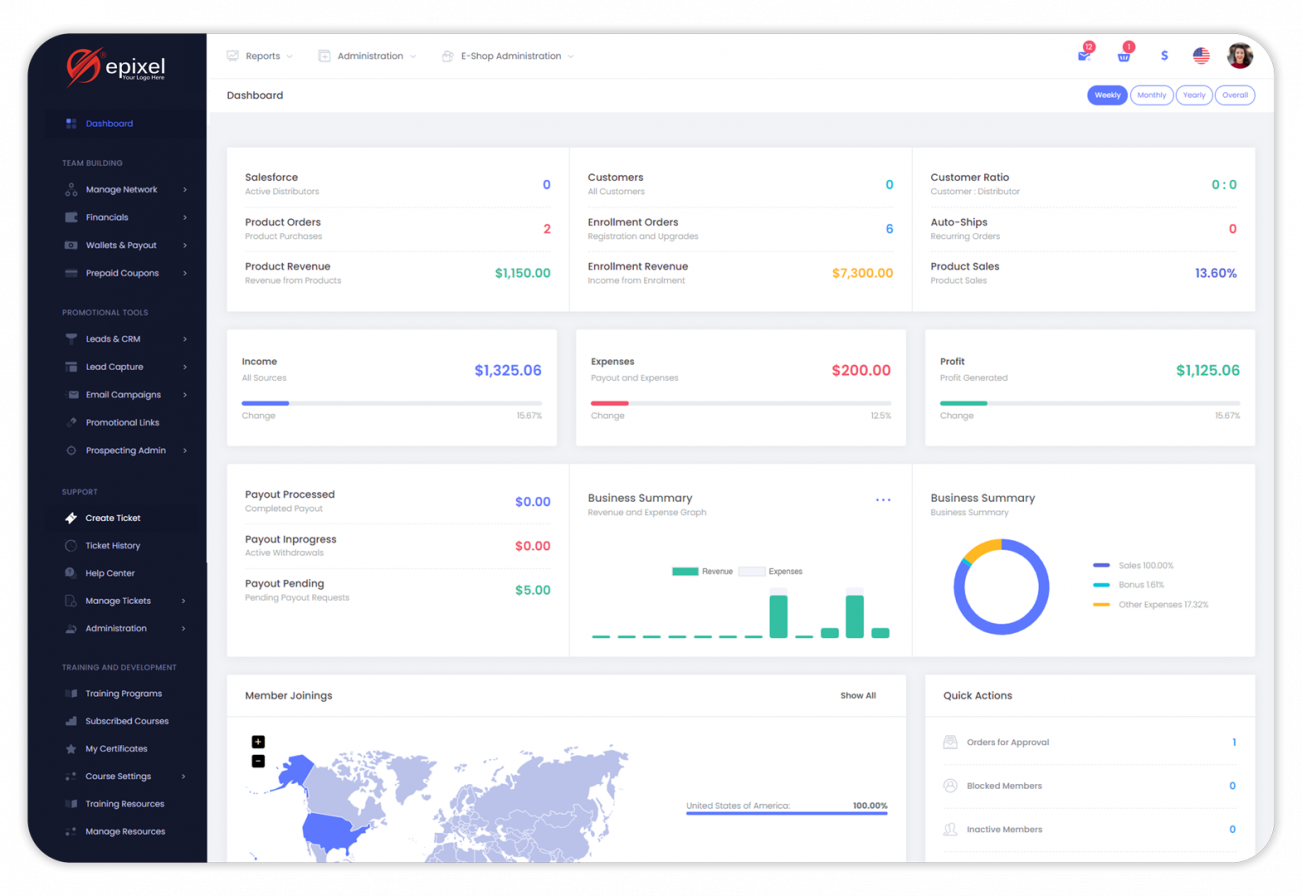 Leverage the potential of your Board plan with a completely customizable MLM platform
Board MLM software is a software application based on Board MLM plan that empowers growing MLM companies generate more leads, manage their customer and distributor base, and expand their MLM business to new territories.
Hassle-free board MLM software simplifies the business process with futuristic technologies like Python, Node.js, etc. The advanced commission engine built using Google Golang ensures quick and real-time commission processing.
Epixel MLM Software – All-in-One MLM Growth Platform with an Intelligent Sales Funnel.
Request Free Demo
* no credit card required
Integrate all your apps & data in one place
Like to add a new
rank rule
?
Special
compensation schemes
?
Integrate
new features or payment modules
in your business?
Epixel Board MLM Software
is customizable as per customer requirements.
Frequently Asked Questions
Yes. Board plan MLM software is built on a flexible platform that lets users customize and configure features required for the smooth running of the business. The platform built on a board MLM plan allows customization of compensation plans and the addition of new commissions and bonuses.
Board plan MLM software helps businesses overcome the recurring challenges in the MLM industry including but not limited to lead generation, prospecting, compensation plan management, payout management, distributor attrition, customer acquisition and retention, etc.
From supporting basic internationalization features such as multiple currency, multiple languages, and payment gateway integrations to integrating advanced features such as country-based tax and accounting policy alignment, legal and regulatory compliance management etc, board plan MLM software assists businesses in aligning with the laws of operating countries.
Yes. Board plan MLM software is built on a easy-to-use interface for users of all sorts to handle the system effortlessly without technical knowledge or training. An advanced yet attractive user interface elevates user experience.
High-end security features like data encrption, Multi-factor Authentication, role-based access controls, automated compliance monitoring, etc protects sensitive information and ensure that the business meet all regulatory requirements.
Definitely. The platform comes with a dedicated module for onboarding, training and engaging distributors. The advanced training module ensures distributor upskilling through performance management tools.
Hands-on training and quality support are offered to users at all times for ease of use and uninterrupted user experience.