MLM companies, both the bigwigs and the average Joes, have their own share of challenges. Especially in the network marketing industry challenges are in abundance accentuated by both internal and external factors.
But with the right solution, it would all be as easy as ABC.
In order to decipher the solution, we should get to the root of these MLM management challenges. As indicated, network marketing businesses face resistance both from within the organization and from outside.
Here we are to analyze each of these network marketing problems, inch by inch, and formulate a practical solution for each of them.
Common challenges in network marketing business can be broadly divided into two categories.
Internal Challenges
External Challenges
Now, let's decipher a solution to each of these MLM enterprise management challenges. But, before we start worrying about the external factors let's fix the internal ones first.
The MLM challenge #1:
Compensation plan management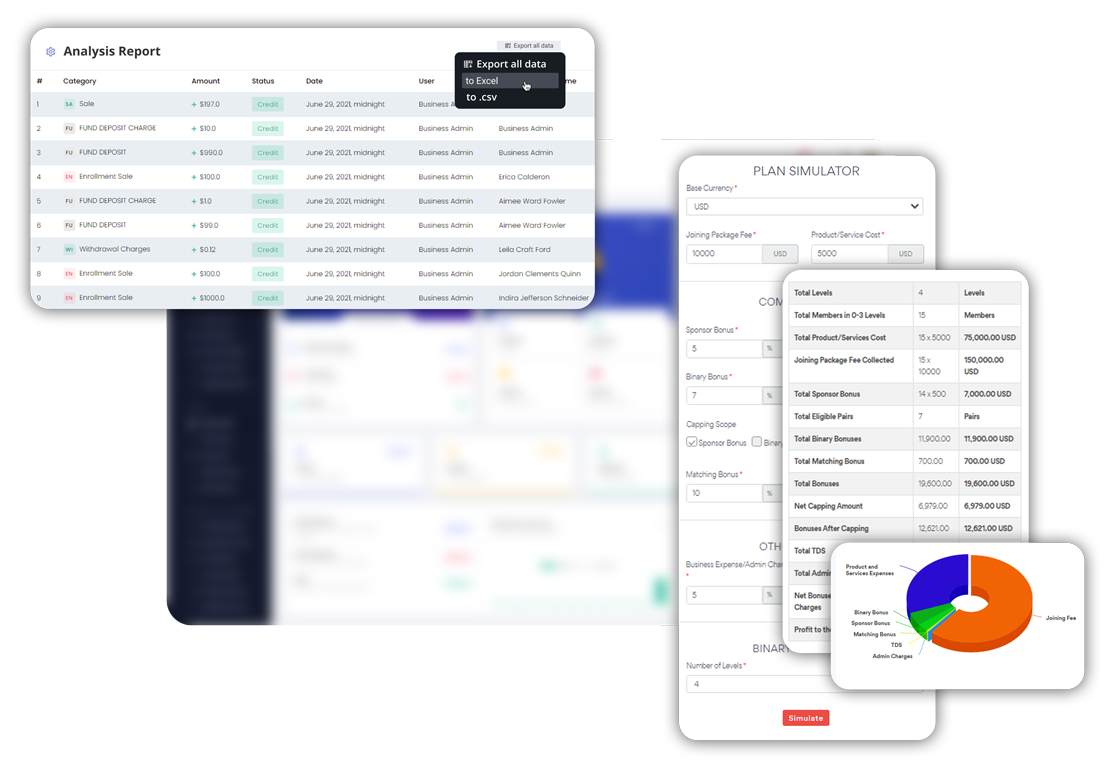 A critically crucial element in network marketing business, MLM compensation plan, is something that needs nurturing right from the start and throughout. A single laid-out plan will never fit in. Just like a steering wheel that needs to be turned to adjust the bends on the road, the compensation plan needs to be molded to suit the twists and turns in your network marketing business.
What, when, and how is for you to decide. However, one thing to note is that overcoming the challenges in the compensation plan needs skill and expertise.
Solution
Take the help of an MLM consultant to analyze your compensation plan from time to time.
Constantly evaluate the performance of your compensation plan in your network marketing business.
Use an MLM compensation plan analyzer to keep a check on your compensation plan.
The MLM challenge #2:
Team collaboration
In an industry like network marketing, where diversified talents meet from all walks of life, collaboration is extremely important yet difficult. Each of them will have fresher ideas and outlooks which when blended appropriately can result in tremendous success for both parties.
However, since everyone works at their own pace and place, team collaboration becomes an arduous task in MLM enterprise management.
Solution
Introduce rewards, incentives, and distributor loyalty programs.
Conduct regular brand events and activities.
Build brand communities.
Wish to boost collaboration among your distributor teams?
The MLM Challenge #3:
Payout management
Commissions and bonuses are the axles that keep the MLM business rolling. For it to roll smooth and steady, the payout process should be properly managed.
In network marketing, payout management benefits businesses in various ways. Error-free and transparent payout processes earn distributor trust—the main ingredient in reducing distributor attrition. It also motivates distributors to contribute more to your brand and builds brand loyalty.
Solution
Use MLM calculators for constant compensation plan monitoring.
Integrate MLM commission engine into the MLM software that automatically keeps track of your compensation plan performance.
The MLM Challenge #4:
Decision making
Launch a new product?
Modify the compensation plan?
Where to invest? Distributor training or a new tech partner?
Migrate to a new platform?
On and on and on goes the list of decisions you need to make every day in your MLM business. While you might have a panel of advisors to assist you in the decision-making process, what to take and what not to will leave you in dilemma quite often. Right?
Data-driven decisions are the best solution, but how to handle them is the problem faced by most MLM companies.
Solution
MLM software powered by predictive analytics can deliver actionable insights that will help you in proactive decision-making.
Most MLM software solutions display KPIs that are indicative of the hiccups occurring in the network marketing business in real-time.
The MLM challenge #5:
Distributor management
Having them onboard is one and managing them throughout is yet another!
Both, combined, are a gruesome challenge for MLM companies making headway into the business. Training distributors on how to sell your products is not the lone point companies must invest in, there is a much larger picture—the personal development of your distributors. You should make your brand executives capable of handling everything independently.
Solution
Strategically designed distributor onboarding process.
Creative distributor training modules.
Distributor engagement activities advanced enough to capture their interests.
The MLM challenge #6:
Customer relationship management
In between network marketing lead generation and building a steady Customer LifeTime Value (CLTV), you have a long and hard way to go.
You need to keep your customers happy and satisfied so should your products. But today, products and offers alone do not win customers.
Understanding and exceeding customer expectations is a critical factor that keeps customers alongside the brand.
Solution
Run customer surveys and polls to understand what they expect from you.
Rewards and loyalty programs exclusively for your customers can help build brand loyalty.
Ensure 24/7 customer support and satisfaction.
The MLM challenge #7:
Reducing attrition rates
Establishing long-term relationships of distributors and customers forms the base for a strong network marketing business. To keep them that long, MLM businesses should partake in designing strategies that mutually benefit each other.
Solution
Build brand trust and loyalty.
Revolutionize your social media channels with exciting and exclusive content.
Reward them on time and often.
Strengthen the bond between customers and distributors.
The MLM challenge #8:
Establishing organizational transparency
Trust and loyalty, both of customers and distributors, are rooted in the transparency that network marketing businesses showcase in their processes.
A brand with a transparent manufacturing process attracts more customers than brands that don't. Also, in direct selling, a transparent payout process earns distributor loyalty and trust and boosts clarity and accountability.
How do MLM organizations uphold transparency in their enterprise management processes?
Solution
Be transparent in the values you hold dear, the commitment you invest, and the contributions you make to the people and the planet.
Involve distributors in the decision making process. That way, they become more involved and responsible for the good of the organization.
Optimize your internal and external communication channels.
The MLM challenge #9:
Security
Your network marketing business can run into serious threats at any point in time—be that of data, payments, or other sensitive business information. These threats could possibly turn into a goodbye for your brand.
Hence securing your assets with a security management strategy is key to smooth and successful MLM management.
Solution
Secure your payments with two-factor authentication and PCI DSS compliance.
Create strict business agreements to avoid data theft.
Create a reliable and strong backup solution for your business data.
And now, on to the external ones…
The MLM challenge #10:
Achieving compliance with laws, rules, and regulations
The most common and perhaps the most serious challenge that MLM companies face today is to align themselves with the compliance standards put forth by the authorities. Be it a tax, legal, or data compliance, MLM companies who look forward to evolving, growing, and expanding their realm have to stay updated on the constantly changing industry and government regulations.
Each country has its own rules and regulations. Operating beyond borders and in changing times needs a system that can streamline itself to the constantly changing rules of the land.
Solution
Make sure your distributor teams stay updated with regular industry and regulatory standards.
Build a compliance team to monitor the change in policies across various business sectors.
Conduct compliance training programs for your entire organization.
The MLM challenge #11:
Understanding the market
Just as expansive as the markets are, so are the hidden opportunities in them. To explore and establish yourself successfully, you need to find the relevant ones first.
And to find that out, you need to run a thorough research about the audience, competitors, products, and strategies. The ones that would fare in one won't fare well in another.
Solution
Do thorough research on the potential purchase drivers before you launch your business.
Build a good research team that knows the pulse of your market, your customers and more importantly your competitors.
Research customer and market trends and preferences every now and then.
The MLM challenge #12:
Beating the competition
Keeping a check on your competitors is a good way to beat the competition.
But is that enough?
What competitor activities do you keep an eye on?
Pricing?
Product innovations?
Offers and discounts?
Compensation plan?
That's not all. Beating the competition is spread across a wider arena and to come out of it victorious, you need to cover wider.
Knowing their strong markets and analyzing their strength across the markets and customers are crucial to developing a no-fail success plan over your competitors.
Solution
A good technical partner can give you the competitive edge to stay ahead in the marketplace.
Run a comprehensive competitive analysis—the factors favoring or faltering them, the areas they expand, the markets they conquer etc.
Most of all, keep it healthy!
The MLM challenge #13:
Overcoming natural and man-made disasters
This challenge wouldn't have crossed my mind so easily if I were to pen down the challenges three years back. This challenging factor had always been there in quite a number of forms but COVID-19 has only underlined the effect natural or man-made disasters can have on businesses.
Companies anticipate calamities affecting them but not for such a prolonged period of time. When COVID struck us, we were not expecting the huge effect it could have on the world economy. We suffered. We survived.
How should we prepare for the future?
Solution
Keep a concrete business plan ready in case you were to encounter a calamity.
Evaluate vulnerable areas in your business, outline the potential consequences and set up a plan.
Safeguard your data first and keep a constant check on your backup system.
Analyze the problems your customers and distributors might face, and keep a plan to help them through it.
Do you experience more challenges than the ones we have outlined?
Kindly let us know so we can help our community, overcome and grow.