ABOUT MATRIX MLM PLAN
Matrix MLM Compensation Plan is one of the primary plans in Multilevel Marketing Business. In Matrix MLM plan, the downlines are arranged in fixed width x height matrix i.e. (W x H). This plan is referred to as forced matrix plan where one distributor can grow his team within limited numbers of downline members.
Matrix MLM plan is popular plan among the MLM companies which helps in organizing various essentials. It is also known as "the ladder Matrix MLM Compensation plan or forced matrix plan". Matrix Compensation Plan is similar to a pyramid where the members are arranged in a particular manner. It is one of the most important unilevel plans which owe specific features. This unique featured plan has a limited width and length, so understanding the features helps in using it appropriately. Our MLM system software helps to organize and understand the concept more easily. The matrix compensation plan supports in extending the tree as per the requirement and this comes with multiple features.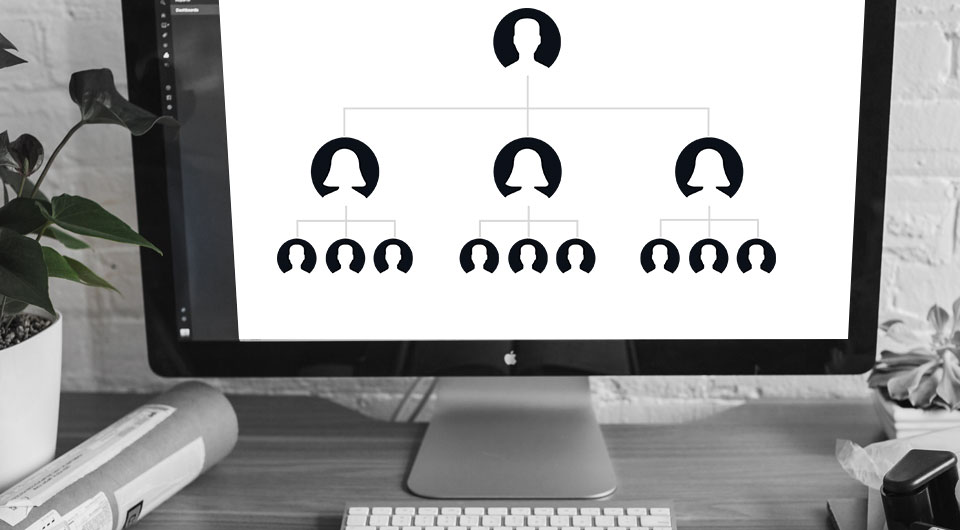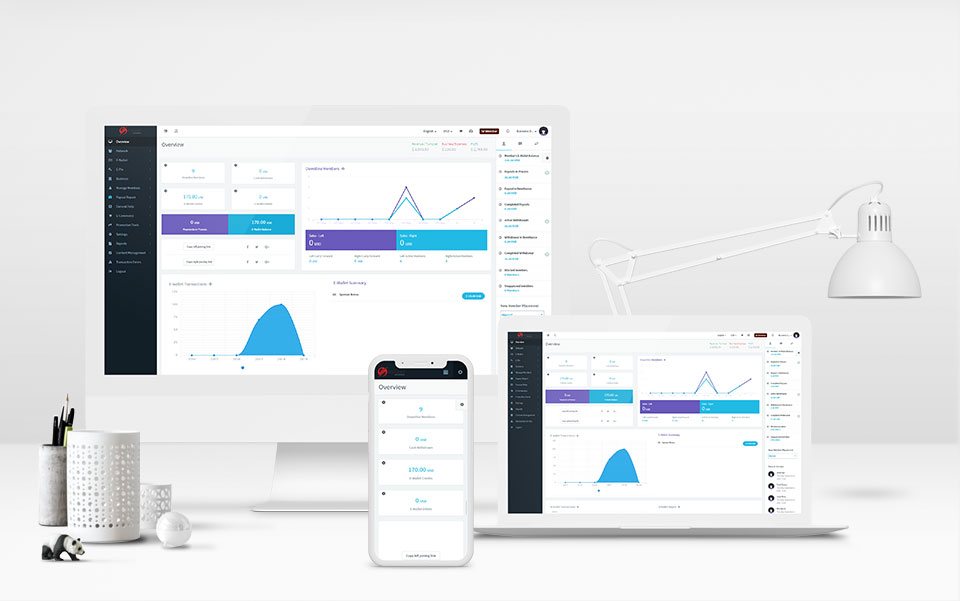 How does Matrix MLM Plan Works?
The popular matrix mlm plans are 2*12, 4*7, 5*7, and 3*9. The plan works by adding the default members to the first level and everyone else you sign up after the completion of the first level will spill over into the next level, and perhaps to deeper levels as per the plan.
If you choose 3*3 matrix plan, you can recruit three members to the first level and the rest will spill over to later levels with a depth of three level. Here the matrix is said to have three numbers in width as well as in depth.
Matrix MLM Software Compensations
Compensation and bonus enhance the user activities and keeps business more active. Here are some of the compensations in the matrix system.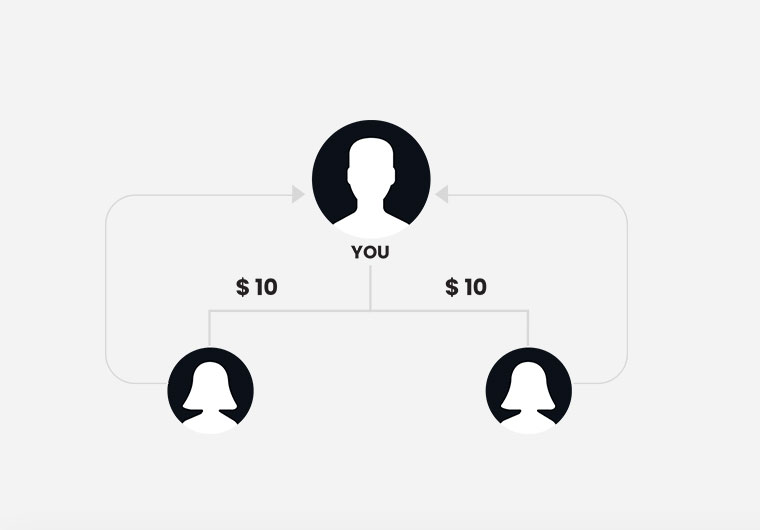 Sponsor bonus
Just as the other MLM software plans, the Matrix mlm compensation plan also has a sponsor bonus. Earning bonus when recruiting new members to the network. MLM companies usually introduce sponsor bonus to motivate the members for adding new members to the existing network. Bonus earned after filling up the first level.
Epixel matrix mlm software is having an option to change the percentage of sponsor bonuses. The sponsor bonus rule is configurable from the back office.
Matching Bonus
In most of the matrix MLM plan, the "matching bonuses" are defined by the different set of rules based on company's compensation policies. Matching bonuses are certain extra benefits for the sponsors. When a new member gets any compensation like Matrix bonus, his sponsor will also get a certain percentage of that amount. Epixel MLM Matrix Software is flexible enough to reconfigure in accordance with the company rules and ideas.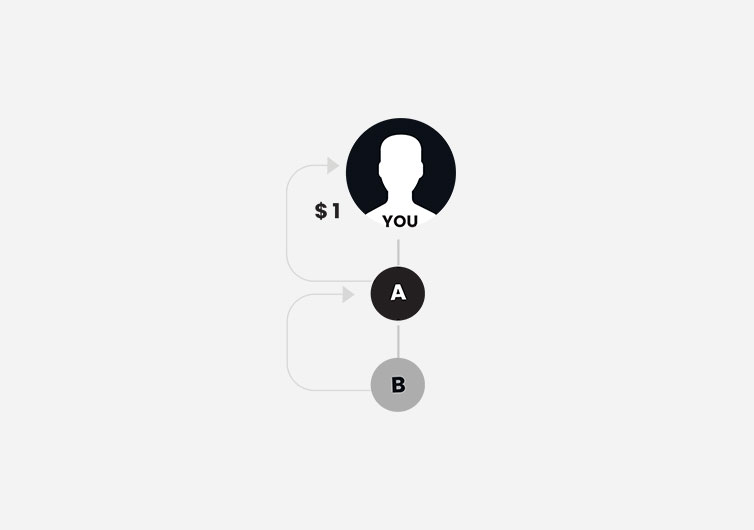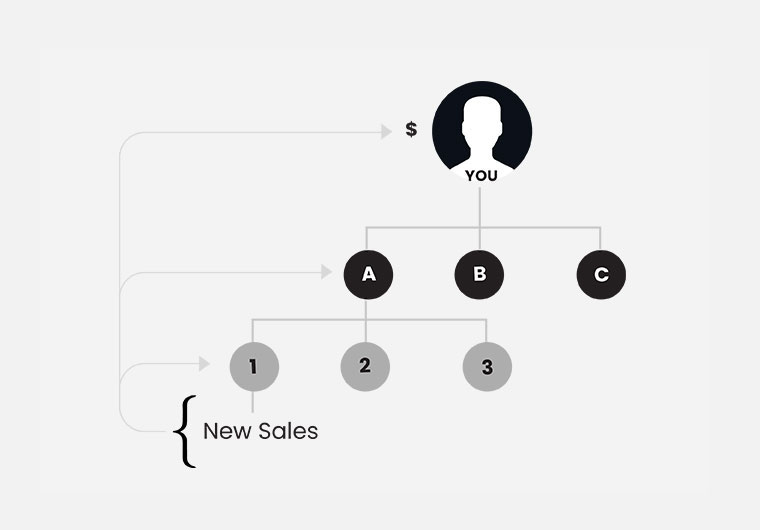 Level Commission
In Matrix MLM plan the level commission is the amount of profit or bonus that people earn by adding new members. This works when the first three members add new users and gain sponsor bonus and the next level members add three new users to earn some other bonus. This depends on the MLM compensation plan and can be extended till the nth level.
In Epixel matrix MLM software the level compensation is configurable to certain Width x Height. Business Administrators can configure different percentage rates from the back-office.
Position bonus
"Position Bonus" is the amount of profit or bonus people earn when a new member joins within the Matrix. Say, for a 4*4 matrix, a member will get position bonus when new member joins with in his 4 down-levels.
In matrix MLM compensation software the level compensation is configurable to certain Width x Height. Business Administrators can configure the rates or a percentage from the back-office.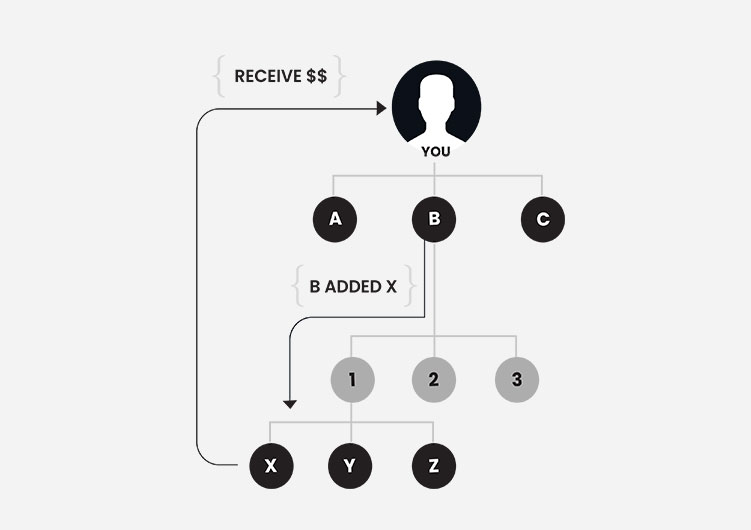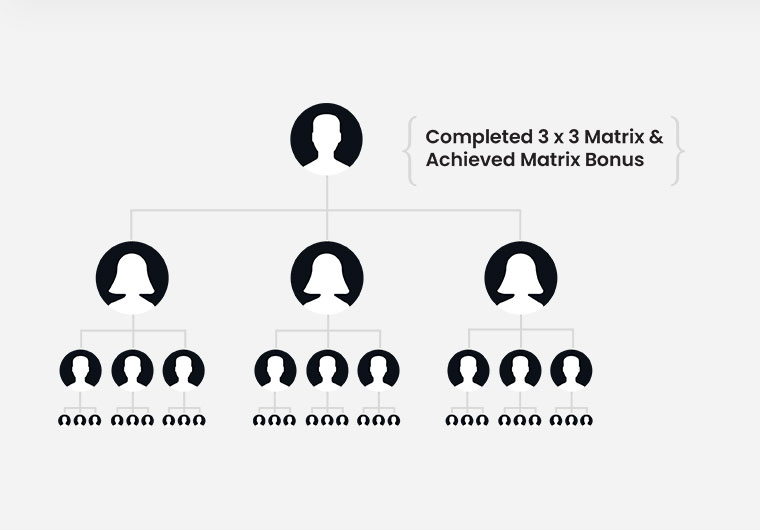 Matrix Bonus
Matrix Bonus is also an add-on bonus to give extra compensation to the distributors. This compensation is given to the members when they filled their matrix with the downliners. If the business plan is a 4*4 matrix system, the members should have 4 members on his first level downline, 16 members in his second level downline, 64 members in third level downline and 256 members in fourth level downline. This member is eligible for the Matrix Bonus.
Epixel MLM Back-office software features
As a leading provider of MLM Software we are offering almost all the standard features of efficient multilevel marketing system. The list of enterprise features which will assist you to manage the business effortlessly
Clean & Classic Dashboard
E-Wallet
Genealogy Tree
Multiple Currency Support
Multilingual Support
Full Responsive
Network and Team Explorer
Change Sponsor & Repositioning
Payment Gateway Integration
Multiple Network View
Downline and Upline listing
Sponsored Members Listing
SMS Integrations
Rank Advancement
Custom Rules for Ranking
Income and Expenses Report
Multiple Withdrawal Options
Multiple Payout Options
Theme Switcher
Configurable Enrolment Fees
Multiple Compensations
Business Wallet
Business Turnover and Expenses
Track Activities
Configurable Compensations
Customizable Business Plan
Unlimited Members
Support Ticketing
Lead Capturing
Multiple Payment Options
Internal Messaging
Transaction Failure and Recovery
E-wallet Transfers
Live Chat Module
Manage User Types
CMS
Integrated REST API
Bitcoin Integration
Multiple Wallets
Automatic Payout
Matrix Plan
MLM Demo
Introducing Matrix MLM Software Demo here. Explore Live MLM Matrix Plan for more features.
Matrix Plan MLM Software
A marketing plan with a specific width and height, aren't you eager to have a peek at your Matrix MLM Software demo? Build your own network marketing Business Application with this compensation plan and customization is an add-on to your best results. Just Click and find out!. Our Software will work on all operating systems like Linux, macOS, Windows and Cloud
Rated 4.8/5 based on 48 customer reviews
Matrix MLM Calculator
Have a proper idea about MLM plan calculator? Here you can calculate your business growth with the advanced Matrix plan calculator. It helps accelerate the business, forecasting the income according to the number of recruits you enroll.
Matrix MLM Calculator