'Failure is a stepping stone to success' - one of the most famous proverbs and it's a truth! Many people consider failure as an opportunity. For MLM companies, failure statistics need to minimize. The goal of direct selling is positive and experts consider it an opportunity to extend product selling to a new horizon.
Let's see what this piece of information is about over a glance as highlights,
10 reasons why MLM fails
How to get rid of failures - The solution
Why do MLM Companies fail: Top 10 reasons!
MLM companies need to follow laws, and many companies fail to follow them. It creates a scam and according to experts, it's not failure but utilizing the industrial identity for their benefits. Failure applies to genuine direct selling companies that follow every guideline and fail to progress to the future.
This article is for such MLM companies who want to create opportunities for product selling and become successful.
What might be the reasons for such situations?
It's a million-dollar question that needs a proper set of answers. We've made good research to answer this question. Finally, we came up with 10 reasons and how to solve them.
Let's see the top 10 factors that cause MLM companies to lose their sustainability in the industry.
Scalability factor: Inability to manage large business network
Growth from small scale to medium-sized businesses won't take more than a year. If the products have the below factors then the growth rate will climb up.
Quality products
Good compensation plan
Skillful networkers or distributors
Good leadership
An MLM Software etc.
This can result in rapid growth and wide customer acceptance. As the business grows, the number of distributors gets attracted to become a part of the network. This drives in more sales!
However, due to some reasons, the growth starts to scale down all the way from perfect 10 to 7 and still getting down!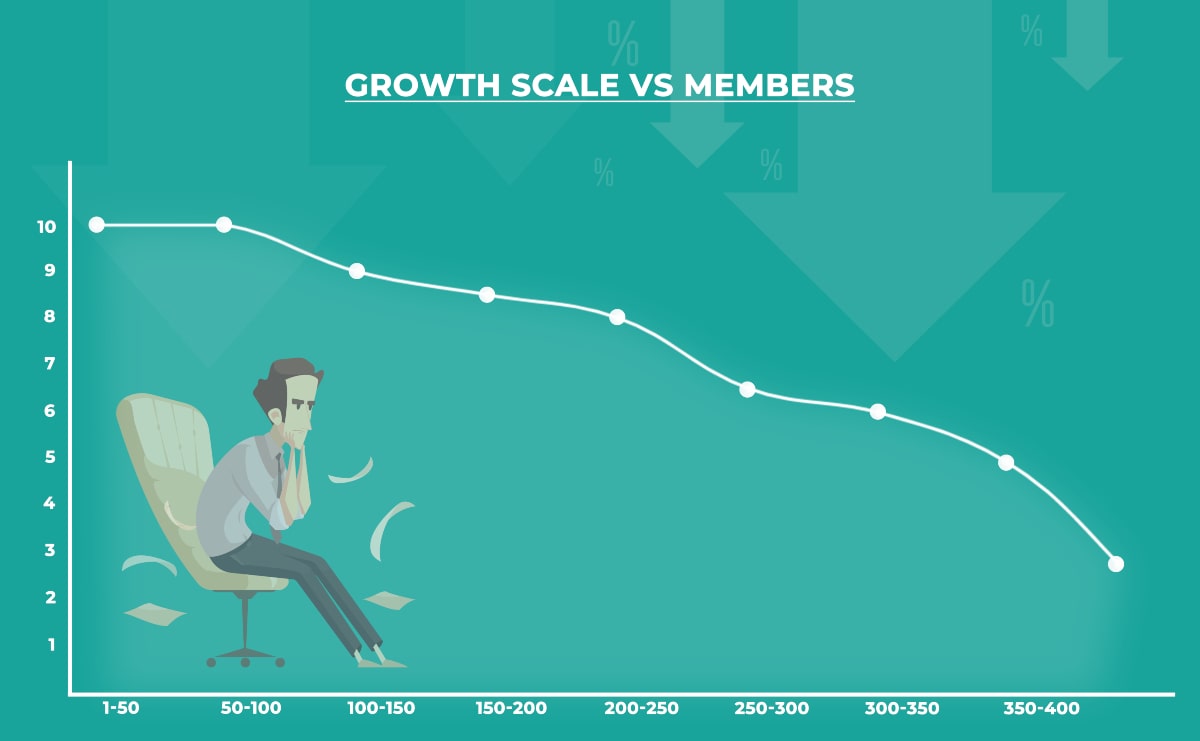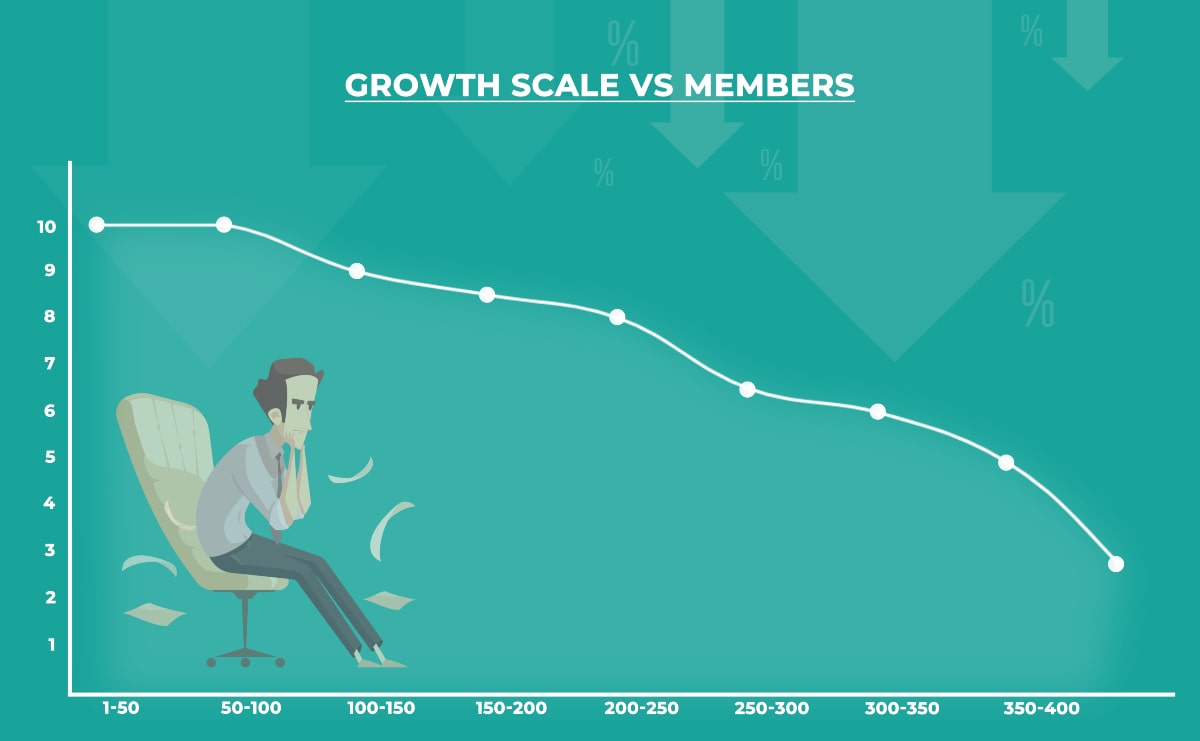 What might be the reason for this decline?
They have everything in their hands but still, something lacks behind. Check this article to see whether you are following all the factors to consider before choosing an MLM system.
MLM companies fail due to some reason, the missing link might be from the software side. An MLM system must be handy to manage any distributor numbers. Growth is a bi-product of the company for distributor efforts and the system must be scalable to welcome that.
Instead of a 'declining graph', what we need is a stable one, a graph that provides a constant 10 reading. Isn't that what you want to happen during business analysis?
Solution: Choose a software package that provides a scalability option. If you're a startup then you might need a basic package but make sure once the business grows the software is also scalable.
Try to find what's the factor that lacks behind. If you identified the issue and it's from the software, then it's time to switch! Migration is the best option if you're too late.
To avoid such situations, it's best to choose the best one during the initial launch itself. New direct sales companies must always ensure that they choose a package that is capable of managing the business and stable to accommodate in the future.
Compensation calculation flaws
Calculating compensation for 20 members might not be complex but what if it expands?
Calculations get complex once the business starts to grow or once the distributor/customer base expands. Even though a system is capable of calculating a higher user base, there might occur a problem - 'calculation errors or flaws'.
As a result, distributors won't receive exact commissions/bonuses. What if an active distributor who created more opportunities didn't receive what he actually achieved? What if the day of payout skipped and no one got the compensation?
Aren't these factors too much to lose distributor/customer trust? What will be the final outcome of such situations?
Yes, you guessed that right, FAILURE!
What they lack here is ACCURACY! If the system is accurate then there wouldn't have been an issue.
Solution: An MLM package that tested properly with all logical conditions provides the best system. Multilevel marketing is more focused on calculations and assures to choose a premium system.
So, it's important to focus on accuracy. High accuracy must be consistent and a system must be engineered in that way.
Check for an MLM simulator availability and having such a useful tool helps to analyze the providers. If the simulator offers complex calculations then go for the demo and finish it.
The MLM software demo can be thus analyzed using an accuracy factor and then proceed further!
Lack of distributor/networker training
Successful training of distributors has its own role to play in building an MLM business. A strong distributor network establishes only once they get to know what they are selling and how to sell. To become a good distributor, one has to become a customer. They need to know the pros and cons of the product they sell.
"Be a customer and then if you find an opportunity then become a distributor and start earning", a consultant would prefer this opinion.
Back to where we left-back, MLM company can afford a distributor with fewer skills & training. Yet, what if the entire distributor network lacks training?
This is yet another reason for failure!
Yet Another challenge for globally accepted direct selling companies is that they will have distributors from various parts of the world. They must get proper training to succeed, to ensure it, they organize meetings in public or office spaces. Then they conduct training classes.
Setting up such programs each time new members join is expensive. To avoid such extra expenses, they may avoid the training part. Skipping the training session is neither beneficial for distributors nor companies.
This is yet another reason for failure!
Solution: Training acts as the bridge between sales and distributors. One who gains a certain set of skills for marketing earns more. It also create modest ways to engage your distributors.
Premium software packages are offering training modules as an add-on feature. Learning management tools offer proper tracking of distributor training. Those who complete the training can even be rewarded with company distributor certificates.
A distributor with a certified distributor profile gains more trust than a normal distributor. Customers trust matters and MLM software with learning modules can offer it!
Overflow of money as compensation
MLM company with a good distributor network is an asset and makes good revenue volume. And well they get enough compensation for their effort. At the end of the day, everyone gets their account piled up with enough money.
But, yes, there is a 'but', here the distributors received 75% of company revenue as commissions and bonuses. That means, the MLM company just got a profit of 25%. Is that enough to proceed further for the next year? No, not even close to the required amount!
This is yet another reason for failure, excess flow of money as distributor compensation.
Solution: Payout compression is the best available solution. A value can be set and the payout won't exceed that limit. Say, like the MLM company can set a limit of 35% and the total compensation won't exceed 35% of the entire company revenue.
Thereby, the MLM company can establish a sustainable business and root away from the chances of failure.
Internationalization problems: Different countries, different rules!
If the distributor goes pass every issue then for sure the business must have expanded across the globe. Expansion can also cause issues, wonder what it is? If your business network has distributors from different nations then obviously the laws that exist, they will vary.
Compensations must be based on these laws. Not just the laws, its applicable for other factors like the local currency payment, enrollment packages based on regions, etc.
Companies who don't follow such rules will face lawsuits and ultimately, they will fail!
Solution: An advanced system that has internationalization features is the best available solution. Only a premium package can deliver such an advanced tool, and it's not an easy task when carried out manually.
Lack of teamwork
For an active business network, it's important to make sure the efforts come from everyone. A business won't survive for long unless equal participation is established.
Certain compensation plans consider teamwork as a criterion for payout. A balanced leg can stable compensation in the binary plan.
In short, an MLM company that lacks teamwork will end up in failure.
Solution: A simple solution to make distributors motivated with new bonuses and compensations based on the time frame. Provide them with an additional bonus if they achieve sales for a certain time period.
Companies also can set spilling preferences in compensation plans in a way to make distributors add sales on the weak leg (sales leg) and balance them to get good compensation.
Unattractive or non-appealing compensation plan
A customer gets attracted and joins an MLM company for many reasons. The compensation plan is one of them. What if the compensation plan of an MLM company is not appealing and not so attractive? The chances of bouncing back from such situations are high.
An unattractive plan can cause such actions and if they find not favorable to them, then it's a noise. It's a failure!
Solution: Find a good consultant and make the necessary changes. Reach them back who just got away and tell them about the new plan. Follow them up regularly and make sure they find something that triggers their interest.
Language concerns
Language is an issue and much related to the internationalization factor. Language cannot be considered as a barrier and yet it's a concern. Languages are meant to clear the air between people and communicate with each other.
It's not a minor factor and must give importance. As the business expands so will be the network, and their languages start to switch. They will need support on the plans or consulting or for the distributor career program, all these concerns must be satisfied. Here, the language plays an important role and the company must own language knowledge & skills.
This can lead to a universal acceptance rate of a business and fail to impress at a global level.
The same concern arises once they buy an MLM Software and have issues while connecting with the software providers.
Solution:Consider having language consultants for your MLM company and the issue will get resolved. If the issue is based on MLM software, then prefer providers who offer multi-lingual support.
Unsuitable compensation plan
While a product is considered as the identity of a brand, a compensation plan is considered as the heart of an MLM company. If the plan is perfect and executed well, then the brand will flourish to the next level.
If the plan is not suitable for an MLM company then the business will fail and wipe away from its existence.
Solution: The only solution to this issue is choosing a suitable compensation plan. A good consultant or experience in the industry lets MLM companies pick the right compensation plan. They help to find the best compensation structure as per your business requirements and offer automated solutions such as a binary compensation plan software for managing your network following binary mlm plan.
Marketing strategy failure
Marketing is the key of every product business and that is the precise definition of the multilevel marketing business model. It's digital age and marketing must follow the latest trends. Having a website is the key factor. A perfectly crafted network marketing website design significantly boost customer trust. Alongside a website, an e-commerce store with an affiliate program can boost business.
If an MLM business is not yet adapted to this mode then there is a great chance of getting failed. Marketing strategy must influence customers in the best way.
Solution: Hire experts or create your own strategy after studying the market carefully. Get involved in digital marketing, a simple solution is to opt for an MLM Software with advanced marketing features.
Use MLM replicated website, let people buy products online with e-commerce network marketing integration, affiliate plugin programs, referral links, promotional banners, etc.
In short, from all the 10 reasons, we come to a common conclusion - an efficient MLM system or software is the best available solution. Epixel MLM Software has a solution for all the above reasons for failure.
Our system offers,
Scalability - Supports millions of distributors in a single system, best for those looking for a startup MLM platform or enterprise MLM platform
Tri-layer testing to ensure no calculations issues
Distributor training program & certification modules
Payout compression to stop the overflow of money as compensation
Internationalization features support regional-wise laws, taxes, compensations, etc.
Distributor analyzer tools and special spillover privileges to ensure distributor activeness
Personalized plan consulting (if required)
Multi-lingual support for customers as well as in dashboard
Advanced marketing tools with AI for business analysis.
To experience all the above features, explore our demo: