MLM and pyramid schemes - the two most popular terminologies in quick-money marketing world with potential differences. While one tagged under a perfect plan or scheme to introduce a product into marketing and revolutionize it through customers, the other prevailing to be the worst scenario - scam business scheme!
Yes, you heard that right, there is a potential difference between an MLM and a pyramid scheme.
There is actually a significant difference between these two terms and let's have an analysis on it deeply so that you can differentiate between them with certain identifier's (a certain guidance has been displayed in this article to do so).
A pyramid scheme is more often a Ponzi scheme that draws the attention of the crowd with many offers and attractive marketing opportunities. The lateral difference between the two is that MLM or Multi level Marketing is more on the part of best marketing course of action and on the other hand pyramid is purely a scam that offers just money based part. Let's study each of them separately,
What is MLM and how it works?
MLM is more often one of the best ways to market a product rather than making plentiful of money. Say, like you're launching a product that has enough competitors and you need to accelerate the product selling in the best way. Usually, the efforts are put forward to enhance the products through distributors and circulate it by selling the product and adding new members to the network.
This MLM marketing scheme is also known as network marketing and it often gives an opportunity to create a good force-sales team. It does help to boost-up your sales, as well as an MLM marketing organization, will be there to monitor on every action done by the corresponding members of the network.
There are many MLM organizations and people who became millionaires with these marketing schemes.
The usual proceedings of an MLM platform usually follow the below cycle,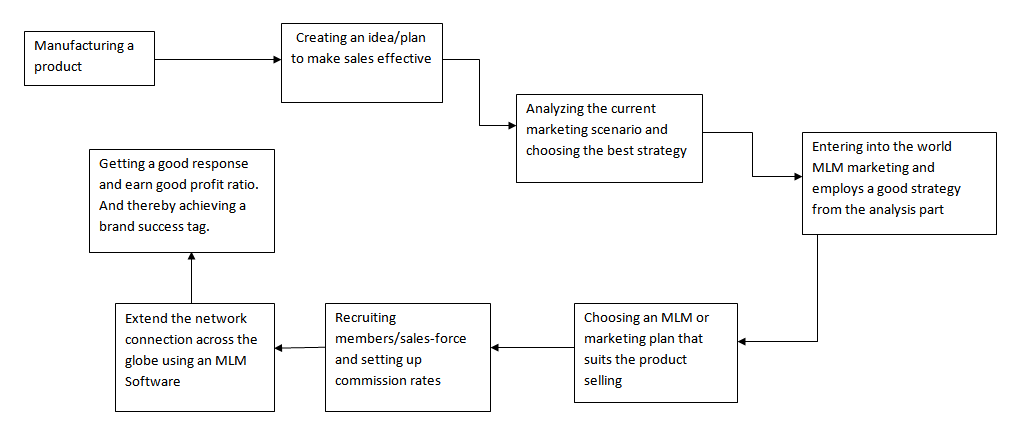 The above flow diagram tells you on exactly how this MLM part works and how things work in an easy way.
As I mentioned above, you do manufacture the product then, makes a plan to create a good sales idea. Then, analyzing the current marketing strategy by means of research, observations, case studies, proper dig-ups from various sources etc. This is the best way to create such a strategy and often this leads to a perfect state.
Now, entering into the MLM world to develop vast opportunities and create an excellent opportunity is the ultimate aim. Now that you have decided to get in, it's time to choose an MLM or marketing plan! A marketing plan does carry a complete outlay or structure of how marketing has to be done i.e., how does compensation structure to be molded? The arrangement of network and like more questions are solved here in this part.
There are various plans available in the MLM world like binary plan, uni-level plan, matrix plan etc. choose one among them wisely.
Go to the part where marketing plan is analyzed and move into the employing of force-sales team. This part has to be linked with a proper connection across the globe as well as local network. Set-up a commission rate and all other stuff and that's it with the combined effort your brand name will be there at the top. An MLM Software is usually, implemented to take care of this part (Well, I personally recommend Epixel MLM Software, they are good to deal with and the package comes with great quality).
These all parts comprises to be called as an MLM Scheme.
Now that you understood about what MLM is, let's move on to the Ponzi scheme part - the "pyramid scheme".
What is a pyramid scheme?
A pyramid scheme, the worst part of marketing scenario with just a motto of creating money. A readily created marketing campaign through advertising or real talk but no real products are being sold. Fake promises by collecting up initial funds in large volume, no return policies mentioned, illegal in nature, an investment with no guidelines etc. can catch the attention of being in an "alert state".
Well, there are many ways to catch-up this scenario, a Q&A list can help you to solve this issue.
Is the initial fund or payment in high terms or say about high value?
Will you get back at least 80% of your money back if the products are unsold?
Does the organization emphasis more on recruitment rather than product selling?
Are they not interested in consumer care?
Is it just focusing on money chain without any guarantee?
Aren't there any regulations to be followed?
If these questions fall under the shades of doubt or not trustful then, yes come to conclusion that it's fake or scam!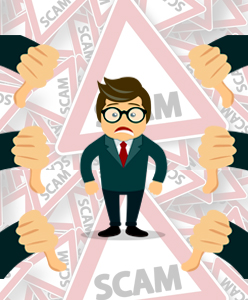 It's more a miss-leading path with mischievous nature. Always a trusted brand or an organization even if it is new to the business world but with a board of members and regulations - it's worth a try!
Basically, this is the best differentiating approach to understand the recognition of MLM marketing scheme from that of the pyramid.
| Factors to compare | MLM / Direct selling | Pyramid selling |
| --- | --- | --- |
| Legality | Legal | Illegal |
| Offerings | Commissions & other compensation schemes for product selling & member sponsoring | Emphasis mostly on money terms rather than product selling |
| Authority | Controlled by an MLM organization | No authority, just fake promises |
| Initial investment | Costless or no special fees | High value of money as initial amount |
The above table will help you for rough analysis between these two and hope this article caught your attention in understanding the difference between an MLM and a pyramid scheme.
FYI, MLM falls under the direct selling category and there is a slight difference among these two approaches. Direct selling is more a face-to-face deal between the customer and the distributor. These sales will be the only income source of a distributor and if the income is derived also from member recruitment then its MLM or network marketing.
How to identify a legitimate direct selling or MLM business?
Identifying the legal side of a direct selling or MLM business isn't that easy. Like the points mentioned earlier (questions to ask) there are few things that make a product selling business legitimate.
Providing an accurate company or organization information for public availability
Right product information is provided on the official website, offering genuine attention to the visitors
The initial joining kit is offered to the distributors after joining in with a package (low cost)
The join kit contains the necessary marketing tools like samples, catalogs, flyers, joining forums, etc.
There are actual policies exists to follow for the distributors explaining every aspect of business network
Sales are the primary concern but not the recruitment well, commissions are provided for recruiting new members
Instead of hurly-burly environment, a good time period is provided instead of high demand or limited offer
Organization follows consumer protection rights and enables product guarantees
How to spot a pyramid scam easily?
Let's give a spotlight for pyramid selling alert; the "red flag" isn't an easy part to spot in the product selling business. As mentioned above there are certain ways to define a pyramid selling scheme too. Let's see how the analyzing thing works with pyramid schemes,
High earning opportunities are provided as promises
Giving more stress on recruitment rather than product selling
Even though there is an actual product to sell, there won't be enough resources or genuine ones
The product will be following a non-return policy
A larger fee will be charged on distributors for buying the initial package to enroll in the business
Immense pressure will be forced on the distributors (for recruiting more members)
This is the best way to find the difference between direct selling and pyramid selling in its simplest manner.
We have come across such pyramid schemes one or other part of our life and the simplest example of its kind will be,
Pyramid selling - A normal use-case
Let me explain one of the scenarios that force you to adopt pyramid selling and you won't be aware of that fact. Geller and his friends meet up with each other every day in Central Perk. One fine day, Phoebe one of his friend who usually comes in her bike came that day in a sedan. Everyone got astonished, and she appears to be rich in a week.
Geller and his friends were furious to know how did she manage to pull out a sedan with her low monthly salary. Many questions were arising from each and everyone, finally, they discovered one thing - she was into a marketing scheme! She explained the scheme, and after listening to the scheme they seem to be convincing and felt simple. The deal looks like,
Join the scheme with a fee of 1300 USD
Recruit 12 member into the circle
Make them buy the starter kit worth 1300 USD
If 12 members join in, the distributor will get double the joining fee
If managed to make people join in a quick period, a bonus will be provided to the distributor
In addition to the above details, she gave certain promises to make more money in quick time. Everyone decided to be a part of the deal and they began to make their friends and family join in the scheme.
They managed to add 4-5 members and as it progresses things began to get complex. There are no people left to join in the scheme because of its quick money making attraction. Everyone joined the scheme with a view of making money and they have turned in by spending $1300.
There is no one left to join in and everyone lost their money. Obviously, it's a pyramid selling but they got trapped or sucked into the scam!
The result will be,
Loss of money and effort
Ruining the personal relationships
Recovering from a loss of 1300 USD takes a bit of time. The above scenario is a pyramid selling network and the harm that brings in not as desired by the joints'.
Well, there is a potential difference between pyramid selling and Ponzi scheme.
Ponzi scheme - A Case study
One of the instance that clearly depicts a Ponzi scheme is "Charles Ponzi fraud scheme" that happened back in 1920. Yes, not many have heard about the incident and FTC (Federal Trade Commission) mentions it as an "infamous" incident.
Charles Ponzi comes with an investment scheme and it offers 50% returns to the investors over a period of 45-90 days. How did he manage to provide a deal of this high return? His allegation regarding the deal was that he could earn about 400% by trading the PRC coupons issued by the Universal Postal Convention. However, after WW1, his plans went south and he never disclosed that information to the investors.
He still happened to collect the money from the investors and to give additional attraction he paid a 50% return to the initial investors. This dragged new investors in with a high return motive in a quick period of time. As many people began to invest, Mr.Ponzi became rich in no time and bought a house in the best part of the town and then he bought a big part of the minority interest in his local bank - Hanover Trust Company.
Meanwhile, as the days progressed things began to unwrap and they realized the fact that they're getting cheated. He began to overdraw his accounts at Hanover Trust and the banking commissioner ordered to stop collecting the Ponzi checks. A few days later, he was arrested and owed about $6 million to the investors. Never forget that this owe of $6 million was in the first quarter of the 20th century and what might its value in 2019?
He served a prison time more than 10 years and this is how a Ponzi scheme differs from a pyramid scheme. There won't be any commissions provided for sales of member recruitment, just the investment, and only the potential returns!
Pyramid selling - The compensation structure explained!
To be frank there isn't any compensation structure that exists in the direct selling model and for better understanding, I have depicted a structure to easily understand who are all exploring the opportunity and who faces a huge loss.
The structure looks like,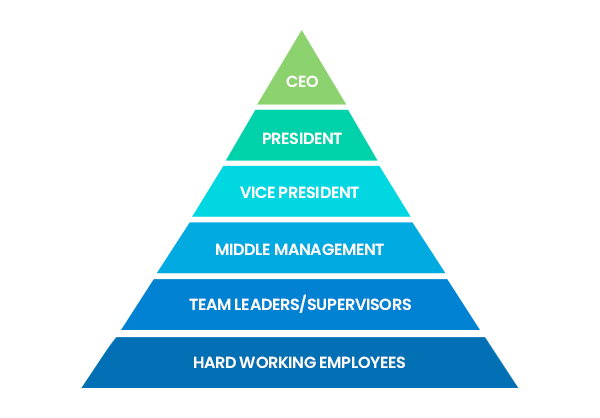 The upper levels i.e., those who join during the beginning will get the promised returns and they'll be beneficial of the deal. Watching them earn makes the so recruited team try their luck too and these people spread down to the bottom.
The structure brings down to the basic level where the sales representatives have to bear a huge loss. 80% of people involved in the pyramid selling scheme face this loss and it's not recovery.
Whereas, in the direct selling or MLM there will be a proper and genuine compensation structure. As per direct selling companies, there ain't a need to buy the starter kit to become a member or a distributor. It was about managing the sales force and get commissions for sales and recruitment.
The so-called product in multi-level marketing holds a value and there is a real marketing opportunity before the distributors.
As per the guidelines provided by FTC, the two major signs to distinguish pyramid selling will be,
Inventory loading: Asking for more sales with a large amount of joining fee with inflated rates
Lack of retail sales: The product will be selling around the network only but not to the outside customer world
Who gets into these marketing networks?
It's the opportunities that make people attracted to these money glancing games. There are many people who would like to join direct selling for flexibility like home-based business or as a part-time deal. This makes things perfect for them and attracts them to make valuable income out of this marketing model.
People who have pleasant salesmanship can bring more sales and thereby expanding the business to all parts of the world through network marketing. Well, network marketing is known by various terms like multi-level marketing and direct selling has it's a close relationship with MLM. MLM is well derived from direct selling.
People who want to make a good amount of money with their effort get into such a system. There are many such scenarios that make people consider as an opportunity. However many fail to get a success tag in this field and many fall for pyramid scams.
Hope the above description is a comprehensive note on what exactly is pyramid selling and how is it different from normal direct selling business.
Look out for my future articles about various marketing fields that could potentially resolve your queries.
Stay tuned and enjoy reading!