Businesses are there for a reason. For ambitious individuals to pursue their dream of becoming successful both in profession and in person. It also serves as a domain for individuals to explore the best of their abilities, to showcase their talents in different aspects, and to create better opportunities for society through their products or services. The latter adds to the commitment of the individual to the society he lives in and is purely selfless. The former deals more with the individual's urge to achieve a social status or to establish a successful career.
Then, how do these businesses turn into scams?
When an individual gets on to succeed, he has two options. Either to work hard for success and make it happen or find an easy way to get there. The latter part is where scams are born. When people do not want to work on their talents, instead, on acquiring the earnings of someone else's hard work, then that is a SCAM.
Multilevel marketing has had a formidable impact because of a large number of such incidents inside the industry. While it is true that it is a highly promising and rewarding business model, people are taken aback when they hear 'MLM' because of the numerous shady incidents that happened in the industry over the years.
Despite the strong anti-MLM movements, the reason why MLM is still not banned is because of the quality of the products and services MLM companies deliver and the diligent efforts they take to remain as a best MLM company with ethical standards and good practices. The success and long time survival of the MLM companies is an evidence of how people are still warmly welcoming the flexible earning opportunities provided by the business model. Ponzis and pyramids do not survive because they capitalize on selfish interests while MLM brings in reliable income earning opportunities.
I remember what a friend of mine once told me when I told him that I work for an MLM software company!
"OH!!! So you work for an MLM company? Take Care."
What!! But why??
I didn't feel offended rather felt sorry for him. For his ignorance and how they unknowingly pass this ignorance on to others damaging the image of the industry. Like him, there are many people out there who think that all MLM companies are treacherous pyramid scams. They don't really understand or take time to understand what it really is!
So, if MLM isn't pyramid, what exactly are pyramid schemes?
Pyramid selling is based and built on fraudulent and insubstantial claims of higher returns in shorter periods of time. It may or may not involve physical products or services but emphasizes on recruiting more and more people. It is called a pyramid because only the people at the top of the pyramid earn high income at the cost of those below them. What are the negative implications of illegal pyramiding to individuals and society?
Take for example, a seller, possibly a close friend or a family member, approaches you with a product or service. What will you do? You will buy it if you need it or you will politely turn down the request. But they try to lure you in by highlighting the benefits and ask you to join them in selling it to more people.
Assume that you join. The company then stresses on adding more people as you did rather than selling the products. Know that it's a scam. This is just one of the many tactics. You might also have heard about 'double your money' schemes, 'rags-to-riches', 'lose weight quickly', 'build your immunity', 'fire your boss' and get-rich-quicker campaigns, etc. All these stand in the exact same row.

By the time you realize you would already have lost money and more importantly relationships. Now, what will be your take next time when a friend approaches you with an MLM product? Go over the hill without even taking a look at it? Safer. Right?
I would tag you wrong. If you are ready to do a business but scared about getting scammed then fleeing isn't the right option. Remember the saying "Nothing ventured, nothing gained". So work towards finding ways to wipe out your ignorance to move on and succeed.
How does a Pyramid Scheme Work?
An individual or an organization initiates a pyramid scheme through the recruitment of investors with promises of high returns. First few investors receive high returns which doesn't come as a ROI but from payments made by other fresh recruits. The pyramid operator never makes any investment, it's actually a "rob Peter to pay Paul" story. When rewarded with high returns they are motivated and bring in fresh recruits now and again. It's a hard but true fact that they cannot keep recruiting forever. Once their contacts and resources dry up the recruiting has to stop. New recruits often believe that they are at the top of the pyramid until it collapses around them.
Pyramid promoters mostly target a specific group of people like a social or religious circle, clubs or unions to introduce their scheme. Once the majority of the members in these groups are recruited there is no one to pay for the latest recruits and in due course the pyramid collapses with the scarcity of new investors.
Pyramid schemes revisit the industry every now and then. Hence the question. Are pyramid schemes legal?
Pyramid schemes are illegal and banned but unique sales pitches convince people that they are at the top of the pyramid together with promises of quick and easy money. For those who are aware that pyramid schemes are illegal, it takes a toll on the promoters to convince them that it is rather a gifting program, a travel club or a social cause. The following illustration depicts how difficult it is for those who are not at the top of the pyramid to earn enough money.
How to Detect Pyramid Selling from MLM?
We all have the power of human intelligence to differentiate good from bad. But at times, we fail because fraudsters are way much better at manipulating things and we fall prey. So, let's watch out for tell-tale signs of pyramid selling that will help differentiate a pyramid scheme from MLM.
Emphasis is on recruiting rather than selling
No genuine product or service
Promises of high income in short periods of time
Easy returns or passive income
More than 5 levels of commissions and bonuses
How do you know if you're in a pyramid scheme?
The primary step to identify a pyramid scheme is to watch for the tell-tale signs. However, with a more detailed outlook, you can derive more definite conclusions about a scheme being a pyramid or not.
1. MLM leverage
Take this quote of John D. Rockefeller for example ". . . I'd rather have 1% effort of 100 men than 100% of my own efforts". This is exactly what 'MLM leverage' is. When you join a company, look for the leverage paid to those who are at the top levels. If you realize that they are overpaid then know that the company wouldn't survive long. In one way 'leverage' is an advantage of MLM, with collective efforts earning you more profits but it has such a darker side too. So watch out!
2. Investigate before you invest
The most common mistake we all get into is to get carried away by the promises of a luxurious lifestyle and success stories as portrayed by the company. Even though there are many genuine MLM success stories, don't just swing by the swindles. Take out time to search for the details of the company online and offline. Craft your search queries with words like scam, fraud, etc. Resort to warnings from consumer protection agencies such as FTC and responsible organizations like DSA.
3. Know these terms - "Inventory loading" and "headhunting fees"
Inventory loading is buying initial stock as an enrollment package to sell to other people which actually cannot be sold out completely either due to limitations in finding new recruits or on achieving market saturation. Inventory loading is more like a mandatory rule set by companies to clear off their inventory by dumping it on the distributors. This then becomes a burden to the distributors. So, be wise with your purchase decisions.
Headhunting fees is the money paid to you by companies for bringing in new people. Just as the word "headhunting" brings in bitterness, so does the scheme. Though companies don't use these terms, it is good for us to educate ourselves to know what is coming our way.
4. Be on the lookout for "unjust enrichment"
Only 5 levels of distributor commissions are functionally justified. A business running on fairgrounds runs on a 5-level commission cycle for sustainability. Pyramid schemes promise infinite commission levels favoring those on the top of the pyramid at the expense of those beneath them. This "unjust enrichment" is an unfair trade practice according to the laws of equity. So, If they guarantee you unlimited levels of commission, know that they are a pyramid, soon going to collapse. Shield yourself with the knowledge.
5. Understand the compensation plan
This is the most complex but fruitful method in identifying a pyramid scheme. Take your time and get to the root of it. Analyze to the minute detail how compensation plans work, how the commissions and bonuses are distributed. Some companies pay three or more levels to the top from where the actual sale happened. When these add up, the amount the actual seller gets will be less compared to that paid to the levels above him. This unfair practice leads to instability and eventually results in the collapse of the scheme.
Pyramid Selling: The Cause and Effect
After a well-grounded approach we now know what a pyramid scheme is and its behavior and forms. Now is the time to probe into the 'Whys' of pyramid schemes.
1. Why do pyramid schemes fail?
Unlike legit MLMs, pyramid schemes lack proper product or service and thrives on recruiting more investors. Even if a product is involved it could just be a cover up for the pyramid. When market saturation is attained it becomes difficult for the distributors to recruit more people, eventually the pyramid collapses. Thus people who got recruited recently lose their money without earning any returns but the ones on the top of the pyramid enjoy high returns.
2. Why do people still invest in pyramid schemes?
While there can be a number of reasons why people still invest in pyramids despite the failures, is a matter of concern. People might do that out of greed or wilful ignorance. Then there are those who really believe that it is a legitimate scheme and another bunch who thinks that they are being a part of a social initiative, an investment club or a gift program. While the former depicts wilful ignorance the latter two are the result of ignorance manipulated.
3. Why are pyramid schemes illegal?
Pyramid schemes are quite inviting with high returns at least to the early investors though for short periods of time but it "will" fall apart in the course of time. It cannot keep on recruiting investors forever and those who are at the bottom of the pyramid will need to carry the burden of financial loss. This uncertainty is what contributes to the illegality of pyramid schemes.
4. Why have we failed in preventing pyramid schemes?
Every now and then we hear news about collapsing pyramids. You can see in the timeline below, how it is happening over the years and continuing. In spite of the initiatives taken by responsible organizations and individuals, we fail as a society because of two simple yet complicated human traits. Greed and ignorance. Greedy people make greedy plans and other greedy people join to quench their greed and ignorant people fall prey to this greed. Yes, it's all about greed and pyramid schemes have enough greed in this world to survive till the end of the human race.
If you look back into the history of direct selling, you will see the shady episodes of pyramid selling, and how it has bifurcated the trust of the consumers over time. We would like to walk you through some of the darkest pyramid scheme episodes hunted down by FTC.
A Brief Pyramid Timeline
Some of the biggest pyramid schemes in history as reported by FTC is discussed in detail below. These famous pyramid schemes paved way to the identification and curbing of potential frauds in the industry by responsible authorities.
This is how it works. Gripping the fear, anxiety, and aspiration of individuals to succeed, these hucksters manipulate the feelings for their own personal benefits. In the above bogus episodes you can see how well they act right through dietary supplements to breakthrough cures to beauty aids to investments to music, and so on and so forth it goes. It can come to us in different forms and times but now we have the ways to identify them.
How Direct Selling News' CCR Initiative Helps Cut Down Pyramid Schemes?
Direct Selling News introduced Customer Centric Recognition (CCR) program where companies are ranked based on their customer-to-distributor ratio. This recognizes direct selling companies that are leading the way toward a sustainable, customer-centric future for the industry. Broadly speaking, the company as a whole will be a beneficial channel for distributors, customers and the organization itself. More companies are shifting to the customer-centric model as a pillar to long-term sustainable development, this would also counter the general perspective that the direct selling industry is flawed with sales made only to the distributors. With more and more direct selling companies adopting customer-centricity, the industry will filter itself from the self-centric pyramid models paving a way to cleaner and clearer ways growth. The benefit of efforts like these are well reflected in the attitude of consumers towards direct selling in the recent years.

DSN published the first list of companies ranked under the CCR program.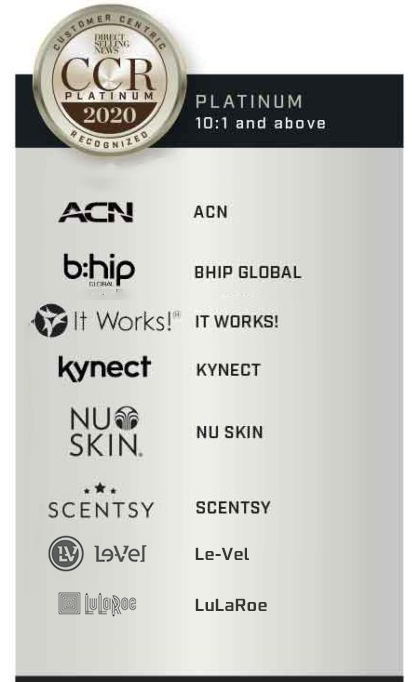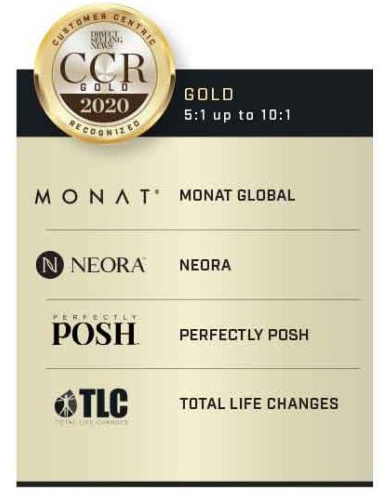 Pyramid sellers however have contributed to the MLM industry its share of haters. Despite the efforts of trustworthy organizations like FTC, DSA, DSN, and the like, it is still illegal in many countries and MLM is considered as an illegitimate concept too. If this has to change then each of us in the industry has a part to play. Companies need to focus on a customer-centric model to reinforce trust and transparency of their brand in the market. The next time you hear someone rebuke the industry tell them that they are wrong. Educate yourselves and take time to educate others because each one of us can make a difference in how the direct selling industry is viewed at large. Good luck on your 'Mission Possible'.
Have you come across any frauds? Report and make a contribution to the industry.
Report a fraud with FTC
File a complaint with DSA