Direct selling brands are growing in density and in popularity. Just as diverse as the culture and interests of people in each continent are, so are their preferences. We were curious to find the popularity of the direct selling brands among these multitudes and the exciting trends associated with them, across the globe.
This research is aimed at identifying the search trends of the top direct selling brands and the countries where they are most popular. This study also analyzes the direct selling brands and their region-specific product interests.
What does this research uncover?
This article uncovers interesting insights into the top 50 direct selling brands.
The country with the highest search popularity
History and trends in search popularity
New brand markets
International cities with the most brand search popularity
Research methodology:
We selected 50 of the top 100 direct selling brands and analyzed their country-wise search trends for a period ranging from November 2020 to November 2021 using Google Trends data.
For the clarity of representation, we have created infographics with data by continent. The order presented here is compiled based on the 2020 annual retail sales in the direct selling industry.
We identified 6 Asian countries that show impressive search popularity for various direct selling brands.
Malaysia, Indonesia, and Singapore have multiple brands with high search popularity in diverse industries ranging from health care to home appliances.
Amway is most popular in Malaysia, especially in the city of Kuala Lumpur. Search popularity for Amway in the research period was consistent with the graph not running too low for the brand throughout the year.
Apart from Amway, Coway, Usana, Shaklee, and Young Living have the highest search popularity in Malaysia. One interesting point to note is that all except Coway are based in the health and wellness industry. That shows how receptive the Malaysian market is, towards health care brands.
City with the most search popularity in Asia
| Brand | Popular City |
| --- | --- |
| Amway | Kuala Lumpur |
| Coway | Malacca |
| Jeunesse | Mount Lebanon |
| Melaleuca | Tutong |
| Oriflame | Nakhchivan Autonomous Republic |
| Pola | Bangka Belitung Islands |
| Shaklee | Terengganu |
| Sun Hope | North Sumatra |
| Unicity | Phnom Penh |
| Usana | Johor |
| Young Living | Labuan |
North American direct selling market being the largest in the world is home to a significant number of companies across a multitude of industries.
Analyzing the search trends in North America, Exp Realty is the most searched direct selling brand in the United States with its second-most popularity across Canada. The share of popularity of Kynect, Ambit Energy, and Optavia is comparatively higher in the United States than in other parts of the world.
The Puerto Rico market is vibrantly receptive to divergent direct selling services. All the four direct selling brands that are popular in Puerto Rico serve the diverse product demands of the native crowd.
City with most search popularity in North America
| Brand | Popular City |
| --- | --- |
| Ambit Energy | Texas |
| Arbonne | Northwest Territories |
| Belcorp | Usulutan |
| eXp Realty | Montana |
| Kynect | Kentucky |
| Mary Kay | San Louis Potosi |
| Optavia - Medifast | Alabama |
All in all, the highlight of search popularity in North America is that the search trends point to a multitude of services across various direct selling industries.
| Brand | Product or Service |
| --- | --- |
| eXp Realty | Real estate company |
| Kynect | Energy and connected life services |
| Ambit Energy | Electricity and natural gas services |
| Optavia - Medifast | Health and wellness |
| Mary Kay | Cosmetics and personal care products |
| Belcorp | Agrochemical products |
| Team Beachbody | Health and nutrition |
| Rodan and Fields | Skincare products |
| Primerica | Insurance and financial services |
| Monat Global | Beauty and personal care products |
| Arbonne | Beauty and personal care products |
Search Trends in Europe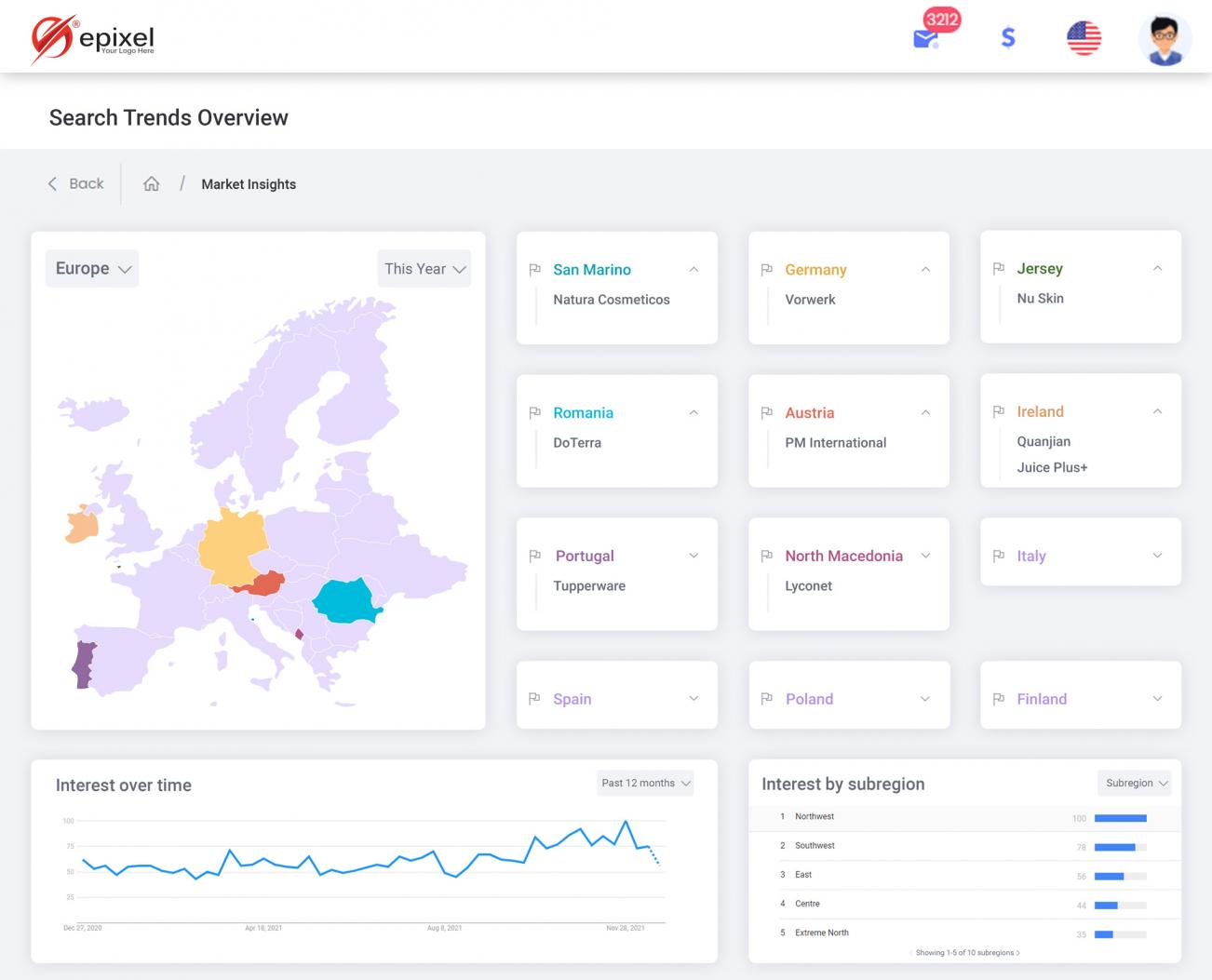 Looking into the leading direct selling markets in Europe, Germany ranks first followed by France. The popular product categories in Europe are wellness, and cosmetics and personal care followed by household goods and durables.
The search trends identified in Europe back the stats with wellness and personal care products dominating the search.
doTerra has achieved the highest search popularity in Romania. The researched time frame, in the previous years, shows that it was more popular in Costa Rica and the popularity has shifted to Romania only in the recent past.
Lyconet has been dominating the search trends in North Macedonia for the past 3 consecutive years.
City with the most search popularity in Europe
| Brand | Popular City |
| --- | --- |
| doTerra | Covasna County |
| Lyconet | Strumitsa |
| PM International | Styria |
| Tupperware | Azores |
| Vorwerk | Rhineland-Palatinate |
Search Trends in South America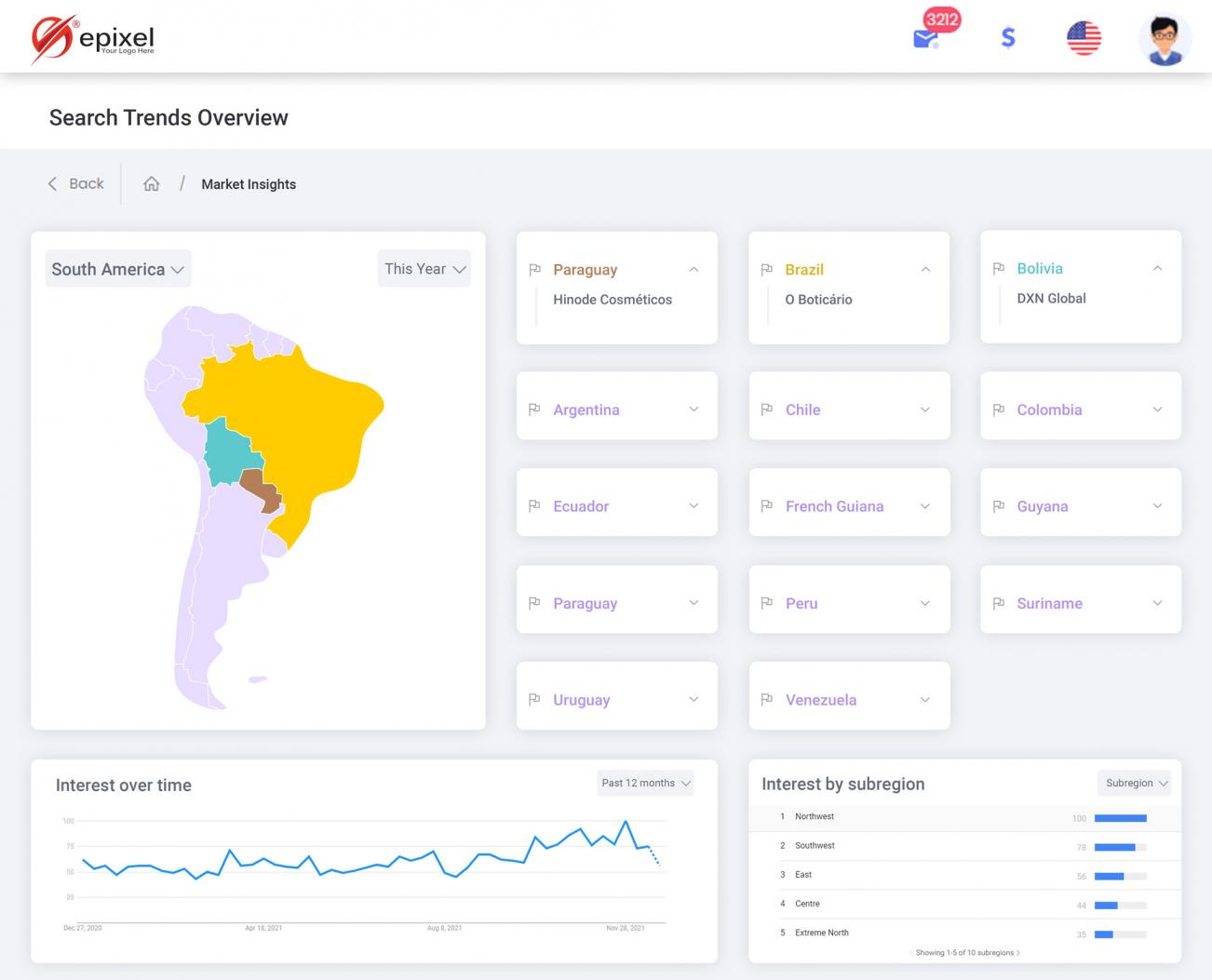 Brazilian direct selling market is one among the top 10 leading direct selling markets worldwide.
Brazil has been dominating the search trends for O Boticário for the past 5 years and continuing.
Although Paraguay hit the top rank for Hinode, the brand's popularity in Brazil is commendable. The brand has had an appreciative reach in Brazil for the past 5 years.
DXN has been trending in search in Bolivia followed by Mauritania in the second place, a giant leap over the Atlantic. The brand was quite popular in Mauritania and Yemen before it moved its popularity to Bolivia this year.
City with the most search popularity
| Brand | Popular City |
| --- | --- |
| DXN | Potosi Department |
| Hinode | Alto Parana |
| O Boticário | State of Amapá |
Search Trends in Oceania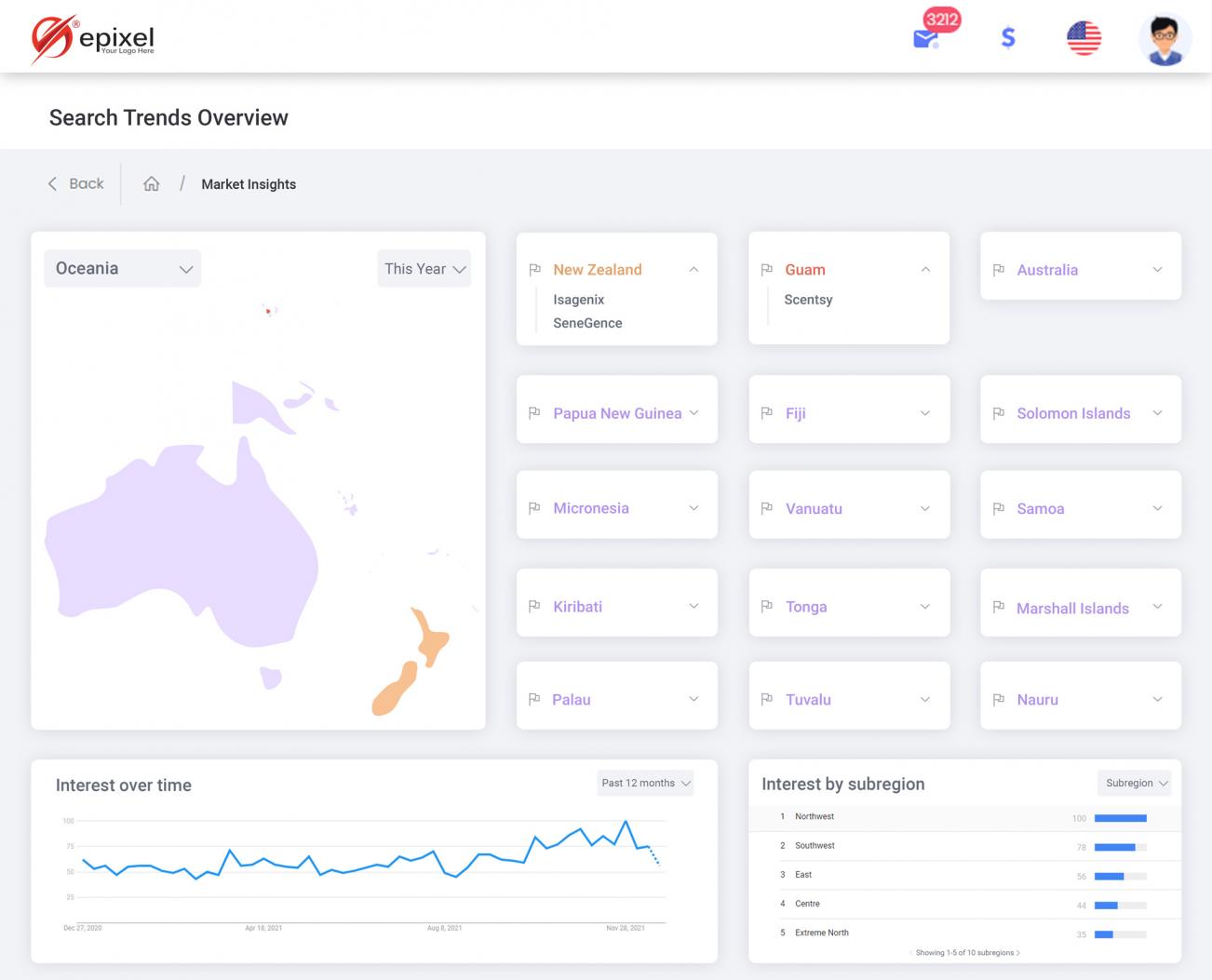 Australian and New Zealand markets have been quite receptive to the direct selling industry especially to the personal care range of products.
Isagenix has been receiving unwavering popularity in the New Zealand market for a continuous period of 5 years ranging from 2016 to 2021.
With Scentsy expanding its reach across the United States, Puerto Rico, Guam, Canada, Mexico, Germany, UK, Ireland, Austria, France, Spain, Australia, and New Zealand, its search popularity has shifted from Canada to Guam in the past couple of years.
City with the most search popularity
| Brand | Popular City |
| --- | --- |
| Isagenix | Hawke's Bay |
| Senegence | Auckland |
Search Trends in Africa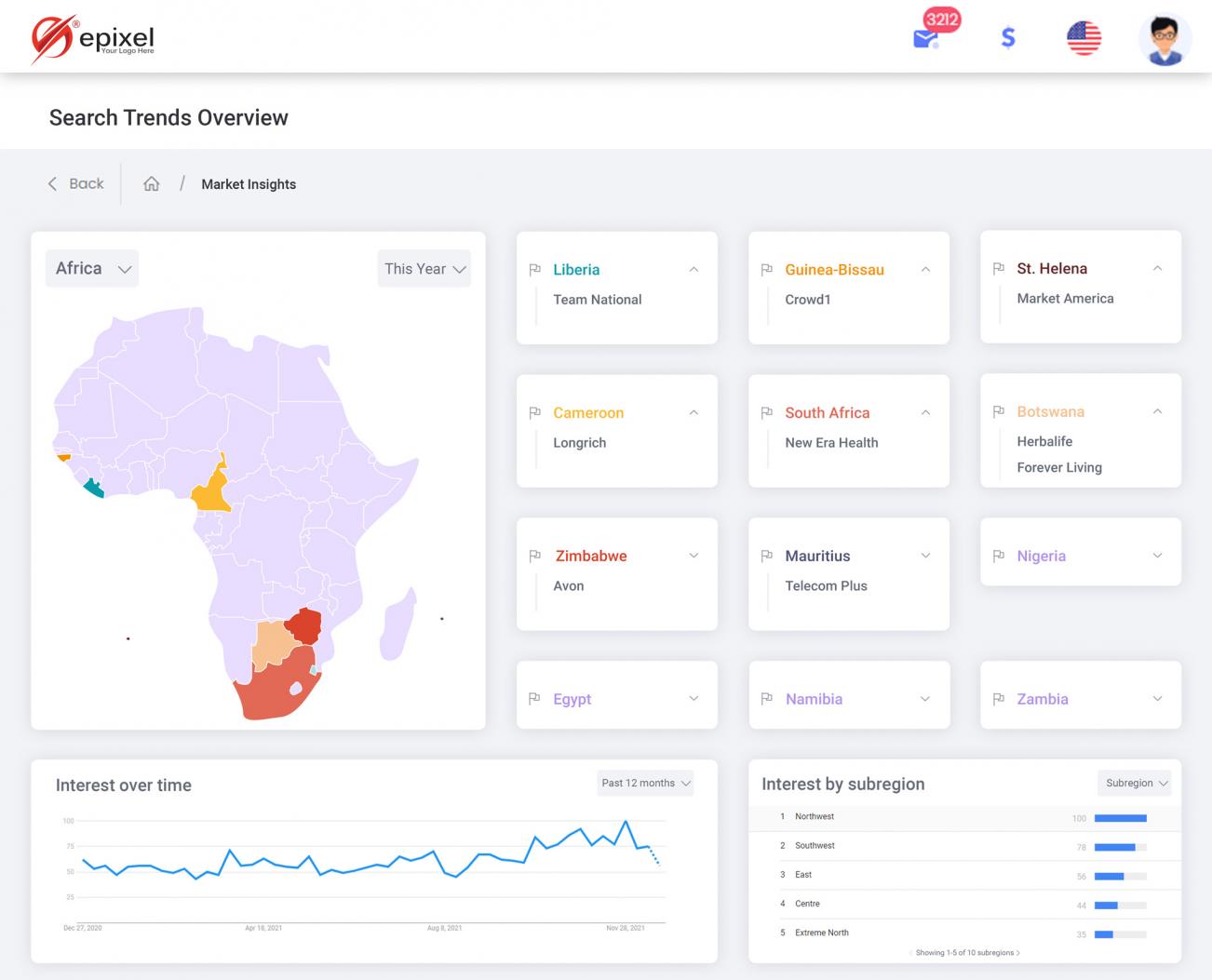 Direct selling is gaining prominence across Africa and the year 2020 witnessed a 17.3% year-on-year increase in the number of individuals involved in the industry. The figure is only expected to rise.
In Cameroon, Longrich has been trending on search since two years prior to which it was widely favored in Eswatini, a country in Southern Africa.
Also, there has been a drastic shift in the search popularity of Avon. The brand had been popular in Romania for the past two years and the recent shift pushed Romania to second place with Zimbabwe leading the trend.
City with the most search popularity in Africa
| Brand | Popular City |
| --- | --- |
| Avon | Matabeleland South |
| Crowd1 | Bissau |
| Forever | Central |
| Herbalife | North-east |
| Longrich | Littoral |
| New Era | Eastern Cape |
| Team National | Montserrado |
We discovered a curiously interesting factor.
While compiling the data, we noticed that out of the top 50, all the direct selling companies except 6 presented here are popular outside their country of origin.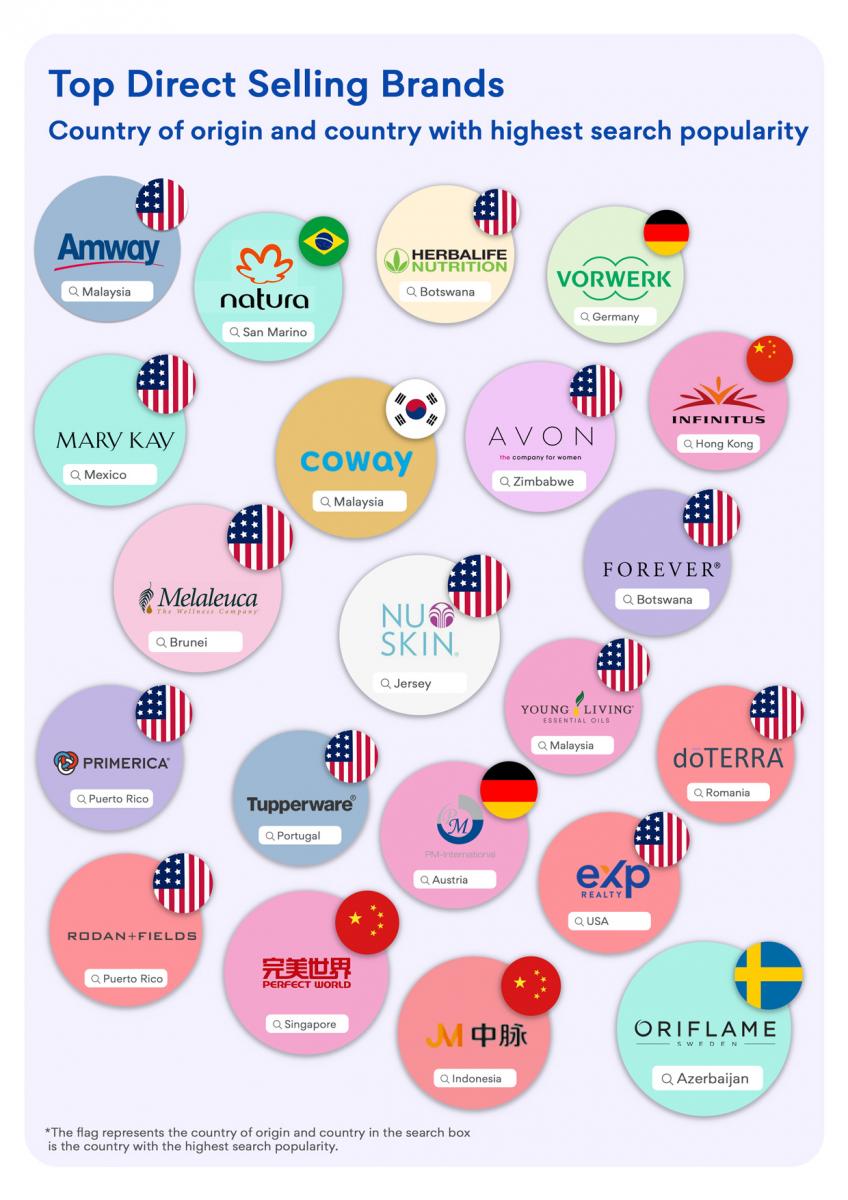 How can this research make an impact on your business?
The data that we have presented can be leveraged across your organization for marketing and sales enablement purposes across teams around the globe.
In paid search, the data can be used to anticipate seasonal trends, helping you in cost planning and inventory stocking well ahead of the season.
Your SEO and content marketing can benefit from an effective visualization of the trends of your target market by providing trending topics and offers that would drive quality traffic to your website.
Boost ad engagement rates by including trending topics that communicate to your audience more clearly through your ad and email campaigns.
Analyze your competitors in your region of popularity and invent unique strategies to overcome the competition.
Run market studies on your popular markets, understand native trends and preferences.
Concluding the research, we notice that each country differs in its preferences for a particular brand, how long it's been carried through and how soon it is lost. Now, it is left for the direct selling organizations to act upon the trends and behaviors of their international audience, and how well they leverage it will decide the intensity of their success.
Disclaimer: The research was compiled using Google Trends with brand name as the search term. The data taken is for a period of one year from November 2020 to November 2021. Search data may vary.
Epixel Originals: Data
& Research Studies