The most difficult part of the direct selling business identified until today is making distributors of varying caliber sell your products. The enormous effort and revenue direct selling organizations invest in ramping up their distributors don't always yield the expected results.
Today's markets are never short of struggles. Just like a warrior who is trained on war tactics and skills, distributors must be trained to be customer- and market-ready.
Organizations achieve this through an efficient sales enablement program that empowers their distributors to engage their customers and sell more effectively. Sales enablement, today, should not limit itself to tools and resources that help distributors sell but concentrate on training them to engage and enhance the entire customer experience.
Direct selling organizations often fill up their distributor's arsenal with sales enablement tools and strategies to win the tremendous competition in the market but without an impact. That makes it clear that deploying rusty tools and outdated strategies won't help them fight the tight competition but only fuel their failure.
Apart from this, there could be a myriad of reasons for the low performance of your distributors.
Poorly identified ideal customer profiles
Failing to establish sales priorities
Excessive performance pressures
Inconsistent sales techniques
Poor sales coaching and training sessions
So, before you set out to fill up your distributors' arsenal, remember to give them the right tools to make the right impact.
Elements that make up a great sales enablement process in direct selling
Training and development
Distributors can succeed only if they are clearly taught how to leverage the resources you provide.
Usability
Make sure the sales best practices and tools are easily accessible, easy to implement, and easy to use.
Evaluation
Run a constant check on the sales enablement metrics like length of a sales cycle, number of distributors achieving the goals set, customer lifecycle, etc.
Customer focus
Keenly focus on delivering value that addresses your buyer's needs.
Transform your direct selling distributors into powerful sales leaders
Stand out when it comes to equipping your distributors with sales tools. Prepare them for the challenges they will face in the sales arena with advanced and up-to-date tools.
1. Sales prospecting tools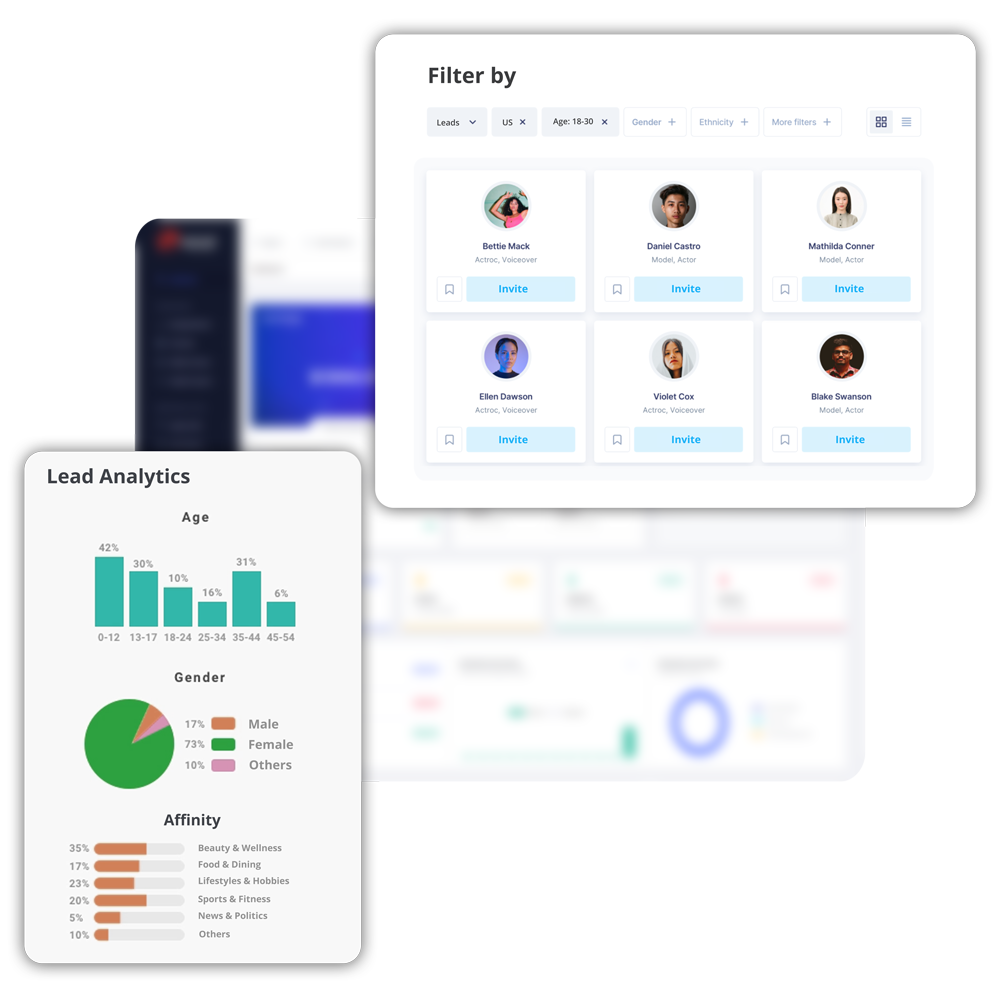 Out in the market, the first thing they set their foot on is to find the right prospects for your products. And that determines their journey forward. Filling their sales prospecting armor with the right tools and strategies can accelerate their pace in the race.
Lead scoring
You might have a 'lead burst' pouring down on your distributors but before they get fully drenched and washed away, you need to set the right sieve to filter those precious drops that may transform into valuable assets on your customer base.
Predictive analytics in lead scoring platforms are a great asset for direct sales lead generation. It can take this filtration framework to a whole new level—sieving in only the quality leads.
Lead scoring tools assign a score for each lead based on their historical activities, demographics, trends, and online patterns, making it easier for distributors to pick the right ones.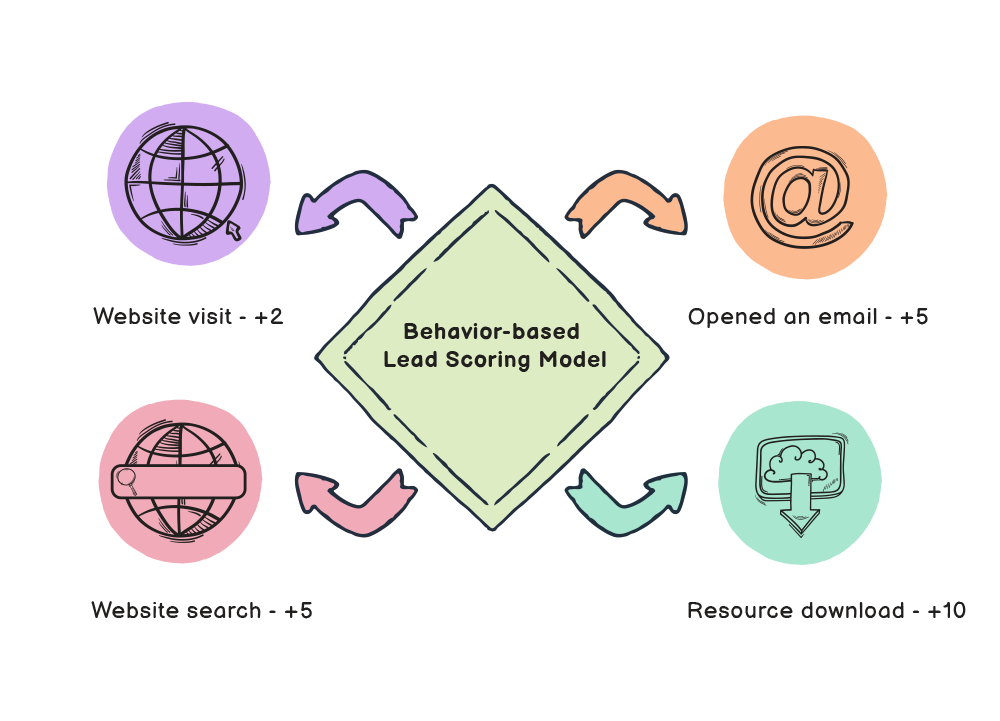 Social prospecting
The fastest way to get to the right crowd nowadays is through social media. Everyone is right there at the touch of the fingers, but obviously the right touch matters.
Social prospecting tools help identify ideal customer profiles and their behavior.
It helps your distributors formulate and send preset automated messages to prospects who show engagement to their posts.
Identify the right influencers and brand mentions across all social media channels.
Live chat
An open conversation can cast away doubts and misconceptions about your brand. It can also add up to your data source for distributor teams to infer in the future.
It acts as a two-way source to build your brand trust—for distributors to connect with you whenever they need support and for your prospects to connect with your distributors to raise queries, concerns, and for faster issue resolutions.
Live chat modules can act as a welcome gateway for your customers, helping distributors in easier customer acquisition.
It builds a strong rapport between your distributors and customers.
Offering seamless customer support round-the-clock earns customer trust and loyalty.
Distributors can analyze and collect prospect or customer feedback and pass it on to your development or sales team to make modifications for the future good.
2. Omnichannel sales tools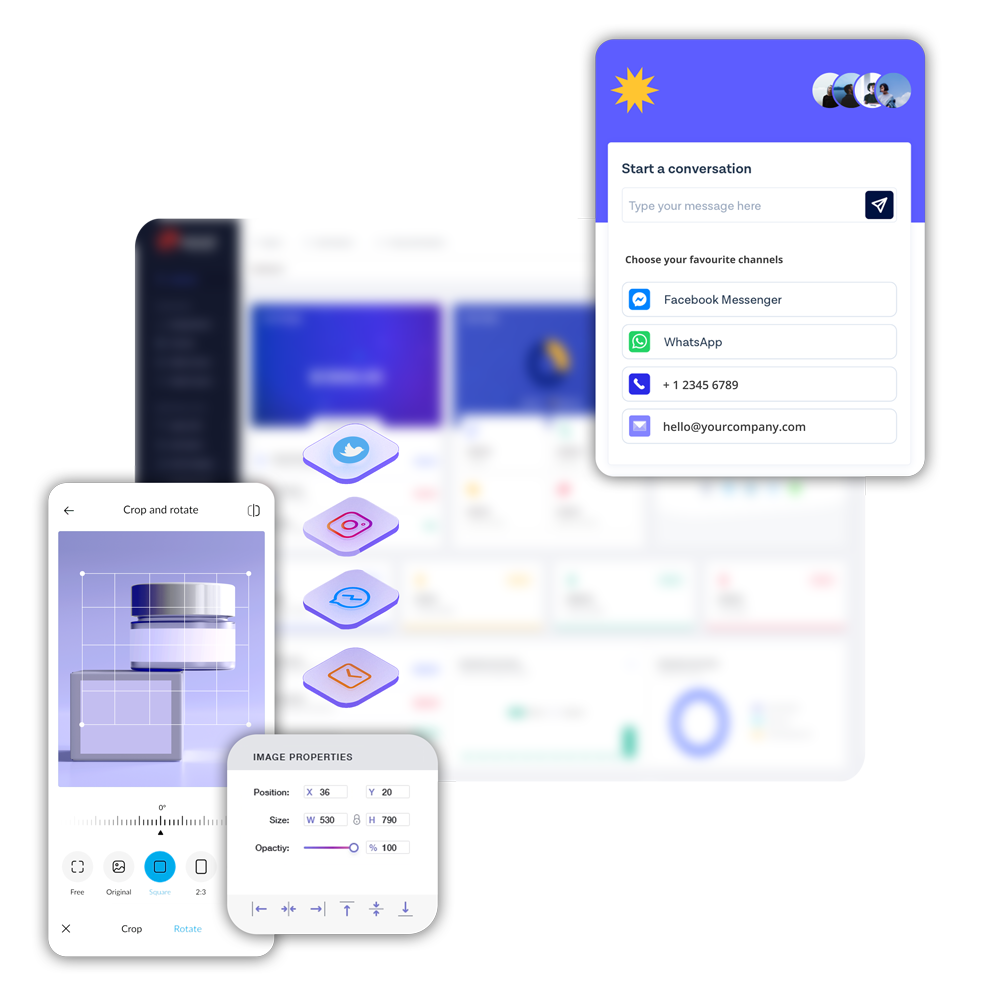 In direct selling, sales happen everywhere—at your doorstep, in the corridor, at a cafeteria, on your Facebook page, on and on. Sales channels are in abundance, molding it to suit your advantage sparks up your success.
Given the fact, a primary thing to note is the capacity of these channels to render itself with the desired output.
Automated email campaigns
Emails are a great way to greet and remind prospects of your presence. An active brand always draws attention. While automating the messages can turn monotonous, little tweaks here and there can transform your emails into assured conversions.
Structured and customized email campaigns that address the pain points of prospects create a bond of trust with the distributors.
Automated schedulers can deliver the right content across to the right prospect at the right time.
Drag and drop email builder lets them create customized campaigns with ready-to-use templates thus saving your distributors time and effort.
These tools often come equipped with campaign performance analytics, monitoring, and reporting.
Personalized newsletters
Letters have been established as an incredible token of love and affection since olden times. It has never lost its glory ever since. Only that it has changed its model and form.
Personalized newsletters have been a smart way of reaching out to prospects with exciting offers, discounts, product launches, or brand updates.
Keep your prospects up-to-date with your brand activity through attractive and compelling newsletters.
Deliver your brand's value proposition across to your prospects through brand and company event notifications.
Interesting newsletters can contribute to a quality subscriber list—a fresh source of data.
Social selling
This recent research by Pew Research Center reveals exciting stats about social media among U.S. adults.
Majority of adults in the U.S. use Facebook and YouTube.
Instagram, Snapchat, and TikTok are commonly used by adults under 30.
Facebook, Instagram, and Snapchat users admit to using the platforms almost every day.
About 3 in 10 admit using Pinterest or LinkedIn.
In another research on consumer attitude by Direct Selling Association, 46% heartily welcome direct selling proposals on social media.
This is the power and prominence of social media today and sellers must be all set to explore the right domain.
A platform equipped with social selling tools can help them do the trick.
The possible advantages of a social selling platform:
Easily manage and monitor all social channels from a single online platform.
It also lets your distributors design custom social streams that focus on trending topics, top influencer profiles, and brand mentions.
Curate content, share and measure the impact, and generate organic traffic to your website.
3. Intelligent sales analytics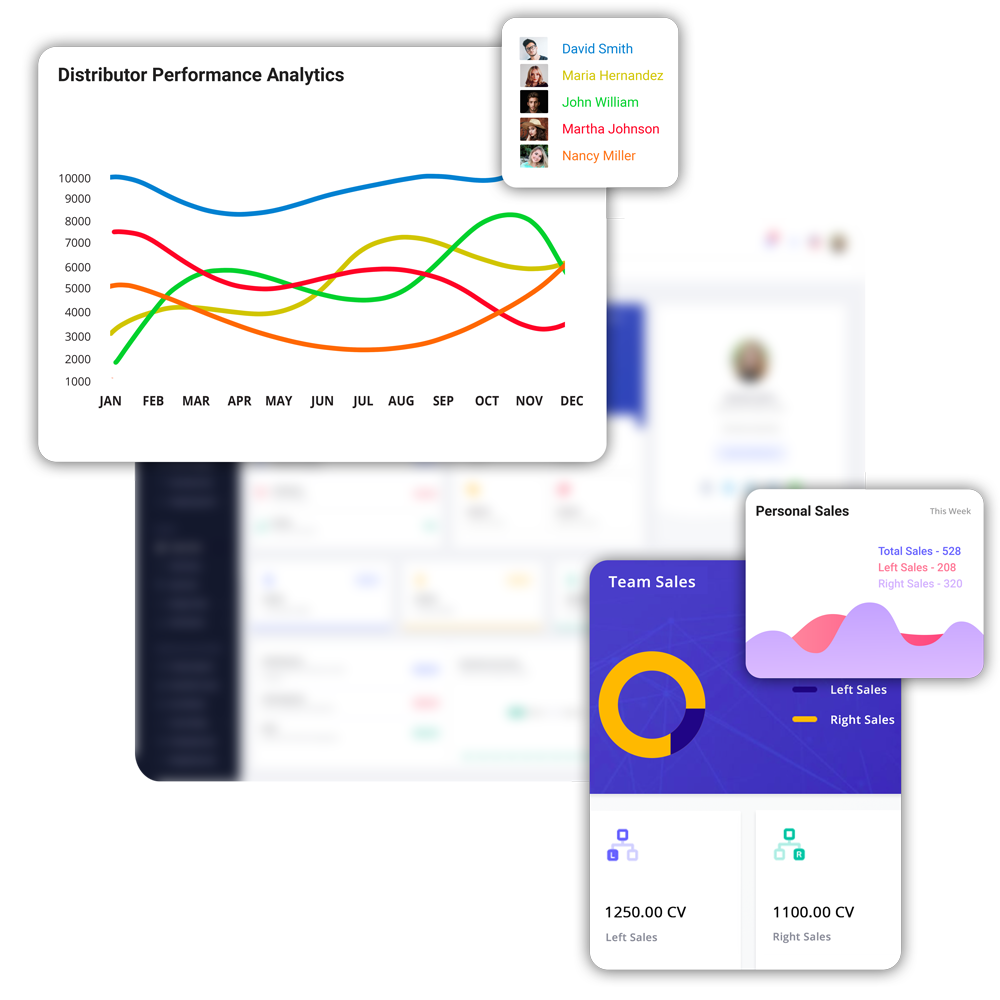 Make your sales process more efficient with intelligent insights on sales cycle and success rates. Sales analytics help distributors achieve accurate revenue projections through recurring revenue reports that reflect customer conversions and payments.
These insights reflect on the future of your business and distributors can foresee the upcoming trends that may impact the business.
Goal manager
Distributors can analyze and derive successful workflow patterns to implement effectively across teams.
They can initiate individual, team, and company-wide goals, track the progress on a customizable dashboard with real-time metrics and easy-to-generate reports.
Set highly prioritized sales targets and help them through the process to let them know where to spend their valuable time.
Manage and track individual goals and generate reports on goal status on the go.
Smart reports
Identifying distributors' key performance indicators can keep them focussed and determined.
Generating custom reports, and filtering, grouping, and managing them helps in reducing bottlenecks for your team.
Benchmark individual distributor performance through effective comparison with a one-click activity comparison report.
Extract revenue forecast reports that predict turnover and growth rate which helps you spot problems as early as they rise and design solutions to overcome them.
Track individual sales activities like emails, product demos, calls, or events through activity reports.
Productivity analytics
This is not only about measuring your distributor efficiency or sales conversions. Productivity analytics dives in a little deeper to visualize trends and patterns in their sales processes to detect what caused a slow down or an upsurge.
It gives a comprehensive view of teams' sales activity like emails sent, its open and response rates, detailed report of calls made, etc.
Distributors can prioritize and track important sales metrics such as contact rate, lead rate, close rate, average revenue generated per sale, and rate of contact follow-ups.
AI-powered sales process lets your distributors visualize trends and patterns with a compact graphical representation of each distributor's activity-based metrics.
4. Activity management tools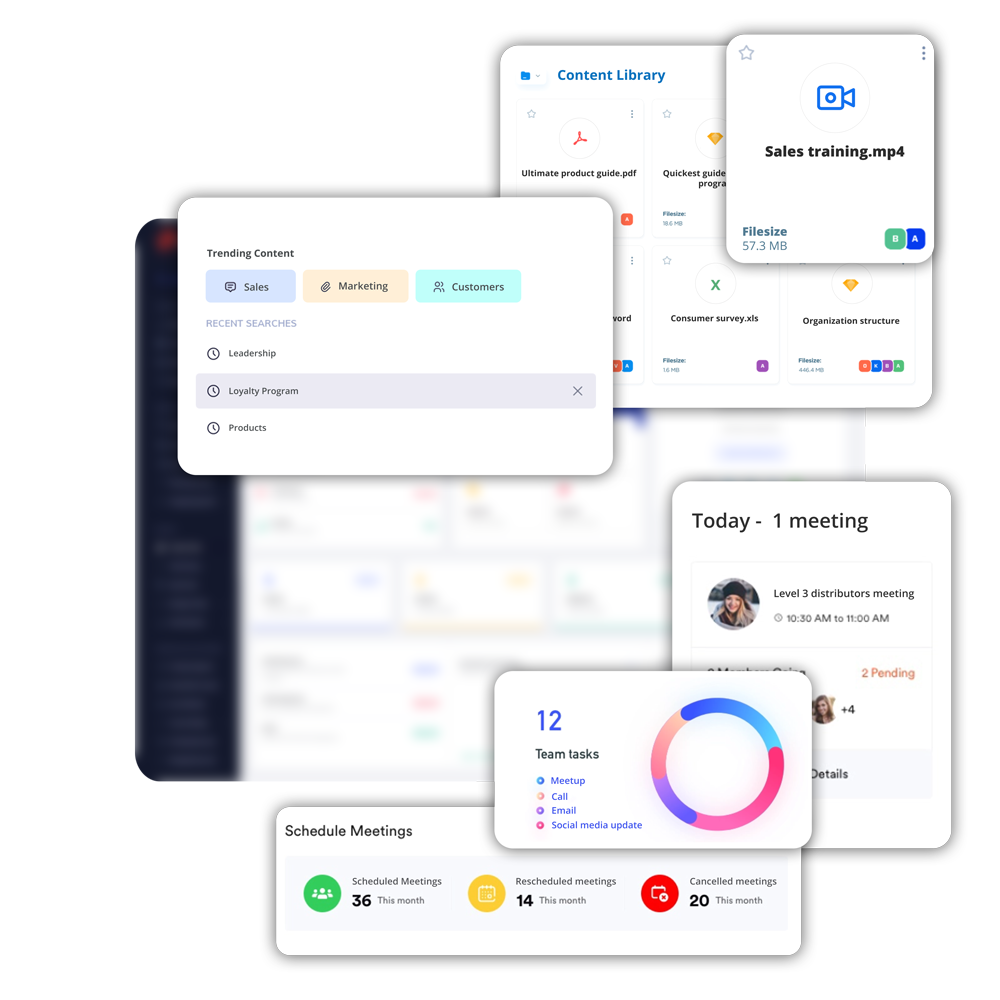 Keeping your distributors active is one thing; helping them manage their activities is yet another. The latter impacts the time and effort they invest in the sales process. Activity management tools can help them get over these tedious mundane tasks.
Sales Planner
Finding prospects, organizing meetings, inventing strategies, achieving team and personal goals, managing their teams, on and on goes a distributor's list of tasks that they need to parallelly work through. Direct sales planner helps make these tasks easy by giving them a platform to organize, plan and implement their day-to-day schedules.
Automate daily tasks in an organized way
Create separate sales projects
Add custom accomplishment levels for each task
Set deadlines for each sales project
Visualize individual workflows in charts and diagrams
Content manager
Loose talks wouldn't take your distributors anywhere close to conversion. More so often, product quality doesn't count in a sales process either. It is the valuable insights a salesperson delivers during the process that take their prospects to their next line of thought.
Customers look for people who can innovatively help them avoid pitfalls with highly differentiated solutions. Distributors cannot blabber or stammer in front of their potential customers. They have to sound confident and insightful for prospects to build a trusting relationship with them and for this, your distributors need to have rightful access to your content management system.
Content manager platform can identify keywords during sales processes and can deliver the relevant content to your distributors.
AI-powered content platforms can help distributors create content that complies with organizational and industry standards.
Distributor training and product education can be preset to micro-learning modules and can be delivered in designated intervals to reinforce your distributor understanding.
5. Customer relationship management tools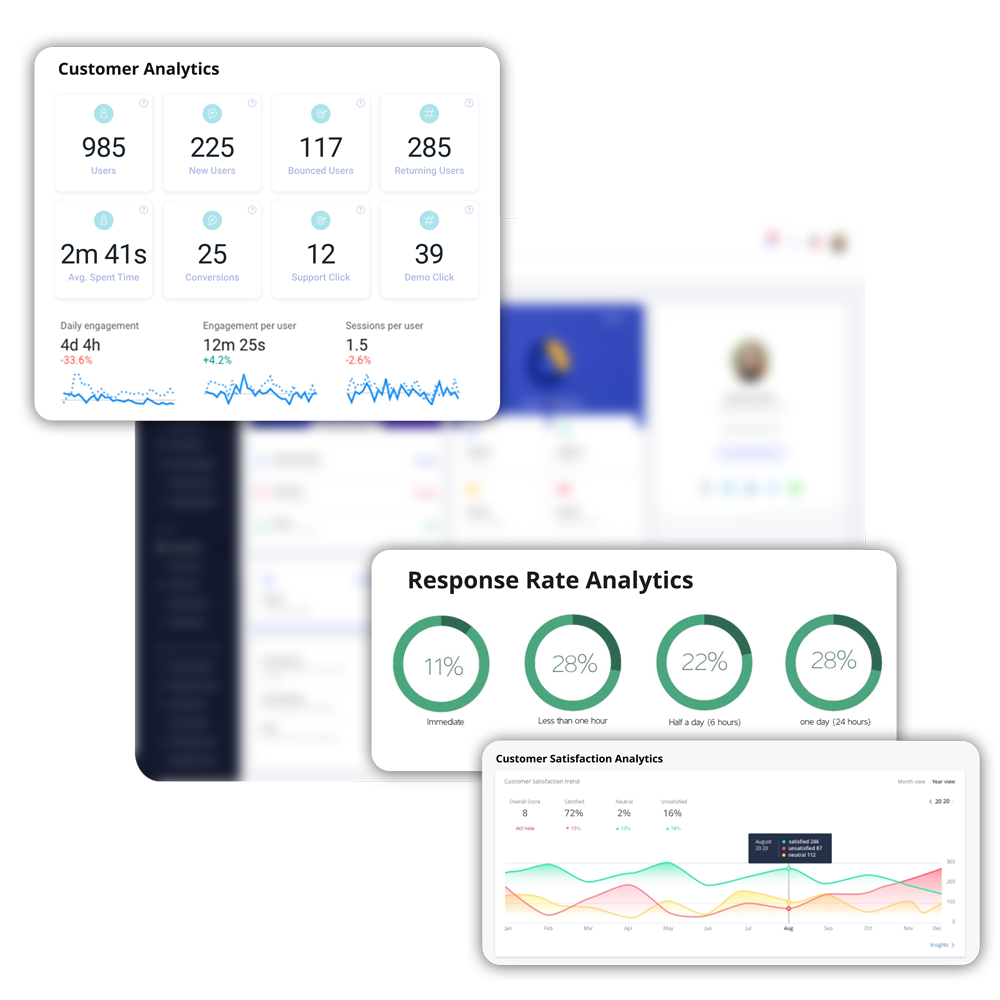 Customer conversion is not an end game. That's just the beginning of your brand's journey for them. You have to make this journey exciting and memorable.
This is yet another important part of your distributor's sales process. They should be loaded with fine tools to tune your customer service to perfection.
CRM
Customer relationship management is not limited to sales and contact management, it has multiplied its limit spanning various business processes to manage customer relationships across the entire customer lifecycle.
CRM platforms for MLM fortify distributor-customer relationships through various nurturing strategies.
It helps distributors identify authentic sales opportunities from a list of automatically generated leads.
Makes it easier to collaborate all customer-related tasks on a single platform.
Web analytics
Giving distributors a replicated website is not a thing to brag about anymore. But giving them the right tools to optimize it is!
Web analytics tools help your distributors to get a fair knowledge of their online efforts and its impact. These tools can collect and analyse data that can be used to better understand how people interact with your MLM website and identify areas for improvement.
Distributors can analyze their website visitor traffic and their behavior.
Click, scroll and bounce rates can help them measure their website engagement.
Provides real-time data insights on how a visitor interacts with the products.
Segments visitors based on various cohorts such as age, behavior, persona, and profile data.
AI chatbots
Chatbots, powered by AI, is the recent talk of the town. With their ability to detect customer sentiments, these chatbots can effectively assist distributors to decipher their customer challenges.
It can learn customer requests and provide relevant solutions.
Proactive engagement provided by chatbots can push customers to the next level of your sales process.
Employs an interactive way to collect customer data.
Chatbots can attend to multiple customer requests.
Interactive gaming
Gaming is fun and engages everyone irrespective of their interests.
Integrating gaming techniques into your distributor platform will create a breakthrough in your customer experience.
Engages customers more than traditional engagement strategies.
A creative way to brand storytelling.
Game-assisted distributor loyalty programs can boost your distributors' conversion rates.
It increases brand awareness.
"60% of consumers said they would be more likely to buy from a brand if they enjoyed playing a game with it."
—Digital Marketing World Forum
6. Marketing and sales alignment tools
Marketing and sales are two sides of the same coin. Closely related to each other, these resources often go untapped.
In direct selling, your distributors play both roles interchangeably, and knowing the impact one has over another is crucial to their success.
A platform that can link this gap will immensely help your distributors establish themselves successfully in the global direct selling market.
Sales insights on conversion can help them in devising newer marketing strategies and improved campaigns.
It also prepares them in identifying ideal customer profiles.
Industry and market insights acquired in the marketing process can be shared with prospects which in turn boosts seller credibility.
Automation platforms can link both these stages of your business and create an exchange of ideas that adds value to your distributor journeys.
7. Sponsor support platforms
Sponsors are the ones who know their downlines inside out. Entrusting them the key to unlocking distributor potential is the best thing for boosting your distributor productivity.
How can sponsors support and ensure distributor productivity?
Devising consistent strategies and processes to track downlines with activity-based metrics.
Analyzing the average time spent by each distributor on the designated task.
Assigning micro-learning tasks and peer-to-peer learning activities to engage them in the knowledge acquisition process.
Help them adapt to new tools and technologies that improve their sales skills.
Identify their strengths and help them invest more time in their areas of strength and less in others.
Some are slow learners, some are fast. A streamlined sponsor interface can help sponsors or uplines identify the skill gaps immediately and deliver appropriate training sessions online, anywhere anytime.
Remember, sales is an art in itself and your distributors are the artists. Amateur or expert, they need the time, space, and tools to let their creativity sync in. And that eventually paints your brand identity. Rest assured, let the creators create at their own pace and fashion.
Senior Industry Research Analyst and Strategist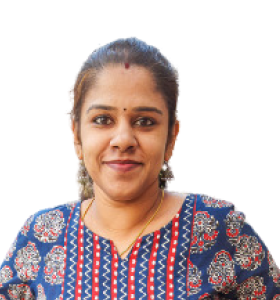 About the author
Minu Chandran is an expert in direct sales business strategies who is intensely passionate about identifying how changing strategies impact various sectors in the industry. She is an avid writer and a language and literature enthusiast who invests most of her time to research and understand the direct selling industry in-depth and propagate her ideas through her articles. With her extensive experience and interest in marketing and management, Minu continues to keep a close eye on the global business scenario and how industries transform accordingly.
About the author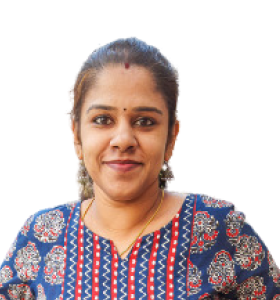 Minu Chandran is an expert in direct sales business strategies who is intensely passionate about identifying how changing strategies impact various sectors in the industry. She is an avid writer and a language and literature enthusiast who invests most of her time to research and understand the direct selling industry in-depth and propagate her ideas through her articles. With her extensive experience and interest in marketing and management, Minu continues to keep a close eye on the global business scenario and how industries transform accordingly.