The role of wellness products in the betterment of health and mindfulness is immense. In other words, well-being signifies the state or condition of being happy and healthy. This is an essential component for living a fulfilling life with good mental as well as physical health. In today's world where everything can be attained by mere clicks on a screen, consumers are exposed to a wide range of health and wellness products. A majority of the fastest growing MLM companies in the world at present, belong to the health and wellness sector.
The health and wellness industry has been flourishing in recent years. Industrial experts have estimated that the industry would continue to grow surpassing higher numbers in revenue. This article takes a look at how this growth has impacted companies within the direct sales sector of the industry which develop nutritional supplements, fitness products, home care products, beauty products, wellness programs, etc.
Top health and wellness direct sales companies
The pandemic and the rising health awareness among consumers has clearly played a role in the growth of the health and wellness MLM companies. These companies have seen higher growth in their net sales and some have made record sales with their pandemic-friendly social commerce business model. Following are the top 25 health and wellness direct sales companies: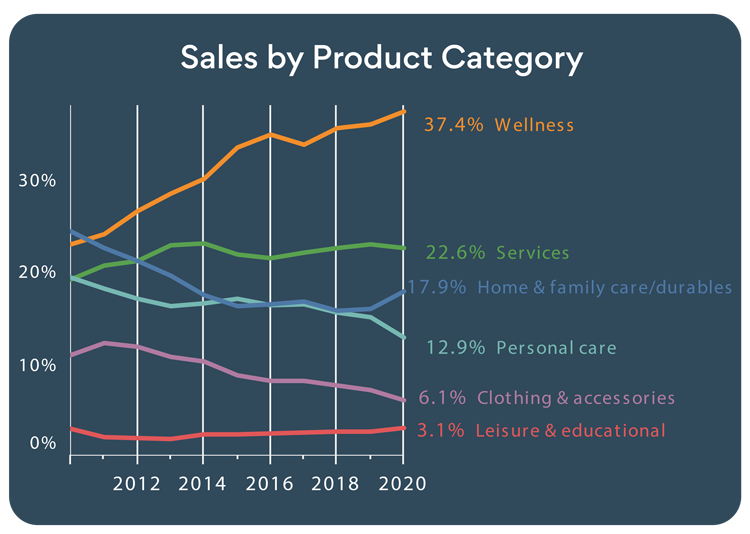 Growth rate in sales by product category (2010-2020)
Direct sales of health and wellness products is a growing business, with the market expanding to more than $12 billion in annual revenue. Distributors are drawn to direct sales because they want to grow financially while also having the opportunity to sell products that align with their values.
Statistics from IBIS World indicate that total revenue for this industry has grown at an average rate of 7% over the past decade. The majority of these revenues come from individual distributors (68%), followed by health and wellness stores.
From a 2020 survey conducted on 7500 consumers across six countries, 42 % of them considered wellness as a top priority. At least 40% of the annual expenditure on personal wellness was spent on healthcare products. Besides healthcare, products concerning appearance and fitness had the most money spent upon. Clearly, consumers are showing a growing interest in their health and wellness. The global wellness market is estimated to surpass $1.5 trillion dollars in revenue with an annual growth rate of 5-10%.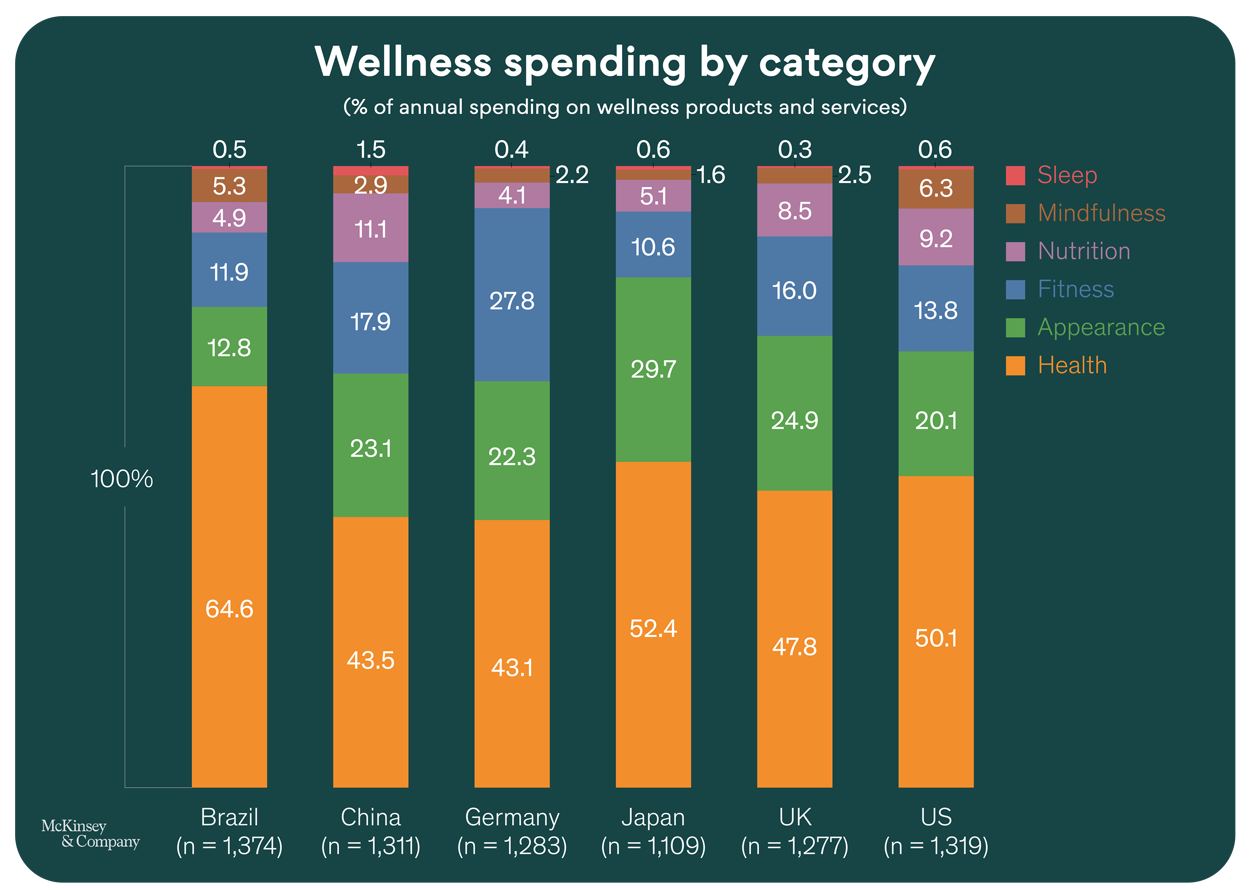 Direct sales health and wellness industry in the recent past
There are many popular companies, such as Amway, Tupperware, and Herbalife, that have all increased their revenue over the past decade. With more than 40 million people in the United States involved with direct sales for health and wellness products (many of them women), it's important to know how this industry has performed during the recent past:
Direct sales health and wellness companies that reported higher revenue in the first quarter of 2021 included Herbalife Nutrition Ltd., Nature's Sunshine, Nu Skin Enterprises Inc., and Medifast Inc
Herbalife reported net sales of $1.5 billion (Q1, 2021), which is 18.9% higher than their net sales in the first quarter of 2020
Nature's Sunshine - Net sales increased 7% to $102.4 million in the first quarter of 2021
Nu Skin reached $677 million in Q1, 2021, a 31% increase from the same time period last year.
Medifast - Q1 revenue increased in 2021 by 90.9% over the prior year, to $340.7 million, and net income increased 122.2% to $41.1 million between Q1, 2020 and Q1, 2021.
Direct sales has been one of the fastest-growing industries in recent years. Health and wellness products have been a major contributor to this growth, with many new direct sales companies launching over the past decade.
Impact of Direct Sales Software in the Growth of Health and Wellness Industry
Organizations seeking the support of software systems to manage their business is a common sight nowadays. With the digitization of direct selling all over the globe, the health and wellness industry also has had its fair share in expanding its markets and increasing its brand exposure. These systems offer multi-lingual support making them productive across a wider audience.
From e-commerce management to business analytics, direct sales software systems can manage various tasks that are important to the growth of the business. Below are some of the key features of direct sales health and wellness software:
Member management
Mobile platform support (Android/iOS)
E-store management
Future of health and wellness with direct sales
In the health and wellness industry, more people are drawn to direct sales because of its many benefits. It is a great way for people to start their own business without having a large upfront investment. Direct sales provide individuals with flexibility in work hours. It also offers numerous opportunities for developing a career from home or on the go, which has been an increasingly popular option with today's workforce.
People are turning to health and wellness products for reasons that include chronic illnesses, allergies, weight loss, or lifestyle changes. Direct sales companies offer health and wellness home parties where customers can purchase their product at a discounted price by buying it in bulk. Customers may also receive bonuses for purchasing quantities of items as specified in promotional plans.
The use of software systems in the process of direct sales has made it healthy in its functioning across the health and wellness industry. It is now easier for sellers to keep track of their customers and offer them better services, as well as personalize their shopping experience. These systems also allow sellers to save time by automating certain tasks that would otherwise take a lot more time, like managing inventory or following up with customers, etc.
The health and wellness industry has expanded with the growing needs of consumers for a better quality of living. From nutritional products to fitness services, the direct sales industry continues to explore newer opportunities to support its consumers. Direct sales have empowered the health and wellness industry in this journey with its customer-centric approach and progressive marketing strategies.