Moving on intuitions and inferences are different. While intuitions are instinctive, inferences are based on evidence and reasoning. So, which one do you think fits businesses best?
Undoubtedly, businesses need a fixed set of measurable values to measure performance. KPIs fit this role best in helping businesses identify growth patterns and flaws over time. These key metrics are data-driven and give a reliable view of the business's performance and flaws.
In the direct selling backdrop, businesses need to be more customer and distributor-centric while analyzing their KPIs since these are the key drivers that determine the success of the business. Let's closely analyze these direct sales KPIs that provide in-depth insights into improving the direct sales business processes.
Before that, let's start with the basics of KPIs.
Why are KPIs important?
Just like the indicators on your cars that give you hints on low fuel or a possible engine failure, business KPIs indicates the highs and lows of your business.
Business-critical KPIs should be identified and analyzed to ensure they align with your organizational goals. It also helps businesses identify specific patterns over a period of time. In a business, there are innumerable KPIs to measure and track. Every crucial business process is best governed by monitoring the KPIs associated with it. For example, customer service KPIs like Customer Satisfaction Score (CSAT), Net Promoter Score (NPS), and customer retention rate delivers actionable insights for improving customer experience.
Regular monitoring of KPIs has several impeccable benefits. It gives businesses a comprehensive overview of organizational goals and helps identify issues in the business strategy. It also highlights the strengths and weaknesses in the current strategy and delivers actionable insights into improvising and innovating newer strategies. These data-driven metrics can assist in proactive decision making, making the processes more efficient and effective.
Different types of KPIs
Once correctly identified these cross-functional KPIs can deliver insights into
Identifying market and industry trends
Business progress
Identify risks and opportunities
Areas for improvement
Optimizing performance
This article outlines key direct sales KPIs businesses must track to stay ahead of the competition and has been compiled with insights from the customer success team together with the product development team at Epixel. With a focus on delivering actionable strategies for business development, the article highlights how each KPI can impact relevant business areas.
Important KPIs in direct sales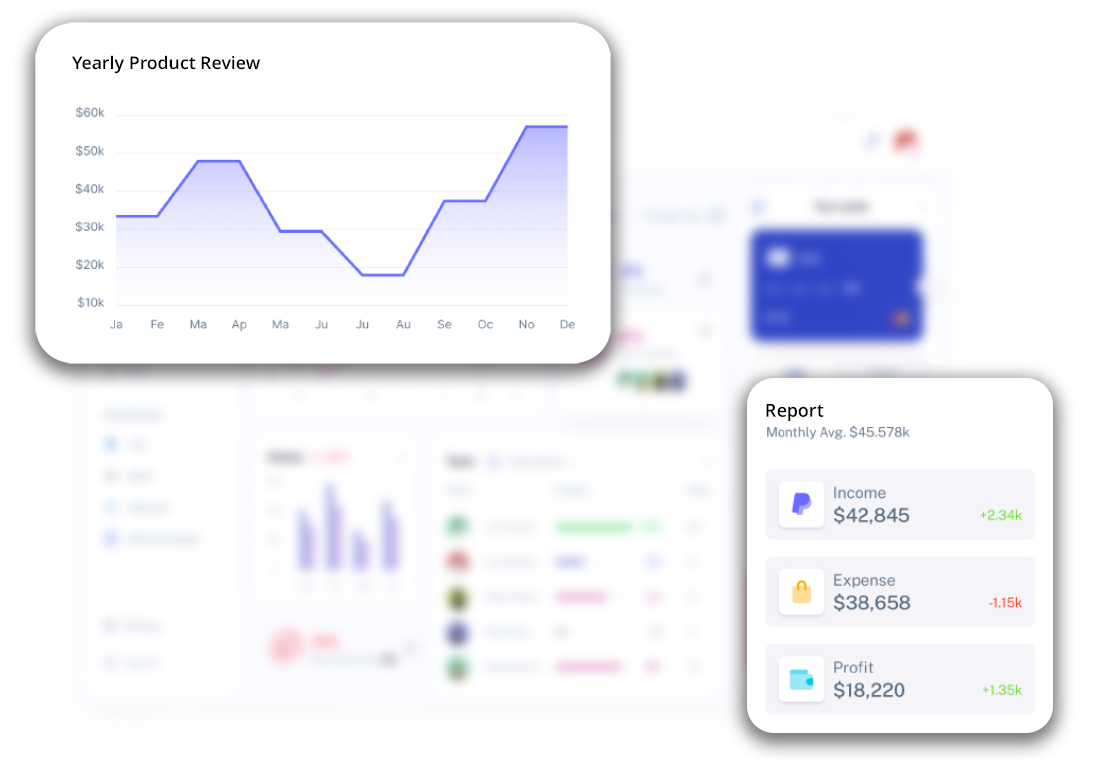 Let's begin with the primary and the most crucial element of a direct selling business—products.
Products are the cornerstone of any business and their performance in the market is directly proportional to growth. While maintaining the quality of products determines its success, maintaining a steady position in the market in terms of pricing and other competitive factors also matters.
When it comes to measuring product performance, there are certain key metrics that should be taken into account.
KPIs to track product performance
Revenue generated on a monthly basis or on a yearly basis
Marketing ROI
Net Promoter Score (NPS) to determine the likelihood of customers recommending the product to others
Cross-selling and upselling metrics
While tracking the above mentioned metrics is imperative, monitoring Customer ROI with metrics such as Customer Acquisition Cost (CAC), Customer retention rate, Customer Lifetime Value (CLTV), and the productivity of your distributors all count towards improving your product KPIs.
How to improve your product KPI scores?
Customer-specific product KPIs can be improved by upgrading your product standards and enhancing your customer support efforts. Customers value brands that hear their concerns and stand with their preferences.
Monitor product quality and suggest improvements based on the KPIs
Introduce relevant cross-selling and upselling opportunities
Track market and social trends to launch engaging marketing campaigns
Considering your competitor's product and pricing strategies can help you design your own USP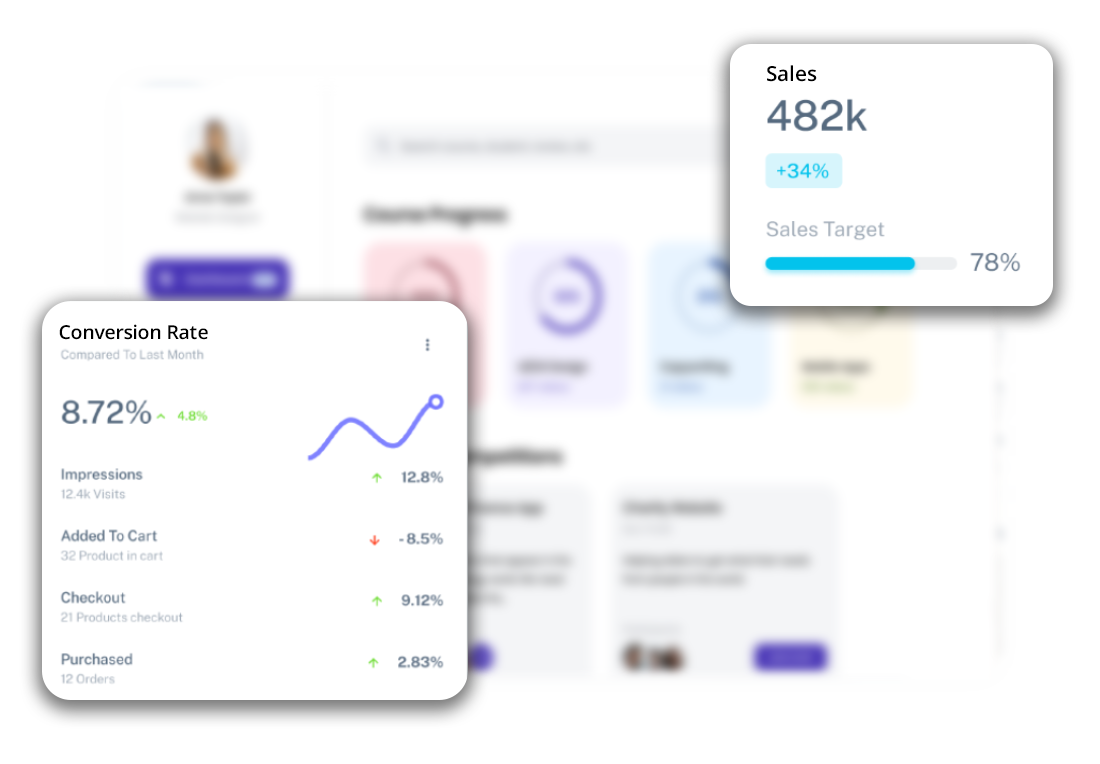 The next big thing after the product is how it performs in the market. So many factors including your distributor's product knowledge go into accelerating this process, however, there are other factors that need tremendous attention.
Sales metrics also track individual or team performance against organizational goals and measure the outcome of their efforts. Direct sales companies can leverage sales KPIs to analyze and improve sales team performance, optimize their sales process and improve their sales revenue.
The business-critical sales KPIs to track are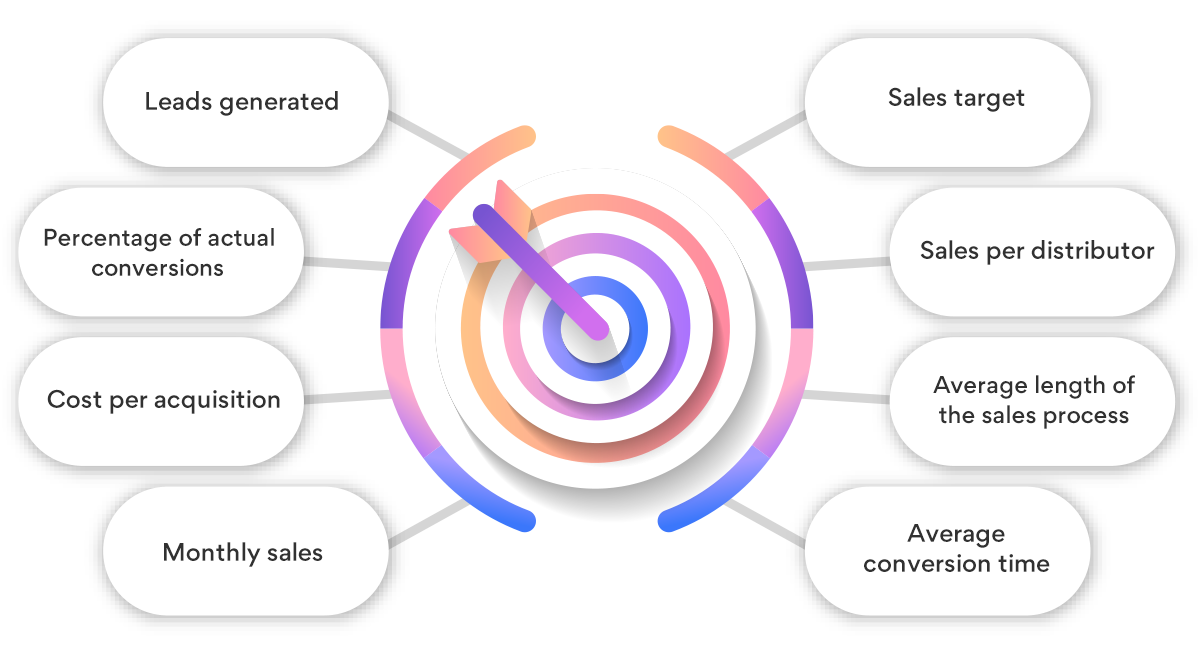 How to improve your sales KPIs?
Monitoring monthly sales performance can sketch a clear picture of how the projected goal will be. This metric helps sales leaders quickly spot problems and spot trends.
Identify quality leads with lead scoring and CRM data
Introduce your distributor teams to innovative sales prospecting techniques
Provide them with efficient sales enablement tools and techniques to survive and advance the competition in the marketplace
Introduce them to interactive and innovative sales training sessions that focus primarily on their low performance areas
Cut on customer acquisition costs with data-driven referral programs that drive the right customers to your brand
#3
Customer/distributor engagement rate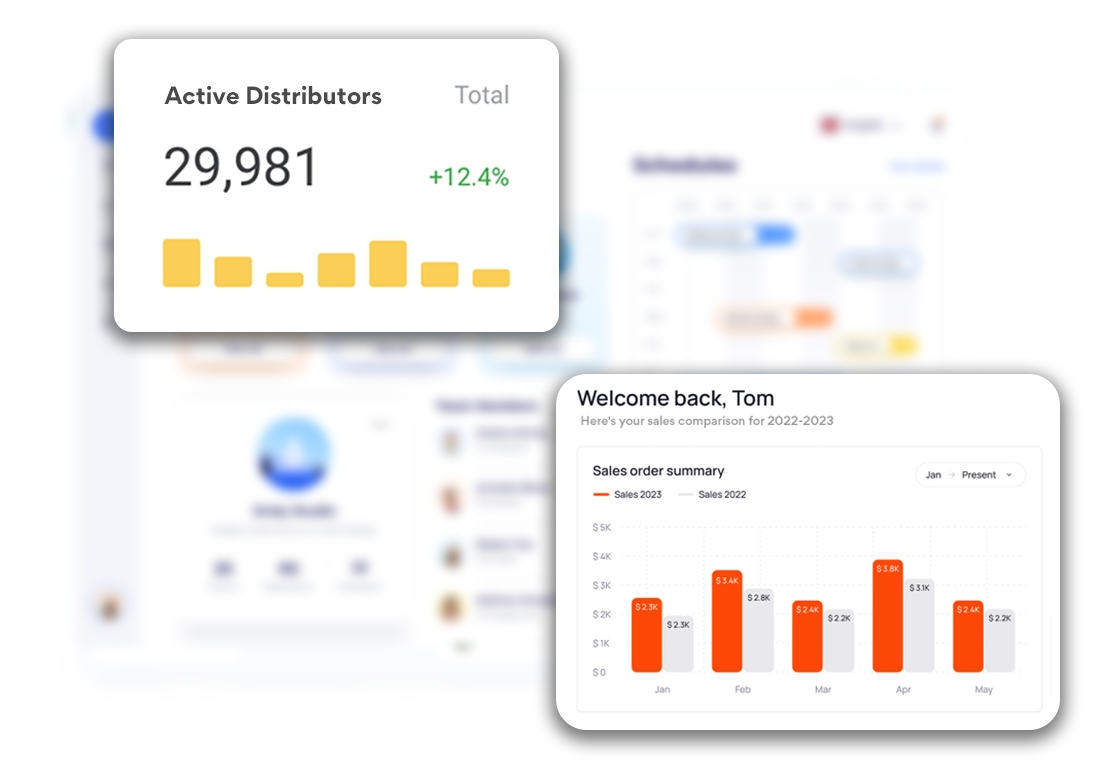 For a business to run smooth and sound, customer and distributor engagement is crucial. When we say "engagement" it covers all aspects of their business journey right from onboarding to retaining them for the long term. While an effective onboarding process does half the job, enhancing and entertaining them along the way is key to increasing their lifetime value with your brand.
Customer or distributor engagement rate is definitely one of the most important KPIs in direct selling. It contributes immensely to building great customer and distributor teams. It also saves them from turning to competitors.
KPIs to track customer/distributor engagement rate
Number of newly enrolled customers/distributors
Number of active customers/distributors
Purchase frequency
Individual distributor performance
How to improve engagement KPIs?
Introduce cross-channel gamification across onboarding, training, and purchase processes
Design interactive and personalized brand experiences
Integrate automated marketing and customer support modules to improve real-time distributor and customer experiences
Run engagement activities across channels—website, social media, ecommerce, and mobile app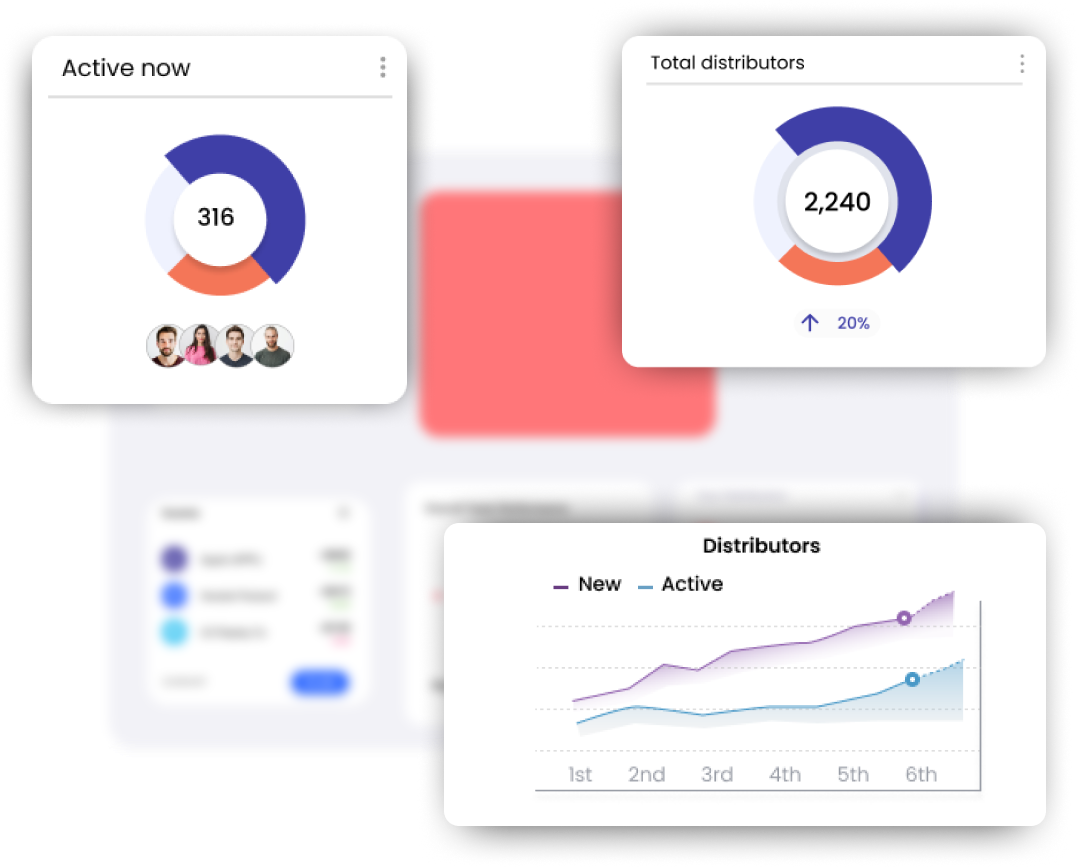 Having a larger distributor base is not the only thing that determines a brand's success. It is the number of active distributors who actively participate in brand building that counts. Distributors enroll but soon wear out or lose interest in selling. This inactive pool of distributors does more harm than good for the development of the brand. Hence, keeping a record of distributors who are actively engaged in selling products or services provides insight into distributor engagement and retention.
KPIs to track the number of active distributors
Individual distributor sales
New leads in the pipeline
Distributor engagement rate
Distributor retention rate
How to increase the number of active distributors?
Design commissions and milestones that are easy to understand and achieve
Make sales prospecting simpler with proper training and prospecting tools
Celebrate distributor milestones and achievements to encourage them to do better
Run referral programs tied with undeniable reward programs to bring in new distributors
#5
Customer acquisition rate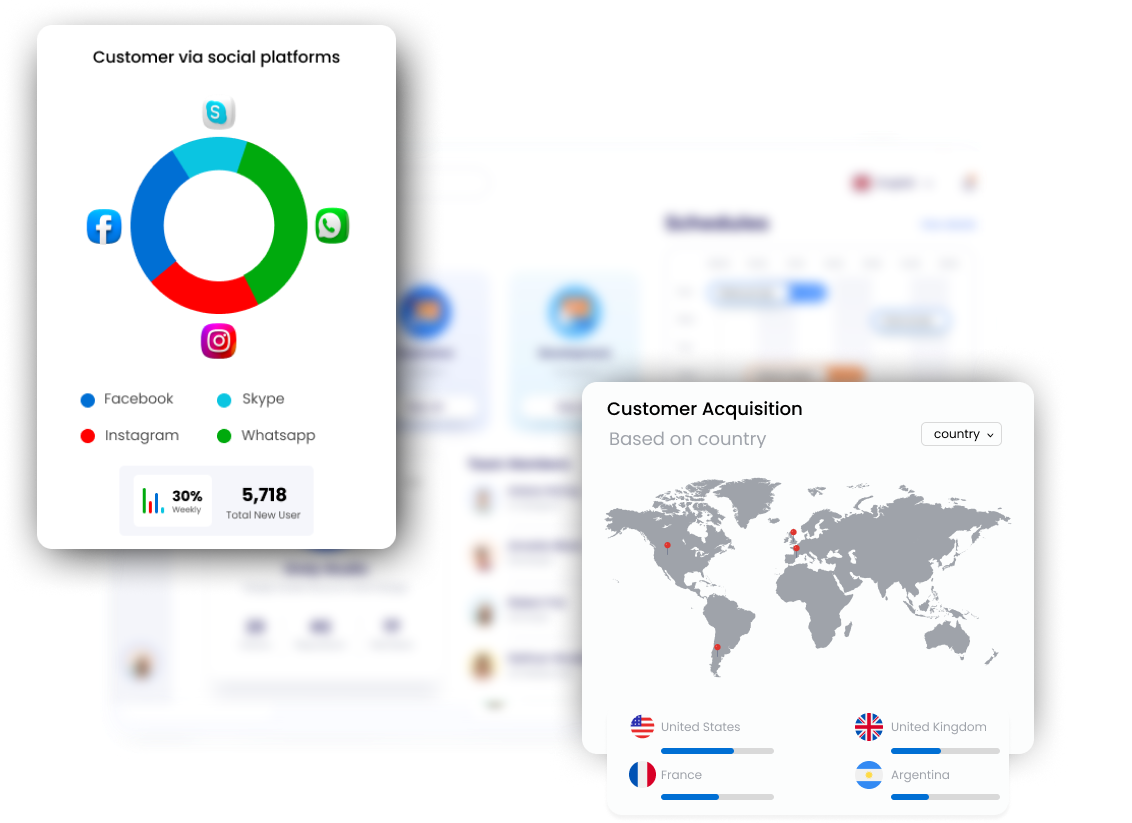 This particular KPI is crucial in determining the effectiveness of the sales and marketing efforts and the overall profitability of the company. It is the percentage or number of new customers acquired during a specific time period.
Customer acquisition rate is dependent on a multitude of factors—the primary one being the efficiency of sales and marketing activities. Quality of products and services, brand identity, and the efficacy of the brand in building value-based customer relationships, all go into welcoming new customers to the company.
What factors should be considered while analyzing the customer acquisition rate?
Distributor's product knowledge
Customer satisfaction and engagement
Flexibility of your customer support teams
Targeting the right audience
Identifying effective acquisition channels
How to improve your customer acquisition rate?
Focus on your top-performing acquisition channels to find customers easily
Improve your sales process to deliver an easier shopping experience for your customers
Implement personalized marketing strategies for each customer segment
Improvize your marketing activities with relevant and engaging content and activities that keep your prospects engaged and encouraged to choosing your brand
Loyalty and reward programs is also an exciting way to attract customers to the brand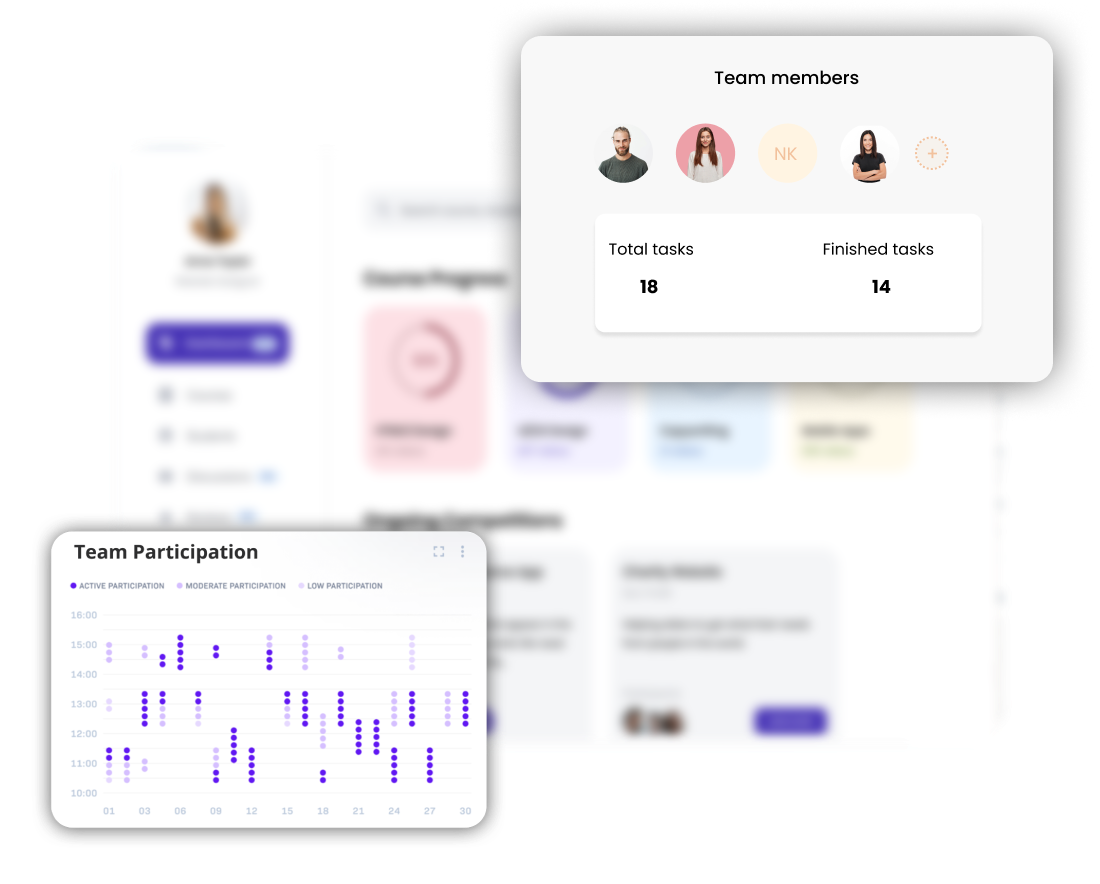 Analyzing the performance of your distributor teams uncovers a lot of insights into your company's performance. This largely influences how your product performs in the market. Measuring the performance of individual distributors or teams helps companies understand the productivity and efficiency of their salesforce. The insights thus derived can be put to good use in upskilling distributors through relevant and personalized training programs.
Apart from measuring their productivity based on their sales performance alone, monitoring their performance across products and other brand-related activities such as training completion and rank advancements can also hint at their efficiency to carry your brand in the market.
KPIs to track team performance
Sales targets and goals
Distributor sales
Team sales
Course completion rate
Number of active downlines
Rank achievements
How to improve team performance KPIs?
Set achievable targets and goals with distinct qualification criteria
Analyze distributor skills and set up upskilling sessions as needed
Build team collaboration through activities, tools, and support channels
Encourage distributors to complete training sessions through fun elements and rewards
Celebrate their rank achievements across the organization to keep them inspired and motivated
#7
Distributor/customer attrition rates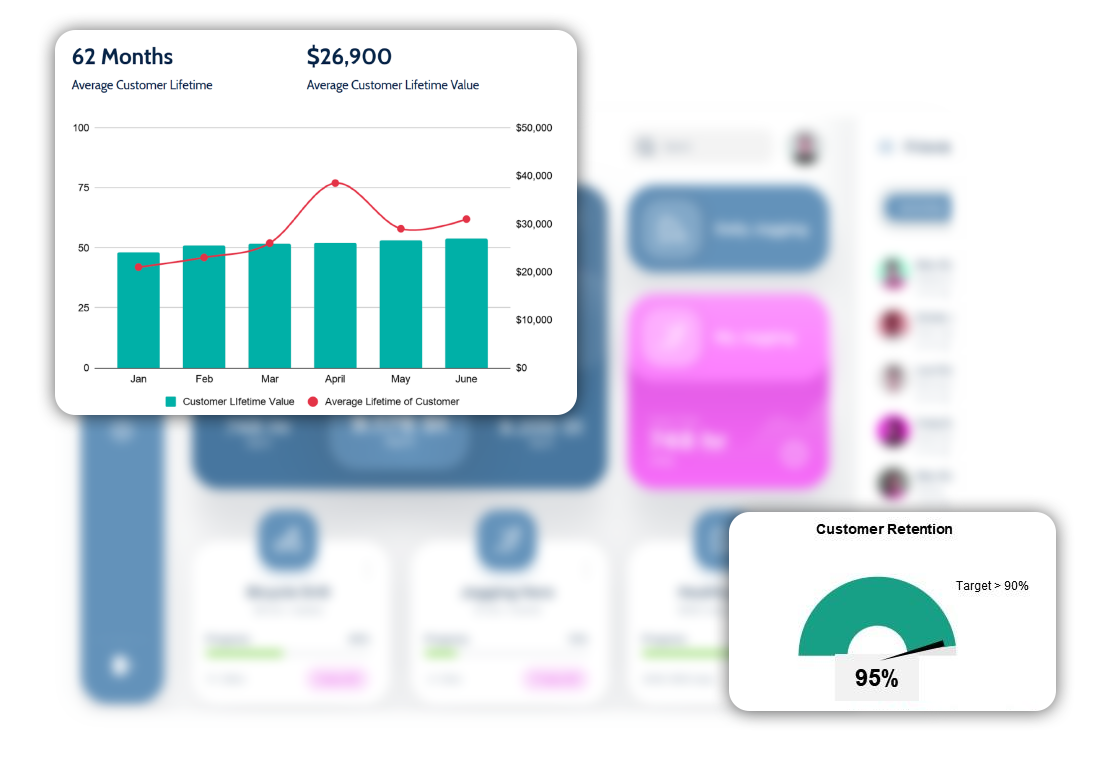 There can be numerous reasons why a person chooses to stay or leave the brand. Personal reasons are out of an organization's bounds yet there are factors that could be worked on to make them stay.
Distributors losing interest in taking the brand forward could be due to poor onboarding, unencouraging compensation, inadequate appreciation, or irrelevant training programs. When their brand efforts are not properly recognized or appreciated by the company, they look onto the competitors who can fulfill their interests.
Customers often get disengaged due to irrelevant offers, poor customer service, or low quality products leading to high attrition rates. Building value-based customer relationships is also key to maintaining healthy and sustainable customer relationships.
KPIs to track attrition rate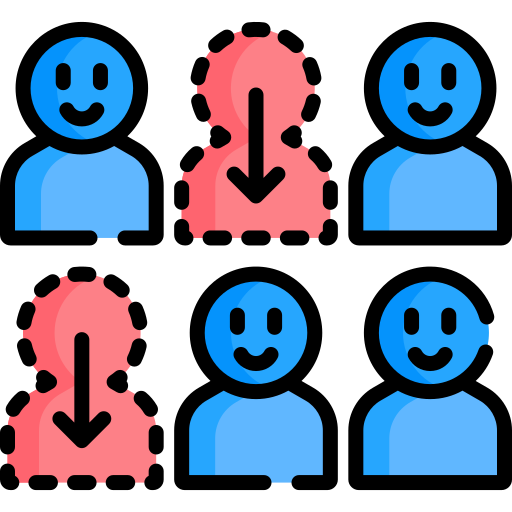 Monthly churn rate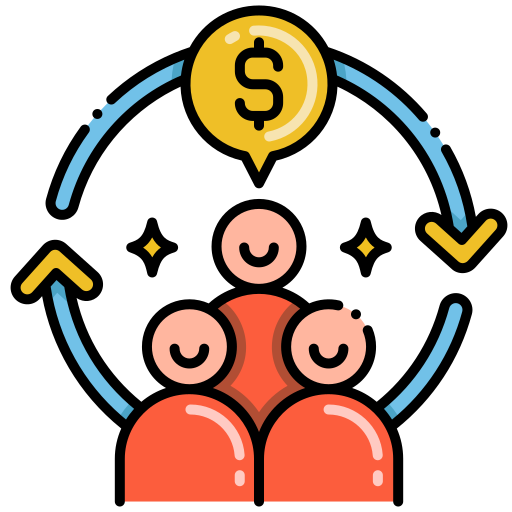 Customer retention rate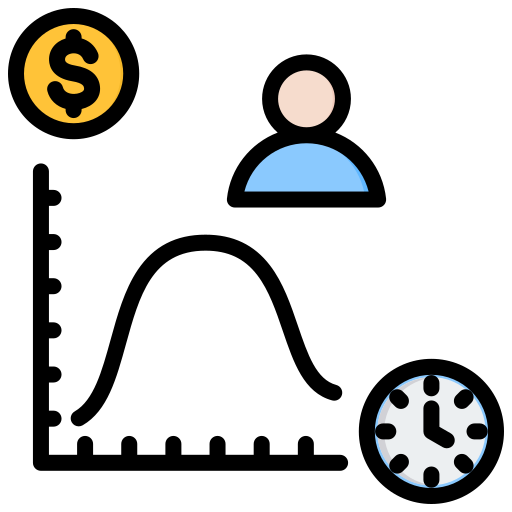 Customer lifetime value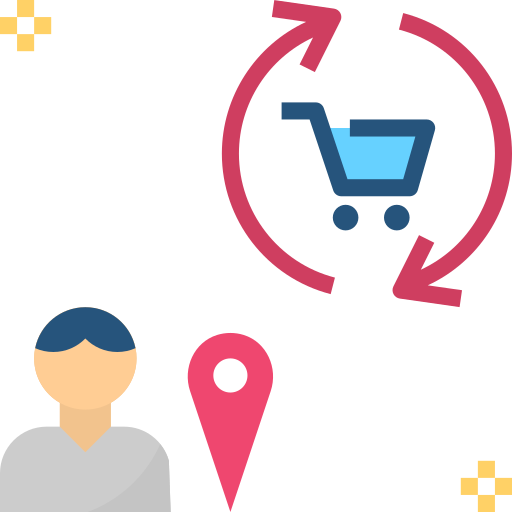 Repeat purchase rate
How to improve retention KPIs?
Test various onboarding approaches to identify the one that best suits your distributors
Create interactive brand sessions to build deep connections with distributors and customers
Establish real-time support sessions—customer support for customers and sponsor support for distributors
Analyze customer sentiments with an efficient social listening strategy
Publish product videos and catalogs to improve product knowledge and offer product demos
Establish transparency across your brand processes
Run customer surveys and monitor customer data to get an overview of your customer activities
Customer happiness mirrors their experience with the brand. Their interaction and feelings for the brand sum up to create the customer satisfaction score for a brand. This ultimately translates into brand loyalty and long-term retention.
Customer satisfaction is dependent on several factors
Product availability
Product quality
Product pricing
Offer relevance
Purchasing experience
Responsiveness in resolving customer issues
Setting your brand competently against these factors can help you win both customer satisfaction and market competition. Higher customer satisfaction levels are also a contributing factor to increasing Customer Lifetime Value (CLTV).
KPIs to track customer satisfaction rate
Net Promoter Score (NPS)
Customer Satisfaction Score (CSAT)
Customer Effort Score (CES)
Customer Loyalty Index (CLI)
How to improve customer KPIs in direct selling?
Time and time again, upholding customer satisfaction has proved crucial for businesses in the competitive marketplace. At a time when companies are overly investing their time and efforts in customer-centric offerings, delivering a systematic approach to satisfy your customer needs fits the current situation best.
Introduce relevant and personalized offers that can stir up the interests and preferences of your target customers
Launch innovative rewards and loyalty programs that engage your customers to the core
Connect with your customers through brand communities to increase brand awareness and fortify customer loyalty
Invest your time in addressing their concerns promptly
Collect customer feedback regularly, monitor issues, and deliver immediate solutions
Your business speaks to you every day, in diverse ways, in a language you must understand and interpret. Listening, understanding, and identifying ways to connect with your business ultimately drive success and sustainability. KPIs are one way your business connects with you. All you have to do is rightly identify, interpret, and devise solutions to overcome any critical concern that might otherwise hamper the growth of your business.
#9
Customer Lifetime Value (CLTV)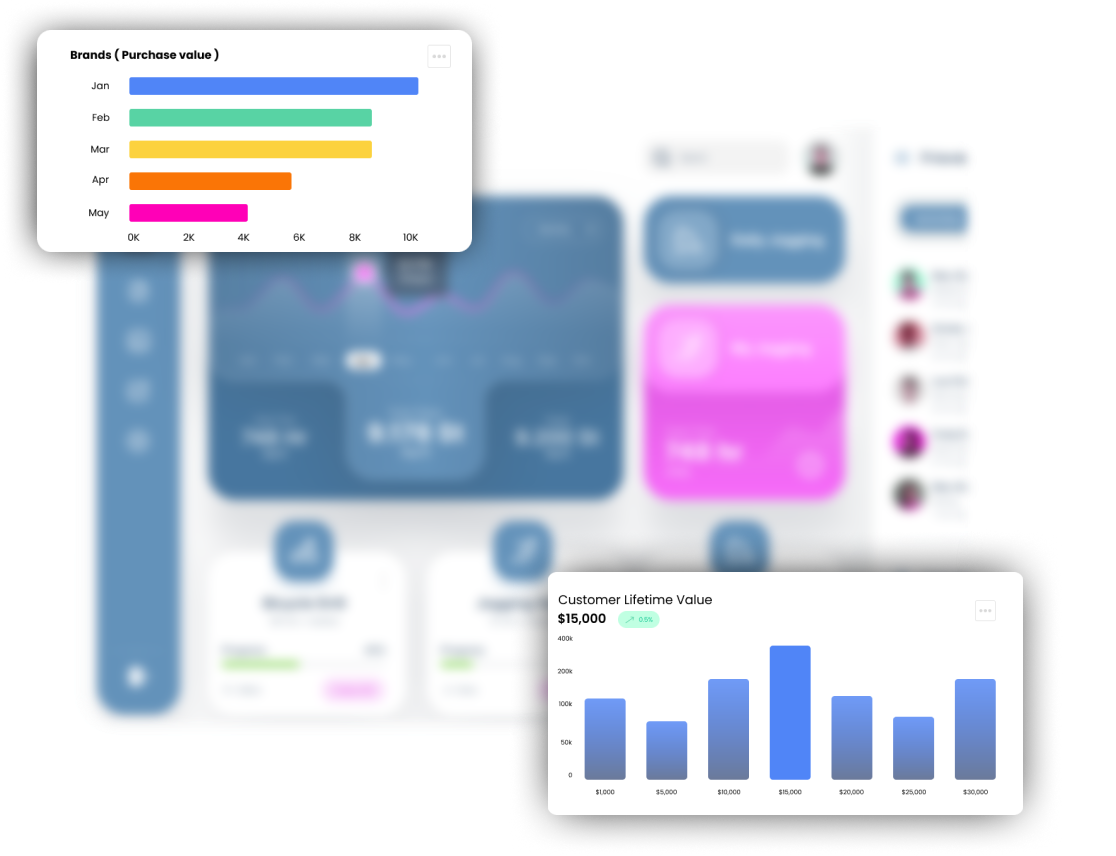 The lifetime value of customers determines the revenue a customer generates during their tenure with the company. Customer lifetime value is a perfect measure of customer loyalty. Tracking CLTV can help companies reduce churn rates, increase customer loyalty, and implement strategies to better manage customer needs and preferences. It also helps companies identify their most valuable customers and nurture them with personalized offers and interactions.
Analyzing CLTV is also a great way to identify your most popular product or service.
KPIs to track customer lifetime value
Average purchase value
Purchase frequency
Customer value
Customer acquisition cost
How to improve customer lifetime value?
Design customer onboarding and training programs
Offer personalized customer support
Offer relevant and undeniable cross-selling and upselling opportunities
Have an end-to-end security system to retain customer trust
Rewards and loyalty programs that encourage customers to purchase more can also boost customer loyalty
#10
Average Order Value (AOV)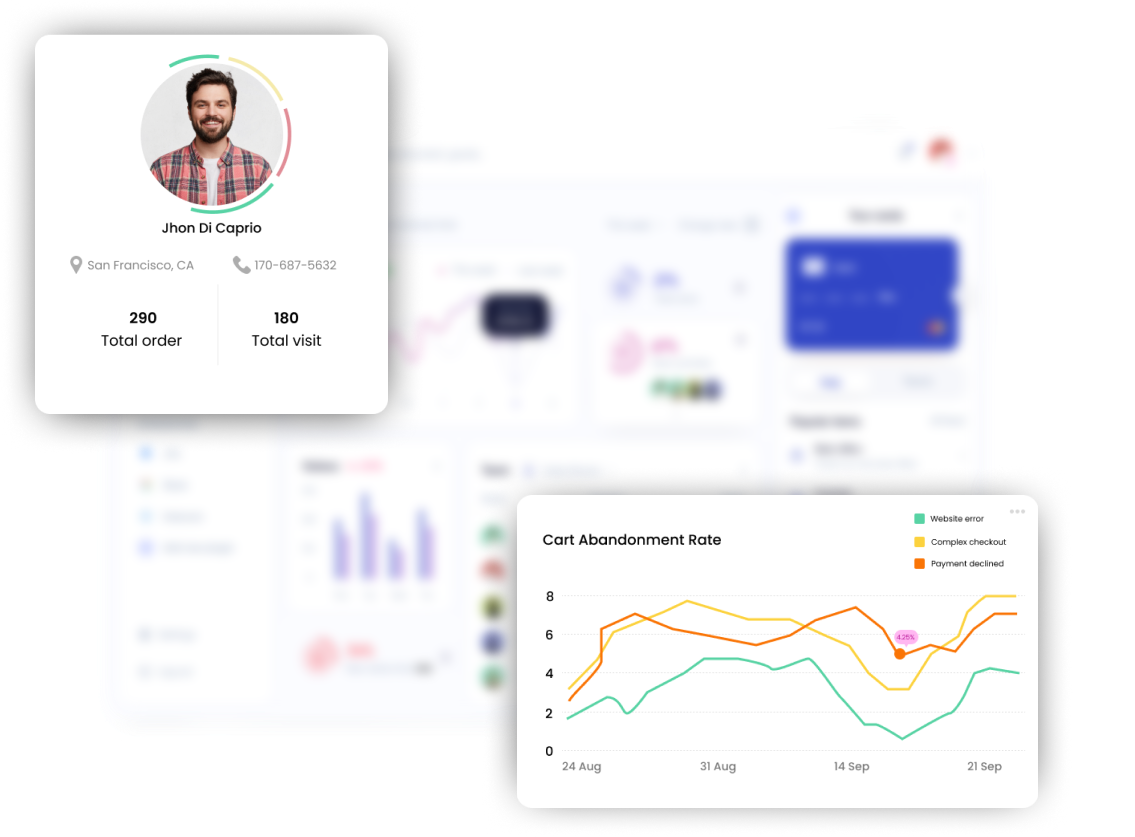 Tracking average order value helps businesses uncover customer behavior and buying patterns. It is also a crucial metric that provides insight into customer lifetime value. Monitoring AOV on a regular basis helps companies understand the effectiveness of their marketing and pricing strategies. That way brands can identify the reasons why a customer spends less or more on a specific product and amend their strategy accordingly.
Rather than increasing site traffic or investing in costly marketing campaigns, increasing AOV can help a brand raise its profit levels.
KPIs to track average order value
Customer lifetime value
Customer spending
Cart abandonment rates
Pricing
Conversion rate
Revenue per visitor
How to improve the average order value?
Enhance your shopping experience to attract more customers
Launch relevant upselling and cross-selling strategies
Increase purchase frequency with attractive offers and discounts
Introduce rewards and loyalty programs to boost customer loyalty
Make them feel privileged with premium benefits offered to VIP customers
Offer hyper-personalized offers and one-on-one interactions
Senior Industry Research Analyst and Strategist