There are boundless marketing opportunities for direct selling companies that outweigh its traditional word-of-mouth marketing. Marketing through social selling, influencers, search engines, content, mobile, and the like have conquered the markets already.
Of all this, which one do you think is the most effective form of marketing? While the traditional model has got its own vigor, these newbies have also helped businesses establish themselves amidst growing competition. However, with increasing selfish practices to sell and make a profit all of these marketing strategies are looked upon by customers as unreliable and shady.
This is where referral marketing stands apart with its selfless form of spreading the word. Today, it is the most trusted form of marketing. Why?
Why because people tend to believe the advice of their closest friends or family members rather than the random sellers from the marketplace making it the most trusted form.
Direct selling has seen a significant increase in the growth of direct-to-consumer brands accelerated by the pandemic and social media. Many digital marketing strategies helped fuel the growth, the prominent one among them being referral marketing. During the initial wave of lockdown when everything moved online, referrals grew by 425%.
So, what do you think is the prime benefit for businesses in employing customer referral programs?
The answer is simple. "It works".
What is a customer referral program?
A customer referral program is a marketing strategy that incentivizes customers to advocate a brand to their family, friends, or among their social circles. It is a trustful way of creating loyal customer relationships and a great way of generating quality leads.
Benefits of integrating a customer referral program into your direct selling business
Customers are already an integral part of your business who know the quality and reliability of your products and services. Transforming them into brand advocates will only increase your chances of winning more reliable leads.
When you ask your customers to refer, they think about people in their social circle who might be specifically interested in your products and that translates into good quality leads. This makes your sales prospecting process more standardized, manageable and less time-consuming.
In a referral program, the referrer is a trusted brand advocate who establishes a positive brand experience with the person referred. Referral programs are exceptionally good for direct sales health and wellness companies as people are increasingly concerned about their health and wellbeing.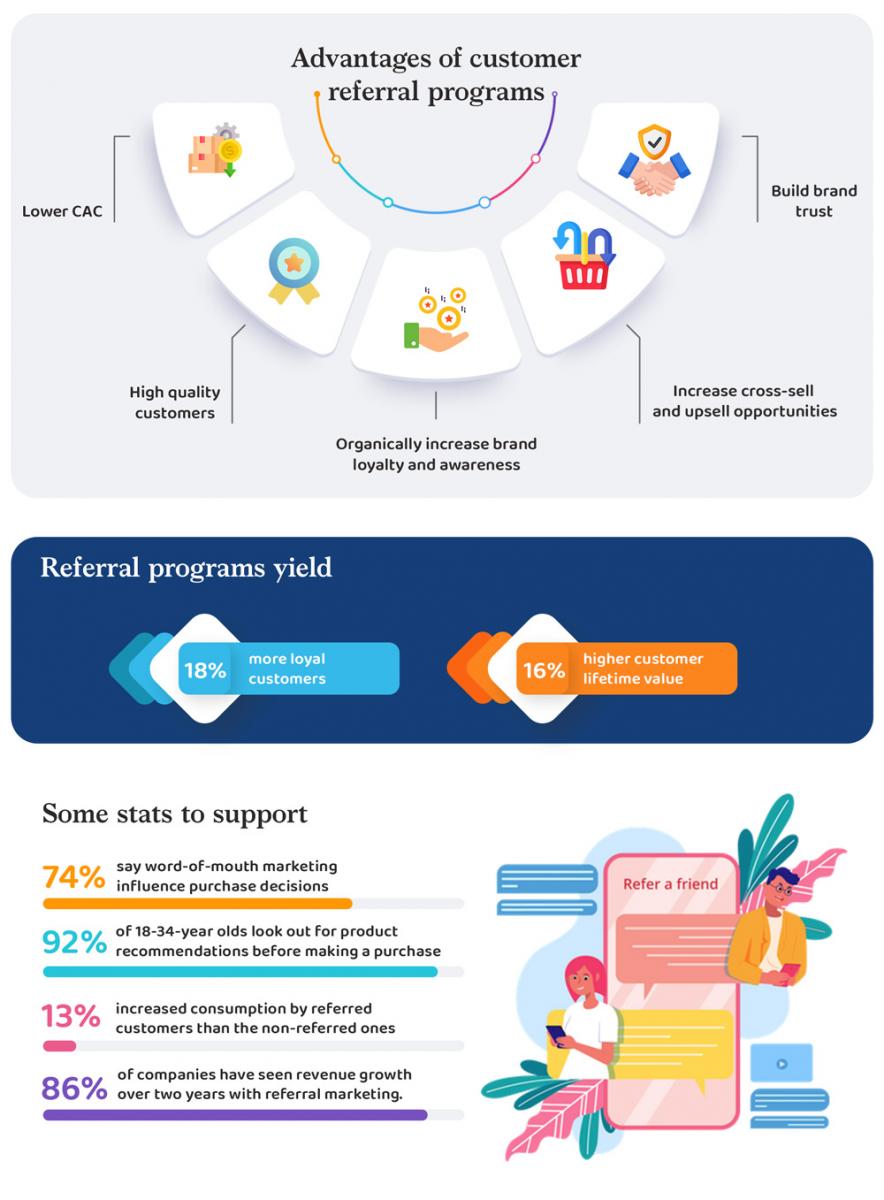 A robust customer referral program can strengthen your customers' brand loyalty and encourage them to bring in more customers. Hence choosing the right referral program that best suits your customer interests and at the same time boosts brand engagement is key to creating a rewarding customer experience.
Build customer-focused referral programs to boost your brand trust and loyalty
While building a customer referral program, your prime focus must undoubtedly rest on your customers, not your brand.
Brand only comes next.
In order to build a customer-focused referral program, you must know what your customers focus on. A deep understanding of your customer interests and integrating that into your customer referral program can enthrall and entice your customers' brand journey. 46% of customers consider the brand's social responsibility efforts when purchasing. Hence your referral program should uniquely convey the value you seamlessly deliver to your customers.
Customer experts at Epixel MLM Software have outlined an 8-step process on how to create successful referral programs that are purely customer-focused.
01
Simple and straightforward programs can win more customers
Customer referral program is a "give and take" policy. You reward your customers for acquiring new customers with gift cards, discounts, points, free products, etc. Customers, however, expect this process to be selfless and unconditional.
A straightforward referral program lays out uncomplicated rules that its customers can read and understand. It makes it easier for customers to bring in referrals out of the incentive program.
Tips to create a winning customer referral program
Help customers generate an easy and personalized shareable link.
Standardize the sharing process.
Set clear instructions at the beginning itself.
Create simple yet attractive rewards.
02
Know what interests your customers
Customers come from different backgrounds, regions, and age groups, and have different psychological attributes and these are the deciding factors of their purchase behavior. This also determines what they expect from the brand.
Run a thorough analysis of your customers.
Segment them based on their interests.
Run exclusive promotions or offers for each group.
A/B test by delivering and applying changes in the program with tiny tweaks in the reward offers.
03
Set your goals around your customers
Goal alignment is one of the most important aspects of your referral program. Set clear goals, but around your customer and, we repeat, their interests.
While designing referral programs you must ask yourself the following questions.
What is your expected outcome?
Do you want to increase your customer/referral numbers?
Or is it intended solely to boost your growth and revenue?
Do you wish to see a higher retention rate?
Or an increased sales and conversion rate?
04
Promote your referral programs where your customers are
Customers might not come searching for your referral program or think about referring you to someone until they connect the person with the need that you serve. But, a referral program can make your brand stay in their mind and double the chance of referrals.
Identify their preferred channels.
Know their choice of content—videos, posters, or live sessions.
Grab their attention by addressing their needs.
Create omnichannel referral programs to make it easier for them to share it with their close circles.
05
Track your customer satisfaction score
Airing your referral programs is just not enough. You need to get into it and analyze its performance and impact, positive or negative, on your customers.
An increase in these metrics is clearly indicative of your customer satisfaction.
Number of new referrals generated
Site traffic
Revenue generated
Channel performance
Customer lifetime value
06
Never overburden your referrals, reward them every step of the way
Do not overwhelm your referrals with newsletters, ad campaigns, and email blasts. Instead, excite them with frequent surprises. Give them time and space to sync into your brand.
Lighten your customer efforts by offering them samples, unexpected products, or offers.
07
Create brand-specific resources for referrals
Design creative resources to introduce your brand to your referrals. It should convey your brand's value and identity to create the best first impression.
Create a referral kit with
Case studies
Testimonials
Ebooks
Catalogs
New product samples
08
Create a follow-up plan to ensure your customers stay happy
Do not leave them just yet. Stay with them and plan your future together forward. Thank them for their purchase first, with welcome offers or discounts. Do not keep asking for referrals every now and then. Introduce fresher programs to make them bring new referrals to you even without asking.
Create referral milestones with a new reward for each milestone.
Surprise them on seasonal and special occasions.
Offer samples or freebies to turn in the extra knot.
The soul and focus of your customer referral programs should be to tie the existing customers to the brand in a way that the customer anticipates. A robust referral program blends this anticipation together with the brand's expectation of building a loyal customer base.