You have friends coming over for dinner to celebrate your promotion at work and you are busy doing the preparation. Your signature pan-roasted veal chops with cabernet sauce is going to be the star of the night on the menu. But you pulled your kitchen cabinet to find out that you are running out of red wine, the key ingredient of the recipe. Not having enough time to lose, you pick up your phone and place the order through your favorite delivery app. By the time the rest of the ingredients are sauteed and simmered, your red wine has reached your doorstep!
Welcome to the world of q-commerce, where everything from groceries to heavy electronics or even automobiles is delivered to you in a matter of just hours to minutes.
Like a kid who is adamant about asking for something and wanting it immediately, customers these days prefer immediacy with products, services, and everything they want. If one of the platforms that they are looking at cannot deliver within their preferred time, they opt for the million other options they have, to grab what they are looking for whenever they want it. Ordering something online and tracking and waiting for it until it reaches you, for days and weeks, is soon going to be history.
What is q-commerce?
Q-commerce or quick commerce is the golden child of ecommerce that delivers groceries or any other goods instantly to wherever you are. It is an activity of buying or selling with greater convenience, faster checkout, and increased upselling opportunities. With lives getting busier day by day and 24 hours not becoming sufficient enough for activities, fast and furious is what customers prefer from food delivery to everything they want no matter whether it is an emergency or not.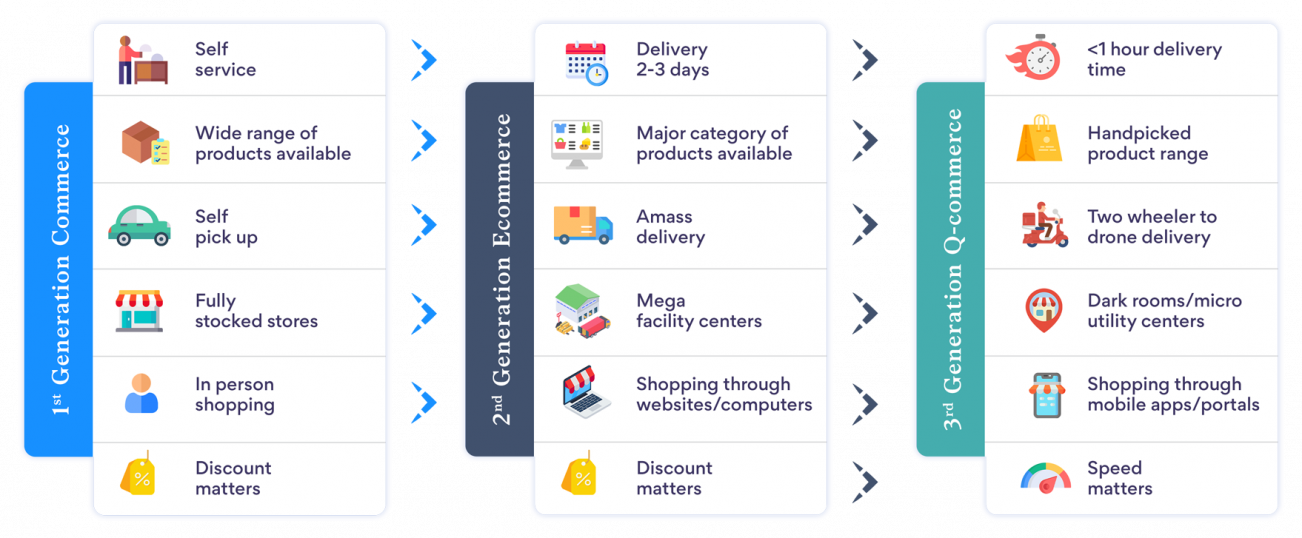 One of the fastest-growing business concepts in the world, q-commerce is the generation next of ecommerce that is advanced, sophisticated, and convenient at the same time. With rising customer expectations and market competition, q-commerce is a great possibility for brands to improve their customer relationship and brand credibility.
Q-commerce isn't the new or fresh out of the oven. Online food delivery that gets food delivered as fast as possible is derived from the q-commerce concept. However, other industries are yet to explore the possibilities of q-commerce especially the direct selling industry which is on the lookout to transform its strategies to adapt to innovative industry trends.
How can q-commerce step up the direct selling business?
With the pandemic hitting hard and people being stranded indoors is when the quick commerce possibilities expanded. According to the Frost & Sullivan report, the q-commerce segment went up to $25 billion in 2020 when COVID-19 was at its peak. Being used to curbside pickup and doorstep deliveries, the segment is expected to cross $72 billion by the year 2025. The ultra-fast delivery helps businesses increase their customer loyalty, build broader audiences and higher margins.
The direct selling industry, which has myriad opportunities to explore with q-commerce is in the beginning stage of tapping its business expansion with this concept. In order to integrate q-commerce into the direct selling business, the basic yet most important things to do are
To make use of productive and innovative technology
Set up local micro-fulfillment hubs
Ensure product availability
Deliver outstanding customer experience
Apart from the speed factor, the products that should go into the channel also matter. For outstanding performance, direct selling businesses also need to have a software system that supports real-time inventory management, marketing tools, and, financial reporting tools to keep an eye on the overall business operations and to stay profitable.
About 80% of American consumers consider speed or promptness as a major factor that gives them a positive customer experience. 78% of global shoppers give importance to convenience. Under both these cases, q-commerce could help businesses to build and retain a loyal customer base by delivering their products quickly and conveniently. This could also help brands to reduce their delivery costs and thus increase profitability.
Alright, now let us look at how would direct selling businesses benefit from q-commerce.
1. Competitive and advanced USP
Quick commerce is undoubtedly a gleaming opportunity for direct selling businesses because who wouldn't want to grab what they want immediately? Especially with the rising demand for direct selling health and wellness products, personal care, and cosmetic products, q-commerce could add a new value proposition opening new horizons to the brand's existing USPs. Integrating the quick commerce model into your business could benefit the online shopping and ecommerce marketplaces at a larger scale.
2. Profitability
The power of q-commerce was identified the most during the pandemic and multiplied manifolds after that. Though adding a unique value proposition is one of the key aspects of this concept, brands could earn potential profit with every sale through local deliveries which are faster but cheaper or more affordable than conventional shipping. When the logistics costs are lower, you could invest more in other parts of your business operations. Charging extra to deliver goods within a particular time slot over the products' maximum retail price is a common practice that is widely accepted by customers. This also is a way through which profitability can be increased.
3. Delightful customer experience
When brands are willing to go to any extent to improve customer experience, q-commerce is an outstanding concept to leverage maximum customer satisfaction. For a customer-centric business like direct selling, q-commerce can be helpful to surpass customer expectations and thus build brand loyalty. When inquiries, redressals, deliveries, and feedback are all done within a span of hours to minutes, keeping track of customers' experiences and expectations can be addressed and catered to with better clarity. Q-commerce can thus enhance customer retention and build a rock-solid customer base for your brand in the long run.
Ecommerce vs q-commerce
Ecommerce vs
q-commerce
With q-commerce taking over and making waves in every industry, it is essential to understand how they stand out from each other in order to effectively implement this concept into your direct selling business. While we know that ecommerce is a traditional concept that has been widely adopted by every sector alike, it refers to the sale of any goods or services that are done online.
Q-commerce emerged due to the rise of mobile commerce and shopping via voice activation, artificial intelligence, and other concepts of higher digital connotation. Processing huge chunks of data quickly and efficiently is crucial to make faster and more accurate decision-making. Brands also enforce quantum computers for the quick turnaround to customer queries in q-commerce and effectively carry out processes. Unlike ecommerce which requires an electronic gadget to make a purchase through a website or an app, q-commerce lets customers make purchases, customize, exchange or even return through a conversational interface. Thus delivering seamless customer experiences and strongly gluing customers to your brand. Though q-commerce was used mostly to deliver food and groceries during the COVID period, now everything from household supplies to destination packages and even supercars can be purchased through q-commerce platforms. The direct selling scenario has also been rising with the evolving innovations in the q-commerce sector. The advent of the metaverse, virtual reality, augmented reality and every such high-end shopping experience converging multiple technologies and the internet of things has taken the direct selling industry to a different horizon in the past decade.
How to get started with q-commerce?
Q-commerce is for sure to revolutionize sales and purchases in the years to come. It is also a gold mine for data analytics for the amount of data it can transmit pertaining to the shopping behavior of customers, and their likes and dislikes. Leveraging the power of productive analytics, customer preferences, like brand, quantity, frequency, average spend, etc can be easily identified and can be worked around to engage existing customers and attract new ones.
Before adopting the q-commerce business model, there are quite a few things to be aware of.
Q-commerce business models are categorized into three -
Vertically-integrated model
The orders go to the marketplace and it is fulfilled and delivered.
Delivery platform
The seller uses the platform to receive orders and the seller processes the items.
Direct to customer
The seller uses a platform to receive orders but makes use of a third-party logistic system (3PL) to fulfill it.
With a thorough understanding of your business and its volume, adapting any of these models to follow a structured business pattern will be the first step toward implementing q-commerce into your direct selling business.
A dark store or a micro fulfillment center is a remote distribution center where online orders are either picked up or assigned to local delivery partners. Having these micro hubs makes it easier to disburse goods even to the remotest interiors within a speculated time. If you don't seem to be having sufficient funds in the beginning stage, it is good to have a warehousing partner on a leasing or rental basis, which is again cost-effective for the brand.
A delivery team with an astute infrastructure, high levels of expertise, and the ability to alter situations according to market conditions is one important aspect of q-commerce handling and delivery. The partner must be capable of analyzing customer demands and interests through various data sources. You could also enlist a digital partner to digitize the whole process.
Summing up
The direct selling industry has expanded at many levels right from integrating high-end technology into their business processes to delivering enhanced customer experiences. Q-commerce is one such concept that would present direct selling customers uber-convenience from purchase to transactions till delivery. The trend is here to stay and is an outstanding model to gain new customers and boost customer loyalty through convenience, speed, and faster turnarounds. In this fast-paced life where flash speed is what customers prefer, q-commerce is a great opportunity to tap to explore larger business opportunities.