Fashion is fast engulfing our aesthetics and styling ideas. What is trending today is outdated tomorrow. Once the Cannes Red Carpet and The Academy Awards are over, we see a new gush of trends sweeping in. It's the same with lifestyle, food, accessories, clothing etc where 'trends' matter. But how does, businesses keep up with these trends? How do they stock up and how do they sell out within a particular time?
Queen Elizabeth II was a huge fan of black Launer bags that she had nearly 200 of them in her collection each almost $2000 worth. Launer even had the official Royal Warrant to make these bags for the Queen. The Queen had her own style statements with off-the-wall hats, floral brooches and royal attire that got all eyes on her, all the time.
Every time the Queen made a public appearance, fashionistas went online searching for bags and brooches like hers. I was also fascinated by the bag and got hooked on the Birkin model which was closest to the Queen's model. But unfortunately, by the time I zeroed down on the one that fit my budget and the color I wanted, the item was 'SOLD OUT'. I went back online hoping that it would be restocked but it did not happen even after a week by then I had lost interest in purchasing the item. All these when the bag was produced by one of the leading brands in the world but had no inventory backup whatsoever to retain their customers.
This is why inventory management is a necessity for businesses especially those operating in the ecommerce model because, you got to cater to your customer needs before another trend sweep in or before your customer loses interest in it. More specifically, the younger generation who dwells on the internet has enough and more options to go to if something is unavailable in one place. Keeping up with all of these needs a rigid and rigorous and an uncompromising inventory management system.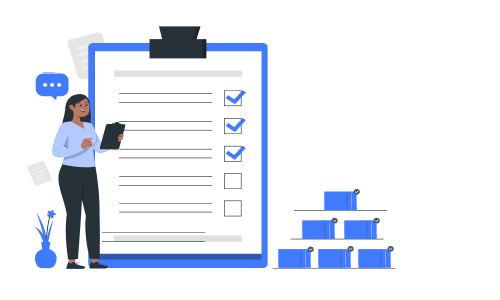 What is inventory management?
Inventory management is the process by which a company's stock of good are efficiently overseen, controlled and organized. The process includes purchase, storage, tracking and distributing either raw materials or finished goods. Inventory management helps businesses meet their customer demands from time to time by maintaining expenses and improving profitability.
Inventory management in direct selling businesses
For a direct selling business, inventory management is a crucial aspect that decides the growth and success of the business. Distributors sell products directly to customers from their own inventory in the direct selling business model. With numerous distributors and distributor networks working across the globe, an efficient inventory management is necessary to reduce costs, optimize stock levels, improve customer satisfaction and ultimately increase profits.
Leading edge direct selling software has the most up-to-date features for an efficient MLM back-office functioning which considers inventory management as a crucial element that drives direct selling businesses to success. The inventory management system must be proficient enough to take care of every nitty-gritty pertaining to the smooth sailing of the direct selling business like product inventory, warehouse management, supplier management, managing purchase orders with multi-location support etc.
At Epixel, we ensure that the inventory support is robust enough to help businesses work hassle-free minimizing returns and refunds. The system is data-integrated which analyses sales histories to forecast future businesses and thus boost sales and profitability.
But why is inventory management a necessity for direct selling businesses?
Benefits of inventory management in direct selling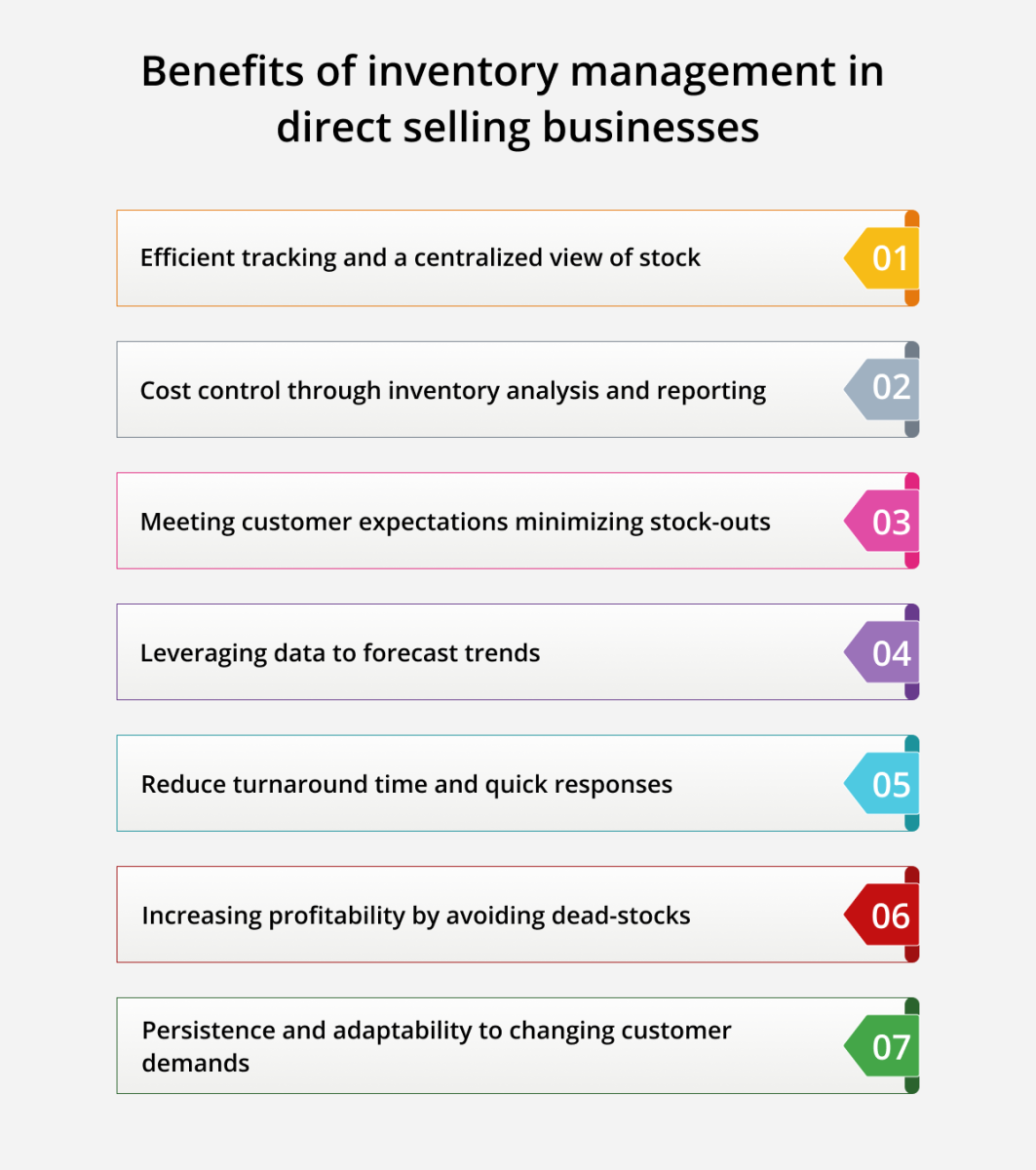 Optimizing product availability
Preventing stockouts by ensuring that products are available when customers intend to purchase.
Forecasting demand by analysing data and previous purchase history helping businesses towards better stock planning.
Managing costs
Preventing overstocking which consumes heavily on capital and requires a lot of storage space which again incur cost.
Minimizing storage costs like leasing and rental amounts by stocking only the right quantity.
Catering to customer demands
Order fulfilment on time with an efficient management system that enable businesses to quickly pick, pack and ship orders.
With faster services, quick delivery and availability of choice of products, customer satisfaction and repeat purchases are sure to increase.
Profitability
Minimizing product wastage and out-of-date inventory by identifying and reducing stocks of slow moving and perishable goods.
Setting profitable pricing strategies by understanding inventory turnover rates and carrying costs.
Lowering the need of working capital
With a meticulous inventory management system, businesses can free up cash for other needs rather than tying up capital in inventory.
Streamlining operations
Faster turnaround by streamlining warehouse operations making product location and order fulfilments less sophisticated.
Improved efficiency and accuracy in business by automating routine inventory management tasks.
Tuning to changing market shifts
Meticulous inventory data to help business identify changing market trends and adapt to them by altering product offerings accordingly.
Ecommerce store and product management
With majority of businesses happening in the digital space, you never know when a customer adds your product into the cart, whether they will complete the purchase or discard the cart. But one thing that you can be sure of is with the customer experience that you deliver across all digital touch points.
For the smooth functioning of an ecommerce business, inventory management can notify a customer if the product is unavailable, expected to be out of stock or even how many products are available in stock. Imagine you don't label a product out-of-stock, and a customer reaches until the checkout window only to realize that the product is unavailable. This would not only impact the customer's trustworthiness on the brand but decrease retention rates impacting heavily on the brand's credibility as well.
Be specific about what you have in stock, the size, colour, price and every other details so that there are minimum returns, refunds or complaints. With a scalable inventory management platform, organizing, managing and updating stocks can be done instantly enhancing business growth and customer satisfaction all at once.
Integrating inventory management for a direct selling business right from the startup phase could help the business facilitate its operations right from the time the business starts to scale to bigger heights. At the early stage, it is easier to set up an inventory system, and when the business grows to a larger enterprise level, an inventory management system could help the business break down the tedious task of managing inventory through a centralized system, giving a bird's eye view of the stocks across all warehouses of the brand anywhere in the world.
Ecommerce store and product management features helps direct selling businesses gather data on how their products are performing, which market is more open and welcoming for the brand, the category of customers who are purchasing their products, age groups, demographics and what not. To efficiently set up an inventory system, these data could help companies identify where should they stock high, how frequently should they restock and how to be careful not to overstock or go out-of-stock.
Inventory control and inventory management
No, they are not the same. To keep it simple, inventory management is a strategic and a holistic approach to supervising a company's inventory from purchase to sales. Inventory management can be derived only through long-term planning that impacts on the business' growth and success.
Whereas inventory control is just one of the components of inventory management that administer day-to-day processes of keeping track of good, managing and controlling them.
Inventory control is a very important factor that carefully focuses on every minute details of the stocks including the numbers left in stock, where was the last shipment to, what is the difference in sales of a particular item between two days, etc... as, sharp as that!
So let us also understand, why is inventory control a necessary aspect in inventory management.
Accurate numbers
Be very sure of how many units of a particular product you have in stock. Efficient, real-time tracking of sales and stock levels for improved profit levels.
Move with the market
A fast-moving product yesterday may not be moving today. Tweak your stock levels identifying market trends and tracing its impact on your sales.
Maintain the supply-demand balance
With a systematic inventory control, you could stay at par with varying customer demands without piling unsellable surplus inventory or fall for supply chain hiccups to fulfil orders.
Maximizing customer experience
Inventory control lets you intimate your customer when exactly a product that is out-of-stock will be back on stock. It can also help your customer find alternatives or notify when their choice of product is available. This for sure improves customer satisfaction to a level which brand integrity also increases.
Back in stock!
Receiving an email saying the product you have been eyeing is back in stock is definitely one happy message, of course only after 'your salary is credited'. But, when you are desperately in need of something and the brand doesn't make any restock moves, nor notify you on product unavailability or their inconveniences, there is sure going to be a shift in your loyalty because the brand isn't valuing the customer preferences which is the fundamental factor in a direct selling business.
From beauty to wellness to decor and automobiles, customers are being spoilt for choices. The amount of competition mounting up each day in the sector is unbelievable. That said, integrating an innovative and leading-edge inventory management feature into your direct selling business could take the business far ahead of competitions improving its profitability, enhancing customer experiences and thus fuelling the brand's integrity.
Progressive Research Analyst and Content Strategist