Lead the way and become a successful brand is the ultimate aim of every business organization/owners. There are many important things to consider while constructing a business world. Automation is a vital element during this period and you obviously go for software assistance. This is not different in the case of the direct selling industry.
However, you might have failed to choose the best software providers and come across a point where migrating is the only solution. Even if you're looking to replace the existing technology partners, you just cannot pick one and go right away with it. Complete data and information must be migrated from the legacy system and is not an easy task to achieve.
NOTE: A legacy system is an outdated system that follows old methods to manage your direct selling business. The techniques used in a legacy system is a gray version that is considered as outdated!
Why migration & what prompted the decision?
Taking the decision to migrate the complete system is tough. Such crucial decisions are usually seen among startups, developing companies or even the big guns (enterprises) i.e., migration is common among any groups regardless of its current position either growing stage or an established organization might prefer this option.
We know that the direct selling industry has been a rock head for economic growth. Direct selling has been one of the most important sources of economic growth and the revenue keeps climbing up year after year. The industry has found its root way back in the mid-'80s and got a prominent role after a century.
So, let's go back to the part where we discussed decision making.
There are many factors that prompted a direct selling organization to come up with migration consideration.
The possible reasons:
Scalability issues: After the initial stages, your business obviously starts to grow and more members join the MLM system. But your direct sales software fails to scale up further and hinder business growth.
Performance issues: Performance matters the most! The system might be scalable to infinity, but what if there are issues regarding the performance? What if the software is developed with poor codes? The server issues, high loading time, lack of load balancing, database deadlocks, etc. If you lose control over your business, you lose everything!
Concurrency issues: What if your system crashes while processing simultaneous calculations? You lose your money but the transaction failed to proceed. Data integrity issues while multi-tasking is yet another reason behind switching your existing system.
Support issues: It would be very difficult to carry on a business relationship with a team who never appear while you need support. Proper assistance is very much needed and if the technical team is lazy or not obliged to help you then the migration decision is very much alive in your options.
In-adaptability to upgrade: 'System upgrade' is as important as any of the above factors while considering migration. Suppose you're planning to upgrade your package to a better platform or technology but unfortunately your software team is not flexible for such changes. What can you possibly do now? Migration - the only solution!
Calculation & mismatching: There exist many calculations and criteria's in a network marketing system and there is no compromise for errors in the calculations. The compensations and business progress directly depend on them and an error-free system is necessary. (Check out free MLM calculators of the concerned team to make sure their system is following a hassle-free calculation system)
These are the main reasons for switching the legacy system to an advanced system.
Check-mate guys, you cannot go further without altering the present!
We shall analyze the migration pattern by considering the risk analysis and the main benefits.
Migration - What you need to know?
The primary objective of migration:

Get past the above issues and come up with the best package is the ultimate aim of migrating. Overcoming the problems and mitigate the risk involved in the business has always been the best interests of every organization.
Risk factors to consider:
Yes, there exists a dark side in everything and here one may call it in a different way - "risks". The migration services come with too many risk factors.
Uncertainty regarding the migration considerations and how things might perform
What are the chances of failure in data & application migration?
The data mismatch and its impact on business after migration
Is the new system capable enough to overcome every limitation of the existing system?
The impact of technological changes and the awareness factor
What's the scope of the migration?
Apart from the above uncertainties and risk involvement, other concerns that arise will be data security, loss of transaction and user history, inadaptability to direct selling plan changes, the chances of feature improvements, etc.
The scope of migration:

As we mentioned above, one among the risk factors in direct selling software migration will be the scope of migration. The new system must be capable of complete data transformation and application transformation. A hassle-free system is the expected goal of every business enthusiasts.
The new system must match every requirements and need of an organization. This helps in analyzing how far your choice backed the migration decision.
The benefits of migration:

There is no need for migration if the new system is a replica of the existing system. You need to have a thorough understanding of the need and scope of migration into a customized direct selling package. So, it's better to have a comprehension of the migration benefits clearly.
A new system customized as per your needs & requirements (Yes, that's your ultimate desire and your expectations are obviously high)
No more scalability issues, you get to add as many users as possible.
The high-performance engine is yet another benefit of using the new system
No more concurrency issues or miscalculations?
Get rid of monthly subscriptions (If Migrated from the SaaS model to a white-label system)
Better availability of new API's and enable easy addition to your system when needed
How to accomplish a perfect migration?
Consider all the above factors and find the best team who provides a hassle-free package with enough support. If the software providers who offer migration services cater your growth with uninterrupted client support then never hesitate to have a trial period with them.
A team who offers such value to their clients will always stay ahead and label them as 'perfect tech partners for your direct selling business'.
Epixel is one among the best direct selling software development team who offers migration services with a proven customer-track record. What makes Epixel special from other service providers is that we offer migration from any of the existing systems no matter what your business size be or the platform/technology with which the system is developed. We open up a world of opportunities managed using an agile system with enough capabilities.
It doesn't matter if your existing system is SaaS model or plugin or tailor-made or any other model, we help you in complete migration and follows a unique process - "Any migration MLM strategy"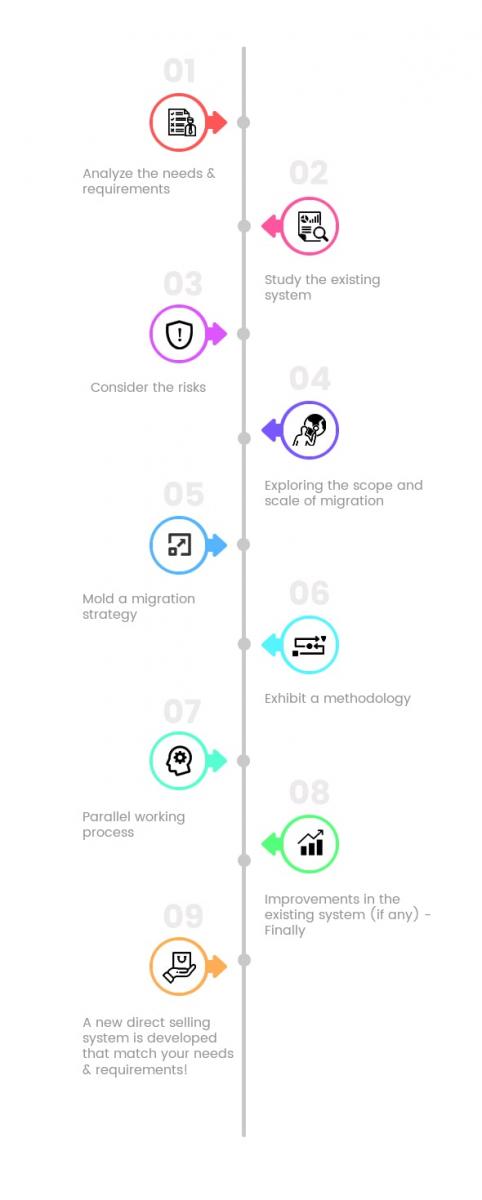 In short, we support all kind of migration services with great effort to discover the needs and then migrate the legacy system to a stable & high-performance system.
Customers always prefer to get a system with certain elements like the best user-experience, collaborate with a new team, provides an Omnichannel experience, simple interface, best reverse engineering, support both data & application migration, etc.
The cost & time period:

The migration cost and timeline depend on the project scope and requirements.
The scope of system migration that includes the volume of users, transactions, etc.
Requirements analysis
New feature additions
The complexity of plan calculations
The level of customization
Hope this article covers all the elements regarding a direct selling software migration and provide our readers with a definite guide!