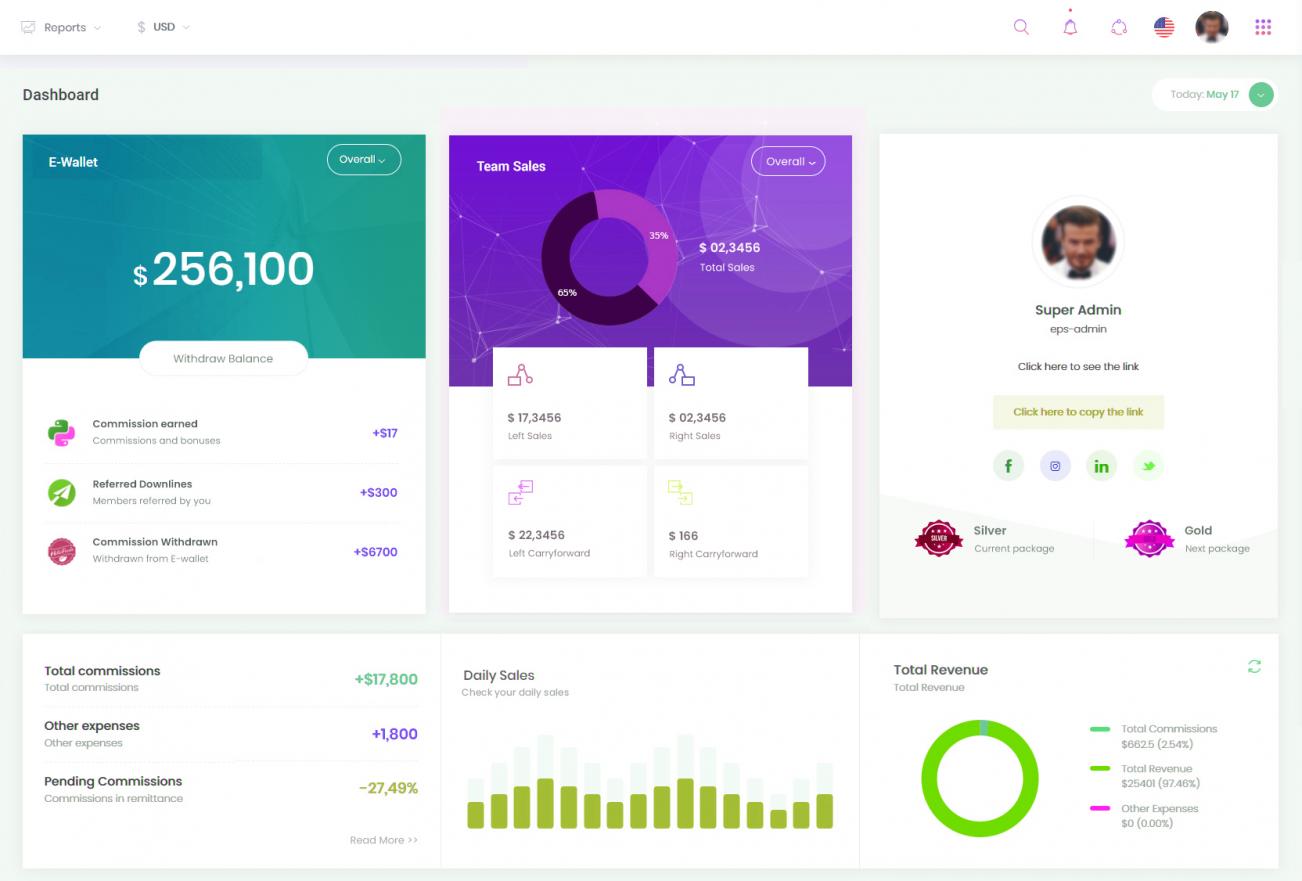 Here is the picture of a dashboard,
What does it have to do with business intelligence? This dashboard of Epixel MLM Software simply provides you a quick overview of the whole business components. This includes the revenue, total commissions earned in the network, daily sales, and much more. A useful representation of data with a visually appealing model (data visualization) in a single space!
This data-driven approach helps businesses to organize their business. In the later section of this article, we'll also discuss the top 10 benefits of using BI in your business.
This is one of the main applications of Business Intelligence (BI) tools. BI provides historical and predictive data to analyze the business easily. With proper data analysis, useful insights can be generated from them and use it for decision making.
This is the basic goal of having BI in the software world. Let's learn about BI from the basics to advanced models. Are you ready for it?
What is a Business Intelligence tool?
Business intelligence tools follow certain methods and technologies to prepare, present, and help data analysis of direct sales business. Usually, enterprise businesses use BI to analyze their data and evolve future strategies efficiently.
In business, there involve tons and tons of data and analyzing them manually is out of the question! However, this data is the best source for direct selling businesses to find the right solution by analyzing KPIs.
KPI or Key Performance Indicator is an assessment model that leads to the identification of potential improvements in the business. BI comes in handy to assess KPIs and find insights.
Do every company analyze their data?
The answer is NO! Weird, isn't it? According to the reports made by Forrester, between 60-73% of enterprise data goes unused and never taken in for analysis! It's a huge mistake and it needs to be changed ASAP!
Basically, everything including AI is based on data. So if there is no information, then from what source can we analyze or predict the behavior of business? Information is the key and that's what we use to learn, even from our schooling! Likewise, companies need to use their own data with other business groups like competitor analysis, economy, market study, etc.
These data are independent variables used with dependent variables (the outcome) to find a pattern. It can be done via some conditional experiments, and if the output looks promising, implement it!
Business intelligence solely provides all such things and produces a breakthrough, which leads to achievements. As mentioned earlier in this article, BI helps to improve business operations with KPI's.
Better decisions - much faster!
The process or workflow behind BI looks like,
Thus with BI, predictive modeling and performance management can be easily carried out.
More information, more proactiveness
As the BI data analysis model gives more information, it invokes a proactive nature among the users. This technique improves the ability of human behavior to become proactive i.e initiating changes by taking control over the situations rather than reacting.
Usually, without the aid of these mediums, people become adaptable to changes. With information or data in hands, they can increase proficiency, thereby fulfill the predictable requirements of their job. It's an advantage and it adds more value for a business.
Top 10 benefits of using Business Intelligence (BI) tool in your business
Here are the top 10 benefits of using BI in your business.
Organizing business data: Structure all the business data in a useful form for precise data representation (mostly for analysis)
Smart decision making: Easily make smart decisions from the insights derived by the BI system after analysis.
Set & manage business goals: Business goals can be set and managed using BI tools exclusively available on the dashboard.
Find business trend patterns: BI tool provides business trend patterns by comparing present and past years data.
Boost productivity: Increase business productivity using the system derived insights and business reports.
Make people proactive: Let the employees become proactive to new changes with proper control over business situations.
Get control over your business: BI helps organizations to gain control over their business.
Analyze KPI cards: Understand the key performing areas of one's business and take measures to improve the weaker performing areas.
C-suite analysis: The c-suites of the company get to know or analyze the activities of all employees in the organization.
Track new business implementation: New implementations in business can be tracked with BI tools.
Application of Business Intelligence
Now that you have understood what BI is all about, let's move on to discuss an application of BI. A direct selling software helps direct selling companies to manage their business which comprises members management, finance management, lead management, etc. Every data used must be measurable at some point. Measurable means the data must convey proper KPI's.
So, to provide decision-making value, the dashboard should have all such KPIs or key indicators displayed with data visualization techniques.
BI in direct selling software is one of the promising applications. Dashboard with BI is an information center of direct selling business. It conveys important data easily and brings them to eyes, known as benchmark KPIs.
Also, it helps to manage sales, which month brought more sales, who is the active participant of the business, who can become a potential leader, which location favors the sales, the revenue growth, and much more.
(Business Trendline Concept)
After analysis, these tools provide a business trendline. Any business online or offline follows a trend and businesses follow them to increase sales. Direct selling business is no different, and a business trend either from the product side or distributor's side can be easily figured out with the business intelligence tools.
This is just an application of BI and it's vast and enormous. Most of the industries are now using these tools with machine learning, BigData, and AI as an advanced version of BI.
As for now, we shall stick with a basic to medium analysis. We shall provide you more information on BI in our future articles. It's always good to provide information in a serial order so that eagerness will stick for the future. Provide your feedback about this article in the comment section so that we can address your concerns in our future BI-based articles.
In the next articles, we'll tell you how BI is implemented in our system and how it is beneficial for our customers!