Direct sales debuted in the world of commerce as a business that does not only sell products. It also focused on building healthier relations between the customers and distributors. Network marketing is a popular model in direct selling. It has improved a lot, by balancing trust and satisfaction in the business. Trust and satisfaction are two factors that retain distributors in an MLM business. Distributors appreciate it when their demands are met. They should be compensated fairly for their efforts. This is where some of the top network marketing companies have made innovations, with the right and best MLM compensation plans.
Without a doubt, the quality of the product or service is of utmost importance. But it takes much more than that for a large number of customers to turn into distributors. Distributors are individuals who sell, promote, and grow a direct sales network. What keeps distributors associated with a network marketing business for a long time? Its compensation plan of course! Look at the following desirable qualities. In network marketing, these lay the foundation of an efficient compensation plan:
Commission - One of the obvious reasons
Simplicity - The easier, the better to understand
Development - Room for a faster and efficient career development
Teamwork - Motivates engagement, inclusion, etc
Network marketing businesses across the world have innovated their business with powerful compensation plans. Binary and matrix MLM plans have proven to be effective for distributors and organizations alike. Let us compare these two popular compensation plans in network marketing.
How are they different in their basic structure?
Matrix MLM Plan Structure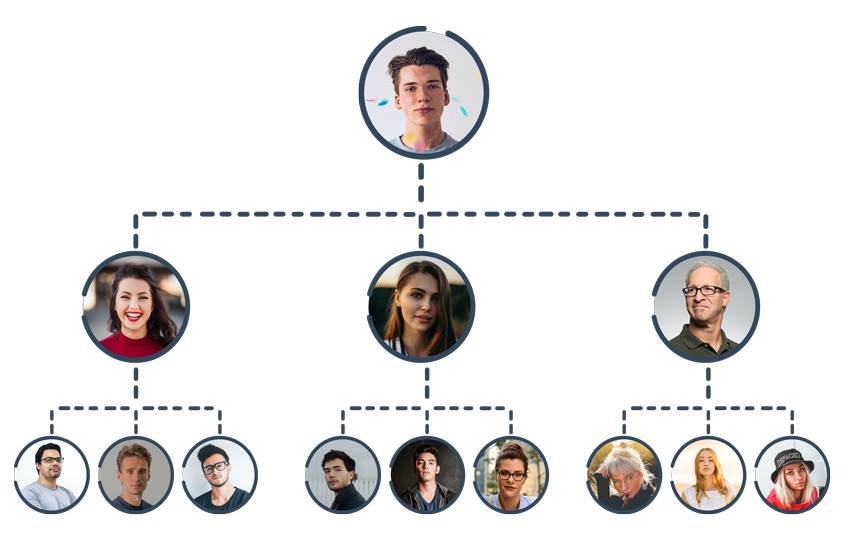 Fixed width and depth of frontlines and downlines define the network marketing tree in a matrix MLM plan. In a 2x2 matrix plan, distributors can have three frontlines. The rest of the downlines are placed on the next level. This process takes place only up to 2 levels in a 3x2 matrix.
Binary MLM Plan Structure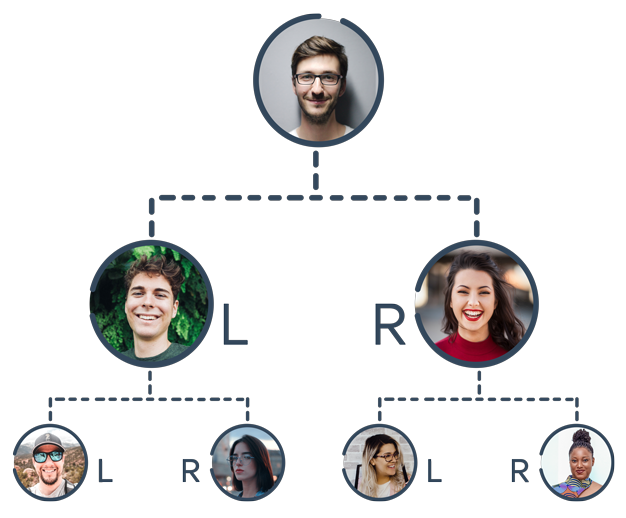 Distributors in a binary MLM plan have a limited width of two frontlines (two legs). Yet downlines can go up to unlimited depths or as set by the organization. A binary MLM plan is in fact a two-legged plan since each distributor can have only two frontlines.
Spillover preferences
Spillover denotes the placement of new distributors at available positions under the downlines. These may or may not be their direct referrals. This process varies among the binary and matrix MLM plans.
Matrix MLM spillover preferences
New distributors in a matrix MLM are filled in a sequence, across its fixed width and depth. The spilling preferences are as follows in a matrix MLM plan:
Top to bottom - left to right: The default method is that new distributors are added on available positions from top to the bottom levels, as well as from left to right positions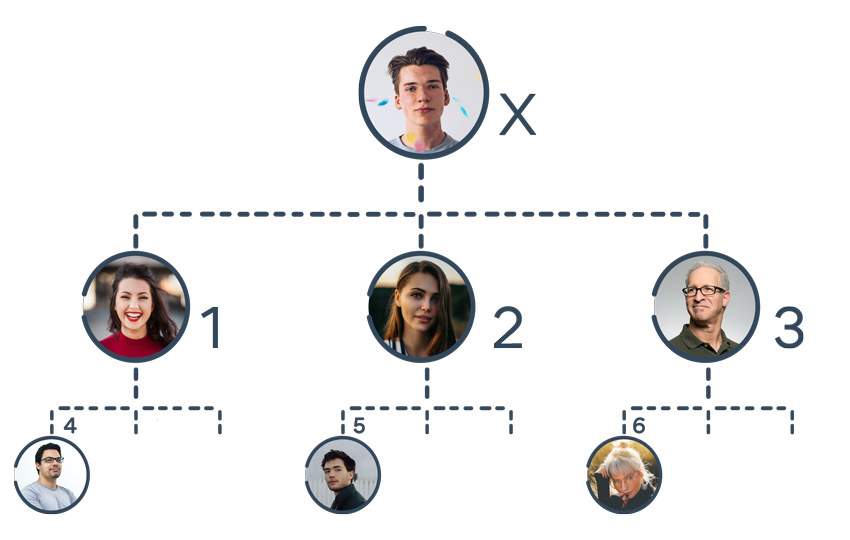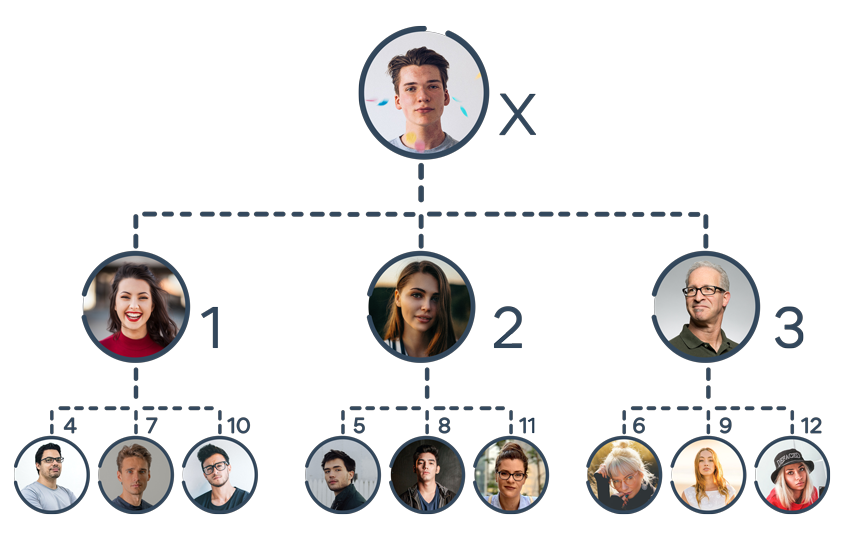 Alternative spillover: This is also alternatively done by placing distributors on alternative positions under each member in the first level.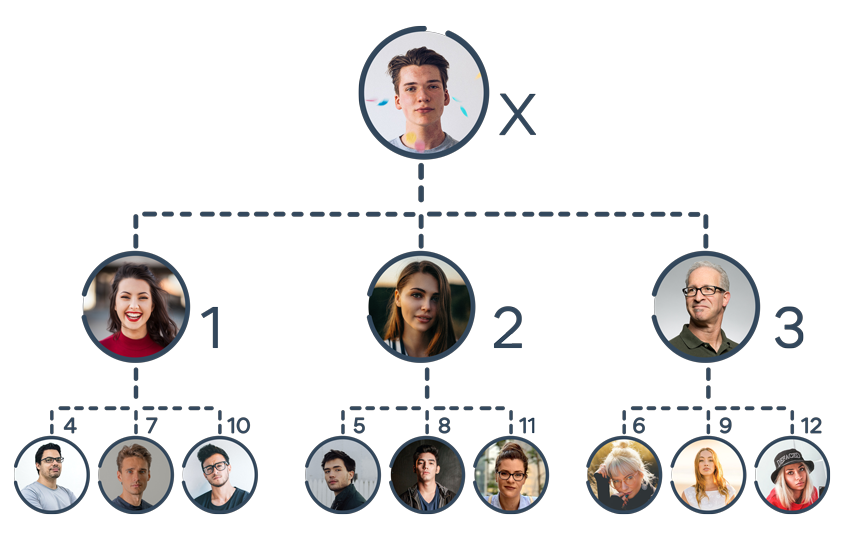 Binary MLM spillover preferences
Spillovers in a binary MLM plan have a lot of effects on the way distributors are engaged in building and balancing the team.
Following are the spilling preferences in a binary MLM plan:
Extreme left or extreme right spilling: Spillover preference can be set to either the left or right legs.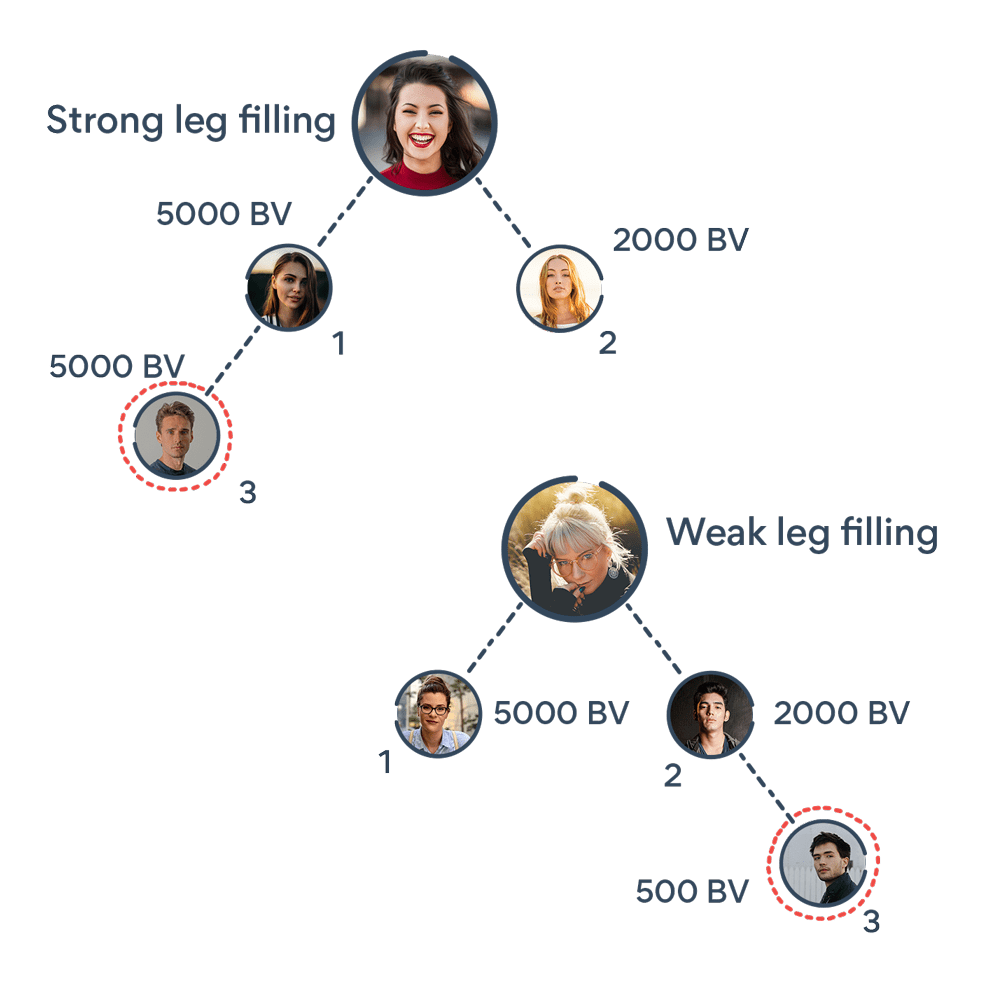 Weaker leg or Stronger leg spilling: Spillover preference can be set to the leg or side with either weaker or stronger sales volume.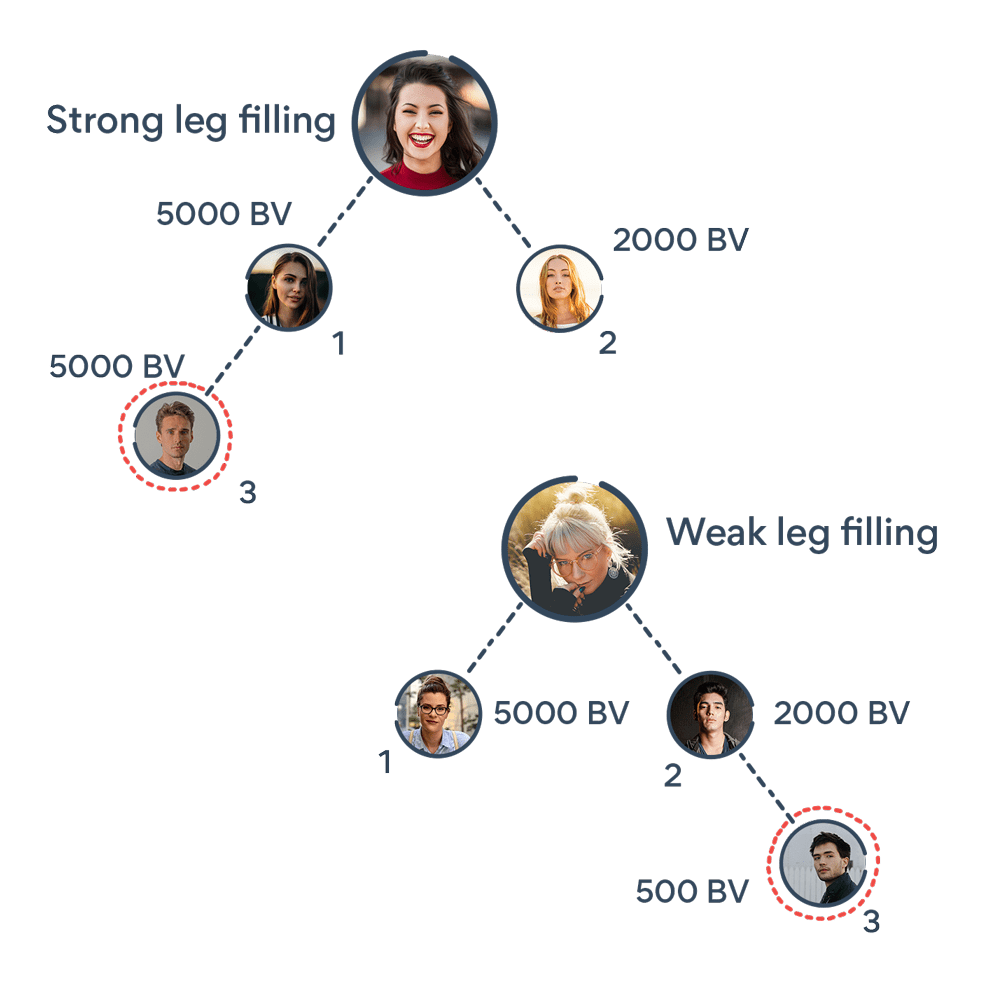 Balanced-spilling: Spilling preference can be to a 1:1 ratio so as to balance the left and right legs.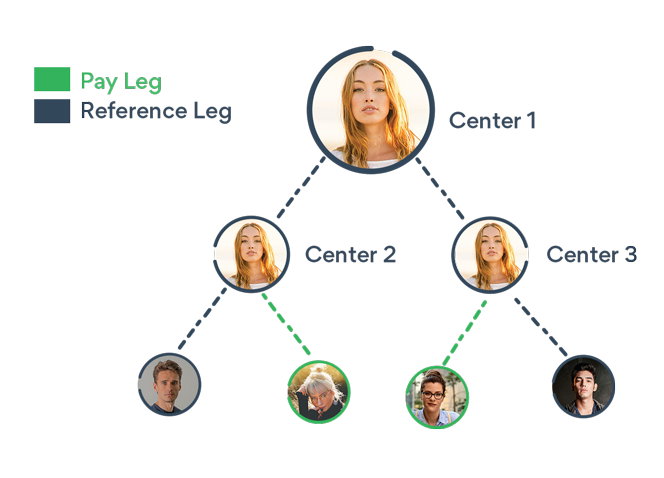 Multi-center tree spilling: Certain binary MLM companies offer distributors multiple positions in the binary tree. Distributors can have new business centers upon completion of a set criteria. New business centers are also set by organizations at the time of enrollment, which are later activated upon reaching preset criteria. Multi-center spillover multiplies the distributors' payout based on the number of the business centers and their sales volume.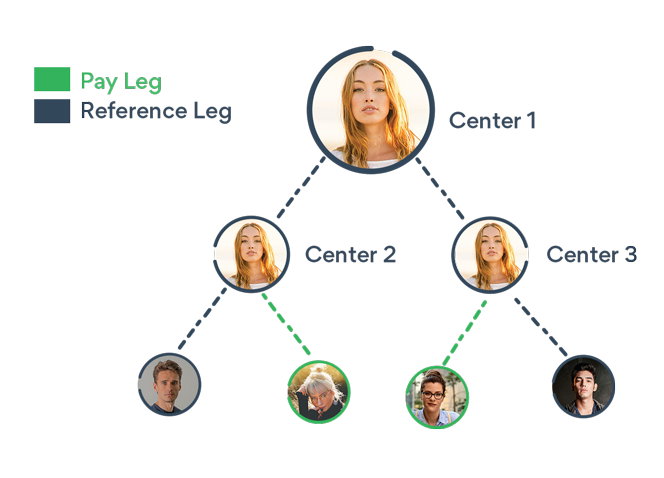 Holding tank: Business admins can hold new members and place them for more benefits, while also following the preferences set by the company.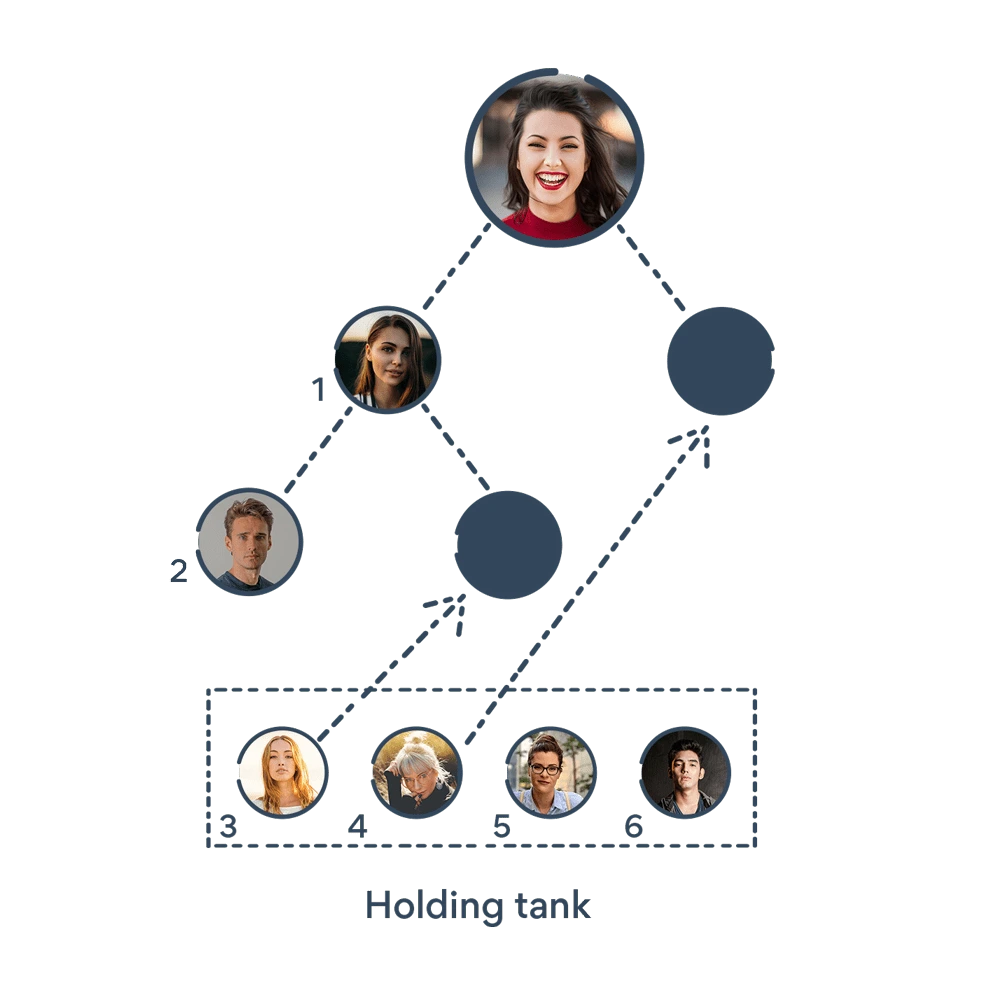 How are the distributors compensated?
Adequate compensations keep distributors active and engaged in an MLM business. Let us understand the different compensations available in both the MLM plans.
Compensations
Binary
Matrix
Sponsor bonus/Direct referral bonus
Bonus received for referring a new distributor
Level completion bonus
Commission received for completing each level of the MLM tree
Binary bonus
A percentage of bonus paid, based on the weaker leg sales
Matrix completion bonus
Bonus received for completing a matrix cycle
Matching bonus
A percentage of the bonus achieved by downlines, received by uplines
Position/Level bonus
Bonus received for referring new members within the matrix, at different levels
Pairing bonus
Bonus received by eligible distributors for achieving balanced sales volume in each leg
Return of Investment (ROI)
A fixed percentage of the investment made in their business, received by distributors
Custom bonus
Bonus developed by companies to engage and attract more distributors to the business
Choosing between binary MLM plan and matrix MLM plan
Choosing from either of these plans is completely based on the objectives and preferences of the organizations as well as that of the distributors. It is imperative to understand what makes either of these MLM plans worth investing in.
Compensation plans are proven best when they enable overall growth in the business while also engaging teamwork among distributors. Both the binary and matrix MLM plans are known for their potential in compensating the distributors fairly.
There are two key benefits in binary MLM plan, worthy of knowing.
The multi-center spillover, where new distributors can be spilled over to unlimited depths upon completion of their first level.
Carry forward, where unpaid sales volume from the present payout cycle can be carried forward to the next payout cycle.
Usually, binary MLM companies refer to the weaker leg sales for the commission payout. Another method is the commission upon achieving a specific sales ratio or pair ratio between legs. The binary MLM plan is best known for its larger growth possibilities. Distributors in a binary MLM plan are allowed unlimited downlines, which improves their growth and earnings. With spilling preferences set on the left or right leg, distributors have to coordinate with their teams to balance the business tree for a better outcome. This has a greater impact on teamwork. With an efficient downline network, distributors in a binary MLM benefit from rapid career growth opportunities.
Matrix MLM highly encourages group sales. With deep levels in a matrix MLM plan, distributors have higher opportunities to get more compensation. Distributors in a matrix MLM plan should work actively and harder for the successful completion of the matrix cycle. When a sponsor leaves a matrix MLM tree, an immediate downline shall be moved up to that spot. The 'hole' left by the downline can later be filled by a new distributor. This process is known as position compression.
All these advantages may seem to strike a balance between themselves. However, it is up to you to opt for the compensation plan right for your business.
Winding up
Some of the top MLM companies in the world work with a binary compensation plan. Generally, prospects are attracted to a binary MLM plan because of its rapid growth opportunities. Companies with a matrix MLM plan can encourage group sales among their distributors. Either of these compensation plans is implemented better with the utilization of software systems in the business.
Both matrix MLM software and binary MLM software are available today, with tools and features that help in a seamless business process. MLM software is beneficial for an organization in many ways such as onboarding and engaging distributors, generating leads, automating the marketing process, managing e-commerce, and building powerful teams.
A team of experts at Epixel MLM Software through their research have found out how to effectively leverage the best out of compensation plans for the success of a direct selling business. With an MLM software demo it is easy to figure out what best suits your business.
Understand your requirements, choose what is right for you, and embrace your goals!