Affiliate marketing is kind of a big deal when it comes to marketing business; it's like the catalyst that clear off the process with a plan. But, what exactly does an affiliate do? How is an affiliate program beneficial to earn a good fortune? This article is a perfect solution for all such queries.
What is affiliate marketing?
Affiliate marketing is much like referral marketing through which niche-driven sales are achieved. Basically, the structure of a business follows a cycle and it looks like the below one.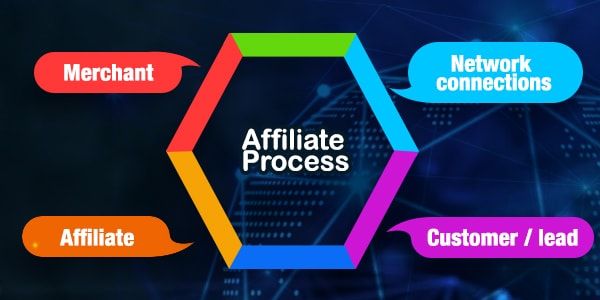 It's the "merchant" who initializes the process by making the products and create a unique idea, which is going to be a revolution using certain strategies. An ideal merchant will initialize things with a strategy and move on with that idea.
But, things get into a bitter state once the marketing sector pulls down at the beginning stage. Obviously, it's the marketing that pumps up the fuel for every business, especially in affiliate marketing the only path to move forward is by means of the marketing area. If it isn't gaining any strength then, the business won't survive for long. This part is what we refer to as the "network connections" and it's important to have this module covered in its full thrust.
To make a move in such a competitive world, it's important to score at least a par level and if not it's like "failure stage".
Affiliate is the one who solves this issue, a person or an organization or a referrer who acts in the middle to fill in the gap between a merchant to the end-user i.e., as a customer.
A customer is the one who needs to be satisfied with what a merchant offers. So, a perfect plan is needed to come up with a successful campaign and affiliate with certain specifics - yes, the golden hands!
How affiliate works as an intermediate and what are its benefits?
Now that we know about the affiliate marketing, it's time now to understand how affiliate works as an intermediate and what the benefits of being an affiliate are. As we mentioned before, affiliates being the center part of marketing, the working nature of the business is kind of challenging in nature. A proper plan has to be made and this particular marketing plan has to have a proven outline that guarantees a fair result.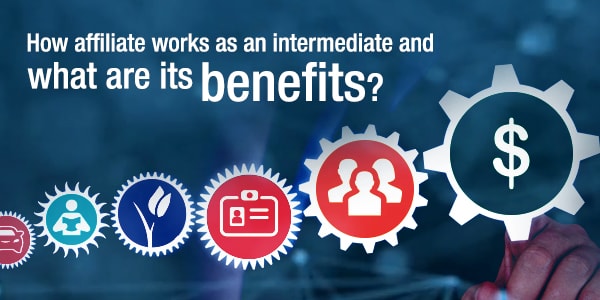 Well, affiliate marketing includes these basic or advanced methods to carry out the process.
Social media awareness
An affiliate website for every users/network members
Attractive design for such replicated websites
Online campaigns etc.
So, if you're an organization who works as the associate of a merchant firm and you have to perform a series of serious marketing stuff, how can you possibly do it?


A simple note on affiliate programs
The affiliate program is the best way to engage with the customers. An affiliate program is usually a marketing program organized by the merchandise team for providing traffic to them via affiliates. This affiliate program is also known as "associate program" and commissions are offered for target sales. This particular program is usually targeted as "internet marketing strategy".
The program lets you earn a good commission as well as product supply. Well, the affiliate business suits best for e-commerce based business as there are plenty of products range out to make sales from. The commissions are chosen as per the organization rules and regulations for achieving the target sales. Amazon offers 4-8% way back in 1998 and some offers about 50-75% of revenue income; it totally depends on the structure of the affiliate program.

It's best to introduce affiliate marketing software that comes with a marketing plan and alongside with it choose certain features that have the ability to enhance the product business through network building (the third part of affiliate marketing business). Normally, the package does have certain features like lead capture campaigns, loyalty programs, referral link sharing, etc. to make use of this opportunity. Powerful Affiliate management plugins offer advanced features such as easy-to-manage marketing, affiliate sales tracking, automation, etc.
The replicated websites which we mentioned before acts as the affiliate site and through which the main website is loaded i.e., the merchant website will be the original version and each and every user will be given a replicated website where the selective range of products with attractive offers will be published. If a user who visits the concerned website is interested in the deal then, they will enter into the site. And this will be automatically redirected to the merchant website; the traffic-driven niche has been thus contradicted and successfully carried out. The user will receive commissions or bonuses for such part.

The affiliate package does have the ability to make important leads as well as later on to make a proper follow-up. These leads can become the potential clients and organize them can also be carried out through it. It's multi-user profile and therefore can include millions of users in a single network.
"Promote and promote" is the success mantra of this particular business model. And you get paid for your efforts.