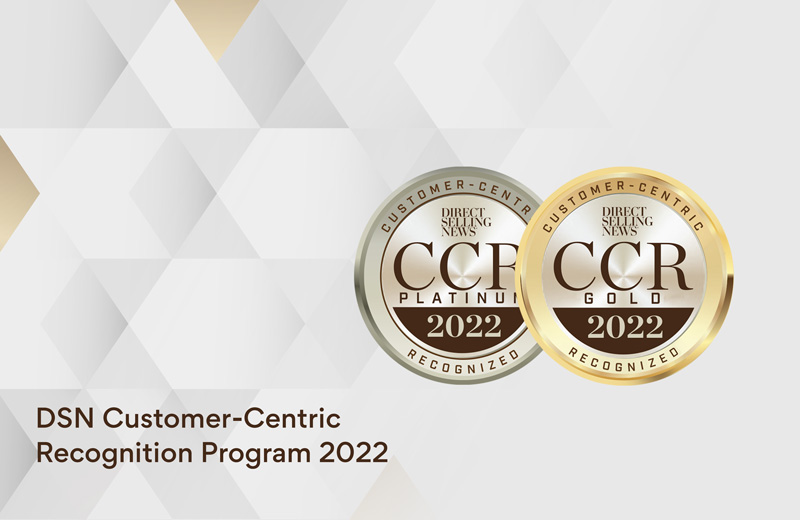 DSN CCR program gold and platinum status holders 2022
Direct Selling News, with its intention to improve customer-centricity in the industry, recognizes companies that prioritize customer satisfaction through its Customer-Centric Recognition (CCR) Program. Every year, DSN acknowledges efforts put in by various direct selling companies to build a strong customer base and a high customer-to-distributor ratio. The awards are categorized into Platinum and Gold Status based on the criterion set by DSN.
The Platinum Status holders
The Gold Status holders
DSN has come up with this CCR initiative to improve customer retention rates which will ultimately help companies build a strong retail base. And hence, the DSN CCR Program is based on a company's customer-to-distributor ratio.
Find out which all companies achieved a spot on the DSN CCR list for 2023.
"Businesses built on customer acquisition and retention, especially those that meet the 5:1 and 10:1 customer-to-distributor qualifications of DSN's CCR program will be the competitors to beat in this kind of marketplace and environment," Stuart Johnson, Founder, and CEO, SUCCESS Partners, says.
According to DSN, the criterion to be in the Gold Status category is one distributor to five customers or more and for the Platinum Status, it is one distributor to ten customers or more. For the CCR program, DSN suggests that a distributor should be someone who does have a distributor agreement in place and a customer is someone who doesn't have a distributor agreement in place. Each customer and distributor must have made a product purchase during the last six months.
The customer purchase decision must be able to stand on its own as a 'fair trade' and then the personal touch by a caring consultant and the opportunity to earn by also supporting customers' purchases is the icing, not the cake.

Orville Thompson, Co-Owner and Co-CEO, Scentsy
Every brand, that focuses on customer retention will always have a higher brand identity and trustworthiness. Customers ultimately are the ambassadors who speak for the brand out to the world. It is imperative to hold them closer to the brand no matter what. Besides every innovation made, it is word of mouth that could sell a thousand ships. The more satisfied customers you have, the more successful your distributors will be.