People gather together all the time for the best and especially if it's a weekend then, it's party time! Halloween is near and you can make use of this opportunity as a celebrating event and as a business opportunity too. In most of the countries, October 31st is celebrated as All Hallows' Eve or All Saints' Eve and the night that turns into a massive opportunity if you have a product to brand and make a chain marketing favorable time. Party MLM Plan is the best practice that can be implemented to perform the organizing and planning for the night.
Read how party plan software tools bring more benefits to the party business? .
So, how to make use of such a social gathering opportunity using Party MLM Plan? Basically, one has to understand about Party MLM Plan first and then use the event wisely. Party MLM Plan works in a pleasant manner where a host invites guests and entertain the party with certain marketing strategy. Either host directly comes up with his/her product and makes single-level marketing with great comfort out of it.
A web-oriented software package such as Party plan software does help to manage this marketing side with proper database addition, report analysis, follow-ups etc. A consultant will be there to manage things and this instance can be changed from single-level marketing to multi-level marketing. Let's illustrate this in a comical manner for best understanding.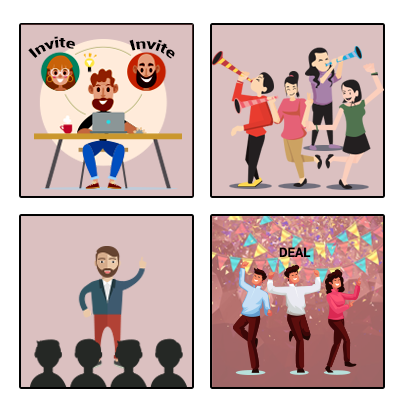 The illustration depicts the outline of party plan perfectly. Direct-selling is the ultimate aim of such a business plan where the hosting person will get the products at a price and he/she have to impress the guests/crowd and convert them into a customer. If not a customer you shall make him as another representative and make a network among themselves. The plan thus makes sense by creating awareness about the product and more people discovers about such a brand.
People do talk more.
Yes, that's a fact and what if in their talking your product gets in as a topic? The brand gets more reach and gains great pace among the market. With great Party Plan MLM Software, these organizing structure can be easily managed and become beneficial out of it. An excellent opportunity to make a business out in this party season and make the Halloween night a brand one.
Enjoy the Halloween...!