"If you think compliance is expensive – try non-compliance."
Paul McNulty

No matter what your nationality is, even if you are a resident of a country or a tourist, it is imperative to stick to the rules and regulations specific to the country and the region as long as you are living there. In the same way, for businesses big or small, sticking to legal and regulatory standards is imperative for the smooth functioning of any business in the countries they are operating in.
Direct selling is a fast-growing business sector owned, operated, and managed by a wide spectrum of people around the globe. And hence, staying compliant with the rules and regulations pertaining to the business is obligatory irrespective of what category your business belongs to.
Direct selling compliance
It wouldn't be an exaggeration to say that the direct selling industry is the most observed and scrutinized in terms of law by regional and international law-making bodies on its claims, commissions, and overall operations. Having a compliance department is inevitable for direct selling businesses because many network marketing, MLM, and direct selling companies in the past have made bogus money-making claims luring customers into the channel but eventually entrapping them in severe debts.
Having a stringent compliance structure in place would help companies stay away from fraudulence and deception which are commonly alleged against most direct selling companies.
Why is compliance a necessity for direct selling businesses?
To safeguard every individual involved in the due course of the business, from independent distributors to customers and the general public. Also, to protect the credibility and reputation of the company, the brand, and its products.
To consistently endorse the professional policies and procedures of the company and clearly log when each policy was amended improves the reliability and trustworthiness of the company.
To minimize stress and time consumed in addressing each issue and resolving them from time to time. Any issue small or big has to be addressed by the compliance department if not, it could lead to making ignorant exceptions and exemptions leading to further legal complications.
To regularly update every individual who is part of your business on the latest legal amendments, keep them aware of potential violations and their repercussions.
To have a specific set of protocols in place. In order to hold a distributor or a company representative accountable for any accusations alleged against them, each company can have its own set of sanctions and decorum based on its legal policies and culture. However, the standard formality includes a courtesy call, a warning letter from the organization, then suspension, and finally, termination.
To educate every representative with necessary knowledge titbits on compliance and legal statutes that one must necessarily follow to not fall for false money magnets and to not make deceptive claims for the benefit of oneself or the company.
To thoroughly document every minor legal step that the company has taken ever since it came into existence. This will help the company and its representatives provide evidence when false accusations are made against them by any chance.
We agree that it is easier said than done. But, having a stringent compliance policy in place is as important as setting up the business itself. Staying compliant with federal and state laws reduces the possibility of risks that can be posed by governing bodies over direct selling businesses.
Governance, Risk, and Compliance (GRC)
GRC or governance, risk, compliance is a combination of organizational practices or strategies that manages governance, risk management, and compliance with the industry and government. In the broader sense, GRC is a combination of distinct software techniques that can facilitate the IT and security functions of an organization effectively. The framework can also help organizations improve their performance and decision making competently by meeting regulatory requirements at reduced costs.
Governance is a specific set of rules and policies that can streamline corporate activities with business goals incorporating ethics, resource management, accountability, and management controls.
Risk management is the process by which an organization's legal, strategic, and security risks are identified, assessed, and controlled. A direct selling organization has to apply resources to reduce risks and monitor, minimize and control the impact in case of any negative events that might occur and also maximize positive events. Risk management can also deal with identifying security and information risks and threats like software vulnerabilities and poor employee password practices and ways to reduce them. By focusing on risk management, businesses can stay away from uncertainties, reduce costs and increase the possibilities of business success.
Establish efficient enterprise compliance
Build business on a secure and trusted platform delivering higher customer satisfaction.
Go ahead!

➔
Compliance is what we are mainly looking at, and it means abiding by policies, standards, mandates, and laws formulated by the government or government agencies for various industries, their subcategories, and branches. Non-compliance could lead to fines, penalties, lawsuits, and costly mistakes eventually causing poor performance.
Compliance can be categorized into two
Regulatory or external compliance that covers external laws, regulations, and industry standards that applies to the company.

Corporate or internal compliance that deals with rules, regulations, and internal controls set by the company itself.
These internal and external regulations have to be integrated and ensure that all employees are trained to stay compliant with these regulations and policies. These policies have to be developed, implemented, and communicated to distributors and employees during onboarding and to customers too.
Compliance automation in direct selling
Policies and regulations are often altered or modified through various mandates and policy revisions. In this case, manual legacy compliance monitoring methods through spreadsheets, emails, and shared documents could be ineffective and inefficient since the cycle is lengthy and expensive.
Considering how vast the internet is, and direct selling being a business that is spread across the globe through various internet platforms, it wouldn't be easy to track what is going on in the virtual space that would bother your brand in some way or the other. An X or Y making an allegation based on a false acquisition or promise about your brand, products, or service randomly on any of the social media platforms could fall under violations that could generate a case file that might later lead to an investigation too. A simple allegation could cost the company's reputation causing public embarrassment apart from the litigation and regulatory action that might follow. This could eventually cause hours of the organization's time, energy, and money in battling a case that came out of nowhere but has the potential to spread like wildfire.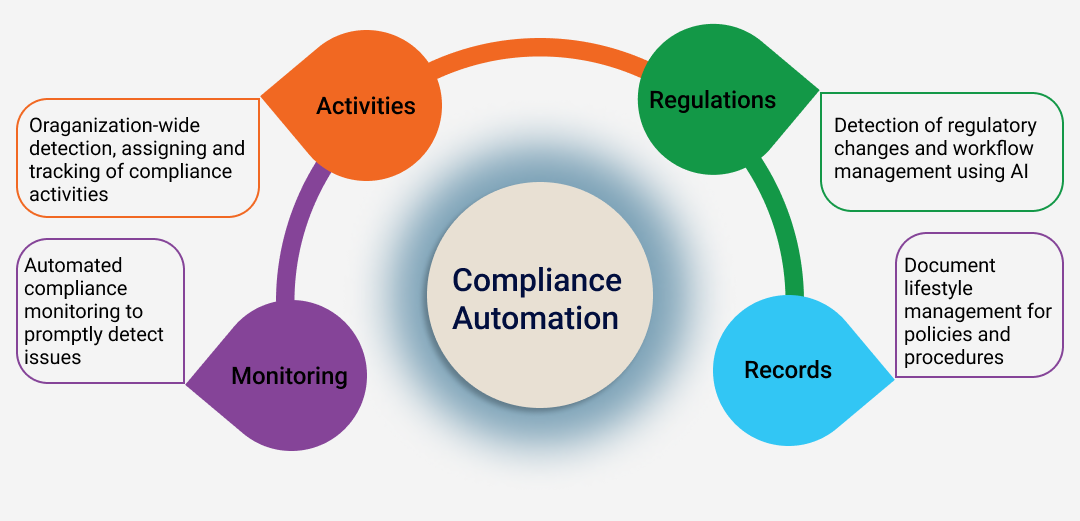 This is where compliance automation or Automated Compliance Monitoring (ACM) could come to your rescue. Compliance automation could help organizations to streamline their workflow by monitoring their security policies, accounts, and inventories and updating their knowledge base regularly according to changing security standards. Integrating ACM could help detect policy violations with its advanced and sophisticated tools across various social media channels. This can bring to the company's notice when any pictures, comments, videos, or any type of content that are not in the purview of the company's compliance guidelines can be detected immediately and dealt with appropriately.
The direct selling industry has always been under the constant surveillance of every country's federal and state regulatory agencies for the amount of misleading and unsubstantiated pyramid scheme claims that are widely spread on the internet by non-compliant companies and their salesforce. This could not only cause legal penalties but affect the survival and stability of the company itself.
What are the keys to effective compliance automation?
"The Federal Trade Commission's targeting of the direct sales channel has become increasingly aggressive, and the channel may now be under the most intense regulatory and public scrutiny it has ever faced. Opponents appear to have taken a war footing, and what we collectively do now as an industry will determine the future of this great business model we love."
Jonathan Gilliam

As much as we know that compliance automation can help direct selling businesses in more ways than one, here is how it can enhance business performance and sustainability in the long run.
Reduce time consumed - ACM is time and cost-effective compared to traditional compliance monitoring methods.
Stay on track - By integrating ACM, individuals in the organization can check the status of compliance and audit information for further implementation.
Minimize risks - Efficient risk management decisions can be derived in real-time with updated data and information.
Efficient execution - Implementation of uniform compliance policies across all channels, distributors, employees, and customers can be done more effectively and quickly.
Reduce compliance risks - With ACM, verifying compliance, managing third-party risks, and identifying potential weaknesses can be done rigorously.
Improve brand credibility - With FTC's mandates and policies being updated often, ACM can help organize, and reduce brands' incompetence and inaccuracy in compliance workflows and reporting. This can minimize the chances of being fined or penalized for breaches.
Stay vigilant, not worried - Web-combing can improve search performance by giving a heads-up to trained professionals every time there's an infringement happening that comes under the organization's jurisdictional affairs.
Step up your compliance system - ACM can help organizations design preemptive compliance to minimize overall exposure and thus showcase the organization's dedication to staying compliant.
Why compliance automation?
Apart from the aforesaid features, to attain a positive business outcome, an intelligent compliance solution could make a world of difference.
#1
Enforce industry-specific controls
Through compliance automation, industry best practices can be leveraged and applied to the organization's security framework. Automation tools can also effectively implement and monitor security control measures that are specific to the business, industry, categories, security protocol, and goals. The system can be customized to make sure that an organization's compliance standards are in line with its business objectives and shields the organization from targeted risks.
The whole idea of compliance automation is to save time without having to manually compile data yet stay updated with various regulations and mandates. Automated compliance could help control processes, assess risks, collect evidence and alerts, and maximize accuracy and productivity.
As much as Automated Compliance Monitoring could save your time, energy, and effort, it could minimize the financial and reputation risks that non-compliance could create on a direct selling business. Also, it can help businesses ensure that all the compliance factors pertaining to their business are covered with no room for errors. The system can also document and store all necessary information as an appropriate precaution. This could entice customers and prospects as they can be sure that their alliance with the company is well protected and in line with their compliance standards too.
#4
Build a security-conscious culture
Sometimes a negligent employee or a distributor could do more harm than any external factors. And hence, a robust compliance program should be able to automate workflows and create a security-conscious culture. Right from onboarding, they should be familiarized with the analytics, dashboards, task tracking, alerts, and workflows. They should also be able to identify a breach and be vigilant about how to deal with it with immediate effect.
Tough roads, tougher rules ahead
As much as integrating Automated Compliance Monitoring can do good to a direct selling business in numerous ways, adhering to compliance best practices can increase its credibility manifolds. When there's an unexpected inquiry from any of the legal or regulatory bodies, an organization that has its compliance monitoring in place can be confident that its policies are transparent and abides by every regulation put forth by the regional and central governing bodies.
The FTC has made policies affecting the direct selling channel as recently as in November 2022 to enforce the federal ban on unfair methods of competition quite rigorously. This clearly states that the commission is sure to implement stringent formulations in the future to streamline the overall compliance of direct selling companies.
Aspiring entrepreneurs and gig workers eye direct selling businesses for the number of benefits and perks that the business offers. However, false promises made by non-trustworthy brands have caused quite a headache for the industry as a whole. With the rising number of interested youngsters in the channel, mandatory implementation of ACM can increase the integrity and trustworthiness of the direct selling channel as a whole.
Progressive Research Analyst and Content Strategist