MLM business centers the strength of an unimaginable power source that spread across the corners of the marketing world. Well, as the competitors in this field are running into each other every time, the riddles and puzzles to solve are too complex. MLM business as you know is one of the toughest paths to be on and the best way to resolve will be an MLM Software or else known to be network marketing software.
The package comes with a load of exclusive fenestrated condominium like a software system. In an MLM system, the basic instinct will be to make the product available to whole parts of the world and how can one make this happen? Yes, of course, it's not that easy to be on the go right away! It needs a lot of homework to do, practice to speak & present before the crowd, satisfying the exact needs of the customer and make him/her as a new member of the network. The basic puzzle to solve will look like the following puzzle map.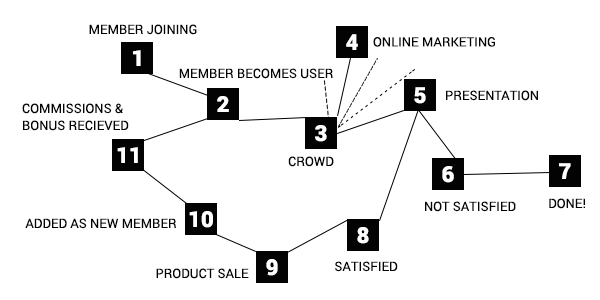 It all begins once a new member joins the network by choosing a package (Gold, silver, bronze or platinum package, etc.), and then the member becomes a new user. Now, that he is a part of the group or network, it's time to switch from the beginner mode to a graded user mode. If the user likes to make worth out of the group, being active, and adding new members is in very much need. Meet with the crowd and try to be gentle and genuine with them, why because being what you're will be the first thing people will observe and if the skills turn in then, it's go time!
Either direct presentation or else by means of online marketing, one can expand the leads to potential clients. For such a strategy, you might end up in a win-win situation and so, never let yourself down, make use of an MLM Software to strategize the execution of your plans with the features offered in it. If the skills aren't good enough to tackle up new customers - then, you'll be done!
Try not to be in such a situation, and it's best to make the customers satisfied and add them up to the network as a new user. And the new user will have to go forward in a similar passion, thus such a network or MLM marketing business is more teamwork rather than that of a one-man army. An MLM Software is a "quest-satisfier" (cross fingers), and mostly everything gets molded into the perfect shape. This is perfectly depicted in the MLM Software demo and supports most of the advanced system plans.