Initial Exchange Offering (IEO) services

Now, raise funds for your projects with trust & transparency in public token sales. Epixel provides complete IEO services for all stages - presales, crowdsales, and post-sales. We also develop a private exchange platform for early access to tokens before IEO.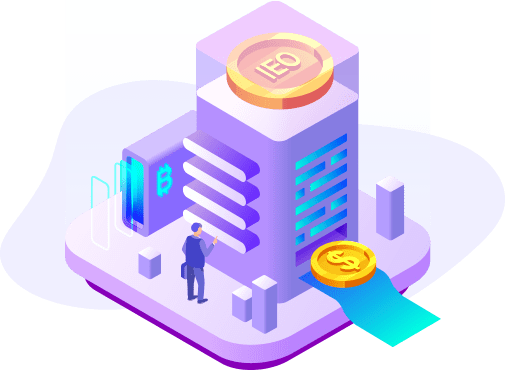 What is IEO?
IEO is a new service that helps companies to raise funds through a fundraising event. Public exchange platforms conduct the IEO event. IEO is something different from ICO and we provide complete support to make the token sales event successful.
IEO vs ICO
The token sales event hosts in a public exchange platform and screens to avoid the possibilities of scam and accepts if genuine.

Investors create an account on the exchange and attach funds in the wallet.

Investors use these funds on the exchange wallet to buy tokens once the token sale launches.

Users who already have an account in the exchange can also become investors and buy tokens during the IEO.

Exchange charges a fee for IEO listing and also a percentage of tokens sold during IEO.

Exchanges list the coin once the IEO is successfully completed. There is no need to list the coin again on the exchange.
Why fundraising using IEO?
There are 6 reasons why should prefer IEO for fundraising.
High fundraising success rate
How Epixel help you to achieve it?
Epixel has a major role to play in your fundraising token sales event. We provide complete services to launch your IEO event by connecting the technical and marketing aspects. We've put a little more effort to make it even more successful with some add-on services.
Auto-listing
Exchanges lists your coin after successful IEO event
No additional KYC required
Users have uploaded KYC details during the account creation in exchange for verification so, no need for additional KYC verification for investors.
No smart contracts
Smart contracts in exchanges is well enough as IEO is conducted on the exchanges.
Faster funding
The existing user-base in the exchanges will also participate in the IEO if they find investment-worthy.
More trust
Screening from exchanges eliminates the possibilities of scamming and creates trust. The exchanges have already built trust, and this increases the investments.
IEO vs ICO
IEO is far different from ICO and eliminates the risk of scams.
| | IEO | ICO |
| --- | --- | --- |
| Fundraising platform | Exchange platform | Token issuer's website |
| Regulation authority | Exchange platform | No strict regulations followed |
| Need of smart contracts | No need for developing smart contracts for the IEO event in exchange. Smart contract developed for presales stage (if any) | A smart contract need to built by the developer team |
| Is KYC needed? | KYC verification made during the user registration in exchanges. | KYC modules necessary as the token sales conducted in token issuer's website |
| Marketing budget scale | Less, as the exchange listing promotes the public exchange itself | High, the marketing needs great effort from the issuers |
| Is there any screening to limit scam? | Yes, the exchange screens before approving an IEO | No, there is no screening as the issuers are conducting the sales in their website itself |
| Currency listing | Listed automatically after successful IEO event | Token issuer have to list the coin after ICO event completion |